Submitted by Jason Walker
Jason Walker will attempt to go to as many workouts as allowed and bring the news and his opinions of the workout back to fans everywhere. On Saturday May 22, the Hawks brought in
Rafael Araujo
from Brigham Young, Auburn's Kyle Davis, Chris Garnett from Indiana Southeast (NAIA) and Colorado junior
David Harrison
.
This would be the first workout that saw a couple of consensus first round prospects going at each other to impress Hawks brass. In an earlier workout, allegedly, Araujo outworked Harrison, leading to a premature end to the workout, raising the BYU's draft stock in some pre-draft corners. This would be the next round for the two centers, as well as a chance for big body Garnett and lithe Davis to show what they could do.
Here is a brief synopsis of each player and their workout, along with some commentary from Walker:
David Harrison: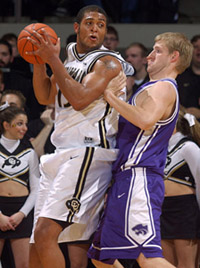 An early-entry candidate into the 2004 NBA Draft, Harrison starred at Brentwood Academy in Nashville, TN before making his way to Colorado. This past season, he put up team bests of 17.1 points per game, 8.8 rebounds per game and 2.9 blocks per game (12th in the country) in 29 contests (63.1 percent from the field, fourth nationally) en route to a first-team All-Big 12 Coaches' selection. He also took home Associated Press All-America honorable mention honors. He ranks 13th in scoring, first in field goal percentage (60.2%), third in free throws attempted and eighth in rebounding on Colorado's career list.
Offensively, Harrison looked quick in transition, and seemed to be in the best physical shape of the participants. In the half court drills, however, Harrison showed a tendency to throw his body around, leaving him rushing shots and looking generally impatient in the post. With his face to the basket, however, Harrison showed a nice stroke, even when asked to shoot 3's.
Defensively, Harrison showed no characteristics of a shot blocker, rather, Harrison tried to use his strength to body up opponents to mixed results in one on one drills.
Plus:
Good shooting touch with face to the basket, Faster than expected in transition, Outlet passes.
Minus:
Post offense, Footwork (especially when finishing in transition)
Rafael Araujo: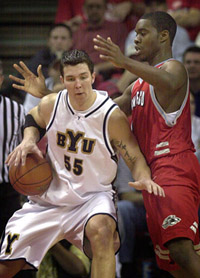 A former college teammate of current Hawk
Travis Hansen
, Araujo had a solid final two seasons at B.Y.U., after transferring from Arizona Western College. In 30 games this season, Araujo posted 18.4 points per game (shooting an outstanding 57.3 percent from the floor) and 10.1 rebounds per game, playing in 30 games. The 6-11, 280-pound prospect earned Mountain West Conference Co-Player of the Year honors and led the Cougars to their second consecutive NCAA Tournament appearance. He also garnered Associated Press All-America honorable mention honors.
Arajuo's build reminds of that of
Carlos Boozer
, with a strong upper torso. Arajuo's movements left no wasted motion at any point of the drills, as he used great footwork and a quick stroke to great results.
Offensively, Arajuo was clearly most comfortable on the right side of the court, both in shooting face to the basket and in the post. His stroke is very quick and surprisingly effective, snapping off a flurry of 3's from the top of the key to the right baseline. Like Harrison, Arajuo looks more comfortable catching and shooting than trying to create, especially in the post. He was deceptively fast down the court, due in part to his short strides and seemed to have good technique and good hands.
Defensively, Arajuo played well, despite not being a shot blocking type. Arajuo showed good instincts in regards to defensive positioning.
Plus:
Footwork, Quick Effective stroke, defensive technique
Minus:
Post offense, Doesn't play much above the rim
Chris Garnett:

Garnett began his collegiate career at Eastern Kentucky in 1999-2000, and transferred to West Virginia, before ending up at Indiana Southeast (NAIA). As a senior, Garnett recorded 20.3 points per game, 10.9 rebounds per game and 1.8 blocks per contest, hitting 61.4 percent of his field goals and 66.3 percent from the charity stripe. Garnett has spent the last two summers at Pete Newell's big man camp. The Tucker, GA native finished his high school career at Mt. Zion Christian Academy in Durham, NC.
Garnett impressed right from the outset with a nice mid range shot and good hands. Garnett, whose body type conjures images of
Antoine Carr
, looked slow however in the transition drills. While Garnett's shooting looked good in midrange and served him well in the one on one drills, unlike Harrison and Arajuo he couldn't stretch his range back to the three point line. Garnett showed some good post moves as well, seemingly being the only one who understood (or had the patience) the art of the pump fake, and he used his nice mid range touch to shoot over Harrison and Arajuo some of the time.
Defensively, Garnett was alright, though he did show some give when Harrison and Arajuo muscled inside.
Plus:
Mid range shooting, Patience in the post.
Minus:
Slow by comparison, Lack of range on shot
Kyle Davis:
Davis is Auburn's all-time leading shot-blocker, having surpassed Hawks center Mamadou N'diaye as a junior. As a senior, Davis averaged 6.5 points per contest, 6.8 rebounds per game and 2.6 blocks per game (.447 FG%, .600 FT%). Davis has played this summer for the World Basketball Association's (WBA) Rome Gladiators, coached by Hawks scout
Harold Ellis
. As a freshman at Auburn, Davis once recorded 13 rejections (one shy of the NCAA record) - including 11 in the second half - in the first round of the NIT vs. Miami, and broke N'diaye's single-season blocked shots mark (84). Davis attended Early County High School in Blakely, Georgia.
Davis didn't look the part of this workout in that he was a bit shorter and a lot lighter than his workout partners. His body type, a lithe 6'9, would pit him as the quicker player to the big guys.
Davis showed his athleticism in the transition drills, getting up the floor and making sure to show he can finish above the rim. Otherwise, Davis had a decent jump shot, but not as well in comparison to the other players. Davis did use his speed to his advantage in the one on one drills, sometimes running past his heavier matchups. Sometimes Davis didn't always take advantage of this, but he did show he could.
Defensively, Davis didn't get scored on as much as one would think, given that Davis was yielding size to his matchup, but it may have had more to do with the post deficiencies of Arajuo and Harrison than Davis' defense.
Plus:
Excellent athleticism, Quickness to the basket.
Minus:
OK jump shot
---
In this matchup of big men, we didn't see the one sided result that supposedly favored Arajuo in the last Harrison/Arajuo matchup, but we did like the BYU center over the former Buffalo, mostly due to his fundamental footwork and quick shot.
So far in these workouts, there is a player that is clapping for the others and finishing drills. In this group Arajuo was the one clapping for and encouraging others, including Harrison (He also had a funny way of yelling Ball every time he wanted it, even when the drill was only for him) and it was Garnett that finished every drill.
We didn't see either Harrison or Arajuo as a lottery center, seeing as how they were both raw in the post and neither were defensive stalwarts. But both seemed like they could land in the bottom half of the first round because of their shooting skills and size, probably deserving of a 20-25 pick, but due to big man scarcity, will likely go higher.
Garnett looks good enough to be snagged somewhere in the second round, perhaps between 35-40. He reminds us of the draftability of a guy like Sam Clancy, a player who isn't all around enough to warrant a three year commitment, but works hard enough with enough skill to sign and see.
Sometimes, you can't even begin to guess about a status of a player, and we're in the predicament with Davis, who showed the athleticism to make a NBA team, but showed no other real skill to hang a contract on. It might be best for Davis to not get drafted and then go to a team that needs his skill set rather than get snagged by a team in the second round that needs a guy who can do more. In this workout, Davis seemed like a power forward in a small forwards body; a guy who moves like a 4, but looks like a 3.
Here are our rankings based on this workout:
1. Rafael Arajuo
2.
David Harrison
3. Chris Garnett
4. Kyle Davis
There were no quotes available to the media at the time of this writing. If this changes, then the Quotes and Commentary portion will be added.
Jason Walker is the Atlanta Hawks affiliate for Realgm.com. His articles can be read at http://hawks.realgm.com.