Jonathan Givony
With almost half the season already in the books, we continue to search for draft-eligible prospects making an impact in high-level Europe.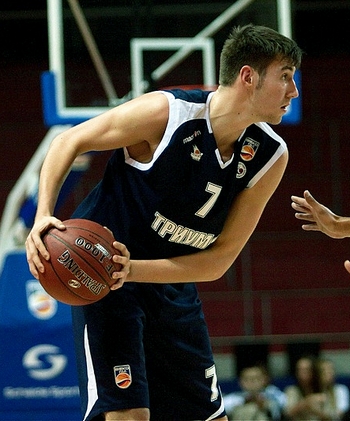 Arguably the most productive young player in Europe these days relative to his age might be 6-7 small forward
Sergey Karasev
, who has been putting up impressive numbers in the Russian PBL, the EuroChallenge and Baltic League. Playing 24 minutes per-game in 26 contests thus far, Karasev is averaging just under 12 points, 4 rebounds and 2 assists, shooting a solid 50% from 2-point range and 36% beyond the arc—despite turning 19 just a few months ago.
Watching Karasev play, two things stand out.
First is the amount of confidence his coaching staff has in him. Often allowing him to bring the ball up the floor and initiate his team's offense, they give him tremendous freedom to make decisions with the ball, be it in pick and roll or transition situations.
Second are the confidence, maturity and basketball IQ Karasev displays in this featured role, which belie his age. He regularly appears to be a step ahead of his opponents in terms of anticipating what will happen next on the floor. This manifests itself most prominently in his passing ability, as he's able to get the ball to his teammates in every way imaginable, be it with bounce passes off the pick and roll, lobs over the top of the defense in transition, kick-outs to open shooters, post-entries, and more.
A natural lefty, Karasev is capable of dribbling and finishing with either hand. He's relied upon fairly heavily in terms of creating offense for his team, and shows a nice ability to change speeds to keep his opponent off balance. Karasev has excellent timing moving without the ball, and thanks to his rapidly improving his frame, is doing a better job getting to the free throw line, where he finds himself nearly 6 times per-40 minutes.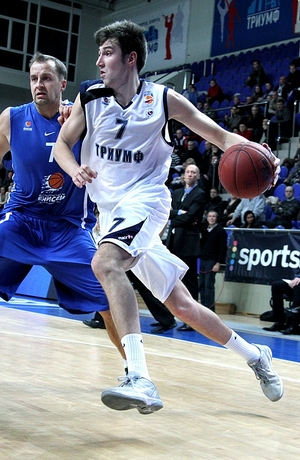 Just an average athlete in terms of his first step and overall quickness, Karasev may have a difficult time creating shots for himself and his teammates against higher level competition than he's facing right now. He struggles finishing around the rim in traffic at times, and thus would be well served developing his mid-range game, which is not very polished at the moment.
Karasev is capable of making shots from beyond the arc, but still probably isn't as consistent as NBA teams would like him to be with his feet set. He's making 36% of his 3-pointers on the season (30/83 in 26 games), but shows plenty of potential for growth in this area.
Defense is the other part of his game where he'll need to show improvement to play at the highest levels of basketball. Part of this has to do with a lack of strength and experience, but some of it has to do with his intensity level. He gives up too much space on the perimeter at the moment, lacking a degree of lateral quickness that would help him stay in front of more athletic opponents. He's shown some ability to rebound (6.4 per-40) this season, which is definitely a plus, and gets in the passing lanes on a semi-regular basis, thanks to his strong anticipation ability.
One of the youngest players who could possibly be eligible for the NBA draft with his late 1993 birthdate, Karasev may not be in a major rush to declare considering he's still proving himself at the Russian league level. The early signs have been very promising, so we'll have to see how he continues to develop in time.