An interview with North Carolina point guard
Kendall Marshall
, discussing his training regimen in Florida, what he's working to improve on, his relationship with his teammates and coach Roy Williams, how he prepares for games, his injury, the transition to the NBA, and more.
-Moe Harkless: "I'm Going to Surprise a Lot of People"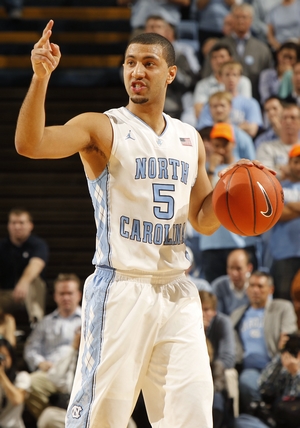 Joseph Treutlein: To start off, can you talk to us a little bit about what you're doing to prepare for the draft right now?

Kendall Marshall:
Right now I'm down at IMG Academy in Bradenton, Florida. I've been down here since my last final, which I think was on the fourth [of May]. I've just been working every day, rehabbing every day. The main thing I'm trying to do is just take care of my body. I don't just want to prepare for the NBA draft; I want to prepare for an 82-game season. So, a lot of flexibility, a lot of stretching; learning the right way to take care of my body over time. And of course, rehab. It's been hard to do everything on the court with my wrist and elbow, but I've been able to shoot a lot, still do workouts, a lot of left-handed. I almost wish I would've broken my left hand so I would've been able to get a lot better with my right hand, but it happens like that sometimes. That's pretty much what I've been doing -- the same schedule every day.
JT: What does your typical daily schedule consist of?

Kendall Marshall:
A typical day is breakfast at 8:00. Rehab from 8:30-9:00, then we start warming up and stretching, then we have a field workout, which is a lot of motion, agility, working on becoming quicker -- things like that we do outside. We go out there for about an hour to an hour and 15, then we go into the gym. We do basketball workouts, a lot of ball screens and a lot of shooting. Dan Barto does a great job with us. We go to lunch around 1:00, then we get a little break from 2:00-4:00. At four we come back and we have different vision testing or group settings where we prepare for interviews, things that make you appealing, things like that. At 5:15 we weight lift -- four days a week: upper body two days, lower body two days. We have another basketball workout after that, which can either be playing, shooting, or working out -- we never know until we get there.
JT: That sounds pretty intense and has to be kind of tiring. It sounds like you're basically working 12 hour days.

Kendall Marshall:
Yeah, that's about right. I wake up every day at 7:22 and I usually get home around 7:45, so it's a full day, but it's great because we're isolated, there's no trouble we can get into down here -- it's all about working hard and getting ready.
JT: We've heard there are a lot of other players down there preparing -- how does that help you out? Is the competition good there?

Kendall Marshall:
It helps out a lot, because when you're around people that are all pushing to accomplish the same goal as you, it makes you work harder. A little ongoing joke we've got down here is who's working hard, who's taking who's money. Given that we're all professionals, that's realistic -- you don't want anybody outworking you and taking your potential money. So we've got guys down here like
Moe Harkless
, DJO [
Darius Johnson-Odom
] from Marquette,
Bernard James
, just to name a few. And we all push each other, so I think we'll all have a good showing in this next month and hopefully everybody makes a roster.
JT: What do you think your biggest strengths are as a player and how would you sell yourself to an NBA GM?

Kendall Marshall:
If I were to sell myself… well, I'd ask I my teammates to do it. I feel like if you want to know about a player you should ask who he plays with or who he plays against and they'll give you an honest evaluation. Now I can sit here and say I do a great job of running a team, getting my teammates involved, and ultimately winning -- those are the things I take pride in and I think my teammates would be able to vouch for that.
JT: Have you been keeping in touch with Harrison Barnes, John Henson, and Tyler Zeller as they've been preparing for the draft?

Kendall Marshall:
Not so much Z[eller]. He's on his own a lot. But me, John and H[arrison], we talk pretty much every day, whether it's what players we're working out against, who's good from these small schools that you don't hear about too often, and the crazy workouts we're all going through, so we're all sharing stories.
JT: Looking to the NBA, is there anything you feel you could really improve upon or the thing you're spending the most time working on from a skills perspective?

Kendall Marshall:
Definitely. I definitely want to become a consistent, knockdown shooter. The last thing I want to be is a liability for any team I'm playing for. I feel like I'm blessed with a gift of getting my teammates involved, but that's not going to matter if guys are defending 10 or 15 feet off of me. And also, working on my body and becoming more flexible -- I think that will help me become quicker on defense. You know, being able to keep guys like Tywon [Lawson],
Derrick Rose
, and
Russell Westbrook
, these highly explosive guards -- I'm not trying to shut them down, but I want to be able to contain them and do a good job staying in front of them.
JT: You obviously excel with your point guard game and passing ability, which made your scoring game take a backseat at times. Do you think some people undersell your abilities as a scorer because of that?

Kendall Marshall:
It's tough to say. One thing I think I do a great job of is I stay in my lane. Whatever I'm able to do, you're going to see it, but I'm not going to try anything crazy that I can't do. I feel like that's one area if I just do what I'm supposed to do, as opposed to going out here and just showing people I can score 25 if I wanted to.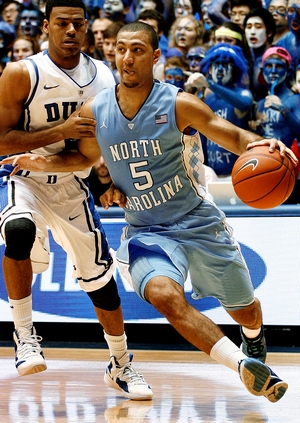 JT: Can you talk a little bit about how you prepare for the game as a point guard, balance your scoring and passing, the pre-game work you put in watching film and game planning?

Kendall Marshall:
A big thing for me is matchups. I feel like the easiest way to score is when you have mismatches. So I want to attack mismatches as much as possible, whether I see that in film or the first couple times down court, a sub comes in -- I want to exploit matchups as quickly as possible. I was blessed this year to have players who were usually better at their position no matter where we wanted to go, so my teammates definitely made it easy for me to prepare for games because they were prepared.
JT: What it was like to be injured amidst your team's NCAA Tournament run?

Kendall Marshall:
It was very tough. I don't wish that on anybody. I don't think that's something anybody ever wants to have to go through. But it was a learning experience, and I'm proud of my teammates for the way they fought. I still feel we had a very special season. We had expectations placed on us that we felt were extremely realistic, but obviously we weren't able to do that. But watching from the sidelines, you see a lot within the game -- maybe stuff coaches were yelling at you for when you didn't think you were doing anything wrong. So, it was a blessing in disguise to be able to take a step back and see the things the coaching staff talks about.
JT: Do you feel any regrets leaving school given how your career at the NCAA level ended?

Kendall Marshall:
Not at all. I feel like we still had two extremely special seasons while I was there. I wouldn't want to trade those memories with my teammates for anything in this world, but I also believe that I want to be able to follow my dreams. Everyone's window of opportunity isn't the biggest to go to the NBA. There are some players that are blessed that no matter when they leave, there's a good chance they're going to go where they want to go. I feel like with a player like myself, I have to take the opportunity that's given to me. Everybody's dream is to play basketball at the highest level, and if I can take that opportunity I'm going to take it.
JT: Was it a difficult choice declaring for the draft?

Kendall Marshall:
Um… Not really. I think one thing that makes me special are the players around me, and when those guys are going to the next level, and I'm playing my best basketball, the writing is on the wall. It felt good to have coach's support behind me. When I walked into his office I was kind of scared to let him know, but the first thing he said back to me when I told him I was ready to leave was that he had zero problems with that. He went on to tell me the steps from there. That was definitely comforting for me.
JT: What it was like to play under Roy Williams, your relationship with him, and how that's helped prepare you?

Kendall Marshall:
He's the best coach I've ever had. He runs a pro system and I think he does a great job getting the most out of his players within a team concept. When you're coaching at places like Kentucky, Duke, UCLA, Kansas -- teams that are great year in and year out, one of the biggest things to do is manage egos of these players that are coming out of high school and who all averaged 25. So I have a lot of respect for Coach Williams and how he's able to do that.
JT: You talked about some of the great schools in the ACC. I wanted to ask you what it's like holding the ACC single season assists record given you played in the same conference as Bobby Hurley, Chris Paul, Ty Lawson, and so many other great point guards.

Kendall Marshall:
It's definitely an accomplishment I'm proud of, but those names you mentioned, none of those players were satisfied with that. So at the same time, it's humbling to me that I so have so much more to accomplish. I don't want to just be known for what I did one year in college, but for what I'm able to do over my whole career.
JT: Have you received any advice from other NBA players and/or UNC Alumni about preparing for the next level?

Kendall Marshall:
The biggest thing I've been told is about taking care of your body. Everyone I've talked to, they have complete faith I can play at the next level, but they say that's the thing that gives you longevity, being able to withstand those 82 games over the time of your career, so that's one thing I want to focus on: the stretching, the rehabbing, getting the most I can out of myself.
JT: You weren't a starter from day one when you arrived at Chapel Hill, and once you got your opportunity you clearly took advantage, but do you think the experience of having to wait your turn so to say will help you at the next level?

Kendall Marshall:
Without a doubt. I can remember plenty of games when sitting on the bench or after games I'm thinking I played 12 minutes, had six points and six assists, imagine what I can do with 30 [minutes]. But coach knew what he was doing; obviously I wasn't ready at the time. I can think back to games when he did put me in at crucial times and I didn't perform well. I think he went about it the best way for me and the team, and it's going to help me at the next level. These coaches, they coach the way they do for a reason. College, the NBA -- I'm pretty sure they know what they're doing, so I'm just going to take it as a learning experience and learn from it.
JT: Looking to the NBA, is there any player you model your game after or think you compare well with stylistically?

Kendall Marshall:
You know, it's tough. I feel like I have a really unique game, so it's hard to really model my game or take after anyone. There are players I've enjoyed watching, such as
Marcus Williams
at UConn, Cliff Hawkins at Kentucky; I love watching Rondo now. If anything, I try to take a lot of ball fakes out of Rondo's game. I feel like he does a great job of ball control even without dribbling, but other than that it's hard to say I model my game after anyone.
JT: What would you say to your doubters who look at you and say "he's kind of a unique player, he doesn't really resemble anyone, I'm not sure if he'll be able to succeed"?

Kendall Marshall:
You know, people don't like different, people don't like change, that's just the way our world works. I think there have been plenty of players who have fought against those questions and done well. Players like
Evan Turner
, who some didn't think would do well coming out of college but has done a great job. Players like
Ricky Rubio
coming over to the NBA and being able to be successful, just to name two. Players from the old days like
Mark Price
who weren't gifted with the athletic abilities but still found a way to get it done. But I feel like I can fit right in -- not with those crop of players, I may not be as good as them right now, but still being able to be effective.
JT: Is there any coach or team in the NBA you think you'd be a real good fit with? Or a certain style you prefer to play?

Kendall Marshall:
It's tough to say. I feel like I can adjust to any situation. It's probably be a little bit harder for me if coach gave me the ball and told me he'd like me to average 20 a game, but other than that I think I'll be okay.
JT: Thank you very much, Kendall. We appreciate it. Good luck moving forward. We wish you well.

Kendall Marshall:
Thank you, I appreciate it.