One of the most intriguing young guard prospects in European basketball,
Dmitry Kulagin
is playing the best basketball of his career for surging Triumph Moscow.
Jonathan Givony
Moving from Novgorod back to his hometown of Moscow to play for Triumph (alongside fellow draft prospect
Sergey Karasev
) this past offseason,
Dmitry Kulagin
got off to a slow start in his new situation. Recently, however, he has been playing exceptionally well, living up to the terrific promise he displayed this summer at the U-19 World Championship in Latvia.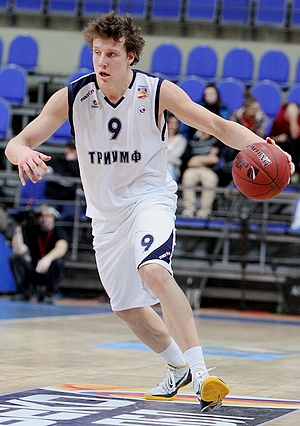 Through 30 games, across three competitions (the Baltic League, EuroChallenge and Russian PBL), Kulagin is playing a solid 24 minutes per-game, averaging 15 points (46% 2P, 32% 3P, 68% FT), 4 rebounds, 5 assists, 2 steals, 3 turnovers, and 4.2 free throw attempts per-40 minutes. His team has won their last six games in the PBL and is now in 3rd place, with Kulagin inserted into the starting lineup and playing some of his best basketball as of late.
Kulagin still hasn't fully been handed the keys to this Triumph team, which makes sense considering his age, inexperience, and the level of competition they are playing at. He shares the backcourt with 6-2 American scoring guard Tywain Mckee, who also likes to have the ball in his hands and is a somewhat streaky shooter. The two are learning to cooperate better and better as of late, even collaborating this past weekend on a terrific win over UNICS Kazan, a team that is currently 3-0 in the Euroleague Top-16.
Even playing as a combo guard, Kulagin remains one of the most intriguing young guard prospects in European basketball, showing a very NBA-friendly combination of confidence, fluidity, and talent with the ball in his hands that is very unique on this side of the ocean.
A superb ball-handler, Kulagin creates his own shot exceptionally well thanks to his ability to change speeds and directions intuitively. He beats players off the dribble regularly in isolation and pick and roll situations, doing a nice job reading the floor and deciding whether to drive and dish, pull-up for a jumper, or go all the way to the basket and finish strong. He draws fouls at a very good rate thanks to his shiftiness and aggressiveness with the ball, but needs to improve on his 68% shooting from the free throw line.
As a decision maker, Kulagin remains a work in progress, as evidenced by his 1.6:1 assist to turnover ratio and 18% turnover rate. He makes some spectacular passes that illustrate his terrific talent-level and feel for the game, but tries to do a little too much at times and can end up forcing the issue.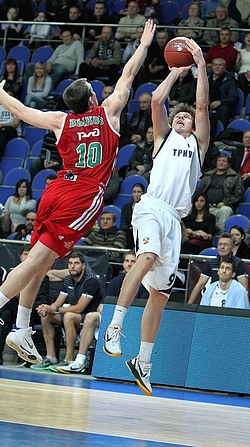 Kulagin's perimeter shooting is also improvable. He's making just 32% of his 3-pointers, but appears to have good mechanics on his jumper and the ability to make tough shots off the dribble. He tends to fade away unnecessarily at times on his pull-ups, kicking his legs out and not being on-balance. His shot-selection is average at best, which may have something to do with his less than ideal role playing off the ball at times.
On defense, Kulagin looks slightly improved as of late but still leaves something to be desired. His excellent size and anticipation skills allows him to make his presence felt from time to time on this end of the floor, particularly when he's putting the effort in, but he's still often too upright in his stance and susceptible to biting on pump-fakes and gambling in the passing lanes. Kulagin's average lateral quickness will likely make it difficult for him to ever develop into a real lock-down defender, but he'll need to keep improving on this end of the floor if he doesn't want to be labeled as a liability. To that end, improving his focus, toughness, and fundamentals will be paramount
With the weakness of this year's point guard crop, Kulagin could reportedly very well elect to throw his name into the draft to see where he stands in the eyes of NBA talent evaluators. The way
Ricky Rubio
is playing in the NBA thus far surely won't hurt his draft stock, as the two share some similarities in terms of their style of play.
Kulagin is eligible to play in this year's Nike Hoop Summit and is apparently interested in doing so, and will also have a chance to show himself at the EuroCamp in Treviso as part of (at the very least) the Under-20 Russian national team.
NBA teams will want to do their due diligence on the conflicting reports surrounding his background, attitude, and off-court habits, something that will be very important considering the significant transition he'll potentially need to make moving from Russia to the US, but there's little question about his talent and ability to make things happen with the ball in his hands.