To kick off our scouting coverage of the 2012 high school class all-star game circuit, we begin with our first batch of prospects from the McDonald's All-American game who will not be playing at the Nike Hoop Summit.
Note: Players (such as
Shabazz Muhammad
) who have recent comprehensive scouting reports on the site already will not be written up again. Use the search engine to locate those.
Yogi Ferrell, 5'11, Point Guard, Park Tudor (IN)
Committed to Indiana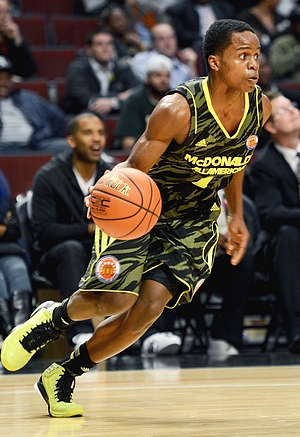 Matt Williams
The second shortest player in attendance, Kevin "Yogi" Ferrell (ESPN #33, Rivals #17, Scout #34) was arguably the most impressive distributor amongst a point guard crop that struggled badly at times this week. Showing terrific quickness and overall athleticism, Ferrell did a very good job using his dribble penetration to put pressure on the opposing defense and getting his teammates involved.
Listed at 5'11 and sporting an average wingspan, Ferrell's size will likely always give scouts pause as his career progresses, but his tremendous ability to create offense surely gives him a fighting chance. Possessing a quick first step, great agility in the lane, and a solid frame he'll need to continue adding weight to in order to deal with the physicality of the college game, Ferrell's already pushes the ball in the open court exceptionally well.
A very good ball-handler, it will be Ferrell's ability to play at different speeds in the half-court and control the game under pressure that will dictate his early success for the Hoosiers. He showed throughout the week that he can use his explosiveness to create shots for his teammates at a very good rate, even on the pick and roll, a significant plus for an Indiana program that could return a number of legitimate NBA prospects to go along with a stellar incoming recruiting class. If the Indiana native can learn to dictate tempo over the course of his freshman season and make sound decisions when driving to the rim, he'll have a huge impact on Indiana's fortunes next March.
Apart from his ability to create for others, Ferrell can score in a variety of ways himself, but has a lot of room for improvement, as evidenced by his inconsistent scoring this week. Showing the ability to create sharp separation from defenders with his pull-up jumper, he can make shots both from a standstill and off the dribble, but needs to improve his shot-selection and consistency to compensate for the more athletic defenders he'll be facing at the college level. Ferrell's size limits him to some degree around the rim, as some of his drives get smothered in traffic, but his explosiveness and aggressive nature should help him adjust eventually. He'll need to become more discerning with the way he looks to score in the NCAA and become more reliable as a scorer on the pick and roll and a better overall jump shooter to offset the challenges he'll face against more athletic help side defenders.
Defensively, Ferrell has the potential to be an impact player at the NCAA level. His size will limit his ability to get in the passing lanes and contest shots, but his quickness could make him a nuisance as an on-ball defender. It will be interesting to see how Ferrell manages to defend the pick and roll early in his career as teams may challenge the 160-pound point guard in the two-man game by being very physical with him on screens.
Somewhat up and down at times this week, as he'll likely be as a freshman on occasion, Ferrell did his best work during the McDonald's All-American game itself, dishing out a game high 9-assists, a few of which came in half court situations against solid defense. The Indiana native's speed and ball-handling ability will bring another dimension to Tom Crean's offense this coming season, and while Ferrell will have to overcome the perceptions amongst NBA scouts about players his size, he's a player to keep tabs on in the coming seasons.
DaJuan Coleman, 6'10, Power Forward/Center, Jamesville-Dewitt (NY)
Committed to Syracuse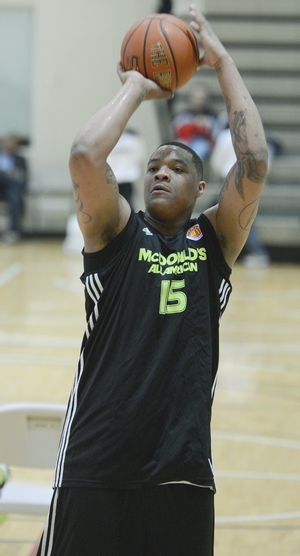 Matt Williams
One of the steadiest performers at this year's McDonald's All-American festivities,
DaJuan Coleman
(ESPN #13, Rivals #27, Scout #10) is a player who we first wrote about nearly three years ago. Emerging on the radar thanks to his tremendous physical stature, Coleman's best asset remains his massive frame, which he's still working to fully condition.
A solid, but certainly not spectacular athlete, Coleman's terrific physical strength allowed him to make an impact around the rim during his time in Chicago as an offensive rebounder and finisher. Showing very good patience letting would-be shot blockers fly by him down low, Coleman was able to make the most of the touches he got around the rim, despite his average explosiveness. Displaying soft hands and the ability to finish above the rim, Coleman did not get too many opportunities to showcase his post-game in this setting, doing most of his damage off of dump passes from penetrating teammates.
As we've noted in the past, Coleman also flashed the ability to knock down shots from the midrange and put the ball on the floor a bit to take what defenders give him when he's facing the basket. With its roster in flux, Syracuse could have one of the deepest frontcourts in the country next season, especially if they manage to land
Nerlens Noel
. Despite that, Coleman figures to contribute immediately in some capacity. His versatility could be a bonus in time, but it will be the development of his post arsenal will dictate how dominant he can be at the college level both this coming season and down the road.
Defensively, Coleman provides most of his value at this point with his ability to clean the glass. His 7'2 wingspan allows him to lock down the weakside when he goes to box out and makes him a decent shot-blocker, even if most of his blocks are not the result of help-side rotations. Coleman's physical tools give him upside as a post-defender at the next level, and his ability to rebound the ball should provide a nice contrast to the more aggressive shot blockers he could be playing alongside or in lieu of on the back line of Jim Boeheim's zone.
All-in-all, this was a very solid performance for Coleman. He was by no means a standout over the course of the week, but he was one of the more efficient big men in a setting that had more than its share of physical play around the rim. Coleman still has ample room to improve, especially if he decides to fully commit to improving his conditioning, but he delivered here in Chicago, and is one of the more college ready big men in the class of 2012.
Devonta Pollard, 6'8, Small Forward, Kemper County (MS)
Uncommited (Alabama, Georgetown, Missouri, Texas)
Matt Williams
Missing the game and some practice time with a concussion,
Devonta Pollard
(ESPN #32, Rivals #9, Scout #25) was still a very intriguing prospect for us to take in for the first time during our week in Chicago. He struggled for stretches, but showed why he's considered one of the more intriguing long-term prospects and top uncommitted players in this class.
Sporting a promising 6'8 frame with a 6'10 wingspan, Pollard has terrific size for a player who spends most of his time playing out on the perimeter. He's an explosive leaper who is surprisingly smooth and coordinated and looks very comfortable in transition. Pollard would benefit from the improved overall strength that will come from working in a college weight room, even if he already has a very promising base of physical tools to build on.
On the offensive end, Pollard is an energetic forward that shows promise in a few different areas, though he clearly lacks significant polish and does not excel in any one area at this point. Able to attack opponents in a straight line off the dribble with a strong first step, Pollard will finish plays above the rim when given the chance, can make his presence felt on the offensive glass, and seems to know his role pretty well. In the practices we saw, he struggled to create his own shot against
Shabazz Muhammad
in true one-on-one situations, showing he has room to improve on his ball-handling skills. If Pollard can get stronger, develop his perimeter jumper, and continue to use his athleticism to make plays around the rim, his versatility could certainly be of significant value at the NCAA level in time.
Defensively, Pollard shows good intensity and gives less athletic players fits with his length and anticipation. He got beat off the dribble on occasion, but didn't give up on plays, and seems to have the potential to defend multiple positions at the next level. Able to block an occasional shot at the rim, the physical play in the paint this week took a toll on him, as he wasn't able to use his terrific timing in the crowded lane all that consistently.
A hard working player with solid upside, Pollard has a ton of room to grow as a player and prospect. Depending on where he heads to school, his versatility and defense may be the keys to his early success. If he can develop as a shooter, and begin to exploit his athleticism in the half-court offensively, he could be a very interesting long-term prospect.
Perry Ellis, 6'8, Power Forward, Wichita Heights (KS)
Committed to Kansas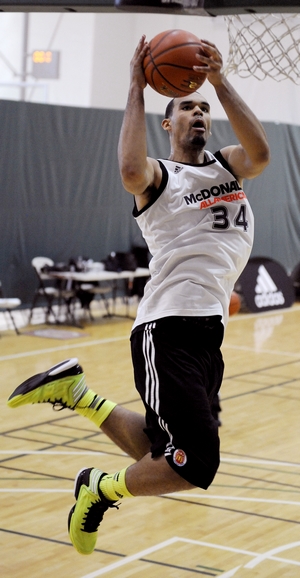 Matt Williams
A player who has been on the radar screen since very early on in his high school career,
Perry Ellis
(ESPN #31, Rivals #24, Scout #36) had a fairly non-descript week, but figures to factor heavily into a Kansas program potentially moving into next season without
Thomas Robinson
.
An undersized power forward with average length and a frame he could easily continue to add weight to, Ellis is not blessed with outstanding physical tools. He's at his best in catch and finish situations where he can use his smarts and timing to aggressively attack the rim. Lacking great quickness, explosiveness or lateral speed, Ellis fits the mold of a face-up power forward for the college level physically.
On the offensive end, Ellis has a very quick and reliable release on his jump shot, which helps him compensate for its extremely low release point. The Wichita native hit a number of midrange shots this week, though he missed a few good looks as well. His scoring ability extends out to the midrange area, but his consistency diminishes past this point. Able to get his shot off in a pinch, Ellis is never shy on this end of the floor, looking extremely aggressive and decisive with the ball in his hands.
Around the rim, Ellis does a nice job finishing the shots his teammates create for him, which was a key this week as he showed little in the way of post-up moves. He did show his ability to use his strength to exploit basic drop-step moves, but was at his best using his developed lower body to finish above the rim. Running the floor well and cutting decisively to the basket, Ellis is fairly active without the ball. When creating his own shot, he can use straight-line drives to get to the open area on the floor, but did not show the quickness or ball-handling ability to beat similarly sized players off the dribble in one-on-one situations in Chicago.
Defensively, Ellis' aggressive nature and timing are his best assets, as they help him deny dribble penetration, hold position down low, and pull down rebounds in his area. He doesn't have great lateral quickness and is not a presence as a shot blocker, but is a physical defensive player when dialed in.
Struggling to stand out among his peers in this setting for long stretches, Ellis has a few well-defined tools on the offensive end, which coupled with his mature nature and extremely aggressive mentality, could afford him a clear role early in his Jayhawk career. Long-term, his physical tools and skill set seem to leave him somewhat stuck between positions, so it will be interesting to see how he develops after a few years under Bill Self.