Perry Ellis
Recent Tweets
All Tweets
DraftExpress: Top NBA prospects in the Big 12 #s 6-10 Cameron Ridley Georges Niang Perry Ellis Prince Ibeh Tarik Black\n http://t.co/mbXcQrbe1B
2013-09-27 16:36:13
DraftExpress: DX McDonald's All-American Evaluations - Yogi Ferrell, DaJuan Coleman, Devonta Pollard, Perry Ellis http://t.co/0jZQNHWO
2012-04-02 12:23:16
DraftExpress: Other guys that underwhelmed this week: Perry Ellis and Amile Jefferson. Positonless players with limited physical tools & skill-sets?
2012-03-28 10:59:10
DraftExpress: RT @DaveTelep: Received media "guidelines" for Perry Ellis announcement. Really? This kid can stand on his own. He doesn't need this kin ...
2011-09-20 11:45:26
DraftExpress: At #elite24 midnight run. Harrison twins, Perry Ellis arriving tomorrow. Derrick Williams, Jordan Hamilton new NBAers also in building.
2011-08-25 12:06:26
Team: Kansas, Senior
Physicals
Positions
Rankings
Misc
H: 6' 8"
W: 222 lbs
Bday: 09/14/1993
(22 Years Old)

Current: SF
NBA: SF
Possible: PF

Rank 32 in NCAA Seniors
RSCI: 32

High School: Wichita Heights
Hometown: Wichita, KS

Predraft Measurements
| Year | Source | Height w/o Shoes | Height w/shoes | Weight | Wingspan | Standing Reach | Body Fat | No Step Vert | Max Vert |
| --- | --- | --- | --- | --- | --- | --- | --- | --- | --- |
| 2014 | Nike Skills Academy | NA | 6' 8" | 222 | 6' 10" | NA | NA | NA | NA |
| 2010 | LeBron James Camp | NA | 6' 8" | 212 | 6' 10" | NA | NA | NA | NA |
| 2010 | Kevin Durant Camp | NA | 6' 8" | 212 | 6' 10" | NA | NA | NA | NA |
| 2010 | NBA Top 100 Camp | 6' 7" | NA | 211 | 6' 10" | 8' 7" | NA | NA | NA |
| 2009 | Vince Carter Camp | NA | 6' 7" | 206 | 6' 6" | NA | NA | NA | NA |
| 2009 | LeBron James Camp | NA | 6' 7" | 206 | 6' 6" | NA | NA | NA | NA |



Basic Per Game Statistics

- Comprehensive Stats - Statistical Top 25s
| Year | League | Name | GP | Min | Pts | FG | FGA | FG% | 2Pt | 2PtA | 2P% | 3Pt | 3PtA | 3P% | FTM | FTA | FT% | Off | Def | TOT | Asts | Stls | Blks | TOs | PFs |
| --- | --- | --- | --- | --- | --- | --- | --- | --- | --- | --- | --- | --- | --- | --- | --- | --- | --- | --- | --- | --- | --- | --- | --- | --- | --- |
| 2015/16 | NCAA | Perry Ellis | 4 | 26.8 | 16.5 | 6.0 | 11.3 | 53.3 | 5.3 | 9.3 | 56.8 | 0.8 | 2.0 | 37.5 | 3.8 | 4.8 | 78.9 | 1.8 | 3.8 | 5.5 | 0.8 | 0.3 | 0.0 | 1.0 | 1.3 |

Player Page&nbsp&nbsp| Player Stats | Mock Draft History | Related Articles&nbsp&nbsp| Add to My Draft Express&nbsp
&nbsp
Top NBA Prospects in the Big 12, Part Six: Prospects #10-15
September 22, 2015
Josh Riddell

Perry Ellis has come a long way since his freshman season where he averaged a paltry 13.6 minutes per game. Now a Big XII All-Conference First Team player, Ellis returns to Kansas for his senior season hoping to lead a stacked Jayhawks team deep in the NCAA Tournament.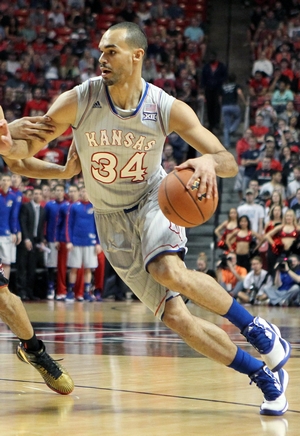 US Presswire



In order to become a more sought after draft prospect in his last collegiate season, Ellis will need to show that he can fill a role at the NBA level, as there are currently questions about what position he would play. At 6'8" with an average 6'10" wingspan, he is undersized compared to NBA power forwards. At the same time, he doesn't have elite quickness and foot speed for a player of his size to play on the wing. Likely to spend most of his time facing the basket if he does make it in the NBA, Ellis will have to show more improvement as a senior than he did as a junior to convince teams he still has some upside left to tap into.

Much of Ellis' offense came from around the basket, with post-ups logged by Synergy Sports Technology accounting for 20.9% of his offensive possessions. While he has demonstrated the ability to score with his back to the basket against weaker opponents, he's struggled against better competition, and this skill seems unlikely to translate to the next level, at least not from the power forward spot. He isn't a dominant presence on the block and not someone a NBA team will build their offense around in the post. While this will be a nice way for him to score in small spurts, he will need to find more ways to score that have a better chance of success at the next level.

Ellis does float around the perimeter in the flow of the Kansas offense but he doesn't initiate much offense from this spot on the court. He has shown some ability from the mid-range, which gives him some potential to extend his game to the perimeter. He isn't a very advanced ball-handler or shot-creator, and struggles when he tries to drive all the way from the three point line. He is able to face up his defender from the free throw line and take one or two straight-line dribbles to get into the paint, although he has trouble finishing, as he converted just 48.1% of his attempts at the rim according to Synergy Sports Technology.

His jump shot is the area where he can take the largest leap in his senior season. This has been the case for the past two seasons, but he has yet to show huge progress in this area. Ellis is able to knock down mid-range shots on a semi-consistent basis, making 40.6% of his 32 attempts from 17 feet to the three point line, according to Synergy Sports Technology. He did make 39% of his 46 3-point attempts last season, which was a career high in attempts, albeit on a small sample size. If he can extend his range to the three point line on a larger scale, a role at the next level could begin to take shape for him with his excellent basketball IQ and competitiveness.

Defensively is where it is even harder to project Ellis as an impact player at the next level. He is undersized, and not particularly long or strong to project guarding players around the basket. At the same time, he doesn't show great lateral quickness preventing dribble penetration from the perimeter. While he puts in a high effort level on the wing, he has to play back a step or two from his defender as he doesn't have the foot speed to stay in front of drives. This allows the opposition to shoot over him, and his poor length doesn't help in this regard.

With the personnel that Kansas has this season, including Cheick Diallo (if eligible), Jamari Traylor, Carlton Bragg and Landen Lucas roaming around the rim, Ellis may be asked to play on the perimeter more often this season to help space the floor. This will give him the chance to show whether he has made the improvements to play the wing consistently. Despite already being 22, he is still a player to monitor and if he shows he can diversify his game, his draft stock will rise as it will be easier to envision a role for him in a NBA rotation.

[Read Full Article]

---
Top NBA Prospects in the Big 12, Part 5: Prospects #5-8
September 12, 2014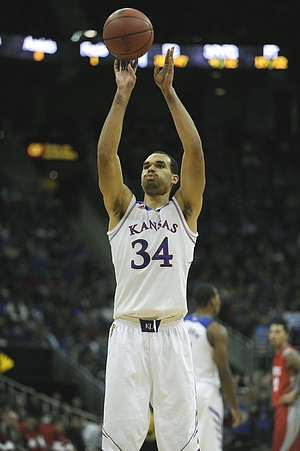 US Presswire



Matt Kamalsky

A consensus top-35 recruit in high school, Perry Ellis was one of the most improved players in college basketball last season, averaging 13.5 points and 6.7 rebounds per-game after tallying 5.8 points and 3.9 rebounds per-game during his freshman year.

Measuring 6'8 with a 222-pound frame and a 6'10 wingspan this summer at the Nike Skills Academy, Ellis doesn't have great size for a power forward. Though he's on the small side, and not exceptionally athletic, he still managed to be brutally effective and efficient in just his second year of high-major college hoops thanks to a workman-like approach to the game and tremendous fundamentals.

After doing much of his damage from the post as a freshman in limited minutes, Ellis made contributions in a variety of areas as a sophomore, continuing to score with very good efficiency with his back to the basket, but also proving to be an efficient midrange jump shooter and finisher around the rim. The Kansas Mr. Basketball recipient is not the type of player who will blow you away with his athleticism or shiftiness, his appeal next level is more about substance than style.

Ellis uses a low base to carve out space inside, and can put the ball on the floor and attack slower big man driving in either direction. He uses his timing and feel for the game to earn touches cutting off the ball or crashing the boards, and knocks down set shots out to the college three-point line with a somewhat mechanical, but fairly reliable shooting stroke. Posting the 9th highest true shooting percentage of any player in our top-100 last season and more than doubling his usage from his freshman year, Ellis figures to once again bring balance and efficiency to a Kansas team adding Kelly Oubre and Cliff Alexander in the place of Andrew Wiggins and Joel Embiid.

Moving forward, it will be worth keeping an eye on Ellis' ability to improve as a shooter. He has many of the attributes common among undersized combo forwards that have carved out niches at the NBA level as roleplayers, but he could solidify his standing further if he can become a more prolific shooter. He shot a tremendous 46.2% on jump shots last year, but on under two attempts per-game. His ability to improve his range and potentially solidify himself as Kansas's go-to-scorer with more touches on the block could only help him in the eyes of scouts.

Aside from his scoring ability, Ellis is a low-mistake player on both ends, a solid area rebounder, and staunch individual defender. His lack of size, length, and lateral quickness limits his ability to contest shooters, block shots, pull down rebounds in a crowd, and defend quicker players one-on-one, but his effort helps him overcome many of these limitations at the college level.

The stabilizing force for a young Kansas squad a year ago, it will be interesting to see how Ellis asserts himself in a similar situation this year. The confidence he gained as a sophomore, coupled with his high basketball IQ, could make him one of the more productive players at his position in the country if he gets a chance to shine. While Ellis certainly isn't a glamorous NBA prospect, he could factor into the draft after this or his senior year. His ceiling isn't terribly high, but if he can replicate his efficiency from a year ago, he could endear himself to NBA decision-makers regardless.

[Read Full Article]

---
2014 adidas Nations Interview: Perry Ellis
August 21, 2014
[Read Full Article]

---
Top NBA Draft Prospects in the Big 12, Part 4 (#6-10)
September 27, 2013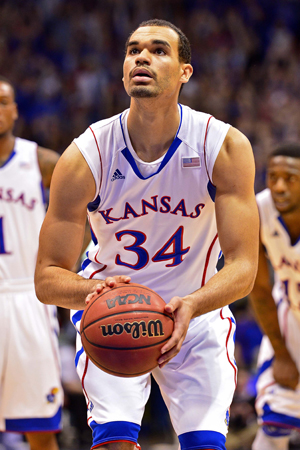 US Presswire



Jonathan Givony

A backup last season on an experienced team Kansas team led by the likes of seniors Elijah Johnson, Jeff Withey, Travis Releford and Kevin Young, Perry Ellis now finds himself as the leading returning scorer on the roster despite averaging just 5.8 points in 13.6 minutes.

A four-time state champion in high school, Ellis started earning attention on a national level at a very early stage in his career, being considered one of the top prospects in the 2012 class. He didn't grow or improve quite enough to maintain his five star recruiting ranking as his career moved on, but still did enough to be named a McDonald's All-American thanks to his intelligent, fundamentally sound and no-frills style of play.

Standing 6-8 in shoes with a 6-10 wingspan and a somewhat narrow 220 pound frame, Ellis is firmly stuck in between the small forward and power forward positions, even if he saw most of his time on the interior for Kansas last season and will likely continue to do so for the time being.

He's not an exceptional athlete, even if he possesses better quickness and strength than he initially lets on.

Offensively, Ellis saw the biggest portion of his touches inside the paint last season, where he is surprisingly effective with his back to the basket. He does a very nice job of carving out space for himself to operate by powering into opposing players and getting them off balance, and shows nice footwork and patience as well as the ability to finish with either hand around the basket.

Ellis also is utilized occasionally as a face-up threat from 17-18 feet, where he has a pretty quick first step driving left, a move he often uses to spin back to his right hand. He got to the free throw line at a pretty good rate as a freshman (in limited minutes) thanks to his aggressiveness at the power forward spot, and made a solid 74% of his attempts once there.

Ellis didn't seem to display all that much confidence in his jump-shot as a freshman, although he did look increasingly comfortable from the perimeter (and also in general) as the year moved on. He'd often pass up open looks from the perimeter preferring to drive into traffic, but when he did take jump-shots, he showed solid potential, making 12 of his 24 attempts on the season. Most of these came in the mid-range area, so we'll have to see how he continues to expand his range, but his shooting mechanics look pretty solid, so there is definitely room for improvement.

Defensively, Ellis does not appear to have the size, strength, length or athleticism to be an overwhelmingly effective presence on the interior at the college level, but he does show good toughness, a high energy-level, nice timing and the willingness to compete. Unless he significantly bulks up, it's difficult to envision him spending a great deal of time guarding power forwards in the NBA, so his potential could hinge on no small part on his ability to defend the perimeter, where he looks largely untested at the moment. He doesn't appear to have great lateral quickness, and is a little bit upright in his stance at the moment, but his strong fundamentals and high basketball IQ will certainly help in this regard.

Ellis' role will expand significantly in the coming season, which should give us a much better idea of what his ultimate potential in the NBA looks like. It might take another year or two for him to really start moving his game out towards the perimeter on both ends of the floor, which he'll likely have to do to find success in the long-term.

[Read Full Article]

---
Mcdonald's All-American Week Player Evaluations (Part One)
April 2, 2012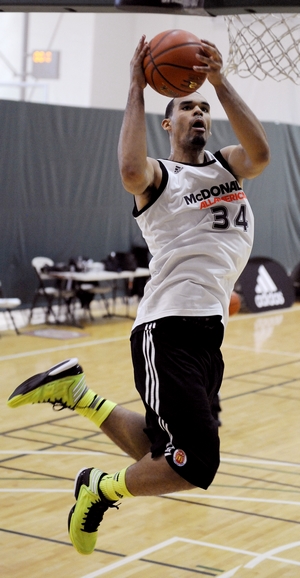 Golin Harris



Matt Kamalsky

A player who has been on the radar screen since very early on in his high school career, Perry Ellis (ESPN #31, Rivals #24, Scout #36) had a fairly non-descript week, but figures to factor heavily into a Kansas program potentially moving into next season without Thomas Robinson.

An undersized power forward with average length and a frame he could easily continue to add weight to, Ellis is not blessed with outstanding physical tools. He's at his best in catch and finish situations where he can use his smarts and timing to aggressively attack the rim. Lacking great quickness, explosiveness or lateral speed, Ellis fits the mold of a face-up power forward for the college level physically.

On the offensive end, Ellis has a very quick and reliable release on his jump shot, which helps him compensate for its extremely low release point. The Wichita native hit a number of midrange shots this week, though he missed a few good looks as well. His scoring ability extends out to the midrange area, but his consistency diminishes past this point. Able to get his shot off in a pinch, Ellis is never shy on this end of the floor, looking extremely aggressive and decisive with the ball in his hands.

Around the rim, Ellis does a nice job finishing the shots his teammates create for him, which was a key this week as he showed little in the way of post-up moves. He did show his ability to use his strength to exploit basic drop-step moves, but was at his best using his developed lower body to finish above the rim. Running the floor well and cutting decisively to the basket, Ellis is fairly active without the ball. When creating his own shot, he can use straight-line drives to get to the open area on the floor, but did not show the quickness or ball-handling ability to beat similarly sized players off the dribble in one-on-one situations in Chicago.

Defensively, Ellis' aggressive nature and timing are his best assets, as they help him deny dribble penetration, hold position down low, and pull down rebounds in his area. He doesn't have great lateral quickness and is not a presence as a shot blocker, but is a physical defensive player when dialed in.

Struggling to stand out among his peers in this setting for long stretches, Ellis has a few well-defined tools on the offensive end, which coupled with his mature nature and extremely aggressive mentality, could afford him a clear role early in his Jayhawk career. Long-term, his physical tools and skill set seem to leave him somewhat stuck between positions, so it will be interesting to see how he develops after a few years under Bill Self.

[Read Full Article]

---