DaJuan Coleman
Recent Tweets
All Tweets
DraftExpress: Top NBA Prospects in the ACC Prospects #10-14 C.J. Fair DaJuan Coleman Brice Johnson Robert Carter Jerian Grant http://t.co/ZjATYj0WSm
2013-09-11 18:03:49
DraftExpress: Top NBA Prospects in the ACC Prospects #10-14 http://t.co/ZjATYj0WSm C.J. Fair DaJuan Coleman Brice Johnson Robert Carter Jerian Grant
2013-09-11 11:22:03
DraftExpress: DX McDonald's All-American Evaluations - Yogi Ferrell, DaJuan Coleman, Devonta Pollard, Perry Ellis http://t.co/0jZQNHWO
2012-04-02 12:23:16
DraftExpress: Is Rakeem Christmas not even in Syracuse's rotation? Things are going to get crowded next year with DaJuan Coleman coming in and Melo back.
2011-11-23 11:13:59
DraftExpress: Pros win (9-8) despite some nice flashes from Rodney Purvis. Kyle Anderson, DaJuan Coleman, Robert Carter Savon Goodman Justin Anderson next
2011-08-25 12:45:30
Team: Syracuse, Senior
Physicals
Positions
Rankings
Misc
H: 6' 9"
W: 290 lbs
Bday: 10/16/1992
(23 Years Old)

Current: C
NBA: PF/C
Possible: PF/C

Rank 84 in NCAA Seniors
RSCI: 19

High School: Jamesville-DeWitt
Hometown: Syracuse, NY

Predraft Measurements
| Year | Source | Height w/o Shoes | Height w/shoes | Weight | Wingspan | Standing Reach | Body Fat | No Step Vert | Max Vert |
| --- | --- | --- | --- | --- | --- | --- | --- | --- | --- |
| 2011 | LeBron James Camp | NA | 6' 9" | 290 | 7' 2" | NA | NA | NA | NA |
| 2011 | Amare Stoudemire Camp | NA | 6' 9" | 290 | 7' 2" | NA | NA | NA | NA |
| 2010 | LeBron James Camp | NA | 6' 9.5" | 280 | 7' 1.5" | NA | NA | NA | NA |
| 2010 | Amare Stoudemire Camp | NA | 6' 9.5" | 280 | 7' 1.5" | NA | NA | NA | NA |
| 2009 | LeBron James Camp | NA | 6' 8" | 281 | 7' 1.5" | NA | NA | NA | NA |
| 2009 | Amare Stoudemire Camp | NA | 6' 8" | 281 | 7' 1.5" | NA | NA | NA | NA |



Basic Per Game Statistics

- Comprehensive Stats - Statistical Top 25s
| Year | League | Name | GP | Min | Pts | FG | FGA | FG% | 2Pt | 2PtA | 2P% | 3Pt | 3PtA | 3P% | FTM | FTA | FT% | Off | Def | TOT | Asts | Stls | Blks | TOs | PFs |
| --- | --- | --- | --- | --- | --- | --- | --- | --- | --- | --- | --- | --- | --- | --- | --- | --- | --- | --- | --- | --- | --- | --- | --- | --- | --- |
| 2015/16 | NCAA | DaJuan Coleman | 6 | 14.8 | 2.7 | 1.2 | 2.7 | 43.8 | 1.2 | 2.7 | 43.8 | 0.0 | 0.0 | &nbsp | 0.3 | 0.3 | 100.0 | 1.5 | 3.2 | 4.7 | 0.5 | 0.3 | 1.2 | 1.3 | 3.0 |

Player Page&nbsp&nbsp| Player Stats | Mock Draft History | Related Articles&nbsp&nbsp| Add to My Draft Express&nbsp
&nbsp
Top NBA Draft Prospects in the ACC, Part Six (#10-14)
September 11, 2013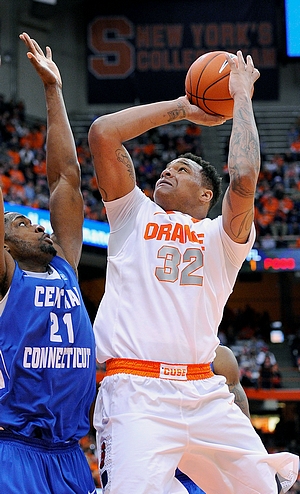 US Presswire



Joe Treutlein

After a solid beginning to his freshman campaign, starting at the center position in all of Syracuse's first 20 games, DaJuan Coleman's season was derailed in January due to a minor knee surgery. While Coleman's stat line doesn't exactly jump out of the box score (4.8 points and 4.0 rebounds in just 12.7 minutes per game), he's poised to take a noticeable step forward in his sophomore season where he will have every opportunity to earn more minutes.

Standing 6'9 with a large and strong frame and an excellent 7'2 wingspan, DaJuan Coleman boasts the same physical strengths and weaknesses as the player we've profiled since his freshman year of high school. Coleman still has some baby fat and will always need to work a little harder to maintain his conditioning, but he's done a solid job of getting into decent shape, and is plenty mobile and fluid regardless. Coleman actually spends a good deal of his possessions playing above the rim by virtue of his excellent size and length, but could do so a much higher percentage of the time if he increased his explosiveness and became quicker off his feet by further cutting down his excess weight.

On the offensive end, Coleman's strengths lie primarily within five feet of the basket, where he has no problem establishing dominant position, backing his man down, finishing through contact, and going up for powerful dunks when he has the opportunity. He has a decent repertoire of running hooks and spin moves along with decent touch on his finesse finishes. As Coleman gets farther away from the basket, however, his efficiency drops notably, and he was far too reliant on post moves and jump shots outside five feet during his shortened freshman year. Despite being a good finisher around the rim in general, Coleman had an extremely weak 43.8% two-point percentage last season, an inexcusable mark for someone with his size and physical abilities.

Looking at Coleman's finesse and perimeter game, he has some bright spots with his flashes of ability to put the ball on the floor and somewhat respectable-looking 15-foot jumper, but his 46.2% free-throw percentage is a pretty good barometer of where his perimeter skills are overall at this stage, and his game and team would benefit greatly by him spending a much higher degree of his time operating as close to the basket as possible.

Coleman's inside game is already very effective at the college level, as he gets to the line at an excellent rate (8.6 times per-40) and already is a good overall finisher, especially when he has the room to power up. If Coleman has been spending his time this summer wisely by focusing on his conditioning and really maximizing his explosiveness, he could vastly improve his ability in what is already the strongest area of his offensive game.

On the defensive end, Coleman shows good awareness, intensity, and rotation ability manning the center spot in Syracuse's signature 2-3 zone. He also fares well on the rare instances he's matched up against power post players, showing good ability to keep his man away from the basket and very good timing on shot blocks. On the downside, however, Coleman has issues with lateral agility when matched against more finesse-oriented post players, and looks like a fish out of water whenever he is dragged out to the perimeter against guards or has to close out on outside jump shots.

The most positive aspect of Coleman's game at this stage, both as a collegiate player and projecting to the next level, is his superb rebounding ability on both ends of the floor. Coleman boasted an excellent 12.5 rebounds per 40 minutes pace adjusted last season in a Syracuse zone system that's known for spreading the boards around somewhat. Coleman does a great job staying near the basket on both ends of the floor and showing a good nose for the ball off the rim along with soft hands to pull in caroms. His ability to finish on putbacks offensively is another area where maximizing his explosiveness could pay big dividends for his production and efficiency, though he's already very effective in that area.

Looking forward, Coleman is certainly a player to keep an eye on as a sophomore, as he's likely already Syracuse's most talented big man going into this season without even making noticeable improvements, so he should have no problem expanding his role if he spent time working on his game and body this offseason. Coleman's NBA potential will be heavily dependent on maximizing his physical attributes, and he already has a solid groundwork of skills to offer with his rebounding, inside scoring, and interior defense, along with the obvious assets of his size and strength. If he checks out character-wise, particularly in terms of his work ethic and off the court habits, it's a pretty safe bet to say the NBA is in his future.

[Read Full Article]

---
McDonald's All-American Interviews: DaJuan Coleman and Yogi Ferrell
April 5, 2012
[Read Full Article]

---
Mcdonald's All-American Week Player Evaluations (Part One)
April 2, 2012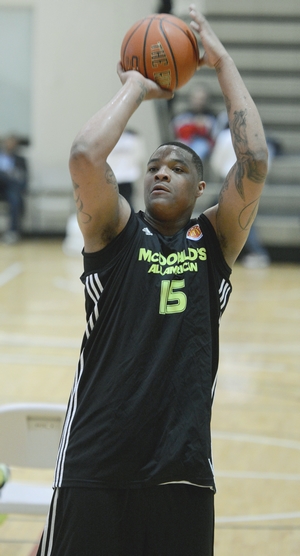 Golin Harris



Matt Kamalsky

One of the steadiest performers at this year's McDonald's All-American festivities, DaJuan Coleman (ESPN #13, Rivals #27, Scout #10) is a player who we first wrote about nearly three years ago. Emerging on the radar thanks to his tremendous physical stature, Coleman's best asset remains his massive frame, which he's still working to fully condition.

A solid, but certainly not spectacular athlete, Coleman's terrific physical strength allowed him to make an impact around the rim during his time in Chicago as an offensive rebounder and finisher. Showing very good patience letting would-be shot blockers fly by him down low, Coleman was able to make the most of the touches he got around the rim, despite his average explosiveness. Displaying soft hands and the ability to finish above the rim, Coleman did not get too many opportunities to showcase his post-game in this setting, doing most of his damage off of dump passes from penetrating teammates.

As we've noted in the past, Coleman also flashed the ability to knock down shots from the midrange and put the ball on the floor a bit to take what defenders give him when he's facing the basket. With its roster in flux, Syracuse could have one of the deepest frontcourts in the country next season, especially if they manage to land Nerlens Noel. Despite that, Coleman figures to contribute immediately in some capacity. His versatility could be a bonus in time, but it will be the development of his post arsenal will dictate how dominant he can be at the college level both this coming season and down the road.

Defensively, Coleman provides most of his value at this point with his ability to clean the glass. His 7'2 wingspan allows him to lock down the weakside when he goes to box out and makes him a decent shot-blocker, even if most of his blocks are not the result of help-side rotations. Coleman's physical tools give him upside as a post-defender at the next level, and his ability to rebound the ball should provide a nice contrast to the more aggressive shot blockers he could be playing alongside or in lieu of on the back line of Jim Boeheim's zone.

All-in-all, this was a very solid performance for Coleman. He was by no means a standout over the course of the week, but he was one of the more efficient big men in a setting that had more than its share of physical play around the rim. Coleman still has ample room to improve, especially if he decides to fully commit to improving his conditioning, but he delivered here in Chicago, and is one of the more college ready big men in the class of 2012.

[Read Full Article]

---
HoopHall Classic Scouting Reports (Part Four): 2012 Elite Prospects
January 25, 2011
Jonathan Givony

One of the most impressive post players seen at this event, DaJuan Coleman (#6 Scout, #8 Rivals, #3 ESPN) did a very nice job of showcasing himself in his natural setting playing for his high school team.

Currently standing somewhere around 6-9, with a very nice wingspan and a massive frame that he's yet to fully tone into optimal conditioning, Coleman is a player with rare physical attributes that are highly coveted at every level of basketball. Not incredibly explosive, Coleman is regardless a mobile player with nimble feet and the ability to get up and down the floor with purprose. Maximizing his athleticism will be a key factor in reaching his full potential as a prospect, though, and should be something he's already addressing at this stage of his development.

Offensively, Coleman is a clear-cut target in the paint for his teammates to pass the ball to, as he is able to establish deep post position and has very soft hands to catch pretty much anything that is thrown his way. He has some pretty nice footwork inside for a player his age, as he's a fairly skilled player with a nice feel for the game, being able to finish both with power above the rim, and with finesse. He has no problem operating through contact, drawing quite a few fouls in the process, but can also spin to his left shoulder and knock down a soft jump-hook or fade-away jumper.

Coleman can handle the ball a bit and shows range out to about 15 feet, although he shouldn't fall in love with his part of his game, as what makes him so attractive as a prospect is his ability to score with his back to the basket. He went through a small stage in the game we saw where he wanted to showcase his perimeter skills, which was interesting, but probably not where his focus should be at the moment.

Also a dominant rebounder at this level, Coleman shows the ability to go out of his area, often in impressive fashion, as he has long arms and huge hands and also plays with a very nice activity level for a player his age. On a few occasions he took things a step further by cleaning the glass and then throwing a terrific outlet pass to a teammate streaking in transition. Continuing to find a way to play with a chip on his shoulder will make him a very interesting long-term prospect, and if he can rebound at a high level against stronger levels of competition, he'll be in very good shape moving forward.

Defensively, it wasn't easy to get a very good read on Coleman, as he didn't match up with the type of team who could challenge him on the interior. He did hedge the pick and roll very nicely, something you don't often see players in his mold do, and was pretty active and talkative with his teammates, looking very emotionally invested in the result of this game.

All in all, Coleman is clearly a very intriguing player who's development we'll surely be monitoring over the next few years. While he may not possess the same unlimited upside of some of the other big men in his class, he also looks like more of a sure thing to actually pan out.

[Read Full Article]

---
Boost Mobile Elite 24 Player Scouting Reports
August 29, 2009
One of the youngest players in attendance here, having just finished up his freshman year of high school, DaJuan Coleman is already ranked as the #1 player in his high school (according to ESPN). This is a fairly dubious distinction considering that almost every player his age is currently playing Junior varsity at this point, but itís obviously worth noting.

Coleman stands out first and foremost thanks to his massive frame, which looks a lot more like that of a 25-year old than someone who is only 15. Heís carrying quite a bit of baby fat on him at this point (not a surprise considering his age), but is clearly a presence on both ends of the floor thanks to the natural strength he brings to the table. Coleman has excellent hands and pretty nice touch around the basket, showing a solid feel for operating inside, and not really looking out of place against (very highly touted) players who are two years older than him. Heís not much of an athlete at this point, lumbering noticeably up and down the floor, and not possessing much lift around the rim.

Whatís interesting about Coleman is that he appears to be a very serious, intense young player, which really bodes well for his future. He competed extremely well and didnít back down from anyone, running the court as hard as he could, and really trying to throw his body around in the paint. Itís still way too early to draw any long-term conclusions from what we saw, but if Coleman continues to grow and maintains that same intensity level we saw both here and at the LeBron James Skills Academy, he could have quite a future ahead of him.

[Read Full Article]

---