Scouting Report by Jonathan Givony. Video Analysis by Mike Schmitz.
Across the landscape of international basketball, it's difficult to find a draft prospect who has been more productive this season than Cibona's Ante Zizic. Zizic currently ranks as the best rebounder in the Adriatic league, despite turning 19 only a few weeks ago, and is also pumping in over 20 points per-40 minutes on a stellar 65% true shooting percentage. Considering he's doing that against physically mature and highly experienced big men who are 5-15 years older than him on any given night, that's pretty impressive.
The following chart explores who the most productive under-22 players in European basketball have been thus far (minimum 10 games, 15mpg+). The fact that Ziziz leads this group in PER, despite being the only player on it not born in 1994 or 1995, is certainly eye-opening.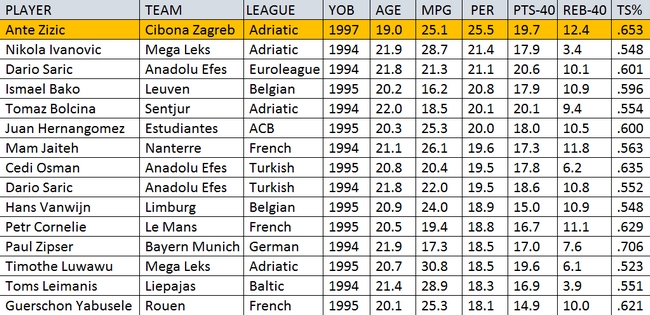 Zizic has solid physical attributes for the center position, standing somewhere between 6'10 and 6'11, with a long wingspan, and an outstanding frame that will likely continue to fill out in time. He is a good athlete on top of that, running the floor fluidly, having very nimble feet, and being capable of playing above the rim in space.
Zizic's game is predicated off his physical tools, but also off his sheer aggressiveness. He does everything with maximum effort, be it sprinting the floor, setting screens and rolling to the basket, or using his strong frame to carve out space inside the paint for entry passes. That's demonstrated quite nicely in the way he gets to the free throw line, over eight times per-40 minutes.
It also shows up in his rebounding ability, which might be his best asset now as a prospect at this stage. He is a tough guy who relishes contact, doing a great job of boxing out opponents, tipping balls to himself, and going well out of his area on both ends of the floor to track down loose balls. He is pulling down over 12 rebounds per-40 minutes on average in both of the competitions Cibona plays in (Adriatic League and FIBA Europe Cup). That figure is the second highest rate in Adriatic league history among players under the age of 20, trailing only Jusuf Nurkic.
Zizic sees a decent amount of his offense with his back to the basket, where he possesses a basic, but effective, post game. He uses his strong frame and works hard to establish deep post position, flashing solid footwork, soft touch, and the ability to turn to both shoulders and finish with either hand. His post arsenal isn't terribly refined, as he has a tendency to play too fast at times, and is still working on his ability to utilize fakes, counters and advanced moves when he doesn't have great post position.
Zizic also gets quite a few touches operating off the ball, be it as a cutter or roll man. He sets big, wide screens and dives to the rim with real purpose, showing excellent mobility and timing in the pick and roll. His long arms and soft hands make him a very effective weapon in these situations, and with a running start, he is capable of playing above the rim with authority.
While almost all of Zizic's offense comes in the direct vicinity of the basket, and there are certainly some questions about how his skill-level might evolve over time, he does show nice touch from the free throw line (73%), and has demonstrated some flashes of an effective mid-range jumper that could possibly be polished into something over time.
That's important, because as he makes the next step up in the level of competition, be it to the Euroleague or the NBA, where the big men are significantly taller, stronger and more athletic than the somewhat weakened Adriatic League, he won't be able to rely as heavily as he currently does on his strength and sheer aggressiveness, and will likely be forced to develop a more versatile skill-set.
Zizic's lack of finesse is perhaps most notably demonstrated in his passing ability, which is extremely unrefined to say the least right now. He looks like a bull in a china shop at times, dishing out just 14 assists in 629 minutes on the season thus far, or one every 45 minutes he's on the floor. Compare his paltry 4.9% assist percentage with his very high 19.5% turnover rate, and it's safe to say he is somewhat of a black hole at this stage of his development. The game moves a little too fast for him at times offensively, and he can be very predictable with the way he telegraphs his moves and spins right into traffic.
Defensively, Zizic is more than willing to compete, and he does a good job of putting a body on opposing big men, and working to contest shots all over the floor. You'll see him switch out on ball screens at times and stay in front of smaller players, using his solid wingspan, nimble feet and excellent motor to deliver some hope of being able to develop in this area down the road.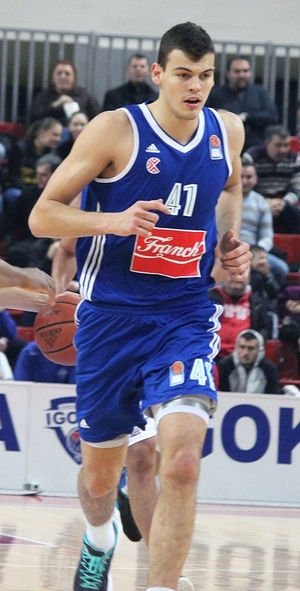 With that said, it's clear that his fundamentals and technique are still a work in progress, which is not a shock considering his age. He doesn't cover ground exceptionally well, having a tough time with experienced big men who can operate facing the basket in particular. He's too aggressive closing out, and will get caught in no man's land on pick and rolls at times, which makes sense as someone who just turned 19 playing in a grown man's league, but is something he'll have to clean up over time. While he does a nice job of elevating off two feet and staying vertical around the basket to contest and block shots at times, it's difficult to see him evolving into a major rim-protector in the NBA, since he does not have elite physical tools.
NBA teams may wonder what it is that separates Zizic as a starting caliber prospect, as there is nothing extraordinary about his size, length, athleticism or skill-set, even if there's nothing particularly deficient about any of those areas either. Considering his seemingly average feel for the game and mechanical skill-level, will what he's doing offensively translate to better settings considering how down the Adriatic League appears to be at the moment?
With that said, there is undoubtedly a place in the NBA for someone with the rebounding ability and motor he displays as an energetic role-player, and it is certainly difficult to rule out a player who has been as productive as Zizic has this year, in a league that has produced countless NBA players (around 50 NBA Draft picks have been through the Adriatic League according to our database). After all, Zizic (so far) ranks #2 in PER in Adriatic League history among players under the age of 20 (see chart).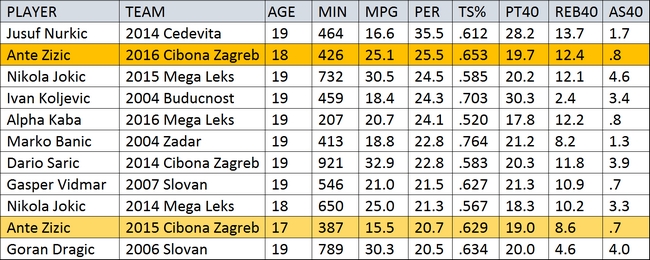 NBA teams are still learning more about this player who is just becoming draft-eligible for the first time this year, and it remains to be seen if he'll decide to put his name in the draft pool this spring. In the meantime, they will continue to monitor him closely, especially now that his team has been eliminated from the FIBA Europe Cup.