Scouting Report by Jonathan Givony. Video Analysis by Mike Schmitz
A record 101 internationals made up the 446 players on opening day NBA rosters this past October, reiterating once again how much the game of basketball is growing globally. Brazil continues to be one of the most fertile recruiting grounds for NBA teams, with their seven representatives trailing only Canada (12), France (10) and Australia (8) as the countries producing the most NBA talent.
The next Brazilian to make the leap over to the NBA could be in Sao Paulo right now, playing for Bruno Caboclo's old Pinheiros squad in the Brazilian league.
George Lucas
(full name:
George de Paula
Alves De Paula, nickname: Georginho) is a 6-5 point guard with a strong frame, a very long wingspan (reported to be around 7-1), and absolutely gigantic hands.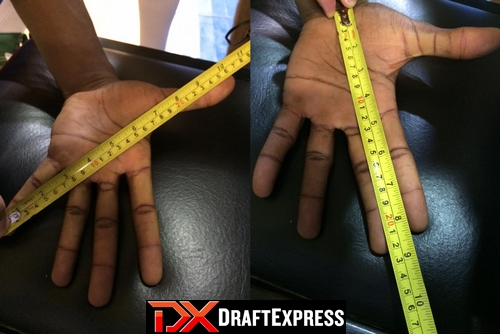 Georginho has already made somewhat of name for himself at the international level, playing for Brazil's national team at the U18 FIBA Americas Championship in Colorado Springs last June, where he averaged 13.4 points, 4.2 rebounds, 4.2 assists, 3 turnovers and 2 steals per game in a tournament that was dominated by the US. Later that summer, he made his way back to the States again, playing at the Nike Global Challenge against some of the best American high school players in the country. He fared very well according to all accounts in that more wide-open setting, averaging 20.8 points, 6.5 rebounds, 4.3 assists and 2.3 steals, although with 5.3 turnovers per game.
Stronger than he is explosive, Lucas has filled out his frame substantially in the past six to eight months and does not look anywhere near a finished product athletically. While not a high-flyer at the moment, he's a fluid and shifty ball-handler who can operate at different speeds and is able to get to almost anywhere he wants on the court thanks to his terrific size and strength, particularly in transition.
His gigantic mitts, reminiscent of baseball gloves, give him an added dimension as a ball-handler and distributor, allowing him to execute some advanced moves with the ball and whip passes all over the floor. While still at an early stage of his development as a playmaker, he's a very creative and unselfish passer, a willing facilitator who sees the floor well at his high vantage point of 6-5, and does a nice job particularly in drive and dish situations. The point guard position appears to be his natural spot on the floor, as he's not a combo looking to convert to the position.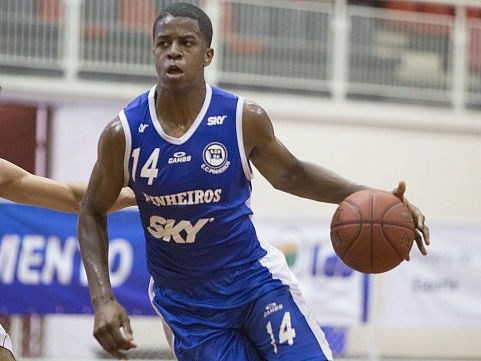 His terrific physical attributes give him tremendous potential defensively as well, as he's big enough to guard multiple positions, quick enough to stay in front of most players, and is quite a playmaker already in terms of getting in the passing lanes, rebounding and blocking shots on occasion. He doesn't have great fundamentals or technique here, and doesn't always really know how to use his tools to his advantage, particularly off the ball and in the team setting, but he has a great deal of room to improve with good coaching and added experience.
Not having played a great deal of high-level basketball at this stage (he rarely sees the floor for Pinheiros' senior team), Lucas' decision making and overall polish are still lagging somewhat behind his overall talent. He overdribbles, forces the issue and can get a bit sloppy with the ball at times, turning the ball over more than you'd like, and can still improve his ability to finish around the basket, particularly with his off hand.
The area scouts will likely want to see Lucas improve the most in over the next few years is as a perimeter shooter. His mechanics are good, but not great, as he has a bit of a slow release and sloppy footwork, particularly shooting off the dribble, which will require some work and attention in the future.
What's encouraging is that he is not a total non-shooter at this stage, as he's made a decent amount of 3-pointers in basically every setting he's played, and is not someone the defense can really leave wide open on the perimeter. Combining his stats from this season's Brazilian Development League and the games he played at the FIBA Americas U18s and Nike Global Challenge, he's hit 22/77 or 29% of his 3-point attempts in 26 games, which is certainly not great but still leaves room for optimism. His free throw percentage in those three competitions was 71% (67/94).
Not turning 19 until the end of May, Lucas has plenty of time to continue to improve upon his highly correctable weaknesses and become a very interesting player down the road. Still somewhat of an unknown at this stage, he is rumored to have already garnered an invite to the Nike Hoop Summit this April, and should he choose to attend, can improve his draft stock dramatically there with a strong showing.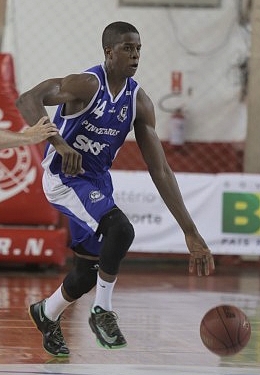 In a draft that is looking fairly shallow at the point guard position, Lucas' impressive physical tools and overall upside could be very attractive to a forward-thinking team drafting in the bottom half of the first round. While he is still a long ways away from being able to step on an NBA court, there is reportedly a strong chance he will enter his name in this year's pool and see where he stands among NBA teams.