Kenneth Faried
saved his best for last, but did Morehead State's upset of Louisville change his NBA outlook?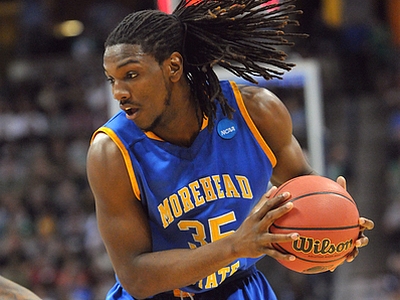 Demonte Harper provided the last second heroics as Morehead State toppled Louisville in the first round of the NCAA Tournament a little under a week ago, but it was Faried who denied the Cardinal's last second shot and carried his team as he so regularly has throughout his four year career as an Eagle. Tallying 17 rebounds in that game, and 13 in Morehead's subsequent loss to Richmond in the round of 32, Faried did the same thing he's done his entire career: hustle, play with toughness, and pursue absolutely every loose ball on both ends.
Though Faried has collected many of his NCAA modern-era record 1673 rebounds against less than elite competition in the OVC, his performance against Louisville was one of a number of eye-opening outings he's turned in against top competition. Going for 20 and 18 at Florida and 15 and 12 versus Ohio State back in November amongst a handful of other double-doubles against top-25 teams in previous years, Faried has proven that he can get the job done against comparably talented prospects. The question is where that places him heading into the 2011 NBA Draft.
At this juncture, NBA scouts have seen plenty of the New Jersey native, despite his small-school pedigree. They know he's going to pursue every loose ball, they expect to see him dive on the floor to make 50-50 plays, and they've grown used to his constant hustle. More than anything, they are familiar with the many quirks that characterize his game and NBA potential. While Faried offers clear value as a rebounder, the way the rest of his game translates to the NBA are a bit murkier as you can see in the following video we compiled illustrating both his strengths and weaknesses:
Kenneth Faried Strengths/Weaknesses Video
Watch in full screen mode by clicking button in upper right hand corner of video
---
More Scouting Report Videos:
Harrison Barnes
Marcus Morris
Perry Jones
---
Looking at
the top rebounders in our database over the past decade
, it is clear that being an elite NCAA rebounder does not guarantee a NBA career. Amongst the top 100 collegiate rebounders in the past nine years, 34 prospects have made it to the NBA. Five of those 34 signed as undrafted free agents, nine were selected in the second round and 20 garnered a guaranteed contact as first round picks.
Considering the track record of prolific rebounds over the last decade, the other aspects of Faried's game become that much more important to his immediate success.
On the offensive end, the long, athletic big man has a fairly cut and dry game. He excels in situations where his energy level factors into the equation, but doesn't show a very polished skill set.
Ranking in the top 3% of all college players in terms of points per-possession in finishing situations at 1.484 PPP, according to Synergy Sports Technology, Faried's terrific length and explosiveness make him extremely effective around the rim. Showing excellent quickness filling lanes and getting out in transition, he can create second chance opportunities for himself by remaining active on the offensive glass.
With his back to the basket, Faried remains heavily reliant on his right hand and prefers to operate over his left shoulder, flashing a very basic post repertoire that he'll likely struggle to translate against better competition. Despite his predictability, Faried saw nearly 40% of his offensive possession in the post according to Synergy Sports Technology. He converted 52.4% of those shots this season thanks in large part to the work he does before he receives the ball. Getting in an extremely low stance and working to seal his man before an entry pass is made, Faried doesn't show many counter moves, is limited with his left hand, shows average touch, and is at his best when simply able to take one dribble and elevate.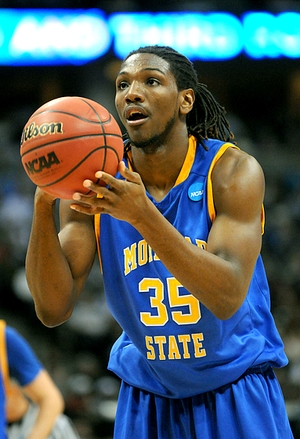 When Faried has been met with double-teams this season, he's been fairly erratic, as we saw on a few occasions in the NCAA Tournament. A capable passer when he can identify the second defender early, he proves turnover prone when he doesn't have his head up to see the rotation at the catch. Fortunately, his lack of back-to-the-basket polish will likely preclude him from facing such pressure on the NBA level.
Perhaps the most glaring hole in his game at this point, Faried has no midrange or floor game to speak of. He attempted just 13 jump shots this season according to Synergy Sports Technology and only knocked down 57.7% of his attempts from the charity stripe. He does spend quite a bit of time setting screens out on the perimeter, but doesn't look to score the ball on the few occasions he does touch the ball away the paint, unless he has a clear lane. The fact that he doesn't really need to be guarded outside of the three second area will make it difficult to integrate him into certain offensive schemes, and will surely hurt his team's overall spacing.
Essentially functioning as a center for the Eagles offensively, Faried was not a dominant offensive threat in the NCAA and will inevitably see his role diminish in the NBA on that end of the floor. His lack of polish down low and inability to step away from the rim makes him best-suited playing a simple catch-and-finish type role, which he does appear quite capable of filling. Unfortunately this may preclude him from seeing heavy minutes in offenses where the power forward is expected to do a bit more than that with the ball in his hands, which likely relegates him to being a backup on most teams.
Defensively, Faried posts good numbers thanks to his tremendous length and quick leaping ability, but is fairly difficult to evaluate on the college level. Sitting in the middle of Morehead's 2-3 zone, he is virtually never asked to step out and defend the perimeter, essentially serving as a last line of defense at the rim while his teammates scramble to close out shooters –something Richmond exploited by position Dan Geriot just above the free throw line while spreading the floor with shooters. Though Faried's ability to sit by the rim allows him to maximize his presence as a shot blocker and rebounder while helping his team overcome its lack of size, it doesn't offer much insight to his ability to defend one-on-one in the NBA.
When Faried does find himself in a pseudo-isolation situation in the post defensively, he struggles to hold position as the video above indicates. Clearly lacking some bulk, particularly in the lower body, he'll need to continue adding weight to his frame so he can deal with rigors of the NBA. Though he'll deflect an entry pass and come up with a steal from time to time at the college, he'll get sealed out of the play entirely almost as often, and will make some questionable reads defending off the ball.
That niche may be as a competent defender away from the rim. Faried has all the tools athletically to be effective against the type of stretch fours that are en vogue in the NBA at this juncture, but NBA decision-makers will take pause in jumping to that conclusion until they can see him prove his mettle in a true man-to-man defensive setting. Considering his lack of experience in such situations, he will likely need some coaching in this area.
Slightly undersized, limited offensively, and inexperienced defensively, Faried has a fair share of question marks. However, he has a clear NBA-level skill, and the type of motor coaches dream of, which can't be said for every prospect. Expecting him to come in and emerge as a major impact player early in his career is a stretch, but Faried certainly seems to have the tools to fill a
Louis Amundson
-type role for a team looking for a workhorse to infuse their team with energy off the bench. If he works on his weaknesses and adapts to the professional game, Faried could live up to the lofty expectations he's set for himself with his outstanding college career.