Kristaps Porzingis
made himself eligible for the 2014 NBA Draft last April, but made the unconventional decision to pull out at the Early Entry Withdrawal Deadline (ten days before the draft), despite overtures from two teams (rumored to be Atlanta and Philadelphia) picking in the Top-15 to keep his name in. Porzingis and his family reportedly felt he would benefit from another year of experience playing with Seville in the ACB, and while that move looked risky at the time, he only appears to have helped his draft stock with a very strong season so far in Spain and in the EuroCup.
Porzingis is one of the most unique players in this draft class, showing an impressive combination of height, length, fluidity and skills. He's very mobile for his size, capable of playing above the rim with ease and able to cover ground quickly moving from the perimeter to the paint.
(Video may not load with Internet Explorer. Use Chrome or Firefox)
Besides his physical attributes, the most appealing part of Porzingis' game revolves around his feathery touch from the perimeter. He has beautiful shooting mechanics, complete with deep range, a quick release, and the ability to make shots either coming off screens or as a floor-spacer with his feet set. It's virtually impossible to contest his shot at over 7-feet with his high release point, and he's hitting an outstanding 43% of his 136 catch and shoot attempts thus far this season, including 38% of his 3-pointers (33/87 in 38 games). If the defense closes out too aggressively, he can put the ball down in a straight line and make his way to the basket, sometimes for a very impressive finish.
While Porzingis is still working on becoming a consistently accurate threat in game situations (he didn't make a three-pointer in half of his games this year), he has a tantalizing stroke that can be honed into a dangerous weapon long term. His ability to space the floor at his size from the power forward position is exactly what many NBA teams are looking for right now, and there's only one other player over 6-9 in our Top-100 rankings (Frank Kaminsky) shooting over 30% from beyond the arc on more than one attempt per game.
Porzingis' size allows him to do some interesting things in the mid-range area as well, as you'll often see him making difficult turnaround and fadeaway jumpers with relative ease, showing impressive footwork and touch. He'll shock you with some of the plays he makes at times, executing moves that only a handful of players his size on the planet can pull off.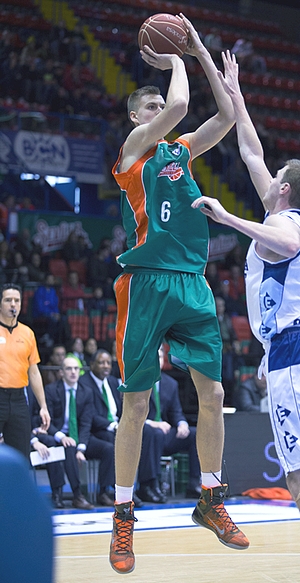 Although he's far from being a finished product on this end of the floor, Porzingis also shows interesting potential defensively, evidenced by his 1.5 steals and 2 block averages per-40 minutes. His combination of size, length and mobility gives him impressive versatility on the pick and roll, allowing him to hedge out past the 3-point line and still recover in time to make a play in the paint for example. He's also agile enough to switch and stay in front of smaller players if called upon, giving his team the type of positional flexibility every coaching staff in the NBA covets greatly these days.
On the downside, Porzingis still looks a long ways away from reaching his full potential here, starting with his body, which remains very frail and could make him susceptible to injuries if not developed carefully. He also lacks something in the ways of toughness and awareness, as he tends to avoid contact in the paint and regularly gets pushed around on the interior, not always offering up as much resistance as you might hope. The game moves a little too fast for him at times, and he doesn't appear to be the quickest thinker around, often looking a half-step slow in his reaction time. All of these things show up in his surprisingly pedestrian rebounding numbers (2.4 offensive and 5.8 defensive per-40).
Porzingis also isn't a great passer, dishing out just 41 assists in his last 1813 minutes of action over the the last three years (spanning the ACB, EuroCup, NIJT and U18 European Championship), or one assist for every 44 minutes he plays. His assist percentage this season (and over the course of career) is one of the lowest of any player in this draft class, which is not ideal for a stretch-4 that teams may hope to run a significant amount of offense through on the perimeter.
While Porzingis' superior size for his position is certainly attractive, at the moment he has very few ways of utilizing his height to his advantage besides his shooting stroke, as he has no back to the basket game and very little interest in playing inside the paint.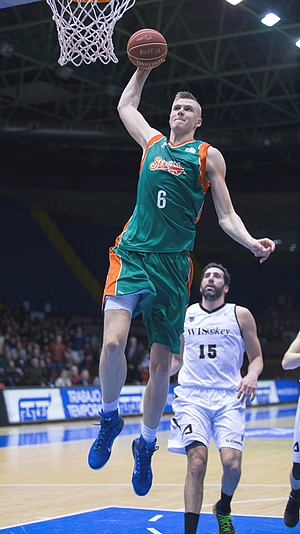 With that said, it's important to remember that Porzingis is still only 19 years old, not turning 20 until after this year's draft (in August). He has two years of high-level experience already playing in the toughest domestic league in the world outside of the NBA, and is still only scratching the surface of how good he can become. His unique combination of size, skills and mobility at 7-1 gives him incredible potential to grow into in time, even if more-so than any other prospect in the draft possibly, he needs to land in the right situation in the draft.
At 7-1, with a frail frame, and the shooting stroke of a guard, Porzingis doesn't have a crystal clear role in the NBA right now, at least not in a traditional sense, and certainly not in the short term. If his first coach in the NBA doesn't appreciate his skill-set, and isn't ready to be patient and work through his limitations, he could struggle badly to get minutes early on. Getting with the right coach, roster and organization who can develop him will play a huge role in the success he has in the NBA.