With the size of a power forward but the skill-set of a guard,
Quincy Miller
is one of the most versatile scorers in college basketball. How might that translate to the NBA?
-NBA Draft Prospect of the Week: Anthony Davis
-NBA Draft Prospect of the Week: Jared Sullinger
-NBA Draft Prospect of the Week: Royce White
-NBA Draft Prospect of the Week: Moe Harkless
-NBA Draft Prospect of the Week: Damian Lillard
-NBA Draft Prospect of the Week: Cody Zeller
Walker Beeken
After establishing himself as one of the premier players in the nation in the high school class of 2011, Baylor's
Quincy Miller
tore his ACL in December of senior year and missed the remainder of the season and all of the all-star games in the spring.
Despite this setback, the Chicago native still entered college with the expectations of a top recruit, and so far he's done a solid job, emerging as a key member for a 23-5 Baylor squad, including some big games displaying his versatility as a scorer.
Miller has been fairly inconsistent, being held scoreless one game (such as this past Monday at Texas) and going off for 29 points against one of the top teams in college basketball (Missouri late January) in another.
Miller's intrigue from an NBA standpoint starts with the physical tools that he brings to the table, as he possesses great size for a small forward prospect at 6-9, with a wingspan reportedly measured (
by Baylor
) at 7-4.
His wiry, under-developed frame does not look NBA-ready at this stage, but considering the fact that he turned 19 only a few months ago (November), he should continue to fill out in time.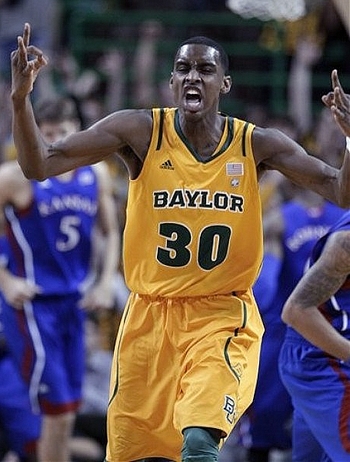 While he isn't the most dynamic athlete and looks to still be getting some of his explosiveness back from his knee injury, he moves very fluidly for a player his size, looking comfortable playing on the perimeter on both ends of the floor.
On top of his physical tools, Miller has a very high skill level for a player at his age and size, most notably his versatility as a scorer.
Coach Scott Drew utilizes him in a variety of ways and has him catching the ball in different areas of the floor off of screens, cuts, spotting up, posting up, or creating for himself in isolation sets or on the fast break.
Miller has shown flashes of being effective in each of these areas and has great potential for growth offensively as he continues to get stronger and more experienced.
This versatility is something that can surely be harnessed in the NBA, which is heavily oriented around exploiting mismatches at different positions. With Miller's ability to create his own shot on the perimeter, make 3-pointers or utilize his superior size in the paint, he could be a very difficult player to game-plan against on a nightly basis, especially considering his solid passing skills.
As a shooter, Miller has been very good for the most part, knocking down a solid 43% of his jumpers so far this season, including an impressive 41% from 3-point range, despite a low, unorthodox release, dipping the ball below his waist and shooting it from above his chest. He's much more effective shooting the ball with his feet set at this stage, as his percentages take a dip when he forced to take a shot under duress, particularly off the dribble.
Quickening the speed of his release would allow him to fully utilize his excellent size and make him much more dangerous from the perimeter considering his terrific touch and instincts as a shot-maker.
Inside the paint, Miller has excellent potential, as he is able to get his shot off almost whenever he wants against collegiate-sized (or even most NBA-sized) small forwards. Despite not always having the strength to establish great position, he can simply rise up off either shoulder and throw the ball in the basket in a variety of ways, be it with jump-hooks, floaters and turnaround jumpers, using the glass, and even when off-balance. As he continues to get stronger and learns to become more physical with opponents, this is a part of his game that could really blossom.
Miller's most impressive attribute might be his ability to create shots off the dribble. He doesn't have the most explosive first step, but he has outstanding scoring instincts, doing a nice job utilizing shot fakes and showing terrific ball-handling skills for a player at 6-9. He's able to put the ball on the floor with either hand and utilize crossovers, hesitations, spin moves, jukes, and step-back dribbles to create separation to get his shot off, with superb body control and very polished footwork.
Watching him grab a rebound and take the ball coast to coast, weaving his way fluidly in and out of traffic, really hammers home how unique his skill-level is at his size.
His lack of strength is apparent as he's attacking the basket, however, as he's often bumped off his path and has trouble finishing in the paint due to his slight frame and average explosiveness. This is evidenced by the fact the he converts less than 50% on his shot attempts inside the arc, ranking him towards the bottom of the small forward prospects in our top 100 rankings.
It will be interesting to see how much more explosive he will get over time considering he's only about 15 months removed from tearing his ACL in December of 2010. This is an injury which at times can take up to 18 months to fully recover from, especially for players lacking in lower body strength, which Miller clearly is. Watching him play, he appears to be still moving gingerly at times, even with a slight limp, which is something teams will surely want to take a closer look at during the pre-draft process.
Defensively, it's tough to get a great gauge on Miller as a man-to-man defender, since Baylor uses a zone as their primary defense. It appears that he'll have quite a bit of work to do, however, as his defensive fundamentals seem to be lacking, as he struggles to get in a low stance on the perimeter and has below average lateral quickness for his position.
Additionally, his focus and energy level are inconsistent, as he doesn't seem to bring the same intensity level from possession to possession, which was clearly an issue for him already in high school. He'll need to improve his toughness, particularly in terms of fighting his way through screens, something that getting stronger will likely help with.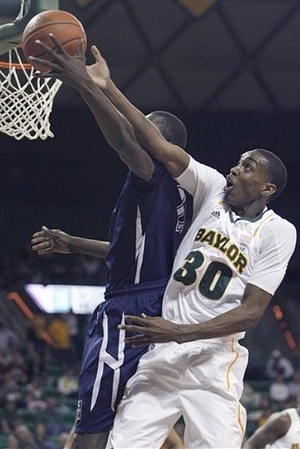 What's intriguing about Miller is he clearly has the potential to be very dangerous on this end of the floor, with his excellent size and length at the small forward position. His 7-4 wingspan enables him to contest opponents' shots even from a half step away from his man, giving him a cushion to take away driving angles.
Even when he gets beat he's often agile enough to still put himself in position to make a play at the rim, helping him get plenty of blocks, steals and rebounds due to his sheer length and anticipation skills.
Regardless of how he progresses with his athleticism, Miller clearly has some attributes that will make him very attractive to NBA decision-makers with his high skill level and scoring ability to go along with his excellent size and length at the small forward position.
His under-developed frame may limit how quickly he'd be able to immediately contribute at the NBA level, but, barring any long-term injury concerns, he has a terrific upside to grow into as he continues to put on strength, improve on the defensive end, and adds polish offensively.