-NBA Draft Prospect of the Week: Quincy Miller
-NBA Draft Prospect of the Week: Anthony Davis
-NBA Draft Prospect of the Week: Jared Sullinger
-NBA Draft Prospect of the Week: Royce White
-NBA Draft Prospect of the Week: Moe Harkless
-NBA Draft Prospect of the Week: Damian Lillard
-NBA Draft Prospect of the Week: Cody Zeller
Jonathan Givony
Possibly the most improved player in college basketball, and currently the front-runner to win Big East player of the year honors,
Jae Crowder
is in the midst of a spectacular senior season, which could very well end up earning him a well-deserved spot in the 2012 draft.
One of the most efficient players in the NCAA, on both ends of the floor, Crowder is the heart and soul of a Marquette squad that has exceeded expectations and will likely finish second in the very competitive Big East conference.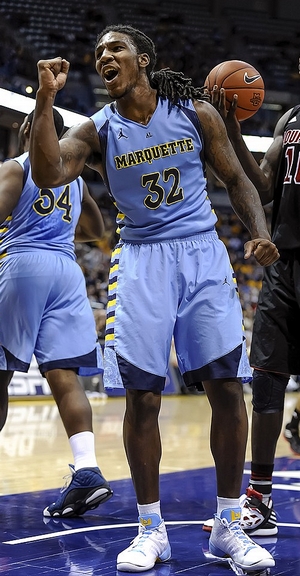 Just getting to where he is right now is somewhat of a miracle considering his very unique background, forcing him to attend two junior colleges prior to Marquette. However, his terrific play is something that NBA teams have come to expect out of Marquette prospects given the success of the likes of
Wesley Matthews
,
Lazar Hayward
and
Jimmy Butler
over the past three years.
Like all of those Marquette forwards that came before him, Crowder is a pretty unconventional player in terms of his style of play. With a ripped frame more reminiscent of a NFL tight end than a NBA small forward prospect, Crowder is not a particularly fluid or explosive player, relying more on strength, smarts, timing and determination to get the job done, rather than pure talent.
Crowder gets most of his offense by working off the ball, be it spotting up from the 3-point line, diving to the rim to position himself for drop-off passes from his guards, running the floor in transition, posting up, or through his work on the offensive glass.
He's extremely intelligent operating off the ball, having a knack for moving to the right spot to catch and finish in a simple and effective manner, despite rarely playing above the rim. He uses the glass nicely and has terrific touch around the basket, which helps explain how he's able to convert 61% of his attempts inside the arc even though he is usually at a distinct size disadvantage. Although he's not a high flyer, he rarely misses high percentage looks.
The senior is especially effective in transition, sprinting the floor with purpose whenever he gets a chance, running straight to the front of the rim, and being very physical looking to receive the ball in the paint. This also makes him a factor in the half-court in post-up situations, where he uses his body effectively, draws fouls at a good rate, and does an excellent job finishing through contact, again, mostly below the rim. There's nothing pretty about his game, but it's brutally effective at this level.
Crowder is also a much improved shooter, attempting over 50% more shots from beyond the arc this season, but hitting them at a better rate—38% compared with 36% last season. The key seems to be his shot-selection, which is excellent, with 84% of his jump-shots coming with his feet set. The work he's put into refining this part of his game is obviously a factor as well, as he's managed to raise his free throw percentages from a paltry 62% to a much more respectable 73% this season.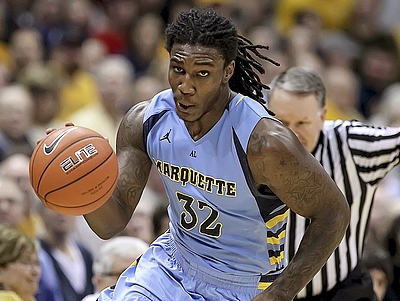 Crowder's basketball IQ is further exemplified in his assist-to-turnover ratio, which is better than many of the point guards in our top-100 rankings. Smart, poised, mature and always under control, he's the type of player who knows his role perfectly and understands how to maximize his time on the floor, which is likely a major factor in his team's success this season.
Crowder's biggest weakness as a small forward prospect is his inability to create his own shot. A below average ball-handler, he has a difficult time scoring in isolation settings, not looking very fluid with the ball, and struggling to change directions on the fly. It's not a stretch to say that he will need to live off scraps in the NBA, which makes increasing the range and consistency of his jump-shot that much more important.
Crowder's best attributes revolve around his play on the defensive end, where he's one of the most versatile and effective players in all of college basketball. One of the rare players who truly guards every position on the court one through five, often within a single game, Crowder takes great pride in shutting down his matchup, and is a willing contributor as a team defender as well.
Physical and intelligent, with long arms, a strong frame, good footwork, excellent fundamentals, and nice anticipation skills, he follows the game-plan, gets in the passing lanes prolifically (ranking 5th amongst NCAA prospects in steals per-40), steps in for charges and never takes possessions off.
Despite possibly lacking a degree of lateral quickness to shut down some of the quicker wing players he'll match up with in the NBA, Crowder knows how to force opponents to settle for the shot he wants them to take, and won't give up an inch when matched up with bigger forwards.
Seeing most of his time at the college level at power forward, Crowder will need to convince NBA teams in workouts that he won't have any issues moving down a position to the 3. While he may not possess the same size, explosiveness or upside of some of the other forwards in this draft, and may not pass the initial eye test with flying colors, Crowder has plenty of excellent qualities that are highly in demand and should help him carve out a role in the NBA.