Scouting Reports on
Evan Fournier
,
Mateusz Ponitka
,
Ailun Guo
,
Raul Neto
and
Kevin Pangos
.
Evan Fournier, 6-7, Shooting Guard/Small Forward
Poiters, France
Walker Beeken
French swingman
Evan Fournier
came into the 2011 Nike Hoop Summit with some recognition after stringing together some very intriguing performances for Poiters in Pro A France over the past few months.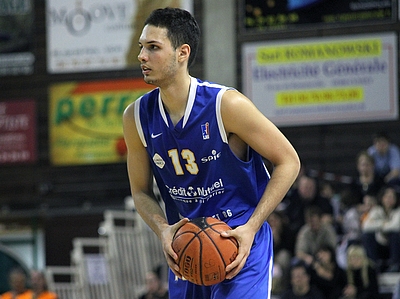 He stood out immediately in the practice sessions with his excellent size, mature frame, high skill level and terrific scoring instincts on the wing. He plays at a very nice pace and has a smoothness and craftiness to his game that enables him to get into the paint off the dribble, utilizing his deceptive athleticism and very aggressive mentality.
He uses jab-steps nicely and has strong footwork and ball-handling skills, showing especially nice timing on his drives, where he can use spin moves and finish elegently. He also displayed a very good feel for the game, often throwing nice passes to set up his teammates off his penetration. In France he's at times the one who's asked to bring the ball up the floor for his team, demonstrating his intriguing versatility.
He showed the ability to finish in transition and in the paint against the other World Team members, but he struggled in the game, shooting 2-8 from the floor, and looking somewhat nervous and clearly being bothered by the length of Team USA at the rim.
In the practices and from the game-film we watched it seems like he does an excellent job of using his strong body around the rim to shield opponents and finish through contact, though, so it's possible he may have just been pressing in the actual game.
A big key will be his growth as a jump-shooter, as he's only shooting 19% (7-36) from behind the 3-point line this season for Poiters. From what we observed in practice, this looks to be correctable as he has nice form in his upper body and release, but has some trouble with his lower body and footwork, with his momentum carrying him too far forward.
Defensively, Fournier has good size at 6-7, but average length (6-7 ½ wingspan). He played hard all week in the practices and scrimmages, showing solid toughness, but may lack a degree of lateral quickness to guard some of the more explosive players he'll eventually match up with in the NBA.
Ultimately, his performance on Saturday night was a bit of a disappointment after such solid showings in practice, but Fournier shows great promise and clearly has NBA potential down the line if he improves his perimeter shot and continues to produce at a high rate in Europe.
Mateusz Ponitka, 6-6, Shooting Guard
Tempcold AZS Politechnika Warszawa, Poland
Walker Beeken
After flying a bit under the radar during the practice session at the 2011 Nike Hoops Summit, Polish wing
Mateusz Ponitka
had a solid showing in the loss to team USA, finishing as the World Team's leading scorer with 17 points on 7-13 from the field in 25 minutes of play. He played with great confidence and didn't look to be intimidated at all by the physical talents of the USA players.
This was consistent with what we saw from him all week in drills and scrimmages, as he seems to be a very tough, competitive player. This is a big help for him defensively, but his lack of lateral quickness on the wing was evident during the game as he was beaten off the dribble pretty badly on occasions by Team USA.
Ponitka's shot is pretty flat and has some sidespin, but he shoots the ball confidently and showed the ability to knock down shots off the catch and off the dribble with range out past the 3-point line. He also displayed good scoring instincts and the ability to score some in the mid-range. His lack of elevation hinders his ability to score at the rim, however, and some of his game off the bounce would likely be limited if playing regularly against higher level athletes. He didn't show much in the way of creating for others or advanced ball-handling, and he didn't look to do much to set up his teammates, as he plays primarily with a scorer's mentality.
Ponitka plays in the Polish second division at the moment, on an academy team composed of young players. His options for next year include playing in the NCAA or signing with a big team in Europe. How he's able to translate his scoring prowess to a higher level of competition will likely tell us quite a bit about the extent of his potential, as there are some question marks about just how far his physical tools can carry him.
Ailun Guo, 6-4, Shooting Guard/Point Guard
Liaoning, China
Walker Beeken
Chinese guard
Ailun Guo
made a name for himself after leading the tournament in scoring at the 2010 U-17 World Championships in Hamburg. He ended up arriving a day late in Portland and struggling a bit in the game at the Nike Hoop Summit, going 1-5 from the field and committing two turnovers in 15 minutes of action.
This whole week was somewhat of a struggle for him (starting with the logistical issues) as he doesn't appear to speak a word of English--always being flanked by a translator. Nonetheless, he managed to leave a strong impression on the NBA people that watched him in practice, and clearly has a bright future ahead of him.
Guo had some outstanding moments throughout the week in practice and showed that he was a worthy selection to the roster. The first thing that stood out about him was how competitive he is, always fighting and scrapping and getting into some heated one-on-one matchups in drills and in scrimmages.
Physically, Guo has good size for a combo guard at 6'4" with a solid build, and he has the skill set to suit a role spending time on or off the ball. He plays with a scorer's mentality, but he has the ball-handling ability to play some point for stretches.
Guo plays with quite a bit of flash to his game, using fakes, change of speeds, and change of direction dribbles to get to the basket where he shows the ability to finish in a variety of ways with body hands and excellent body control. He's a very fluid player who clearly has a great deal of talent, although he still has a long ways to go to fully harness it.
He is still a streaky jump-shooter at this stage, showing inconsistent mechanics, but he has a decent stroke and looks comfortable shooting off the dribble or with his feet set.
His intensity level defensively really stood out in some of the scrimmaging, and although he's not a great defender in terms of his length or fundamentals, he managed to frustrate others on the World Team with his ball pressure. He wasn't as effective against the athleticism on Team USA on the offensive or defensive side of the ball, but as the future of Chinese basketball, he'll be worth keeping an eye on over the next few years, even if there are some question marks about his true age.
Raul Neto, 6-2, Point Guard
Minas Tenis Clube, Brazil
Walker Beeken
Raul Neto
came into the 2011 Nike Hoop Summit with some recognition from those who saw him last summer at the FIBA Americas U-18 Championships in San Antonio, where he led Brazil the Finals and a loss to Team USA. He also was a member of Brazil's senior squad this summer, which allowed him the outstanding opportunity to travel with them to the World Championships in Turkey last August, where he mostly observed from the bench.
"Raulzinho" arrived a day late for practices and wasn't overly impressive during most of his week in Portland, but he finished fairly strong, dishing out 4 assists while not committing a single turnover in 17 minutes of action during the game on Saturday night.
From a physical standpoint, Neto possesses a lean, defined frame at his age at 6'2" and 165 pounds with only 4.8% body fat. He showed very good speed as well, always looking to push the ball up the floor and showing nice change of speed and direction dribbles.
Neto's decision-making skills looked pretty questionable at times during practice, often over-penetrating, leading to turnovers. It's safe to say that he still lacks a good amount of high-level experience at this point, even if his talent was fairly evident at times. He did show a nice array of runners and floaters in the lane, but they weren't falling with much success throughout the week.
Neto's jumper is fairly streaky at this point as well, which really limits his efficiency on the offensive end. He has a decent stroke and looks comfortable pulling up off the dribble, so he has a chance to develop into a reliable shooter with time and repetition, something we saw in small glimpses at times in Portland.
Neto showed some promise on the defensive end, as he competes hard, moves pretty well laterally, has quick hands, and good anticipation skills. He needs to be more consistent on this end, though, which may come down the road with more experience against high-level competition.
Although there are still quite a few holes in Neto's game at this stage, he is only 18 years and shows some potential. We'll likely be checking in with him again down the road. The next step in his evolution will likely be to find a good team in Europe where he can continue to develop his game and garner experience, as he's probably not quite talented enough physically to make the jump to the NBA straight from Brazil, like some of his country-mates have over the past few years.
Kevin Pangos, 6-1, Point Guard
Committed to Gonzaga, Canada
Walker Beeken
Canadian point guard
Kevin Pangos
, who had previously played for Nike Hoops Summit Coach Roy Rana in the U-17 World Championships last year, was selected for the World Team based on his ability to run a team, take care of the basketball, make open shots, and get his teammates involved.
Unfortunately, Pangos ended looking a bit overmatched against the athleticism of Team USA, having a tough time getting the World Team into their offense, particularly early on in the game, ending up shooting 1-6 from the field and committing two turnovers in 16 minutes of action.
Pangos performed better in the practice sessions we saw, looking like the solid, mistake-free point guard that he was billed to be coming into the event. He looks to have great intangibles, as he seemed like a very hard worker and was a vocal leader all week.
As a floor general, Pangos does a great job of executing offensively, rarely forcing the issue and generally playing very unselfishly. His lack of burst prevents him from creating his own shot effectively, but he does a nice job of picking his spots and driving when the opportunity presents itself. He's also a very good shooter with his feet set out past the 3-point line, which helps keeps the defense honest.
Pangos will always likely be somewhat limited due to his physical profile, as he stands at 6'1" with a wingspan less than six feet, and has only average speed and explosiveness. He is a very competitive defender, but there are some question marks about his ability to guard bigger and more athletic players at his position. His intangibles and skill set bode well for an excellent college career, though, where he'll be attending Gonzaga next season and playing for Coach Mark Few.