By Eric Weiss & Kevin O'Connor – Sports Aptitude
DeAndre Jordan
is "feeling the love" this morning. His signing with the Dallas Mavericks has signaled the start of a whole new level of adulation, expectation, and scrutiny for the big personality, big man; which is fitting. He's Bold. He's Competitive. He's Nonconforming. He's a Maverick at heart, and now, in practice.
---
More From Sports Aptitude
-
DeMarre Carroll's Long and Winding Road to Stardom
-
The Unbearable Lightness of Patrick Beverley
-
Everybody Loves Draymond Green
-
Jimmy Butler's Rise to Stardom
-
How Situation Impacts Success, Part Two
-
How Situation Impacts Success, Part One
-
The Thin Line Between Busts and Steals
---
But the path of the Maverick is often marked by the high-stakes gambles they take in order to reach the top. Such was the case of Jordan early on in his career. Despite his status as a physical specimen, standing at 6'11" with a 7'6" wingspan, Jordan's elite measurables were not enough to overcome concerns about his "character". This is a term as ambiguous as "role player," for those of us focused on the situation-specific details of "cause and effect".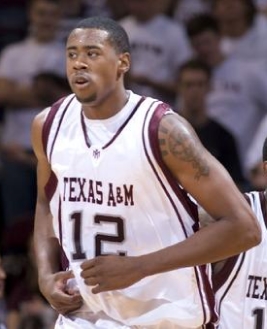 After a tumultuous single season at Texas A&M, the once highly recruited big man fell to the second round, where the Los Angeles Clippers took him with the 35th pick in the 2008 NBA Draft. While there is no doubt that Jordan's
actions
may have warranted a level of concern, a more thorough understanding of the
cause
of those actions could have yielded a "max" level result earlier in the draft.
Social psychology may not be a "magical" solution for unlocking every player's hidden potential. But an understanding of the
Fundamental Attribution Error
, combined with quality scouting intel, and 1000+ SA player assessment records can certainly help to navigate and separate the "character" risks of Michael Beasley, J.R. Giddens, and DeAndre Jordan more effectively.
INDIVIDUAL STORY & ANTICIPATED ROLE
Jordan was a Top 15 RSCI high school prospect and landed at Texas A&M after being heavily recruited by head coach Billy Gillespie. But before Jordan ever played a game for the Aggies, Gillespie departed for Kentucky and Mark Turgeon took over.
Jordan was eloquently described as "Impressionable" by Kevin Arnovitz this morning in his ESPN piece covering the particulars of what led to his decision to join the Mavs. This down-stated reference belays a deeper significance, however. In the entire Sports Aptitude database, Jordan rates higher than 91% of other NBA players in
Warmth
. He is the consummate "People Person" whose decisions are strongly led by the tenor of the relationships he forms.
Gillespie's departure likely had a greater impact on Jordan's state of mind than it would have on the average player. The recruiting process is strongly relationship-oriented, an investment in trust that was thrown into uncertainty upon his arrival. For a personality like Jordan, such a change was sure to trigger his
Distrustful/Wary
instincts before anything else. In the SA database, this indicates the potential for having "negative expectations for unfamiliar situations with a higher susceptibility for emotional reactivity when faced with sudden adversity."
Jordan's role at Texas A&M had a strong chance of backfiring. "Rim protection" wasn't as en vogue as a "sexy" high paying role in the NBA when Jordan was entering the draft in 2008. Top center prospects, such as Brook Lopez and Roy Hibbert, were still being evaluated more for their low-post offensive potential over "rim-rolling" and "rim running", which have received much better press – and pay – in today's game.
Jordan is 40% more
Risk-Taking
, 27% more
Goal-Oriented
, and 24% less
Analytical
than the average NBA player. These traits suggest Jordan has an intense focus on the moment, and is willing to take chances to reach the high standards he sets for himself. It's easy to see how Jordan may have reacted poorly to the perception that his value was being hurt while at A&M.
Immersed in an unfulfilling environment for a prolonged period of time and armed with "rebel" tendencies, Jordan's level of maturity and willingness to self-monitor his behavior at a young age may have been non-existent at the time. His short-sightedness and bold attitude were devoid of a connection to someone who could provide guidance that he was likely to accept. As a top recruit, he may have needed his "ego checked" but this was inevitably going to require nurturing trust to get "buy-in" vs. "breaking" him through consequence and punishment.
Jordan played only 20 total minutes in Texas A&M's two NCAA Tournament games, leading to questions about his attitude and maturity, which were reinforced by reportedly lackadaisical pre-draft workouts.
A prideful, perceptive, but young and inexperienced person at the time, Jordan very well may have entered the pre-draft process with negative expectations based on his recent past experiences. Being in a negative frame of mind and not fearing the repercussions of his actions as much as the average player would, Jordan's
Nonconforming
mentality and willingness to take risks were unlikely to do him any favors at this point. From here, two situational disasters ensued.
The first was his circumstantial, pairing with Michael Beasley during the pre-draft prep process. Jordan, already frustrated and susceptible to influence, likely naturally gravitated toward the care-free attitude of Beasley. Though extremely competitive, Jordan's more willful qualities were bound to be reinforced by the care-free, blasé demeanor of his workout partner. Being around a probable top-three pick with no sense of urgency would be a toxic mix for Jordan, who shared a similar high school pedigree, but lacked the same industry appeal at the time.
The second issue arose from his pre-draft workout strategy. In an effort to bolster his former status as a top 15 recruit and elite prospect, Jordan only worked out with teams with high draft picks. The NBA had yet to establish the "speed dating" style interview process that is so vital to the value of Chicago's pre-draft combine. As his workouts progressed, Jordan gave off the impression of playing up and down to his level of competition. When going against the Westbrook's and Rose's – his perceived status group – he'd go all out, befitting of his best competitive qualities. But against "lesser" competition, he gave off the impression of coasting.
From the NBA's perspective, these concerns were major red flags, possibly even fatal flaws, and it was enough to plunge his draft stock from the lottery to the second round.
TEAM ENVIRONMENT & OPPORTUNITY GIVEN
Well…so much for that. Hindsight helps us to unravel those early miscalculations as the trial and error period of his burgeoning best qualities. Those qualities were severely hindered by situations both within and beyond his control. The next phase in his development would have its bumps, but would progress at a steadier clip.
Jordan entered into the league with a fresh start and quickly made use of his
Bold/Combative
qualities on a porous Clippers team, carving out a solid role early on, despite the presence of veterans Marcus Camby, Zach Randolph, and Chris Kaman. Sports Aptitude defines those bold/combative qualities as a player who is "highly assertive, plays with an edge, is tough-minded, stubborn, and seeks out challenges without fear."
But, that competitive edge wouldn't be completely harnessed until he finally established a solid player-coach relationship. Once Doc Rivers entered the picture, he changed the course of Jordan's career. Rivers' coaching style empowered Jordan and helped him channel those
Bold/Combative
attributes into a laser-focus on dominating in his strongest impact areas.
"Doc just wants me out there," Jordan said to ESPN in 2014. "[Last season] I'd shoot free throws and it'd be like, 'Damn, I have no chance.' Now when I get fouled and I have to go to the line, my teammates say, 'All right, D.J., knock 'em down like you always do.' Day 1, Doc told me I don't care if you air mail them to the 300 section, as long as you go back down and get me a stop on the next possession."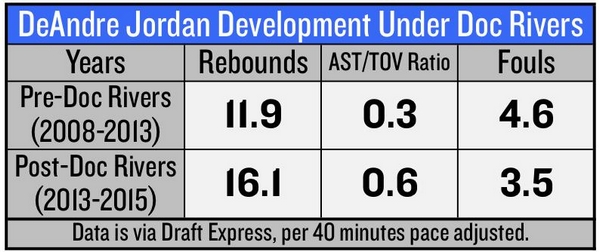 For Jordan, this may have manifested for him in multiple areas of his game, including some of his "reliability stats," such as rebounding, turnover ratio, and fouls. Under Rivers, Jordan began fouling significantly less and rebounding more. He posted career highs in assist-turnover ratio as well.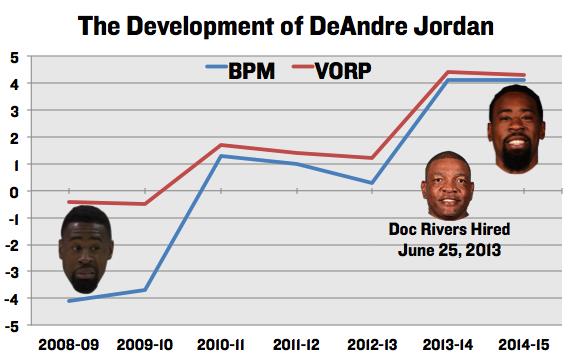 Jordan's efficiency stats also increased significantly after the hiring of Rivers. Before then, Jordan had a career Box Score Plus Minus of 0.8, but that has skyrocketed to 4.1 over the last two years. His VORP has increased similarly, from 0.8 to 4.3, as has his Player Efficiency Rating, from 15.1 to 19.7.
What's Next
Jordan has yet to develop as a low post scorer, but managed to produce an impressive 545 Value Added score on an insanely low 13.8% Usage Rate – the only player in the past
15 years
to produce a 500+ VA score with a USG% under 20. This season he led all qualifying players with a 71.1 eFG% and was in the 96th percentile of points per possession, according to Synergy Sports Technology.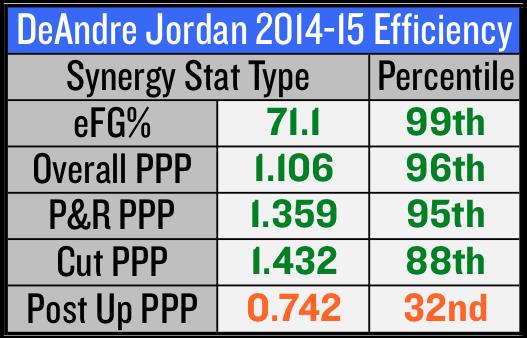 Including Jordan, 13 former NBA draftees share comparably high
Goal-Oriented/Nonconforming
traits. These players have a very high success rate, but may prefer to accomplish tasks in their own way, not easily dissuaded by some generic notion of "duty" or "obligation".
Jordan's past history is a strong indicator of what it will take for him to have success in his quest to take his game to the next level. The word "trust" is thrown around often in NBA circles, but the relationship dynamic between coach Rick Carlisle and Jordan looks to play a significant part in the story to come.
Though many teams would prefer a player who accepts his role, no questions asked, players with "big personalities" like Jordan might need different types of relationships. His most defining character traits suggest that he needed to be empowered in order to meet expectations..
Players who rank as highly in
Risk-Taking
are usually extremely
Impulsive
, but Jordan is 29% more
Restrained
than these players. This gives him an advantage in being able to withhold his risk-taking tendencies for the betterment of the team, provided he's in a situation where he feels personal loyalty to those close to him.
Having a personal connection with coach and teammates has already shown itself to have a significant influence on Jordan's career path. His relationship with Doc Rivers allowed Jordan to maximize his effort and potential on the defensive side of the court, while Dirk Nowitzki's reported presence at the Mavericks pitch presentation may have been as significant a factor in his decision as was Dallas' vision of his offensive contribution.
Like any strong-minded and assertive individual pursuing new challenges, Jordan's foray into the unknown territory of being a high usage player will surely have its exploratory ups and downs. But, Jordan has shown just how significant a difference that personal connection can make in his ability – and willingness – to handle adversity and stay on target.
The stronger those team bonds grow, the more grounded and restrained his response will be to the inevitable mistakes that come with mastering new things. Having trust that the whole organization is personally behind him, should yield dividends when it comes to his ability to accept professional, constructive criticism along the way.
As the Mavericks begin their gradual transition into the post-Nowitzki era, it will be fascinating to watch Jordan's progression into his prime years with this perspective in mind.