Tornike Shengelia has been arguably the most productive draft-eligible prospect in the Euroleague early in the season. What kind of player is the Georgian forward and how does he project for the NBA?
Jonathan Givony
After a monumental 2011 NBA draft for international prospects—featuring four players selected with the first seven picks-- the 2011-2012 season has been uncommonly quiet thus far for young players in Europe.
One player who has been performing much better than expected is 1991-born
Tornike Shengelia
, a 6-9 combo forward who saw consistent playing time in the Euroleague with Belgian club Spirou Basket Charleroi.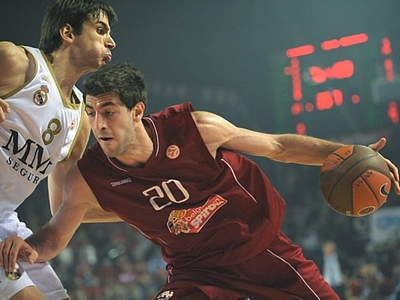 Shengelia, the son of a 6-11 national team player, left his native country of Georgia already at the age 16, signing in Spain with Pamesa Valencia. After three seasons developing there, he moved to Belgium in the summer of 2010, where he was signed by Charleroi and loaned for the season to nearby Verviers-Pepinster in the first division.
Despite not being invited to the EuroCamp in Treviso in June, Shengelia had arguably the best summer of any young player in Europe with his national team. First he won the Division B Under-20 European Championships in Bosnia, averaging 30 points, 12 rebounds and 2.3 blocks in 34 minutes per game, helping his country earn promotion to Division A, and winning MVP honors in the process. Then he joined the senior national squad for the European Championship in Turkey (Eurobasket), starting alongside
Zaza Pachulia
in a very successful campaign.
Back in Charleroi for the 2011-2012 season, Shengelia immediately earned the starting power forward role with his aggressive play, helping the team advance to the Euroleague group stage through the qualifying tournament. He's been playing a steady 20 minutes per game since, having a number of notable performances along the way. A recent foot injury has set him back for a couple of months, but not before he was able to make his mark in 21 games in the Euroleague and Belgian league.
Standing 6-9, with long arms and a very well developed frame, Shengelia stands out immediately from a physical standpoint. He's a very good athlete for a European prospect, running the floor fluidly and being capable of playing above the rim.
Shengelia's best attribute is clearly his motor, as he's an extremely tough and aggressive player who plays the game with great energy. He crashes the glass extremely well for his size, pulling down 9.2 rebounds per-40 minutes in the Euroleague, one of the better rates at his position at the highest level of competition in the world outside the NBA.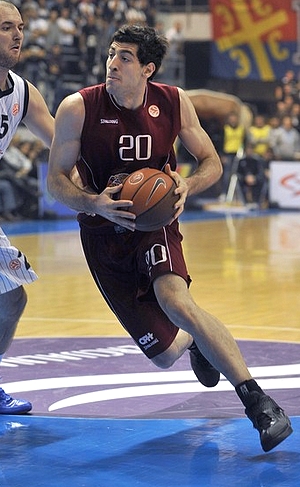 Offensively, Shengelia is not an overly skilled player, but finds ways to get the job done thanks to his physical tools and aggressiveness. He's a very good ball-handler for his position, being capable of igniting a fast break on his own and also very dangerous creating his own shot from the perimeter in the half-court. His coach likes to isolate him against opposing power forwards and let him go to work with his strong first step and long strides. He draws a good amount of free throws this way, as he's capable of driving in either direction and is not afraid to go right into the teeth of the defense and draw contact.
If guarded by a smaller player, Shengelia has a bit of a post game he can utilize as well. He shows good footwork and some nice spin moves in his arsenal, again taking advantage of his strong physical attributes and aggressive demeanor.
Shengelia's propensity for attacking defenses can get him in trouble at times, as occasionally he'll look out of control running into brick walls and turning the ball over. He's a somewhat of a bull in a china shop, so learning how to harness this energy is something that will benefit him as he gains experience.
The biggest question marks surrounding Shengelia's offensive game revolves around his jumper, which remains streaky. He's converted 10 of the 41 jump-shots he's taken this season thus far, being exclusively a catch and shoot threat.
Defensively, Shengelia is mostly a mixed bag at this point, and may be considered a tweener by some. Considered a potential small forward earlier in his career, he lacks the lateral quickness to guard most perimeter players, but is also not overly effective inside the paint either. Euroleague teams have gone at him pretty regularly this season, and he's been backed down fairly easily inside the paint, shown questionable awareness and been fairly foul prone.
Not very experienced but going up against some of the most skilled players in the world, Shengelia has shown an admirable demeanor that bodes extremely well for his future. His body language is excellent, as it's clear that he's a mature, no-nonsense type player who is a very good teammate. His work ethic is reportedly superb, which leaves plenty of room for optimism regarding the development of his skill-level in time.
Shengelia has already shown this season that he has a bright future playing at the highest levels of European basketball, that much is clear. With his toughness and athleticism, he seemingly has a style of play that should translate to the NBA level as well. If he can find a way to become a more consistent shooter, Shengelia should be able to carve out a niche for himself in the NBA in the
Brian Cardinal
or
Andres Nocioni
mold. He looks like a very solid value pick for a team looking to "draft and stash" an international player in the second round.