Submitted by Jason Walker
Jason Walker will attempt to go to as many workouts as allowed and bring the news and his opinions of the workout back to Hawks fans everywhere. On Tuesday, May 25, 2004, the Hawks brought in Oregon's
Luke Jackson
,
Kirk Snyder
of the University of Nevada, Morehead State's Ricky Minard, and high school standout
J.R. Smith
.
This was the second straight workout with mostly first round considered prospects. This was a highly anticipated workout due to Jackson and Snyder offering different skill sets and going head to head for the first time, Minard out to show why MSU retired his jersey, and getting to see JR Smith in an environment with bigger, more mature players.
Here is a brief synopsis of each player and their workout, along with some quotes and commentary from Walker.
(Sinceere thanks to Hawks Photos for the images)
Luke Jackson
139
Named to a host of All-America teams and a finalist for both the Wooden and Naismith Awards, Jackson was selected to the All-Pac-10 and Pac-10 All-Tournament teams this past season after registering 21.2 points, 7.2 rebounds and 4.5 assists in 31 games for the Ducks. He was one of only six players in the country to lead his team in those three categories, and for good measure, he also led Oregon in steals (97) and FT shooting (.862). The 6-7 Jackson joined former Arizona star
Sean Elliott
as the only two players in conference history to reach 1,900 career points, 700 career rebounds and 400 career assists.
From the very beginning of the workout, it was clear Jackson was comfortable with the ball in his hands. From the time he walked into the gym, Jackson was dribbling, spinning, and shooting the ball. Even during down times in the workout, Jackson was handling the basketball. When a player appears that comfortable with the basketball at all times, it means he is more likely to be very comfortable with the basketball during the game as well.
In the shooting drills, Jackson looked very good, displaying a consistent stroke from all parts of the floor. Jackson always seemed to catch the ball ready to shoot, bringing the ball below his waist only slightly when preparing to shoot after catching the ball. He showed a crisp shot and always squared up quickly during the shuttle drills.
In transition, Jackson ran the floor very well, covering a lot of ground on his dribble. Jackson also showed his athleticism, having the highest jump mark of the workout. Jackson used both hands well when going to the basket.
Defensively, Jackson looked average out there, sometimes allowing the player to get to the basket, but always boxed out fundamentally, pinning the player behind him as he went for the rebound.
Jackson looked good in the 1 on 1 drills, able to get to the basket on Minard and Smith and choosing to shoot (a wise choice on this day) over Snyder. In the 2 on 2 drills, Jackson and his partner Minard had trouble getting each other the ball in good positions to score consistently, and defensively they had trouble stopping Snyder and Smith. Snyder may have gotten into Jackson a little bit, keeping Luke on the outside a little more.
Plus: Good shooting, ball handling, footwork.
Minus: Overcoming aggressive competition.
Kirk Snyder
140
Snyder, a 6-6, 225-pounder from Nevada, spent time at the small forward position for the Wolf Pack. The Western Athletic Conference's Player of the Year, Snyder was named first team All-WAC for the second year in a row after recording 18.8 points, 5.7 rebounds and 3.4 assists in 34 games. He scored 21 points in a season-ending loss in the NCAA regionals to Georgia Tech.
Snyder has a high release point on his jump shot, which makes for an inconsistent release point. This resulted in some very nice shots during the shooting drills, and some ugly shots. Snyder, during one of the shuttle drills, missed badly on a number of consecutive shots. However, he made quite a few three point shots during the workout, but the ones he missed, missed badly.
In transition, Snyder ran the floor very well, but did struggle to finish when it involved pulling up to shoot. When going to the basket, Snyder attacks with a lot of aggression and finishes strong.
After the individual shooting drills were over, Snyder took over.
In the 1 on 1 drills, nobody wanted to go at him. As each possession passed, guys would begin to settle for a quick jumper rather than try to go to the hoop on Snyder. He displayed quick hands, strong body (which he used liberally), and a bully's mentality against his opponents.
142
Quickly, this became Snyder's workout. Kirk began to talk, whooping after a good defensive play or a basket. That his personality was beginning to dominate was clear. Snyder clearly fed off of this vibe and seemed to get stronger and more confident as the workout continued.
During one play, Minard attempted a jump shot which Snyder met, matched, and stripped as he came down to the floor, an impressive display of timing and strength.
During the 2 on 2 drills, Snyder's confidence and attitude continued to control the workout. Paired with the high schooler Smith, Snyder worked well with his teammate and developed instant chemistry, encouraging the youngster and raising Smith's game as well as his own.
Plus: Quick hands, strong defense, strong personality
Minus: Inconsistent shot keyed by high release
Ricky Minard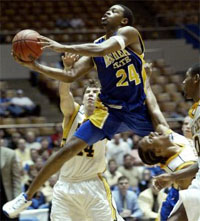 Minard returned for his final season at Morehead State and averaged over 20 points (21.8 ppg) for the third consecutive year. He ended his career as the school's all-time leading scorer with 2,381 points and ranked second on MSU's all-time assist list and 11th in rebounding. The fourth highest scorer in Ohio Valley Conference (OVC) history, he is also the only player ever at MSU and in the OVC to surpass 2,300 points, 700 rebounds and 200 assists in a career. The 6-4 Minard's jersey has been retired by the Eagles and hangs in MSU's Johnson Arena.
Minard made 2004 All-First Team at Portsmouth Invitational Camp. Minard averaged 17.3 Points in a total of 3 games, shooting 59% from the field (20 for 34 from the floor), shot 40% from the three-point Line (4 for 10), shot 100% from the Free-Throw Line (8 for 8), all in an average of 21 Minutes Per Game. The first game at Portsmouth, Minard shot 10 for 11 from the field, 2 for 2 from the three-point line, and scored 24 points in only 21 minutes. Minard is the only Collegiate Player to average 22 Points, grabbed 7 rebounds, and dished out 5 Assists per Game in the 03-04 College Season. Minard recorded 5 games with 30 or more Points, netted 7 Double-Doubles, and registered 7 games with 8 or more Assists.
Minard showed very quick, easy shot both in transition and in the shuttle drills. He did tend to drop the ball a good bit below the waist when catching and shooting, thus lengthening his release time, but was very consistent inside the three point line during those drills.
Minard ran his drills very crisp and fundamentally sound, and was very quick to the basket in the 1 on 1 drills, which he won. He was as good on three point shots as the rest of the guys and was alright on the defensive end, except in the 2 on 2 drills, where he and Jackson got beat quite a bit by Smith and Snyder.
Plus: Quickness to the basket, Good footwork, Easy, consistent release on his shots. Floor burns.
Minus: Got caught on picks defensively, Got handled by the stronger players.
JR Smith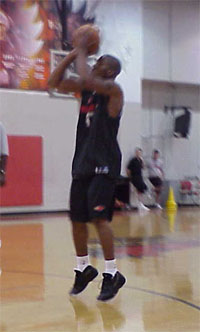 One of the nation's top high school prospects, Smith originally signed a letter-of-intent to attend the University of North Carolina before declaring for this NBA Draft on May 3. The 6-6 shooting guard from Newark, NJ attended St. Benedict's Prep (NJ), averaging 23.3 points and 5.4 rebounds as a senior. He finished his high school career as the holder of three school records: most points (700) and three-pointers in a season (108) and highest FG percentage in one year (.541). Smith took home MVP or co-MVP honors three postseason games, the Great Florida Shootout, the EA Sports Roundball Classic and the McDonald's High School All-American Game.
The first item noticed about Smith is his lack of elevation on his jump shot. Smith barely even hops when shooting, which could lead to a problem in getting the shot off at the NBA level. Smith's release is almost a flip with little follow through, which may have led to his inconsistent shooting during the workout.
During the shuttle drill, Smith's footwork seemed suspect, as he seemed to have trouble getting his feet in shooting position, leading to some fall-aways and off balanced shooting.
Smith couldn't show much in the 1 on 1 drills because to get the ball on offense, you must make a stop defensively. Smith struggled to get stops, and in one possession, allowed
Luke Jackson
to gather 5 straight offensive rebounds before Jackson finally scored. It was at this point in the workout where Smith seemed to be disappearing like a wallflower, looking like a boy against men especially against Snyder.
It was with Snyder in the 2 on 2 drills that Smith came out of his shell. Smith made two nice passes to a cutting Snyder for easy baskets, and used a screen well (twice) to slam home a couple of points for his team. Smith worked well with Snyder and the two showed good defense on Jackson and Minard.
Plus: Excellent athleticism, Decent range on shot
Minus: Lack of elevation on inconsistent jumper, Shied away when played by the bigger players.
---
The story of the workout was
Kirk Snyder
asserting his personality into the second half of the workout. Snyder's relentless defense and physical play clearly caught the other players off guard, sending each of them into a little more passive place, all of which gave Snyder even more confidence as the workout wore on.
138
Snyder is an interesting prospect in that you can feel his presence when he is playing, which is a mark of a good draft pick, but his jump shot leaves you wondering about his draft slot. It's possible he could work into a
Ron Artest
-like player and could be drafted accordingly in the late teen range.
If Snyder took hold of the second half of the drills,
Luke Jackson
likely showed the best in the first half, the individual drills. Jackson showed an all-around game, which included being very athletic and display good, consistent form on his shots around the court. Jackson will likely get taken before Snyder in the teens, due to his more complete offensive game.
JR Smith showed the good and the bad in his game during the workout. He did show his ability to finish in traffic and some range on his jump shot, but also showed he had a lot to improve on, from his shooting form to being more confident in settings with more physically mature players. It seems like we didn't get to see all of his athleticism during this workout. He's not as good at this time as some players who will be taken in the second round, but his potential should entice some team to take him in the 20's.
143
Ricky Minard showed a very steady guard game during the workout. He attacked the basket well, showing good quickness. He wasn't able to show any point guards skills in this workout, which will likely define where he will go in the draft. It's likely some team in need of point guard help will take him in the mid to late 2nd round.
Here are our rankings based on this workout:
1.
Kirk Snyder
2.
Luke Jackson
3. Ricky Minard
4. JR Smith
---
Here are some quotes from the workout with director's commentary by Walker:
Kirk Snyder
How was your workout today?
"Like all my workouts, they go pretty well. I shoot the ball well. I play well. I like to play basketball, so it's pretty easy. It's not like picking teeth, when you step on the basketball court it's pretty exciting. It's something that I can do and something that I'm capable of."
(JW) Snyder does not lack for confidence, on or off the court. It is clear to those watching that he enjoys playing the game.
What's the greatest skill you bring to the NBA?
"I'm tough. I'm really tough. I have a tough spirit. I've got a background that makes me that way. I'm a good teammate. I won't accept anything short of the best. That's how I've always been, and how I'll continue to be."
(JW) We agree, he's toughreally tough. He certainly backed up this quote on the court today, showing his mental toughness and his ability as a teammate, salvaging JR Smith's workout with his play.
How many teams do you plan to workout for before the draft?
"I'll workout for a couple more. Obviously, I don't know the political side of things but my agent is going to take care of everything. He's going to take care of everything else and I'm going to do my part and play basketball."
(JW) Snyder is aware that some things in the NBA are out of his hands, but we'd expect everyone between the end of the lottery down into the 20's to want to work Kirk out.
Who's game is yours similar to in the NBA?
"Somebody asked me that in Portland, I'm
Kirk Snyder
. I'm my own player. I don't want to take away anybody's credit because I'm not in the league, and I'm not doing some of the things those guys have already done. So it seems like taking away from them to compare myself to them."
Who did you model yourself on growing up?
"Guys like Dominique [Wilkins],
Michael Jordan
,
Larry Bird
, Magic [Johnson], all of those guys from the '80s. They just played so hard. That's all I want to do every time I step on the court, just to play as hard as I can."
(JW) He played hard and showed very well here. He is the type of personality that every team wants one (or more) of on their roster.
JR Smith
(On his workout performance)
I think it went good. I struggled for the first couple of minutes. Going against the college guys was pretty hard, but overall I think it went good.
(JW) We think the struggle lasted until the last segment of the workout, the 2 on 2's. He did show some shyness in the 1 on 1's with the bigger players.
(Other team workouts)
This week I'm going to D.C. to work out for the Wizards, and then I will go back home to New Jersey and work out for the Nets. This is my second workout so far. Yesterday, I worked out with Boston. That workout was really different because we had to do the Celtic run, which was very different from this one. This group had smaller and more competitive guys.
(JW) It's interesting that the Wizards are scheduled to work Smith out, considering their lofty place in the first round. The Hawks (17th), Celtics (15th, 24th, 25th), and Nets (22nd) seem to be closer to where Smith will likely go.
(On individual game)
I would compare my game to
Vince Carter
. We both have a lot of athletic ability. We both like to dunk, shoot the ball, and have intensity.
(JW) It may be because this was his first intimate workout with strong players like Jackson and Snyder, but we didn't see the intensity, rather, we saw Smith become withdrawn during the 1 on 1 drills.
(On draft prospects)
I think I'm a ten out of ten, so I'm going to get drafted.
(JW) Well there is no doubt he's getting drafted, but where was this confidence on the court during the workout?
Ricky Minard
(On workout performance)
It went very well. There was good competition in here today. It went really well for me. My performance was an eight out of ten. I did really good.
(JW) Ricky did do well today. If Ricky could have done something better it would have been a stronger showing in the 2 on 2 game.
(On team workouts)
This is my tenth workout. I have four more teams left. From here, I will go straight to New Orleans, then on to Boston, Chicago and Indiana. Today was about the same as the other workouts. I would probably rank this in the middle as far as the intensity.
(JW) All those teams pick in the mid second round, save Indiana who picks last, so Minard has a chance to play his way into the middle of the round with more showings like this one. It's rumored that Portland would like to bring Minard back to work against Rickey Paulding of Missou, who has been considered a mid second round guard himself.
(On draft prospects)
I hope my chances are really high. It is really up to everybody else to decide.
(On individual game)
When I was in college, I was compared to
Dwyane Wade
because of all the things he can do. He scores and passes the ball very well. He is also aggressive.
Luke Jackson
How did your workout go today?
"I thought it was a good workout. I shot the ball well and I felt like I did what I do, and I did it pretty well. I felt comfortable out here. These workouts fall under my strengths, shooting the ball, making decisions and playing individual defense so I felt good about it."
(JW) He nailed it. The first half of the workout played to Luke's strengths very well and he looked good.
How many teams do you expect to workout for before the draft?
"I think I'm going to workout for about 10 teams; I've already worked out for five so this is my sixth workout. I felt good about it."
Who in the NBA is your game similar to?
"I'm a scorer. When I have the ball in my hands I make good decisions and I think I make other people better on the court. So I compare my game to a
Doug Christie
[of the Sacramento Kings] or Rip Hamilton [of the Detroit Pistons], a scorer who can run and is athletic."
(JW) Christie is a good comparison offensively because Doug handles the ball fairly well as it seems Luke will also.
Where do you expect to be selected in the draft?
"Right now, I'm hearing between eight and 18. That's what I'm hearing, but you never know. I just go in every place and try to work hard."
(JW) As stated before, Jackson seems like he will go to a team that needs a good shooting swingman that can handle the ball and not embarrass himself defensively. Boston would seem to be a good fit, as would just about every team in the mid teens.
Jason Walker is the Atlanta Hawks affiliate for Realgm.com. His articles can be read at http://hawks.realgm.com. Feedback on this article can be sent to jwalkr72@bellsouth.net.