This interview was conducted at the Euroleague Final Four in Athens on Sunday, May 6th, following the 3rd-4th place matchup between Tau Vitoria and Unicaja Malaga, and immediately preceding the championship game between CSKA Moscow and Panathinaikos.
Jonathan Givony:
Hi Tiago, how are you?
Tiago Splitter:
I'm a little bit disappointed to be honest.
Jonathan Givony:
Why are you disappointed?
Tiago Splitter:
Because I think we came here expecting to make the Final and we simply weren't able to do it. We didn't play our game. We tried to play against Panathinaikos and, how do I say, play against them [with their style], and not play our game. Not make mistakes, and we didn't do it.
I think in the game today (3rd-4th place game, which Tau lost), nobody was motivated. We tried to say, come on guys, let's go, do it. We are a great team, but at this moment nobody is making the best of it.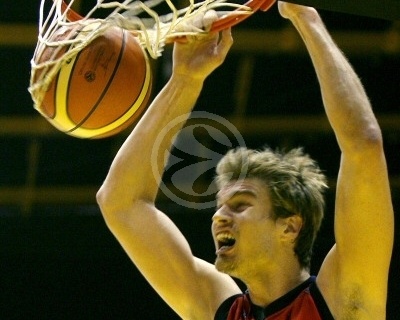 Jonathan Givony:
Why do you think you guys scored 53 points in the first game, when you guys are one of the best offensive teams in Europe?
Tiago Splitter:
I think one of the keys was what I was just talking about. Because all our practices were focused on looking at our defense. Preparing for Panathinaikos was all about focusing on their offense and nothing else. We didn't work well, I think, in OUR offense. They played great defense against us and we were like 'what are we going to do right now?'
Jonathan Givony:
How do you think you played individually in the Final Four?
Tiago Splitter:
It is totally different from the way I played in the regular season. I think both games, you have a lot of expectations on these games and you need to be tough mentally. I think our whole team didn't do what we expected to. So, you know, nobody can say who played well.
Jonathan Givony:
Did you come in here thinking 'it would really help me to play well in terms of my NBA stock', with the draft being just two months away?
Tiago Splitter:
I knew that before I came here. I knew that playing well in the Final Four would help me. Our team didn't do a good job and I didn't play well. I don't have to cry right now. I have to keep playing. We have two more games in our domestic league and then we start the playoffs. If I put my head down right now it will only make things worse. So I have to keep working on my game.
Jonathan Givony:
You came out really aggressive in the first game. You were posting up, taking the ball to the basket really hard, you were rotating, and that cost you with foul trouble. So how frustrating was it for you to sit and watch your team getting beat like that?
Tiago Splitter:
That's one of the points that I feel bad about. I started the game with a lot of energy trying to do my best, and I drew three fouls quickly and two of them were on offense. I say I want to play hard and I want to play quickly, but that didn't help me in that moment. I got a little bit out of my mind and I thought that would work for me, but I need to be more quiet in these types of games, and just play the game.
Jonathan Givony:
This is the third year in a row you guys are in the Final Four…What is missing for you guys to get over the hump. What is that little thing that you guys don't have that maybe another team does?
Tiago Splitter:
I don't know. It's difficult to say. Every year, we come here, and try to play our best, and it never happens. The first year we beat CSKA Moscow, the last two we got down quickly in the game. You know, first quarter, we lose the game in the first quarter. So I don't know if there's too much nerves on the team with everybody…It's a great team from a small city playing in the Final Four…so maybe…I don't even know how to explain that.
Jonathan Givony:
So you're moving on now into the ACB playoffs. You're probably going to end pretty late in June. Other players are going to be doing workouts and the pre-draft camp, and that is something you haven't experienced yet. Do you think it's better for people to come watch you in a private workout or do you think you're better suited to be evaluated by the way you play in a game?
Tiago Splitter:
I think it is hard, because I don't think you can see everything a player can do in a workout. The best way to watch a player is to watch him play. But, it's different playing here and in the United States, it's different basketball. Everybody knows that. You never know, that's my job. Right now I'm playing for Tau. I have to finish my season, do well, finish all my stuff, and then we'll see at the end of the season
Jonathan Givony:
So what is your situation, as far as the NBA is concerned, for next year? Your situation right now as far as your contract or your buyout, what do you want to do?
Tiago Splitter:
My situation is that I have one more year on my contract. My team knows that I want to go to the NBA and they know that well. So I don't know what is going to happen this summer because, you know, they want to keep me. They tried all year to renew me. But right now I don't want to. I want to go to the United States. So I don't know what's going to happen.
Jonathan Givony:
So basically it's up to them, under their control whether you go or not.
Tiago Splitter:
Yeah, it's up to them. We are going to see what happens. It's the same situation with
Luis Scola
, and that can make a difference because we don't know who is going to stay or not. If he leaves for the States, maybe it's going to be harder for me. So all these situations, we have to put them on the table and just watch.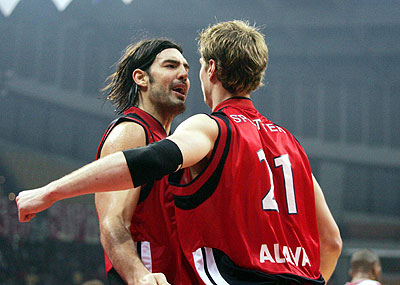 Jonathan Givony:
So how eager are you to play in the NBA? Is that something you really want to do?
Tiago Splitter:
Yes. Its one thing I've been watching for, for about three years. I'm trying to do my best. You have to always play for your team. You never have to think to play in the NBA. You are in your town. Everyday you have to work, thinking just for your team, not just for the NBA. If you play good, there's a better chance for you go over there.
Jonathan Givony:
If Tau makes you stay next year, you would be completely free in one year, one year from now to leave, with a buyout or without a buyout if you leave next year in 2008.
Tiago Splitter:
No, I have a buyout for one million next year [2008]. I have a buyout, so it's not another situation like
Andres Nocioni
or
Luis Scola
.
Jonathan Givony:
What type of team would fit you best? What kind of style? A fast team like Phoenix or Golden State? A slow team like San Antonio or Detroit? Or an international team like Toronto? What is best suited for you to play?
Tiago Splitter:
This is a point I always try to find. My game, for a big man, I am fast. I know that. So I know that fast teams like Phoenix might want me. That would be great. For a team like San Antonio that plays the game a little bit slowly, I know how to play too. So I think I can be on both kinds of teams.
Jonathan Givony:
When you were in Brazil, or playing for the national team, you were more of a face the basket, perimeter guy, who shot three pointers…and now you're more back to the basket. And now, on your free throws even, it's not your best strength. What happened for you to change your game like that?
Tiago Splitter:
It's a good question. I think when I played for the national team it's totally different basketball from here. There I have liberty to do whatever I want. Here, we have a strict game. You have to do this, and this type of play, or this type of system. So when you go out of this you want to be the best. It's different basketball and everybody knows that. When I was younger, 15 or 16, I played like this, but year by year I started to play more like the European style. It's good for some reasons and bad for others.
Jonathan Givony:
We've got a lot more questions, but the game is starting. Let's wrap it up, do the rest in a few weeks, and go enjoy the game.
Tiago Splitter:
OK, that's no problem. Thank you.