We continue our coverage on the top NBA draft prospects in the Big 12 with part six, players ranked 10-15:
Ricardo Gathers
,
Jameel McKay
,
Perry Ellis
,
Brannen Greene
,
Cameron Ridley
and
Isaiah Cousins
.
---
More DX Conference Preseason Previews:
-The Top 20 NBA Draft Prospects in the Pac-12
-The Top 20 NBA Draft Prospects in the Big East
---
-Top NBA Prospects in the Big 12, Part One
(#1) Cheick Diallo (Scouting Video)
-Top NBA Prospects in the Big 12, Part Two
(#2) Sviatoslav Mykhailiuk (Scouting Video)
-Top NBA Prospects in the Big 12, Part Three
(#3) Taurean Prince (Scouting Video)
-Top NBA Prospects in the Big 12, Part Four
(#4) Buddy Hield (Scouting Video)
-Top NBA Prospects in the Big 12, Part Five
(#5) Monte Morris
(#6) Isaiah Taylor
(#7) Wayne Selden
(#8) Prince Ibeh
(#9) Johnathan Motley
---
#10, Ricardo Gathers, 6-9, Center, Senior, Baylor
Jacob Eisenberg
By the time Ricardo Gathers arrived at Baylor as the #34 recruit nationally in the class of 2012, he had already developed a name for himself as one of the strongest players in the country. Through his first two years at Baylor, Gathers bided his time in a reserve role behind NBA-talents Isaiah Austin and Corey Jefferson. Last year, however, with lower expectations for the team, Gathers' role and minutes increased dramatically as he helped lead Baylor to a surprising #3 seed in the NCAA tournament.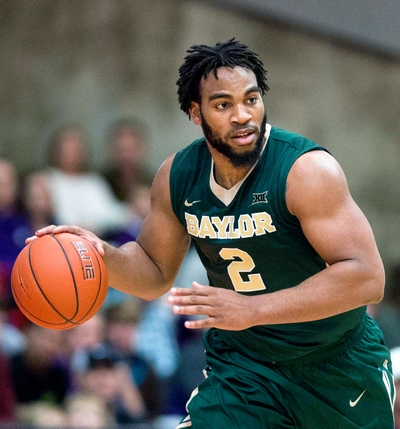 Weighing in at 273 pounds at the USA Basketball Pan American team training camp this past summer, Gathers is one of the most physically imposing players in college basketball. He overpowers his opponents with sheer power and tenacity on the glass, finishing first among DX Top-100 prospects with 14.8 rebounds per-40 minutes and leading all college players with 153 total offensive rebounds on the season.
Still, one of Gathers' biggest red flags as a prospect is that he's undersized for an NBA center. Measuring just 6-7 without shoes this past summer by USA Basketball, with a 6'11 wingspan, it remains to be seen whether Gathers has the height or length to play effectively against bigger and more athletic centers at the next level.
Those concerns come warranted as Gathers leaves something to be desired as an interior finisher on the offensive end. Though he averaged an extremely impressive 6.2 offensive rebounds per-40 minutes, he has struggled to translate those offensive rebounds into easy offense, and doesn't have great shot-selection when it comes to deciding what to do with the extra possessions he generates.
Per Synergy Sports Technology, 27.9% of Gathers' offensive possessions came off offensive rebounds – one of the highest rates in the NCAA. However, Gathers shot just 32-for-74 (43.2%) on those looks off put–backs, as he lacks a degree of explosiveness and can be very single-minded with his insistence on heaving up tough shots. Gathers' inefficiencies around the rim were evident throughout the season, as he converted just 96-of-208 (46.2%) on shots around the basket. While he showed glimpses of success with a consistent left hook on post-ups from the right side, the fact remains Gathers is quite limited as a scorer with no reliable source for efficient offense.
To his credit, for a 275-pound behemoth, Gathers is deceptively agile and possesses very nice footwork in traffic. While his strides are small in transition, he still manages to run the floor well – though he notoriously reserves his fastest full court sprints for the offensive end. Slimming down would improve his stamina, though he relies on his weight to bang and create space effectively on the interior. Gathers gets to the line at an impressive rate, attempting 7.9 free throws per-40 minutes. Still, just a 61.3% shooter from the line, he needs to convert at a higher rate to make his prolific foul drawing a more attractive asset for NBA teams.
Elsewhere offensively, Gathers brings little to the table. He's a black hole on the interior, tallying just 15 assists in 987 minutes played last season –the fourth worst assist rate among DX Top-100 prospects. According to our database, only six players have been drafted since 2000 with as poor an assist rate as Gathers did last season (minimum 900 minutes played)
Defensively, Gathers' effectiveness varies based on the situation. He's a glass eater with great instincts for both timing and positioning, which helps Baylor curtail opponents' second chance opportunities. Moreover, he uses his elite strength to prevent opponents from gaining good post positioning. He's comfortable defending the interior and is clever with his position, often baiting opponents to throw into the post, only to disrupt the entry feed.
But while he dominates the boards on both ends, he's not long enough to survive as a rim protector in the NBA (1.4 blocks per-40) and he often looks overmatched by speed when he's forced to defend on the perimeter – an absolute red flag for a undersized big man in the evolving NBA. He's not the most diligent defender and can lose concentration of both his man and his team's defensive scheme, especially when forced to matchup against a floor-spacing big.
Still, after exploding upon insertion into the starting lineup, Gathers has cemented himself as a viable NBA prospect, due to his one highly translatable skill--rebounding. He'll need to show continued progression as either a finisher on the interior or as a passer/decision maker in his senior season to ease NBA teams' concerns about his limited offensive ability. He'll also need to improve his free throw touch to not hinder his ability to take advantage of the tremendous energy he provides offensively. Defensively, his physical limitations will always be a hurdle he has to overcome at the professional level. Still, with another season to show improvements on that end of the floor, he has a chance to turn the negative defensive perception around.
#11, Jameel McKay, 6'9", Senior, PF, Iowa State
Derek Bodner
After two seasons of excellent play at Indian Hills Community College, 6'9" big man Jameel McKay, after a very brief stay at Marquette, transferred to Iowa State to play under head coach Fred Hoiberg.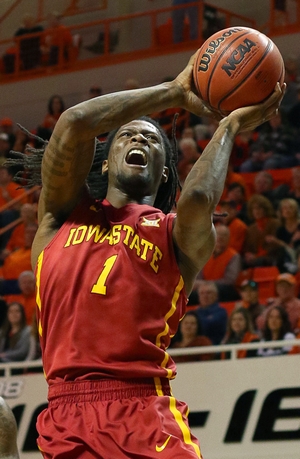 McKay became eligible for the Cyclones in December and made an immediate impact, providing Iowa State with a much needed interior presence, especially defensively. McKay would work his way into the starting lineup by the end of the year and posted averages of 11 points, 7.6 rebounds, and 2.6 blocks on the season, helping Iowa State repeat as Big 12 Tournament champions, and winning All-Conference 3rd team, All-Defensive Team, and Defensive Player of the Year honors in the Big 12 for himself.
The defensive side of the court is McKay's calling card at the moment. Despite being only 6'9" McKay was able to block 3.2 shots per 40 minutes, pace adjusted, thanks in large part to good defensive positioning and excellent timing. His team defense goes beyond just blocking shots, however, as McKay is an excellent off the ball defender, making quick, decisive reads, timely rotations, and overall providing excellent help defense. That same effort, quickness, and good technique help McKay defend the pick and roll well, although he wasn't asked to do so all that frequently for the Cyclones.
McKay's physicality and effort help him defend the post as well, although his size presents some problems here, as he was frequently undersized for the position, both in terms of height and weight. McKay is wiry strong, and looks to have a frame that can add some mass to it down the line, but he did struggle at times to hold his position against some of the bigger competition he faced last year, and wasn't especially prolific as a defensive rebounder, averaging just 6.4 caroms per-40 minutes.
On the offensive side of the court, McKay is mostly an off the ball player, although a valuable one at that. He's a strong offensive rebounder, pulling down 3.7 offensive rebounds per 40 minutes, pace adjusted, with an 11.9% offensive rebounding rate. McKay is quick in space and is constantly fighting for position, and he has good hands and a quick jump which allows him to convert these opportunities at a high rate.
McKay also moves very well off the ball, both in pick and roll situations and also cutting to the hoop. McKay is a quick, agile big man who sees lanes opening up and finds holes in defensive rotations. He has good, soft hands to catch most passes and is quick off of his feet. While not an incredibly explosive leaper in traffic, McKay has decent touch around the hoop and doesn't shy away from contact.
Iowa State did try to use McKay as a post-up threat towards the end of the season, but to limited success. When McKay had a size mismatch in his favor he was able to take advantage, with enough touch on a hook shot over either shoulder to be somewhat effective. He also has a speed mismatch on most nights when defended by taller players, and at times was able to use that to his advantage to get to the hoop. That being said, when matched up against capable defenders, McKay's lack of polish down low really showed, and he was frequently forced into tough, out-of-control shots, as he simply lacked the diversity and overall skill level to combat them.
Another area where McKay needs to improve is from the perimeter, as Synergy Sports logged just four jump shots for him on the season, and the 59.8% he shot from the charity stripe doesn't inspire much confidence that the perimeter game is simply an unused asset in his arsenal. With McKay's struggles in the post against taller competition, being able to force his man to guard him away from the hoop, then take him off the dribble, could be a source of offense down the line, but he'll have to show considerable improvement in both his perimeter jump shot and his ball handling capabilities to truly make use of that quickness.
Despite being undersized for the next level McKay, who will play his entire senior season at 23 years of age, has a combination of quickness, effort, basketball IQ and shot blocking ability that gives him some potential as a role player. If McKay could continue to develop his frame, add some much needed muscle mass to take more of a beating down low, and continue to expand his skill-set, it would help convince decision-makers that he has enough of an all-around game to make the most of his role at the next level.
#12, Perry Ellis, 6-8, Senior, SF/PF, Kansas
Josh Riddell
Perry Ellis has come a long way since his freshman season where he averaged a paltry 13.6 minutes per game. Now a
Big XII All-Conference First Team player
, Ellis returns to Kansas for his senior season hoping to lead a stacked Jayhawks team deep in the NCAA Tournament.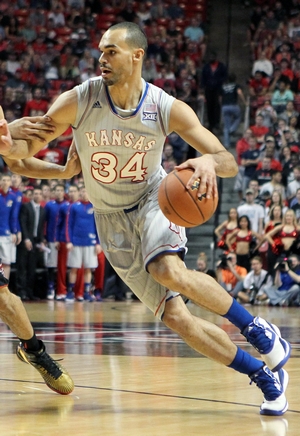 In order to become a more sought after draft prospect in his last collegiate season, Ellis will need to show that he can fill a role at the NBA level, as there are currently questions about what position he would play. At 6'8" with an average 6'10" wingspan, he is undersized compared to NBA power forwards. At the same time, he doesn't have elite quickness and foot speed for a player of his size to play on the wing. Likely to spend most of his time facing the basket if he does make it in the NBA, Ellis will have to show more improvement as a senior than he did as a junior to convince teams he still has some upside left to tap into.
Much of Ellis' offense came from around the basket, with post-ups logged by Synergy Sports Technology accounting for 20.9% of his offensive possessions. While he has demonstrated the ability to score with his back to the basket against weaker opponents, he's struggled against better competition, and this skill seems unlikely to translate to the next level, at least not from the power forward spot. He isn't a dominant presence on the block and not someone a NBA team will build their offense around in the post. While this will be a nice way for him to score in small spurts, he will need to find more ways to score that have a better chance of success at the next level.
Ellis does float around the perimeter in the flow of the Kansas offense but he doesn't initiate much offense from this spot on the court. He has shown some ability from the mid-range, which gives him some potential to extend his game to the perimeter. He isn't a very advanced ball-handler or shot-creator, and struggles when he tries to drive all the way from the three point line. He is able to face up his defender from the free throw line and take one or two straight-line dribbles to get into the paint, although he has trouble finishing, as he converted just 48.1% of his attempts at the rim according to Synergy Sports Technology.
His jump shot is the area where he can take the largest leap in his senior season. This has been the case for the past two seasons, but he has yet to show huge progress in this area. Ellis is able to knock down mid-range shots on a semi-consistent basis, making 40.6% of his 32 attempts from 17 feet to the three point line, according to Synergy Sports Technology. He did make 39% of his 46 3-point attempts last season, which was a career high in attempts, albeit on a small sample size. If he can extend his range to the three point line on a larger scale, a role at the next level could begin to take shape for him with his excellent basketball IQ and competitiveness.
Defensively is where it is even harder to project Ellis as an impact player at the next level. He is undersized, and not particularly long or strong to project guarding players around the basket. At the same time, he doesn't show great lateral quickness preventing dribble penetration from the perimeter. While he puts in a high effort level on the wing, he has to play back a step or two from his defender as he doesn't have the foot speed to stay in front of drives. This allows the opposition to shoot over him, and his poor length doesn't help in this regard.
With the personnel that Kansas has this season, including Cheick Diallo (if eligible), Jamari Traylor, Carlton Bragg and Landen Lucas roaming around the rim, Ellis may be asked to play on the perimeter more often this season to help space the floor. This will give him the chance to show whether he has made the improvements to play the wing consistently. Despite already being 22, he is still a player to monitor and if he shows he can diversify his game, his draft stock will rise as it will be easier to envision a role for him in a NBA rotation.
#13, Brannen Greene, 6'7, Junior, Small Forward, Kansas
Matt Williams
Ranking among the top-35 recruits in the high school class of 2013, Brannen Greene emerged as a valuable roleplayer for the Jayhawks a year ago averaging 5.7 points and 2.1 rebounds over 15 minutes per game. Coming off the bench behind Andrew Wiggins as a freshman and then Kelly Oubre as a sophomore, Greene has yet to carve out a major role with the Jayhawks, but his pedigree and roleplayer potential give him some intrigue.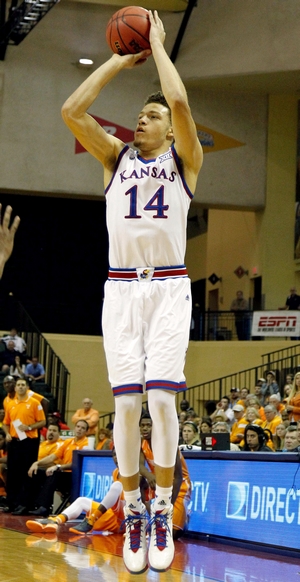 Standing 6'7 with nice length and a solid frame, Greene has good size for a wing. He's also a solid, but not spectacular athlete, being more fluid than explosive. Undergoing hip surgery which caused him to miss the World University Games, it will be interesting to see how well Greene is moving once the season starts.
Offensively, Greene's role is predicated on his ability to make catch and shoot jump shots. 88% of Greene's shot attempts in the half court were jumpers a year ago, while 73% of all of his attempts were 3's. Knocking down 42% of his catch and shoot attempts, 50% of his pull-ups in a limited sample, and 40.4% of his overall 3-pointers, Greene shoots the ball with tremendous touch and consistency from the perimeter and is lights out when left open. Hunting jump shots in the half court and on the break alike, the Georgia native has outstanding mechanics and self-confidence.
Playing a very one-dimensional role, Greene flashes some ability to put the ball on the floor to dribble into space, and will throw down the occasional dunk on the break, but has yet to show much ability as a shot creator and scorer inside. To his credit, he does have a nice feel for the game and is lights out from the line, two things working in his favor as his playing time and role grows.
The question throughout Greene's two years in Lawrence has been when he'd get the opportunity to showcase his game. With no one-and-done small forward in this year's class, Greene figures to see more touches this season, even if he'll still be sharing minutes on the wing with Wayne Selden and Sviatoslav Mykhailiuk. It will be interesting to see if his shooting percentages from the perimeter hold up over a larger volume of attempts and just how much more Greene to his game than he's showed over the last two seasons.
Defensively, Greene played with improved energy a year ago, but tended to find himself out of position defending the ball too frequently. Greene is a work in progress defensively and struggles through some lapses, but appears capable for stretches as well. It will be interesting to see if Greene can become the defender he needs to be to earn minutes for Bill Self's Jayhawks this season.
One of the more efficient low-usage role-players in the Big XII a year ago, the 2015-2016 figures to be a critical one in the development of Brannen Greene. As his first real opportunity to earn significant playing time, Greene is a player to keep an eye on, as with his size and shooting prowess, a breakout year could place him firmly on the radar of NBA scouts.
#14, Cameron Ridley, 6'10, Center, Texas, Senior
Kyle Nelson
When we last wrote about Cameron Ridley, just prior to his junior season, many expected a breakthrough year from the former McDonald's All-American and a deep tournament run from the Texas Longhorns. Instead, Ridley was buried in a talented frontcourt rotation and Texas limped to the NCAA Tournament before losing to Butler in the Round of 64. On the eve of his senior season, Cameron Ridley headlines another deep and talented frontcourt for first year coach Shaka Smart, with one last chance to prove that he is an NBA-caliber big man.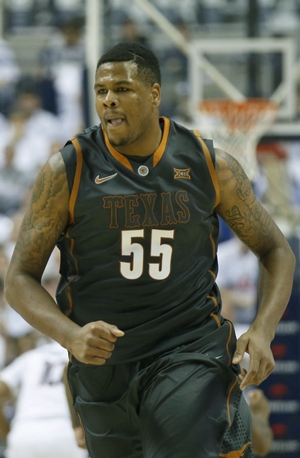 Ridley remains the same prospect from a physical perspective: an undersized, yet physically imposing center, with a 7'4 wingspan, who must continue to slim down and work on his conditioning in order to maximize his below average athleticism.
Ridley looked like the same player on the offensive end of the floor, as well, seeing his usage rate hold steady at 21.1%, while his TS% also stayed the same at 59%. His overall minutes declined somewhat due to the presence of eventual lottery pick Myles Turner, and his 15.2 points per 40 minutes pace adjusted was slightly less than his junior season (16.9).
Once again, Ridley saw almost all of his possessions in the post and he proved to be a relatively effective scorer out of post-up situations (45.2% FG) and in other attempts around the basket (64.1% FG). He did a great job of using his length and strength to carve out position in the post, but still lacks advanced footwork to exploit his physical advantage. As a junior, he added a short turnaround jumper to his repertoire of baby hooks and drop steps, but still has a relatively rudimentary skill set with his back to the basket.
Ridley is still at his best finishing around the rim, either by running in transition, cleaning up his teammates' misses (4.4 offensive rebounds per 40 minutes pace adjusted), or moving without the ball. Ridley also does a good job of cutting to the basket to catch-and-finish around the rim. While he is not a particularly explosive or quick player, his combination of soft hands, long arms and solid timing allow him to nevertheless be an effective finisher.
Ridley still shows very little prowess operating out the pick-and-roll and did not attempt a single jumper as a junior. Three years into his collegiate career, therefore, he has yet to make significant progress on the offensive end of the floor and it remains to be seen how much he can continue to develop as a senior, especially with a glut of big men on Texas' roster and a coach who doesn't seem particularly well suited to Ridley's old-school style of play.
On defense, Ridley's weaknesses remain apparent, particularly the fact that he's not the quickest or most mobile player, as evidenced by the mediocre .5 steals per-40 minutes he averages. This makes it hard to imagine him playing a position other than center, and it looks as though he will struggle to guard perimeter oriented big men, more generally, at the next level. Yet, he looked far more engaged and aggressive at times as a junior, which allowed him to compensate somewhat. He remains an excellent shot blocker, averaging a career high 3.4 blocks per 40 minutes pace adjusted, which shows the significant impact that he often does have with his sheer length.
One area where he clearly regressed was on the defensive boards, however, grabbing a career low 5.8 defensive rebounds per 40 minutes pace adjusted. Part of this likely has to do with sharing a frontcourt with productive rebounders, but scouts will still be watching to see if he can regain his sophomore (7.4 per-40) productivity.
With one year of eligibility left, Cameron Ridley has a lot of prove to NBA scouts and will have to do so with a new coach on the sidelines. Texas's frontcourt remains crowded and Ridley will have to work hard to earn minutes even as a veteran two-way player. After three years at Texas, Ridley seems unlikely to develop into a coveted NBA prospect, but he still brings some intriguing tools to the table, particularly with his length. If he is capable of putting it all together as a senior and follows up a productive season with good workouts, then he might just show scouts that he is worthy of a NBA roster spot.
#15, Isaiah Cousins, 6'2, Shooting Guard, Senior, Oklahoma
Jacob Eisenberg
Entering last season, question marks surrounded Isaiah Cousins' health following a traumatic summer. He was shot in May of 2014, after getting caught in the middle of a crossfire between two rival gangs in his Mt. Vernon neighborhood, just miles north of New York City. However, Cousins put concerns about his health to rest when he returned to Oklahoma and dazzled with a consistently smooth stroke from the perimeter, helping lead Oklahoma to a #3 seed and Sweet Sixteen appearance in 2015.
Measured just 6'0 ½ barefoot by USA Basketball and weighing 196 pounds, Cousins is undersized for an NBA shooting guard. His 6'5.5 wingspan does help compensate of his lack of size somewhat, but he still possesses below average length for his positon by NBA standards.
Offensively, Cousins ranks among the top shooters in college basketball. He led the Big 12 in three-point shooting last season, hitting 63-of-140 attempts (45%) from behind the arc. He possesses a quick trigger and usually releases his shots with a high arc. If there was a knock on his shooting, though, it's that his shot selection can be maddening. Cousins' awareness on the court is dubious, regularly taking shots while standing on the three-point line or even a few inches in front of the line. While he hits his shots at a high clip, he takes heat checks on bad looks early in the clock with a concerning regularity.
In transition, Cousins attempted pull-up jumpers on 38.3% of his offensive possessions last year -- among the highest rates in the NCAA. He hits these pull-ups off the dribble at a decent rate (38%) factoring in the inherent difficulty of the shot. However, considering he shot 48-for-99 (48.5%) on catch-and-shoot jumpers last season, it's worth wondering whether his confidence gets in the way of his ability to play more efficiently
Cousins has a loose crossover dribble going both ways which he uses to create separation on his pull-up. He's not a particularly skilled ball handler in traffic and is somewhat turnover prone when he does put the ball down and try to get all the way to the rim. On the rare occasions he does get inside the paint, Cousins is just an average finisher, lacking the strength or explosiveness needed to finish plays or draw fouls in traffic. Per Synergy Sports, he shot just 22-for-63 (35%) on half-court shots inside the paint and got fouled on just 7% of his used possessions.
To compound Cousins' weaknesses as a foul generator, he's simply not very efficient at the charity stripe even when he does get there. For a 45% three-point shooter, Cousins disappointingly made just 46-of-71 (64.8%) of his attempts at the line last season. To his credit, he shot 78-for-97 (80.4%) from the free throw line as a sophomore so it's plausible to think he'll rediscover his soft touch as a senior.
While Cousins possesses point guard size, his scoring mindset and average court vision prevent him from bringing a facilitating mentality on the court. He averaged just 2.7 assists per-40 minutes last season and posted an uninspiring 14.6% assist rate doing so.
Cousins has the physical tools to play effective defense. However, his fundamentals on that end are lacking. He has an exaggeratedly wide stance while defending the ball and tends to hunch forward rather than crouch down, leading to issues with balance when trying to get in front of opponents' drive-bys. Cousins also shows suspect commitment to fighting through screens and often resigns himself from the play once he's beat.
To compound that, he lacks concentration when defending off ball, regularly allowing his opponents to get open looks. He liberally calls for switches on his man without showing much hustle to fight around screens. It's not uncommon for Cousins to lose his assignment on the perimeter and subsequently close out late. Opponents shot 28-for-58 (48.3%) on catch-and-shoots against him (with a third of those coming unguarded), according to Synergy Sports.
Overall, Cousins' elite shooting touch will put him on some teams' radars, but at the moment there appear to be too many flaws with his game to make him a legitimate prospect. Still, with Oklahoma expected to make a run at a top NCAA Tournament seed behind Buddy Hield, there should be opportunities for Cousins to show what he's capable of as a floor spacer, and he has another season to show he's more than just a one-dimensional shooter/scorer.