We continue our coverage on the top NBA draft prospects in the SEC with part ten, players ranked 15-20:
Luke Kornet
,
Tyler Ulis
,
P.J. Dozier
,
Alex Caruso
,
Kenny Gaines
and
Jalen Jones
.
---
More DX Conference Preseason Previews:
-The Top 20 NBA Draft Prospects in the Pac-12
-The Top 20 NBA Draft Prospects in the Big East
-The Top 15 NBA Draft Prospects in the Big 12
---
Top NBA Draft Prospects in the SEC
-Top NBA Prospects in the SEC, Part One
(#1) Skal Labissiere (Scouting Video)
-Top NBA Prospects in the SEC, Part Two
(#2) Ben Simmons (Scouting Video)
-Top NBA Prospects in the SEC, Part Three
(#3) Jamal Murray (Scouting Video)
-Top NBA Prospects in the SEC, Part Four
(#4) Malik Newman (Scouting Video)
-Top NBA Prospects in the SEC, Part Five
(#5) Damian Jones (Scouting Video)
-Top NBA Prospects in the SEC, Part Six
(#6) Isaiah Briscoe (Scouting Video)
-Top NBA Prospects in the SEC, Part Seven
(#7) Tim Quarterman (Scouting Video)
-Top NBA Prospects in the SEC, Part Eight
(#8) Devin Robinson (Scouting Video)
Top NBA Prospects in the SEC, Part Nine
(#9) Dorian Finney-Smith
(#10) Wade Baldwin
(#11) Marcus Lee
(#12) Danuel House
(#13) Alex Poythress
(#14) Antonio Blakeney
---
#15, Luke Kornet, 7'1, Power Forward/Center, Vanderbilt, Junior
Kyle Nelson
Between his junior and senior seasons in high school, Luke Kornet grew from 6'3 to 6'10. Now listed at 7'1, Kornet has developed into a unique commodity, a big man with unlimited range who can also score efficiently around the basket. While Kornet emerged as an intriguing, albeit inconsistent player, scouts will be watching to see if he can take the next step forward as a junior alongside of Damion Jones.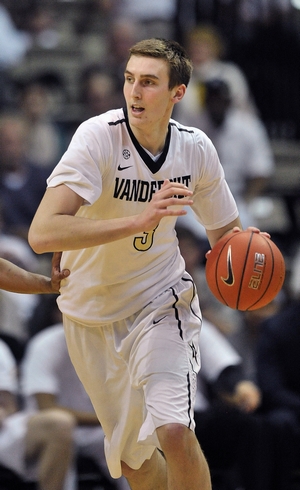 At 7'1 and 240-pounds with long arms, Kornet has excellent size for either post position. The junior big man needs to tone his frame considerably, however, as his 240-pound frame still has a ways to go to reach its full potential, even if he has big shoulders and plenty of room to keep filling out. He is not a particularly impressive athlete, either, lacking standout quickness and explosiveness, even if he can exploit matchups with slower-footed defenders on the perimeter with highly fluid closeouts. Coming off of
foot surgery
over the summer, just how well Kornet can maximize his physical tools carries significant implications for his professional prospects.
Playing mostly a backup role for Vanderbilt, Kornet averaged 16.3 points per 40 minutes pace adjusted and attempted more shots from beyond the arc than he did inside it, which makes perfect sense considering the success he enjoyed on the perimeter.
Kornet's most intriguing attribute from an NBA perspective is his perimeter shooting ability. While his release can still get quicker, he has picture perfect form and range out to the NBA 3-point line. Kornet made 40.7% of his 6.8 three point field goal attempts per 40 minutes pace adjusted, standing out as one of the top
perimeter shooting big men
in our database. Kornet looked particularly impressive as a spot-up option, ranking in the 99th percentile among college basketball players (and #1 among NBA prospects) in those situations according to Synergy Sports Technology. Kornet's unlimited range and impressive ability to stretch the floor is a valuable skill worth monitoring moving forward, especially with the NBA's increasing emphasis on having shooters at every position on the floor.
Inside of the three-point line, Kornet proved to be a mixed bag. On the one hand, he made an impressive 62% of his 2-point attempts, including 48.1% of his post up looks and 74% of his non-post up shot attempts inside the paint. In the post, Kornet demonstrates a soft touch, developing footwork, and a willingness to pass out of trouble. On the other hand, stronger defenders easily push him off the block due to his lack of strength and he struggles to finish through contact in traffic.
While Kornet's strengths, and future obviously lie farther away from the basket, his scouts will want to see him develop other NBA-caliber skills on the offensive end of the floor to not render him a one-dimensional player. He showed some potential as a passer and attacking closeouts in small doses, which are things he can continue to fine-tune to add versatility to his game.
While Kornet has a clear-cut role offensively at the pro level, his ability to hold his own on the other end of the floor remains a question mark. His 6.1 rebounds per 40 minutes pace adjusted rank him
among the worst rebounding big men
in our database, and would put him among the lowest figures ever for a big man draft pick if they continued to hold true.
His lack of strength and quickness also limits him as a post defender, where stronger offensive players have little trouble backing him down or spinning by him to the basket. Furthermore, his subpar foot speed does him few favors guarding the pick-and-roll or staying in front of offensive players who face him up. His size and length do allow him to block 1.9 shots per 40 minutes pace adjusted, but at this point it is hard he has significant work ahead of him before he can be counted on to defend either post position at the next level.
Thus, while Kornet is an extremely unique player with his combination of size and shooting touch, he has a long way to maximize his potential as a NBA prospect. In the meantime, he must continue to get stronger and improve his rebounding and defense. With a more consistent junior season, Luke Kornet should continue to get attention from scouts and has the potential to develop into a legitimate NBA prospect before he is done in Nashville.
#16, Tyler Ulis, 5'9, Sophomore, Point Guard, Kentucky
Matt Williams
One of the smallest prospects ever measured in our extensive historical database, Tyler Ulis's size didn't stop him from emerging as a consensus top-25 recruit, or from having an immediate impact for one of the most talented teams in recent memory as a freshman at Kentucky. Averaging 5.6 points, 3.6 assists, and just 1 turnover over 23.8 minutes per game as the Wildcats came up just short of perfection in the Final Four, Ulis figures to play prominently into John Calipari's offense in his second season in Lexington, even if the Wildcats' backcourt remains crowded as 5-star guards Isaiah Briscoe and Jamal Murray step in for Andrew and Aaron Harrison.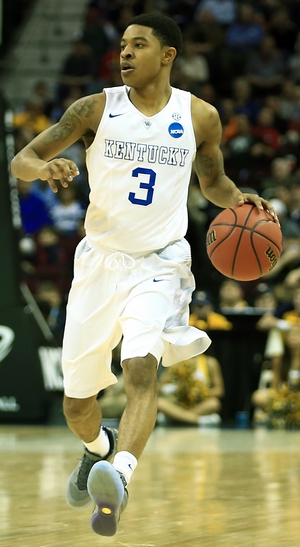 Standing 5'9 with 6'1.25 wingspan and a 155-pound frame that's he's clearly added some muscle to since he was measured at UK's Pro Day almost exactly a year ago, Ulis' size, as it has been throughout his entire career, remains his biggest weakness from a NBA perspective. Like so many diminutive guards that have gone before him, Ulis compensates with tremendous burst and quickness. He may not be the leaper that Nate Robinson was, have that unparalleled extra gear that propelled Mugsy Bogues to a 14 years NBA career, or the bizarre physical strength of Earl Boykins, but like all three of those players, Ulis has a number of characteristics that put him in position to rise above the stigma sub-6-footers face.
Earning rave reviews from coaches, teammates, and scouts alike last season, the Lima, Ohio-born point guard is a tremendously competitive player with a team-first attitude and an intangible toughness that belies both his age and his size. Pushing Andrew Harrison for minutes in Kentucky's absurdly deep rotation last season, Ulis seemed to relish any opportunity he received for extended minutes, showing the ability to change the pace of the game.
A terrific ball-handler who uses changes of speeds and crossovers effectively, Ulis looked incredibly natural with his ability to create shots for others last season. Possessing terrific vision and proving to be a surprisingly sound decision-maker for a freshman, Ulis ranked in the top-50 players in the country regardless of class or NBA potential dishing out 6.3 assists per-40 minutes pace adjusted. More impressive, however, is just how efficient he was while making those plays as his 4.9 assist-to-turnover ratio in transition and 3.4 assist-to-turnover ratio in the half court are simply spectacular.
Unselfishly throwing the ball ahead early on the break, seemingly always aware of when his big men had an opening for a lob pass, eagerly feeding the post, and even showing a knack for making the right read when running the pick and roll against attacking defenses, there's a lot to like about what Ulis showed as a floor general last season. It will be interesting, and likely entertaining, to watch how he meshes with this crop of Kentucky freshman in the coming months, as it may not always be easy for John Calipari to take him off the floor.
As a scorer, Ulis' role revolves around pick and roll and spot up opportunities, while he relies heavily on his ability to make perimeter shots and floaters, as is the case with most players his size. Knocking down a tremendous 53% of the somewhat small sample of 49 catch and shoot jump shots he attempted last season but only 21% of the 44 pull ups he attempted, Ulis is capable of knocking down shots from well beyond the three point line and converted a very impressive 46% of his floaters. As one would expect, he struggles to score when the defense is able to get in good position to contest his shot, but he does a nice job not forcing the issue inside.
Defensively, Ulis holds his own far better than most players his size, which is one of the reasons scouts are more optimistic about his odds at the next level than they usually are with his undersized peers. Doing a terrific job following his matchup like a shadow, the rising sophomore is an incredible pesky defender who plays with active hands and feet and can be a real nuisance on the perimeter or when he picks up full court. His length allows him to play a bit bigger than his height, but his lack of size and strength limits him when offensive players are able to get an angle to the rim or elevate to shoot inside.
Though Ulis will always face questions about how his size limits his upside at the NBA level, he already appears to have a ready-made role as an off the bench change of pace option for a team that finds a way to use him creatively. His leadership ability, attitude, knack for playmaking, and ability to apply ball pressure make him the type of player you really don't want to bet against, even if it will require a team and coaching staff to think outside the box somewhat.
#17, P.J. Dozier, 6-6, Freshman, PG/SG, South Carolina
Without the benefit of extensive high school footage, we prefer to wait and see how Dozier performs as a freshman before adding to his DraftExpress profile.
#18, Alex Caruso, 6'5", Senior, PG/SG, Texas A&M
Derek Bodner
Billy Kennedy's first few seasons at Texas A&M would fall squarely in the disappointing category, especially on the offensive side of the ball, with three sub-500 seasons in-conference. That turned around in a big way last season, boosted by the incoming transfers of Jalen Jones and Danuel House to give Kennedy the best collection of talent he's had since replacing Mark Turgeon in 2011. The Aggies have had some major recruiting success to go along with that as well, putting the program in very good shape to continue to stake their claim among the upper echelon of the SEC.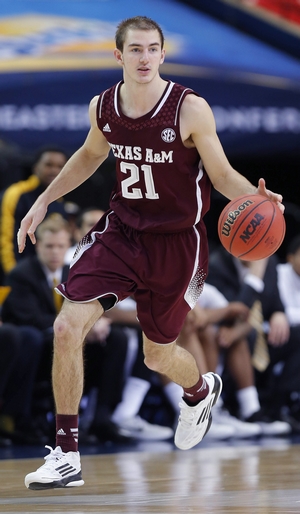 With more offensive talent in place, Alex Caruso, A&M's versatile 6.5" combo guard, benefited as well, fitting into his more natural role as facilitator and off the ball scorer. Caruso finished the season averaging 9.1 points, 4.5 rebounds, and 5.5 assists in 31.5 minutes per game, shooting 46.3% from the field and 36.6% from three point range. Those numbers don't immediately jump out at you, but Caruso was an important cog in A&M's improved offense.
Despite standing 6-5, Caruso has initiated much of the Aggies' offense over the last few years, leading the SEC in assists two years in a row. He moves the ball well, rarely letting the ball stick for too long and with a knack for recognizing defensive rotations and making the correct reads. His 7.0 assists per 40 minutes pace adjusted reflected his good court vision and willingness to set his teammates up, and ranked in the top-20 in our database last season.
Caruso is particularly adept in the pick and roll, where he uses the threat he poses as a shooter, along with good timing and an ability to read and react to how the defense is playing him, to hit both big men cutting to the basket or shooters stationed on the perimeter whose defender may have slid over to provide help.
Caruso played a little bit more off the ball this year than he had in the past, especially as freshman point guard Alex Robinson established himself and began to garner more playing time, and Caruso was able to show off his versatility by succeeding in this role as well. Caruso is an effective catch and shoot threat, connecting on 38.9% of his attempts last season and generating 1.167 points per possession, which puts him in the top 25% of college basketball according to Synergy Sports Technology. NBA teams will want to see him have another consistent year as a shooter, though, as he mostly struggled in this area in his first two seasons of college, and is still only a career 33% 3-point shooter overall. The fact that he's converted only 66% of his free throws overall doesn't bode well for his reputation as a shooter either.
Caruso moves very well off the ball, sliding around on the perimeter to find an opening in the defense's rotation, and with a quick, compact release to get a clean look off before the defense is able to recover. He also cuts well off the ball, making hard cuts to the basket when the defense falls asleep and generating easy looks for A&M's offense.
In terms of creating his own shot, most of Caruso's opportunities come off the pick and roll, where he has some shiftiness to get around the pick and into the paint. When he does so, his main weapon is setting up his teammates, but he also has good touch and balance on a pull-up jumper.
Most of Caruso's attempts at the rim come in transition or when cutting to the basket, where he can surprise you at times with some explosiveness around the rim you may not expect. He doesn't elevate nearly as well in traffic, however, and is a mostly below the rim player when creating his own offense off the dribble. Turnovers have been an issue for Caruso since he arrived at Texas A&M, with his turnover rate hovering around a shockingly high 27% for much of his career.
He can also struggle to finish through contact at times, and could probably stand to benefit from adding some additional upper body strength. Overall, Caruso's more likely to settle for a pull-up jumper or a floater in the lane than to get all the way to the basket when he's creating for himself.
On the defensive side of the ball, Caruso is an engaged defender who operates well within team concepts. He does a good job of sticking with his man off the ball, gets in a good defensive stance, and has extremely quick hands, with his 2.7 steals per 40 minutes pace adjusted among the best figures in our database from last year. Caruso can struggle at times to fight through picks on the perimeter, and he may have issues at times against some of the elite athletes he would face at the next level, but there's enough there to work with.
Caruso certainly has some skills and versatility that are beneficial to an offense, most notably his plus passing ability and his comfort shooting off the catch. While A&M will have a veteran team with most of its major players from last year returning, it would be nice to see Caruso take a larger portion of the A&M offense on his shoulders, as his usage rate has stayed the same all three years he's been in college. If he can show more ability to create off the dribble than he has thus far in his career it would make it easier to envision giving the ball to Caruso enough at the next level where you can really benefit from his passing ability. Additionally, it will be important for him to show that his shooting last season was not a fluke.
#19, Kenny Gaines, 6-3, Senior, Shooting Guard, Georgia
Josh Riddell
The second leading scorer on a Georgia team that advanced to the NCAA tournament before losing to Michigan State in the round of 64, Kenny Gaines will hope to lead the Bulldogs back to the NCAA tournament while boosting his stature with professional teams, hopefully leading to a shot with a NBA team.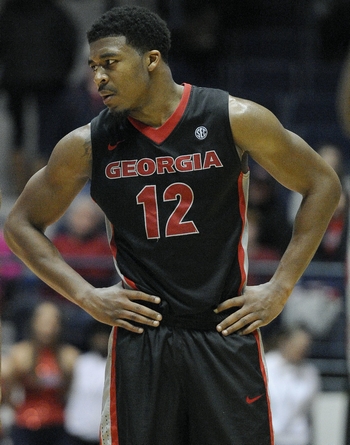 At 6'3", Gaines might be slightly undersized to play shooting guard on a nightly basis in the NBA. However, he has a long wingspan and is a very good athlete to compensate for any size disadvantage he may face. He is quick off the ground and can play above the rim at times with his explosiveness. Overall, he isn't a freakish athlete relative to his undersized status, but he should have the necessary physical tools required to hold his own against pro competition.
As a shooting guard, Gaines has the ability to be an outside threat, as he made 36.8% of his three point attempts last season. Much of his success came out of catch and shoot situations and he should be able to translate this shooting ability to the next level, as he can rise above the defense and has reliable form. He isn't as comfortable shooting off the dribble, because even though he can create space from his defender, he doesn't always get great balance in gathering himself before launching the shot. This will be a big point of development for him as he will need to be able to attack closeouts and pull up for jump shots.
Gaines isn't a great ball-handler at this point in his career, but has demonstrated some potential in this area that could lend himself to helping create offense at the next level. He doesn't have the shake necessary to beat his defender consistently in isolation settings, and is not incredibly savvy in pick and roll situations yet either. Against college defenders, he just needs a half-step on his defender before using his quickness to get into the paint. He'll have to become more adept at using the ball screen against NBA defenders as he won't be able to rely on just his athleticism as the competition stiffens.
Once he gets into the paint, he needs to improve on his finishing around the rim as he converted just 47% of his attempts "inside the paint" in the half-court according to Synergy Sports Technology. He likes to challenge defenders which can lead to tough attempts and at his size, he would do well to develop a more effective runner to score over the rim protectors, as well as more savvy in terms of drawing fouls and getting to the free throw line (3.4 per-40).
When creating offense in the half-court, he mainly looks for his own shot and isn't always able to find open teammates with better shot opportunities, posting a mediocre 1/1 assist to turnover ratio last season. He is capable of distributing to the roll man in ball screens, but misses spot-up shooters on occasion. When he decides to drive the ball, he loses track of his teammates which leads to a poor assist rate of just 2.1 per 40 minutes pace adjusted.
Defensively, Gaines has some positive attributes, but may not have enough to turn him into a plus defender against higher-level competition. He has the athleticism to guard either position as he has the length to bother jump shots, with his 1.2 blocks per 40 minutes pace adjusted
one of the highest among shooting guards in our database
. He has puts in a good amount of effort most possessions, rarely taking plays completely off.
However, while he has the quickness to stay in front of dribble penetration, he doesn't move his feet laterally that well and he is often caught flat-footed, leaving himself vulnerable against dribble drives. He also doesn't see the floor well on defense, running right into screens or missing defensive rotations. At his size, he'll have to bring something extra to the table defensively to be noticed by NBA scouts, so he'll want to focus on improving his fundamentals to match his athleticism.
Going into his senior season, Gaines will be on the radar of NBA scouts with his ability to shoot and some subtle improvements to round out his offensive skill-set will make him a more viable draft prospect. Turning 22 in January, Gaines may not have a high ceiling but if he can improve defensively, he could project as a role player at the next level.
#20, Jalen Jones, 6-7, SF/PF, Senior, Texas A&M
Jacob Eisenberg
Jalen Jones was SMU's leading scorer as a sophomore before he announced his intentions to transfer in November of 2013 following a playing time dispute with Larry Brown. He transferred within the state to Texas A&M, where he started the entire 2014-2015 season for the Aggies and led the team in scoring at 19.1 points per-40 minutes. With Jones often their most effective player, Texas A&M finished in a tie for third place in the SEC but just missed out on making the NCAA tournament – closing the season with a consolation bid and second round exit in the NIT.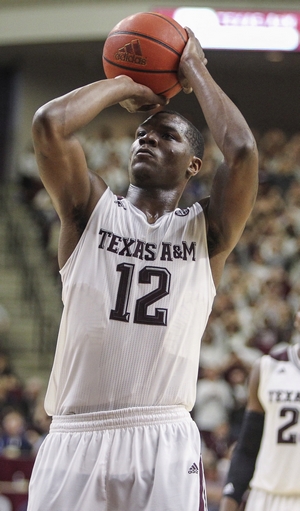 At 6'7 and with a strong 223-pound frame, Jones has the look of an NBA wing, even if he sees most of his minutes at power forward at the college level. He's impressively long yet maintains a muscular frame, which enables him to bruise with big men in college. Offensively, he doesn't overwhelm with his skill-level or feel for the game, but – at the college level –his strength and athleticism makes him quite a handful for collegiate power forwards to handle.
He's an effective offensive player on the interior, using his length, power and quickness to create clean – albeit unconventional – looks. His preferred method of scoring is out of the post, where 20.8% of his possessions came – per Synergy Sports Technology. He made 33-of-67 (49.3%) of his post-up shot attempts last season, which is impressive at his size. With the ball, Jones is something of a swirling dervish: He lowers his head and spins/pivots aggressively in order to create separation, a compensation for his limited ball handling skills. At this point in his career, he's only comfortable shooting over his left shoulder in the post. He has a high release and high arc on his shot but shows nice touch on his fade-aways from close range.
While he's a competent scorer, he doesn't really bring much else to the table offensively besides of his efficient play around the basket. He tends to watch the ball offensively and, too often, waits for the play to find its way to him. Seldom will he move off ball to aid his team's spacing and his body language is very poor at times, as he has a bad habit of shaking his head in frustration when his teammates don't look to him as the play's primary option.
Jones also frequently roams around on the perimeter, eagerly awaiting an opportunity to take a jump shot. Jones hit on just 20-for-71 (28.2%) of his jumpers last season – per Synergy – but didn't let his low efficiency affect his confidence. A career 30% 3-point shooter, this is perhaps the most important thing NBA teams will be looking for him to improve on in his final season of college basketball, as its very likely that he'll need to play significant minutes on the perimeter as a pro. As of right now, he has yet to prove that he needs to be guarded beyond the 3-point line.
It should also be noted that Jones's stats were inflated from dominant games against lesser competition. He scored 20 or more points three times last season and those came in matchups against mid-majors.
He's extremely streaky with his shot and he'll have games in which he looks like a legitimate a sniper from deep: nine of his 12 total three-point makes last season came over three different games, versus Youngstown State, Montana and Florida. In those games, Jones shot 9-of-12 (75%) from deep. In the other 28 games Texas A&M played, Jones shot just 3-for-27 (11.1%) from deep.
On the other end of the floor, Jones theoretically has the perfect combination of length and strength to be an elite defensive player. However, in practice, Jones' defensive capabilities are actually quite limited.
He struggles guarding the perimeter, and appears to move laboriously toward closeouts. Per Synergy Sports, opponents shot 35-for-93 (37.6%) on three point attempts last season when Jones was defending. That's an extremely efficient shooting clip and can best be explained by Jones' lethargy with anticipating his opponent's movements. He loses track of his assignment off the ball consistently and sometimes overestimates the impact that his length can have in disrupting the passing lane, leaving his opponent unmarked for open looks when the ball get to him.
When defending on-ball, Jones shows a little more promise. He positions his hands extremely effectively and bothers his opponent without fouling. Still, he lacks obvious defensive fundamentals with stance and footwork. His crouch is inconsistent and unconvincing, as he often stands upright or even hunches over when defending on ball.
Overall, Jones certainly has the physical profile of an NBA player but is lacking in areas where competency is a requirement at the next level at his position, such as perimeter defense and 3-point shooting. The Aggies are expected to improve this season, as they return four starters from last year's squad. And with the heightened expectations and an extra year of familiarity with the A&M program under his belt, it's not unrealistic to think Jones can have a breakout season. With his build and athleticism, NBA teams will certainly give him a look. However, unless he improves his polish and basketball IQ, he'll struggle to find a place at the next level.