We continue to evaluate the top NBA prospects in the ACC with players ranked 4 and 5,
Alex Len
and
Michael Snaer
.
Incoming freshmen have been excluded from these previews, as we'd like to wait and see what they have to offer on the NCAA level before we come to any long-term conclusions.
-
Top 20 NBA Prospects in the Big Ten
-
Top NBA Draft Prospects in the ACC, Part One
(#1) James McAdoo
-
Top NBA Draft Prospects in the ACC, Part Two
(#2) C.J. Leslie (Video Scouting Report)
-
Top NBA Draft Prospects in the ACC, Part Three
(#3) Mason Plumlee (Video Scouting Report)
#4, Alex Len, 7-1, Sophomore, Center, Maryland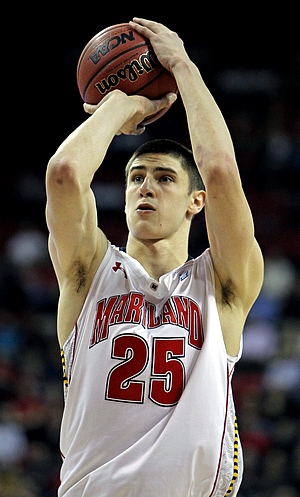 Jonathan Givony
Suspended by the NCAA for the first ten games of the season due to eligibility issues revolving around his professional background dating back to his time with former club Dnipro in his home country of Ukraine, Olexiy/Alex Len had an inconsistent freshman season, but showed enough sparks of potential to leave significant optimism around his long-term outlook.
The intrigue around Len begins with his outstanding physical profile. Standing 7-1, with a huge wingspan, big shoulders, and a frame that will surely fill out nicely over the next few years, Len clearly has terrific tools to work with. He's also a very good athlete for his size, as he runs the floor well, elevates off the ground quickly, and is capable of playing above the rim with ease.
Playing just 21 minutes per game last season upon becoming eligible, Len was up and down as a freshman as noted, stringing together a handful of very impressive performances, but also being a total non-factor in many Maryland contests. This is somewhat understandable considering the cultural adjustment involved with moving from Ukraine, as the language barrier and adaptation to a completely new style of basketball and academic schedule would be a significant burden for even the most talented prospect to shoulder.
Most freshmen at least get the easier non-conference portion of their team's schedule to get their feet wet, but Len was thrown directly into the fire of arguably the toughest conference in college basketball, matching up with future NBA players virtually every single time he stepped on the floor. A pesky ankle injury he suffered mid-way through the season likely didn't help matters either.
Len did not play a very big role in Maryland's offense last season, as he sported just the fifth highest usage rate on the team, despite being their most efficient scorer. With undersized shooting guard
Terrell Stoglin
,
who led the ACC in field goal attempts per-minute
by a huge margin, being booted off the team, there will now likely be a much larger emphasis on incorporating him into the offense. Len should be able to shoulder additional playing time and a bigger role as a sophomore after a full offseason in the weight room and more practice time to develop chemistry with his teammates.
With his impressive foot speed and ability to effortlessly elevate around the basket, Len was much more effective as a finisher last season than he was as a post-presence. Showing soft hands and excellent touch, he's capable of scoring with either hand inside the paint. He shows a nice basketball IQ moving the ball within the flow of the offense, sometimes with a nifty bounce pass to a cutter diving to the rim. He also has nice shooting mechanics, making a couple of mid-range jumpers last season.
With that said, Len is still figuring out how to effectively use his talent on a consistent basis. His frame is simply too thin to allow him to establish and hold deep post position, and when he does catch the ball inside the paint, he doesn't always have the footwork, balance and coordination to get a good shot off, particularly in traffic. Continuing to get bigger, tougher and stronger are huge keys for his future, as will simply gaining experience on the basketball court, something he clearly sorely lacks at the moment. He turned the ball over on 25% of his possessions last year, and made just 59% of his free throw attempts, two areas scouts will want to see improvement in this season.
On the other end of the floor, Len's terrific size, length and mobility give him tremendous potential on defense. He led the ACC in blocked shots per-40 minutes last season, over the likes of NBA draft picks
John Henson
,
Tyler Zeller
,
Bernard James
and
Miles Plumlee
, and averaged a solid 10 rebounds per-40p.
Len has quick feet and good timing stepping out and hedging screens on the perimeter, something you usually don't see 7-1 centers do too often. His main virtue lies as a rim protector, though. He's so tall and long he often doesn't even have to leave his feet to block a shot, and he has a tremendous knack for using his wingspan to alter and reject shots around the rim.
With that said, Len had his fair share of issues in many ACC contests last season, averaging nearly five fouls per-40 minutes versus in-conference competition. He didn't always have the strength, experience or toughness to deny opposing big men deep post position, not fighting hard enough early in possessions to prevent them from catching the ball with two feet in the paint. As he gets older, smarter and more physically mature, scouts will want to see him do a better job in this area.
An extremely talented prospect, yet still in a very early stage of his development, this upcoming season will tell us quite a bit about Len's long-term potential. If he was able to have a productive offseason on and off the court, Len could be poised for a breakout year on a national level. His early season matchup with
Nerlens Noel
and Kentucky in New York City on November 9th will likely be scrutinized closely.
#5, Michael Snaer, 6-5, Shooting Guard, Senior, Florida State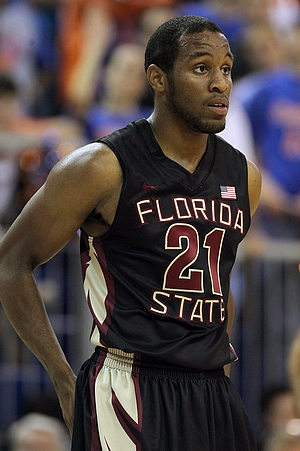 Joe Treutlein
After two solid but underwhelming seasons to start his college career,
Michael Snaer
finally took a big step forward as a junior, noticeably increasing his pace-adjusted production and efficiency numbers in a variety of categories. Snaer's scoring was the most obvious improvement, as he increased from 11.9 to 17.7 points per 40 minutes pace adjusted while also improving his true shooting percentage from 51% to 57%.
What's most interesting about Snaer's across-the-board improvements is that he didn't make any big, noteworthy leaps forward with any of his individual skills, but rather benefited from a few small tweaks in various areas of his game. In addition to his scoring improvements, Snaer cut his turnovers per possession drastically from 0.26 to 0.17, got to the free throw line considerably more, and further took advantage of that by boosting his free throw percentage from 77.6% to 84.6%.
In terms of individual skills, Snaer's ongoing improvement with his jump shot was the most noteworthy individual development last season, specifically from three-point range. He upped his attempts from 3.4 to 4.7 per game while also increasing his 3P% from 36.8% to 40.4%. Like last season, Snaer's mechanics look exceptional in space, especially when spotting up, and he exhibits clear cut NBA three-point range. He can still improve his shot more, especially with regards to pulling up off the dribble and/or converting contested shots, but he's made solid strides in his three seasons at Florida State thus far, seeing his FT% and 3P% both improve each season.
Attacking the basket in the half court remains a relatively unimpressive part of Snaer's game, though he did a good job this past season playing to his strengths, picking his spots well to cut down on turnovers. He still has trouble finishing at the basket, being somewhat undersized on one hand and not having the high-end ball-handling ability to easily transition from dribble to lay-ups on the other, but he's developed an outstanding floater in the lane with range practically to the free-throw line that somewhat masks his other weaknesses.
On the defensive end, Snaer continues to be a very effective player, having both excellent fundamentals and the focus and energy to go along with it. In addition to his strengths in pressure isolation defense, Snaer has also developed into a very good pick-and-roll defender, doing a good job using his change of direction abilities to stick with his man through screens and also doing a good job contesting shots from the side and behind when he isn't able to stay in front of his man.
Looking forward, Snaer has exhibited a clear learning curve in his time in college while bringing some attractive assets to the table with his defense, athletic abilities, and shooting. He could help himself further by continuing to polish his offensive game, both his ball-handling and his perimeter shot, and could likely find a niche in the NBA if he can show that his jumper and defensive prowess translates to the professional level.
Tomorrow: Scouting reports on the prospects ranked 6-10 in the ACC.