We continue scouting reports on the top NBA prospects in the Big Ten with part six, players ranked 6-10:
LaQuinton Ross
,
Aaron Craft
,
Branden Dawson
,
Nik Stauskas
, and
Will Sheehey
.
Incoming freshmen have been excluded from these previews, as we'd like to wait and see what they have to offer on the NCAA level before we come to any long-term conclusions.
-
Top 30 NBA Draft Prospects in the ACC
-
Top NBA Prospects in the Big Ten, Part One
(#1) Glenn Robinson
(Scouting Video)
-
Top NBA Prospects in the Big Ten, Part Two
(#2) Mitch McGary
(Scouting Video)
-
Top NBA Prospects in the Big Ten, Part Three
(#3) Gary Harris
(Scouting Video)
-
Top NBA Prospects in the Big Ten, Part Four
(#4) Adreian Payne
(Scouting Video)
-
Top NBA Prospects in the Big Ten, Part Five
(#5) Sam Dekker
(Scouting Video)
#6 LaQuinton Ross, 6-8, Junior, Small Forward, Ohio State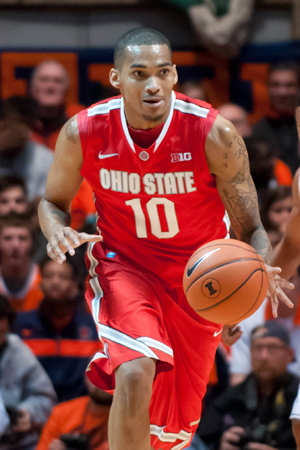 Jonathan Givony
Playing time in college hasn't been easy to come by for highly regarded member of the 2011 high school class LaQuinton Ross. He was deemed ineligible for the first semester of his freshman season due to academic issues stemming from his high school transcript, ending up playing just 35 total minutes in 2011/2012 after being eligible at the winter break.
He averaged 17 minutes per game this past season, seeing his playing time fluctuate wildly all year long—3 minutes against Michigan, 5 minutes against Northwestern, 9 minutes against Purdue, Kansas and Illinois—but still was able to make a huge impact in the NCAA Tournament, scoring 53 points in 61 minutes of action in the Elite 8, Sweet 16 and Round of 32 combined.
Ross' inconsistent minutes didn't stop him from being extremely aggressive every time he stepped out on the court. He sported almost the same usage rate as the ultra-assertive Deshaun Thomas, the #1 scorer in the Big Ten.
It's easy to see why recruiting analysts fell in love with him from a very early age, touting him as the #1 prospect in his high school class. He has great size and length for a small forward to compliment his terrific scoring instincts. And his frame continues to fill out nicely, even if he's not an exceptional athlete. He sports an average first step and is not terribly explosive around the basket.
Ross scored an impressive 20 points per-40 minutes last season, doing so in a fairly efficient manner (52% 2P%, 39 3P%), despite not getting to the free throw line all that frequently. Mostly used as an off the ball threat, he saw the bulk of his offensive possessions in spot-up situations, spacing the floor for Ohio State from the 3 and 4 positions. His best asset is clearly his outside shot, as he made 39% of his jump-shots last year, mostly being of the catch and shoot variety. He sports a very smooth stroke with a high release point that allows him to get his shot off with relative ease thanks to his superior size, even if he does not possess the quickest release.
When Ross does put the ball on the floor, it's usually after a convincing head or shot-fake, which he uses to open up driving angles for himself. The high release point on his very consistent catch and shoot jumper forces defenses to close out very aggressively on him. Ross has very nice footwork and timing on his drives, navigating his way into the paint smoothly and elegantly, even if he can't always finish what he creates.
Ross is just an average finisher around the basket at this stage, making 52% of his attempts around the rim in the half-court, and not drawing fouls at a great rather either. He doesn't do a great job of finishing through contact at the moment, lacking the strength, toughness and explosiveness needed to power through opponents at the basket.
Ross is also not a great passer, as he generates an assist on just 6% of his possessions, a lower rate than any of the returning guard, wing or forward prospects in our top-100 rankings.
The biggest reason Ross' playing time fluctuated as much as it did in his first two years at Ohio State was his inconsistent intensity on the defensive end. He was an almost comically poor defender in high school, putting in virtually no effort whatsoever before arriving at Ohio State, and has gradually made some strides here, although probably not as much as Thad Matta would like him to.
Still not particularly fundamentally sound, Ross can make some impressive plays from time to time thanks to his terrific combination of size, length and timing, blocking shots on the ball inside the paint and contesting jumpers on the perimeter with his long reach.
When forced to defend smaller and quicker small forwards, he can look very upright in his stance on the perimeter. His lack of awareness and focus doesn't help either, as he tends to fall asleep at times and can get lost off the ball, even if his intentions appear to be good he's not always 100% in the game it seems mentally.
With 20 point per game scorer Deshaun Thomas off to the NBA, Ohio State will almost certainly need Ross to emerge as a consistent contributor and give them some much-needed offensive firepower. It will be interesting to see if Ross can fully earn the trust of Coach Matta, and whether he's given the freedom to handle the ball more and make decisions offensively.
Ross is one of the more talented small forward prospects in all of college basketball, but many of the concerns we discussed when we first wrote about him five years ago as a fifteen year old continue to be issues today. If he matures and is able to take the next step in his development, getting drafted in the first round is certainly not out of the question considering his scoring prowess.
#7 Aaron Craft, 6'2, Senior, Point Guard, Ohio State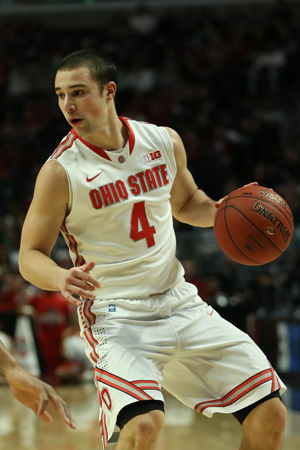 Matt Williams
Heading toward the start of his senior season, there's very little that has not already been said about Aaron Craft. Over the last three seasons, or seven if you include his career at Liberty Benton HS (OH) and the 221-9 record he amassed playing for All-Ohio Red on the AAU circuit, the two-time CoSIDA Academic All-American has earned a well-deserved reputation for defense, hustle, and the type of heady point guard play and gamesmanship one would expect from a coach's son.
Similarly, our scouting reports on Craft have remained equally steady over time, as his strengths and weaknesses as a prospect are well-documented and haven't changed much since he emerged on the college scene. A strong point guard with good size and lateral quickness, Craft is among the best perimeter defenders the college game has had to offer in recent memory. His non-stop motor and all-around game make him a disruptive force and help him make plays that don't show up in the box score.
On the offensive end, he is a steady ball-handler who does a good job handling pressure and distributing the ball in transition and on the pick and roll. An extremely unselfish, pass-first point guard, he seldom forces the issue, but will take what the defense gives him off the dribble. He lacks great length and leaping ability, but still finished at a 62% rate around the basket last season according to Synergy Sports Technology. The biggest question-mark about Craft from a NBA perspective has and continues to be whether he can keep defenders honest with his perimeter shot.
Looking at statistics alone, one could assume last season was a struggle for Craft on the offensive end on the whole, his productivity increased marginally as he averaged double figures for the first time but shot career lows of 42% from the field and 30% from beyond the arc. For stretches, there was certainly some truth to that, it was a challenge for him to be the consistent secondary offensive weapon Thad Matta's team needed early on. The primary ball-handler on a team that lacked a consistent high-level scoring threat aside from DeShaun Thomas until LaQuinton Ross emerged late in the year, the onus was on Craft, and his often-criticized jump shot, to play out of character and look for his own offense on the nights his team struggled to score.
Though he finished the year making just 32% of his jump shots off the dribble and off the catch alike, Craft delivered when it mattered. After a blowout loss to Wisconsin in February, things began to click for him, as he made 32% of his three pointers including one to sink Iowa State in the Sweet 16 as time expire, shot a much more characteristic 48% from the field, and averaged 11.8 points over the team's last 12 games. Couple that uptick in offensive efficiency with all the other positive things he does on the floor, and it is no surprise that he was ultimately named All-Big Ten 1st team by the media and was the MVP of the Big Ten Tournament.
Heading into his last season of eligibility, Craft could once again face additional pressure to score with Thomas out of the picture unless Ohio State's deep junior class picks up that slack. Regardless, he'll have ample opportunity to show what progress he's made as a shooter. Even if he doesn't show marked improvement, he'll still get plenty of looks, as coaches love players who do their job consistently the way he does. Eric Snow and Kevin Ollie both played 10+ seasons in the NBA thanks to their size, defense, and intangibles. Neither even became a very reliable threat from outside in that time. Point guards in their mold fit in particular situations better than others, and different teams will certainly have different views on Craft depending on their personnel. If he can improve his consistency away from the rim, there's no doubt he'll broaden his appeal and improve his draft stock.
#8 Branden Dawson, 6'6", Junior, SF, Michigan State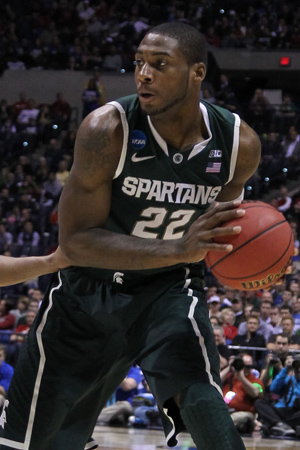 Derek Bodner
When we last checked in on Branden Dawson, he was in the early stages of recovery from a torn ACL he suffered at the end his freshman season. Dawson's recovery went smoothly and he was ready for the Spartans opener only 8 months after the injury and finished his sophomore season without further complications.
While the clean return from injury qualifies as a huge success for Dawson in and of itself, the improvements in his game were perhaps less than what might have been hoped for, at least from expectations before the injury. Those expectations likely had to be dialed back a bit, since the injury caused Dawson to spend the majority of his summer in a swimming pool rehabbing rather than on a basketball court improving his jump shot and perimeter skills.
Perhaps because of the injury, Dawson didn't take on a bigger offensive burden for the Spartans despite the departure of Draymond Green. Dawson saw his scoring average drop from 16.4 points per 40 minutes pace adjusted to 13.7 as he continued to fill a high energy, highly efficient, low-usage role in the Michigan State offense.
From an offensive standpoint, and when looking at his status as a prospect as a whole, much of his game is based around his absolutely superb physical characteristics. Standing 6'6" with good length, a strong frame and incredible explosive ability, there are few wing players at any level that can match his physical acumen.
Dawson is able to use his athletic prowess to take advantage of scoring opportunities in transition, off of cuts to the basket, and from offensive rebounds, where, despite a drop from 4.2 offensive rebounds per 40 minutes pace adjusted to 3.3, he remains the most prolific offensive rebounder among small forwards in our top 100. He has an incredibly quick and explosive second jump, allowing him to get attempts up frequently after he crashes the offensive glass.
As a finisher at the rim, Dawson's touch is at times questionable despite his athletic gifts, something which he exacerbates a bit by rushing his shots and taking out of control attempts. This especially presents itself in transition, where he can be forced into questionable shots and turnovers when pressured and forced to react to defensive attention. Still, his sheer speed and athleticism makes him a considerable threat in these situations.
In the half-court, Dawson's rudimentary ball handling skills present an even bigger problem, despite a good first step that could be a weapon if he were to further refine his perimeter skills. Dawson struggles to change direction with his dribble in either direction, and can become very turnover prone and out of control when defenders pressure him off the bounce.
The bigger problem for Dawson in the half-court, however, is his jump shot. After connecting on only 26.1% on his jump shots during his freshman season, per Synergy Sports, Dawson made very little progress during his sophomore season as he connected at a 28.3% clip, having not yet made a three pointer in either of his two collegiate seasons. Dawson is particularly ineffective in catch and shoot situations, which are typically fairly high percentage shots. He needs to do a better job in terms of positioning before receiving the pass, and he has a long release with a lot of extra motion, something that could impact the repeatability of his release. He was more effective off the dribble, and he gets excellent elevation and has a high release point, something that allows him to get shots off in these situations. That being said, his balance is once again questionable at times, and we're dealing with such a small sample size (28 total jump shots off the dribble) that trying to read into any of these statistics and using that to predict future performance is highly questionable.
One area where Dawson shows some potential is as a post scorer, where his size, strength, and length afford him some possibilities here. He has a high release point, and shows some touch over either shoulder, something that he could use when he has a smaller wing defending him. While not converting an incredibly high percentage of these chances, he has been able to offset that by drawing fouls fairly frequently on the block.
On the defensive side of the ball, Dawson's physical attributes once again present an incredibly intriguing package, and his impact is much more realized on this side of the court. He has the strength and lateral quickness to defend either wing spot, while also having incredible anticipation skills to add to his physical gifts. At 2.4 steals per 40 minutes pace adjusted, Dawson is third among any wing player in the top 100 of our database. When you combine that with his 1.4 blocks per 40 minutes pace adjusted (second among wing players) as well as his excellent ability to stop defenders on the dribble drive, Dawson has the physical tools, anticipation skills, and effort to be an impact defender at the next level.
Overall, Branden Dawson continues to be the same incomplete player as the one we profiled last time. A tantalizing defensive talent and physical specifmen, Dawson has much needed development of his perimeter game in order to utilize that talent at the next level. The development of a reliable catch and shoot game, in particular, would make it far easier for Dawson to fit into an offensive scheme at the next level. His injury in the spring of his freshman season and the resulting summer he lost due to rehab makes his lack of refinement in his perimeter game not all that unexpected, but it makes it increasingly important for him to show substantial growth in those aspects this season.
#9 Nik Stauskas, 6-6, Sophomore, SF, Michigan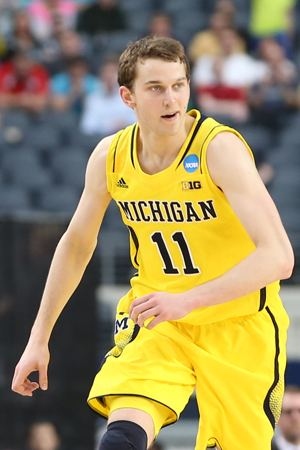 Josh Riddell
Nik Stauskas proved he could be a valuable member of a great team in his freshman campaign as he contributed 11 points per game on 50% 2 point shooting and 44% 3 point shooting on a Michigan team that ended the season as runner-up to Louisville. Entering his second season, Stauskas will look to prove that his elite shooting was not a fluke as he attempts to replicate his success from long range.
Stauskas is measured at 6'6", which is comparable to players who fill similar roles in the NBA, although he needs to fill his 205 pound frame out to be able to withstand the physical play of the NBA. Overall,his physical attributes leave much to be desired, as neither his speed, leaping ability or lateral movement will blow anyone away.
Stauskas' most translatable skill by far is his perimeter shooting. His 44% from 3's ranked
first among all freshman playing at least 30 minutes
. He did go through a slump in the middle of conference play, shooting 37% in January and 33% in February but recovered nicely by closing out the season by shooting 41% in March.
Complementing his catch and shoot skills is a well developed shot off the dribble after a shot fake then one or two dribbles, where he shot 39%, according to Synergy Sports. He rarely used his dribble to get all the way to the rim, averaging only two free throws per game. Stauskas struggled when he did get to the rim, as he avoided contact in the paint which caused him to throw up off balance attempts or get his shot blocked. Adding some strength may help in this area, as he may be more willing to absorb contact at the rim which will help him draw fouls or begin to finish through contact.
Stauskas was not asked to do much on the defensive end, often guarding the weakest perimeter player on the opposing team. Even still, he had a tendency to get beat off the dribble either by pure speed or by the offensive player knocking him off balance.
He has a strong work ethic on this side of the court, as he focuses on making the proper rotations and then closing out hard on shooters. However, his physical tools hinder his ability to be a great defender, as he is slow to step in front of driving players and a bit too small to challenge jump shooters. He will need to focus on making the right rotations to be in the proper positions, even if he can't always stop the offensive player, which will put him in the position to be successful even if he can't always execute defensively.
With Trey Burke leaving for the NBA, Stauskas may be asked to handle the ball a bit more to take some pressure off Spike Albrecht and freshman Derrick Walton. He has decent ball handling skills but may struggle in a larger role with taking care of the ball, initiating the offense and finding his own shot. He does have decent vision which allows him to add some value to the offense by being able to find open men out of the halfcourt set although this may be hard to replicate with a larger role handling the ball.
It's clear what Stauskas can provide at the next level, as there is room on nearly every NBA roster for a player who can camp on the perimeter and catch and shoot from long range. Stauskas will need to show he can maintain his high percentage on 3's this season to get a chance to make his way into that role. It would be nice for Stauskas to further develop his game outside his perimeter shooting, so that he can find some offense in other ways at a high-level. In order to become a viable draft candidate, he'll have to maintain his status as an elite shooter without becoming a total liability on the defensive end.
#10 Will Sheehey, 6-7, Small Forward, Senior, Indiana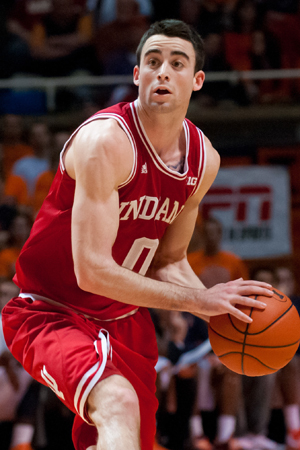 Joe Treutlein
When we profiled Will Sheehey prior to his junior season one year ago, we said it would be difficult for him to take his game to the next level given the surplus of talent returning for Indiana. Sheehey's junior year bore that out to a tee, as he posted nearly identical statistics across the board, playing the same number of minutes and not doing much to further distinguish himself on tape either.
The one noticeable difference for Sheehey between his sophomore and junior seasons is a slight tick up in three-point attempts (3.9 per 40 minutes pace adjusted compared to 2.7), which is an encouraging sign given what he likely needs to do to improve his chances of playing at the next level. However, his efficiency slightly dropped from 38.3% to 34.6% from behind the arc, indicating he probably hasn't become a better shooter yet despite putting in the effort.
In profiling Sheehey's game, his strengths and weaknesses remain the same as those we profiled last time, with him being a very smart, high intensity player who does the little things well on both ends of the floor. Sheehey still sees most of his scoring attempts on cuts to the basket, where he's capable of finishing with power and finesse, but he doesn't really stand out with either. He's prone to missing on dunks due to not getting quite enough lift and his touch is good but not great.
Sheehey still lacks much in terms of advanced shot creation or ball-handling abilities, and it's probably something that won't ever be in the cards for him and shouldn't. Developing into a deadeye three-point shooter is his most clear path to finding a niche in the pros, as he's close to maximized his abilities in all other areas as a very smart and aggressive player, solid finisher, and excellent fundamental defender.
The defensive end is probably Sheehey's strongest area overall, as despite just average lateral quickness, he makes up for it by using his solid size and strength in combination with excellent awareness and anticipation to be a very effective man and team defender. There are obviously concerns projecting him to the next level as he doesn't project to be nearly as effective a defender against bigger, more athletic small forwards.
Looking forward, Sheehey is an excellent college player and basketball player in general, one coaches surely love to have on their team , but his underwhelming physical traits combined with the lack of any standout skills leave him facing long odds in carving out a permanent niche in the NBA. He'll have plenty of opportunities to show he's taken steps forward throughout the course of this season, and should get looks in pre-draft camps and summer leagues, where a coach may fall in love with his intangibles, but if that doesn't work out there's little doubt he'll have a long and successful career in Europe if he chooses to go that route.