Aaron Craft
Recent Tweets
All Tweets
DraftExpress: Top NBA Prospects in the Big Ten, Part 2-http://t.co/QToq2uxT - Trey Burke, DeShaun Thomas, Aaron Craft, Branden Dawson
2012-09-08 01:59:38
DraftExpress: DX: Top NBA Prospects in the Big Ten, Part 3 http://t.co/Tqf28V3 Tim Hardaway Jr, Aaron Craft, Keith Appling, Adreian Payne, Melsahn Basabe
2011-09-12 01:37:23
Team: Ohio State, Junior
Physicals
Positions
Rankings
Misc
H: 6' 2"
W: 195 lbs
Bday: 02/12/1991
(22 Years Old)

Current: PG
NBA: PG
Possible: PG

Pick: 37 in 2014 Mock Draft
Rank 23 in NCAA Juniors
RSCI: 115

High School: Liberty Benton
Hometown: Findlay, OH




Basic Per Game Statistics

- Comprehensive Stats - Statistical Top 25s
| Year | League | Name | GP | Min | Pts | FG | FGA | FG% | 2Pt | 2PtA | 2P% | 3Pt | 3PtA | 3P% | FTM | FTA | FT% | Off | Def | TOT | Asts | Stls | Blks | TOs | PFs |
| --- | --- | --- | --- | --- | --- | --- | --- | --- | --- | --- | --- | --- | --- | --- | --- | --- | --- | --- | --- | --- | --- | --- | --- | --- | --- |
| 2012/13 | NCAA | Aaron Craft | 37 | 34.1 | 10.0 | 3.5 | 8.4 | 41.7 | 2.8 | 5.9 | 46.6 | 0.7 | 2.4 | 30.0 | 2.3 | 3.0 | 76.8 | 0.5 | 3.1 | 3.6 | 4.6 | 2.1 | 0.2 | 1.9 | 2.2 |

Player Page&nbsp&nbsp| Player Stats | Mock Draft History | Related Articles&nbsp&nbsp| Add to My Draft Express&nbsp
&nbsp
Top NBA Draft Prospects in the Big Ten, Part Two (#2-5)
September 8, 2012
US Presswire



Kyle Nelson

After a promising freshman campaign, Aaron Craft had a very strong sophomore season, leading the Ohio State Buckeyes to a 31-8 record and Thad Matta's second Final Four. Without All-Conference talents Jared Sullinger and William Buford on campus, however, Craft will have to embrace a larger role on the offensive end, while continuing to be the Buckeye's premier defensive stopper and distributor.

Though he is just an average athlete in terms of quickness in the open floor and explosiveness around the basket, Craft's lateral quickness is tremendous, and he still has a built frame with strength and toughness to spare. Beyond a simple physical or athletic profile, however, Craft is incredibly active, agile, and aggressive, which allows him to stay in front of his man, draw charges, and disrupt perimeter scorers better than perhaps any player in college basketball.

As was the case the last time we wrote about him, Craft's defense remains both his most effective skill and what sets him apart as a NBA prospect at this stage. Simply put, he is a lockdown man-to-man defender, who stays involved even after he has been beaten and is a terror for opposing ball-handlers to deal with on the perimeter. Though he will need to adapt his style somewhat to the bigger, stronger and more talented guards he'll find in the NBA, he projects favorably as a defender at the next level, despite possessing a seemingly average physical profile at the collegiate level.

Despite being an elite defender, Craft has a long way to go on the other end of the floor. One of the least productive scoring point guard prospects in our database last season, Craft improved his offensive output marginally as a sophomore in a slightly expanded role on offense, and should have ample opportunities to take a much bigger jump as a junior, which teams will likely want to see him do.

In particular, one area in which he looked more aggressive is off of the dribble, operating far better out of the pick-and-roll, finding open lanes, and attacking the basket. His lack of an elite first step and average leaping ability limit him as a slasher, as he gets his shot blocked quite often, and doesn't get to the free throw line very often, but his strength and bullish demeanor allowed him to carve out space and find room to score around the basket. Additionally, he showed increased comfort pulling up off of the dribble and knocking down shots from mid-range, impressive considering his overall increased shooting efficiency and impressive 55.4% 2FG.

To Craft's credit, he is an efficient scorer, shooting 50% from the field last year, which separates him from almost all of his counterparts in the sub-11 point per-40 range, most of whom can only dream of scoring as efficiently as him.

He regressed as a long-range shooter, however, making just 35.9% of his 2.0 attempts per 40 minutes pace adjusted. His mechanics were inconsistent as a sophomore, and he struggled with a hitched and oftentimes slow release. Additionally, he looked far more comfortable with his feet set and with space to shoot, than off of the dribble or with a hand in his face. Working on maintaining fluidity in his form on contested jumpers and off of the dribble should be a priority looking forward, especially given the fact that he may be relied upon more in this capacity as a junior.

Though not as flashy as some of the NCAA's elite point guard prospects, Craft is a steady distributor, with solid court vision and an impressive 2.15 assist to turnover ratio. He is not a prototypical drive-and-dish or pick-and-roll oriented point guard, but he nevertheless dictates the tempo of Ohio State's offense well while showing the ability to find his teammates in half court and up-tempo situations alike. Moving forward, scouts will be watching to see if he is capable of developing a more aggressive and distinctive identity as a playmaker with what should be a greatly expanded role in the offense.

Despite maintaining a relatively low profile thus far in his college career, Craft will have every opportunity to raise his stock in scouts' eyes with a breakout junior season. If he continues to improve his offensive game and develops further as a point guard, he already has the IQ, basketball and otherwise, defensive ability, and demeanor to succeed in a rotation at the next level in the mold of defensive stoppers such as Derek Fisher and Eric Snow.

[Read Full Article]

---
Top NBA Draft Prospects in the Big Ten, Part Three (#11-15)
September 12, 2011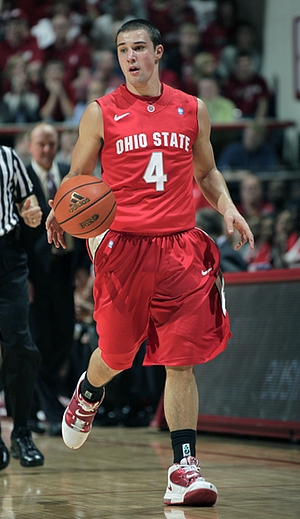 Icon SMI



Matthew Kamalsky

Aaron Craft was not considered a blue-chip recruit coming out of high school, but earned national attention for his inspired play as a freshman for the 34-3 Ohio State Buckeyes. Winning the Big Ten Sixth Man of the Year Award and being named to the All-Big Ten Defensive Team, the Findlay, Ohio native was the consummate glue guy for Head Coach Thad Matta.

Despite the praise Craft received for his hustle and defense, it is important to remember that he was playing in a very small niche offensively. Though he could not have meshed better with the veterans on OSU's roster, he did rank among the least prolific per-40 minute pace adjust scorers in our database, attempting the second fewest field goal attempts per-minute, which is a limiting factor on the depth with which we can evaluate his NBA potential at this time.

When delving into what we can definitely say about Craft at this point, analyzing his somewhat unique physical profile is not a bad place to start. Built somewhere in between a Big Ten football player and a point guard, Craft has adequate size and good strength for his position, but it is his lateral speed that really stands out among his peers. Craft moves his feet exceptionally well on the defensive end, and uses his ability to stop and start on a dime to handle full court pressure like a seasoned veteran on offense.

It was Craft's agility that made him one of the peskiest defenders in all of college basketball last year. Ranking among the top players in our database in steals per-40 minutes pace adjusted, Craft doesn't only keep his man out of the lane and apply pressure, he uses his quick hands to create turnovers, stays with plays even when he's beat, steps in front of much bigger players to take charges, won't hesitate to get on the floor to scrap for loose balls, and managed to take some of the NCAA's best scorers out of their comfort zones with his intensity. Though his size and average explosiveness limit his ability to contest shots at times, Craft seems to have the burst that many players in this no-nonsense, defense-oriented mold have lacked in the past.

On top of what Craft offers defensively, he is an extremely efficient passer. The rising sophomore ranked 11th among players in our database in assist-to-turnover ratio, showing a high basketball IQ while making simple plays to set up the experienced group of players around him. A team-first player, Craft seldom forces the issue and is like a coach on the floor. He may not be a dynamic shot-creator at this stage, which limits his upside at the position from a professional standpoint, but he more than got the job done as a true freshman at the collegiate level.

As noted above, one area where Craft did not exceed expectations was as a scorer. Part of the reason why he scored under 7 points per-game was because of the talent around him and that he, in his role of set-up man, was not seeking his own shot, but it was also a result of his recognition of his limitations as a slasher. At the rim, Craft took what defenders gave him and finished at a decent rate, but had his shot blocked on occasion and showed a lack of explosive leaping ability that hurts his ability to compete above the rim.

Out on the perimeter, Craft knocked down a rock solid 41% of his jump shots, showing a fundamentally sound shooting stroke off the catch and even looking comfortable knocking down an occasion jumper off of one dribble. Craft could definitely stand to improve his shooting consistency, but he seems to have the framework in place to do so.

At this juncture, there is no reason to jump to any conclusions about what Craft's NBA outlook may be. He's a probable three or four-year player who has a terrific head on his shoulders, but does not yet have a clearly defined NBA skill, despite his merits defensively. He's an elite role-player in the college game, but as the cast of characters changes around him, Craft's skill level will be tested, at which point his potential NBA prospects will become clearer.

[Read Full Article]

---