Nik Stauskas
Recent Tweets
All Tweets
DraftExpress: Sacramento is definitely keeping Nik Stauskas they are telling me.
2014-06-26 20:31:26
DraftExpress: With the #8 pick in the 2014 NBA Draft the Sacramento Kings select Nik Stauskas.
2014-06-26 20:22:37
DraftExpress2: RT @WojYahooNBA Charlotte remains focused on a shooter with No. 9. Doug McDermott is No. 1 choice Nik Stauskas Plan B sources tell Yahoo.
2014-06-26 17:37:33
DraftExpress2: Charlotte remains focused on a shooter with No. 9. Doug McDermott is No. 1 choice Nik Stauskas Plan B sources tell Yahoo.
2014-06-26 17:29:29
DraftExpress: Chicago trying hard to package picks 16 and 19 and move up to the 9-11 range. Seem to be targeting Doug McDermott or Nik Stauskas there.
2014-06-25 19:54:43
Team: 76ers
Physicals
Positions
Rankings
Salary
Misc
H: 6' 6"
W: 207 lbs
Bday: 10/07/1993
(22 Years Old)

Current: SG
NBA: SG
Possible: SG

RSCI: 80

Agent: Mark Bartelstein
Current Salary:$2,745,840

High School: St. Mark
Hometown: Mississauga, ON
Drafted: Pick 8 in 2014 by Kings

Predraft Measurements
| Year | Source | Height w/o Shoes | Height w/shoes | Weight | Wingspan | Standing Reach | Body Fat | No Step Vert | Max Vert |
| --- | --- | --- | --- | --- | --- | --- | --- | --- | --- |
| 2014 | NBA Draft Combine | 6' 5.25" | 6' 6.5" | 207 | 6' 7.75" | 8' 6" | 12.1 | 29.0 | 35.5 |
| 2010 | NBA Top 100 Camp | 6' 5" | NA | 200 | 6' 7" | 8' 3.5" | NA | NA | NA |



Basic Per Game Statistics

- Comprehensive Stats - Statistical Top 25s
| Year | League | Name | GP | Min | Pts | FG | FGA | FG% | 2Pt | 2PtA | 2P% | 3Pt | 3PtA | 3P% | FTM | FTA | FT% | Off | Def | TOT | Asts | Stls | Blks | TOs | PFs |
| --- | --- | --- | --- | --- | --- | --- | --- | --- | --- | --- | --- | --- | --- | --- | --- | --- | --- | --- | --- | --- | --- | --- | --- | --- | --- |
| 2015/16 | NBA | Nik Stauskas | 15 | 25.9 | 8.9 | 3.0 | 9.1 | 32.8 | 1.3 | 3.2 | 41.7 | 1.7 | 5.9 | 28.1 | 1.2 | 1.6 | 75.0 | 0.3 | 2.3 | 2.5 | 2.1 | 0.7 | 0.3 | 1.2 | 1.1 |

Player Page&nbsp&nbsp| Player Stats | Mock Draft History | Related Articles&nbsp&nbsp| Add to My Draft Express&nbsp
&nbsp
2014 NBA Draft Media Day Interviews: Nik Stauskas and James Young
June 25, 2014
[Read Full Article]

---
Situational Statistics: the 2014 Shooting Guard Crop
June 19, 2014
Nik Stauskas's situational statistics reinforce what we already know about him, but also offer a glimpse into how smoothly he adapted to a new role without Trey Burke.

Looking at the bigger picture, Stauskas 15.4 possessions per-game and 11.9% turnover rate rank just around average. A prolific shot maker from the perimeter, Stauskas's 1.124 points per-possession rank 2nd in this group to only Spencer Dinwiddie (who only played in 17 games). Scoring a sample leading 1.156 points per-jump shot, Stauskas was tremendously consistent both off the catch (49% FG%) and off the dribble (38% FG%) as a sophomore.

Perhaps the most interesting aspect of Stauskas's profile is that he led this group of players with 29.5% of his possessions coming as the ball handler on the pick and roll. Averaging 4.6 pick and roll possessions per-game, up from just 1.5 per-game a year ago, the Canadian shooting guard picked up much of the slack left behind by Jazz point guard Trey Burke in Michigan's half-court offense while continuing to shoot the ball in spot-up and off screen situations at an All-American level.

Scoring an average 1.154 points per-shot around the rim overall, Stauskas's lack of elite athleticism shows there, but his resume is exceptional on paper, and whatever team selects him will be getting a player that can stretch the floor and make jump shots, but showed unique situational versatility for a shooter of his caliber a year ago.

[Read Full Article]

---
2014 NBA Draft Combine Measurements Analysis
May 15, 2014
Nik Stauskas: Less than half of the body fat percentages were released, but of those who were Stauskas surprisingly registered the highest percentage at 12.1 percent. Other shooting guards with high body fat percentages in our database include Sasha Vujacic at 14.1 percent, and Jason Kapono at 11.7%.

[Read Full Article]

---
Nik Stauskas 2014 NBA Pre-Draft Workout and Interview Video
May 14, 2014
Nik Stauskas works out in preparation for the 2014 NBA Draft and discusses us a number of topics, including what he's trying to improve on in the short and long-term, how he's evolved over the last year, and growing up with the different Canadians in this draft.



Video produced by Tad Hathaway of 312Media



Previous 2014 NBA Draft Workout Videos



-Adreian Payne
-K.J. McDaniels

[Read Full Article]

---
NBA Draft Prospect of the Week: Nik Stauskas
February 4, 2014
Nik Stauskas has emerged as one of the top scorers in college basketball, leading Michigan to a surprising 8-1 record in the Big Ten despite losing Trey Burke, Tim Hardaway Jr and Mitch McGary from last season's national championship finalist team.
---
-NBA Draft Prospect of the Week: Aaron Gordon (Video Scouting Report)
-NBA Draft Prospect of the Week: Clint Capela (Video Scouting Report)
-NBA Draft Prospect of the Week: Thanasis Antetokounmpo (Video Scouting Report)
-NBA Draft Prospect of the Week: Shabazz Napier (Video Scouting Report)
-NBA Draft Prospect of the Week: Bogdan Bogdanovic (Video Scouting Report)
-NBA Draft Prospect of the Week: Joel Embiid (Video Scouting Report)
-NBA Draft Prospect of the Week: Julius Randle (Video Scouting Report)
-NBA Draft Prospect of the Week: Jabari Parker (Video Scouting Report)
-Revisiting Nikola Mirotic (Video Scouting Report)
-Revisiting Alexis Ajinca (Video Scouting Report)
---
Stauskas is the clear-cut leader of his team, averaging 17.8 points per game with tremendous efficiency (54% 2P%, 45% 3P%), thanks to his terrific perimeter shooting ability and much-improved ability to create offense and operate effectively off the dribble.

While his draft stock has undoubtedly increased substantially as the year has moved on, concerns still exist among scouts regarding his lack of upside defensively, due to his unappealing combination of poor length, average frame and mediocre lateral quickness.

Additionally, it remains to be seen the extent of which he will be able to create his own shot and finish around the basket against NBA caliber defenders, although he has made significant strides in dispelling those doubts this season.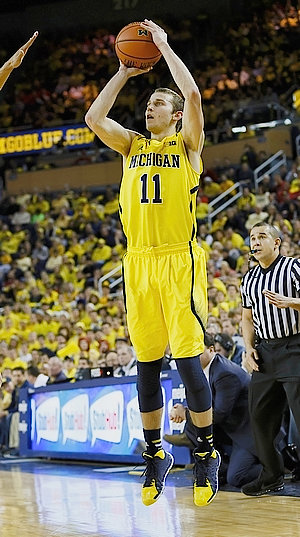 US Presswire



Nevertheless, the premium that teams are placing on perimeter shooting in today's NBA has put Stauskas in an enviable position as a draft prospect, should he decide to capitalize on his increased stock this upcoming fall.

Matchups against the likes of Duke, Arizona, Michigan State, Florida State, Iowa, Iowa State, Wisconsin and others have given us ample opportunity to evaluate Stauskas' strengths and weaknesses as a prospect, which we've done in the following video scouting report, courtesy of Mike Schmitz.



All of our video scouting reports this season can be found here.

[Read Full Article]

---
Top NBA Draft Prospects in the Big Ten, Part 6 (#6-10)
September 21, 2013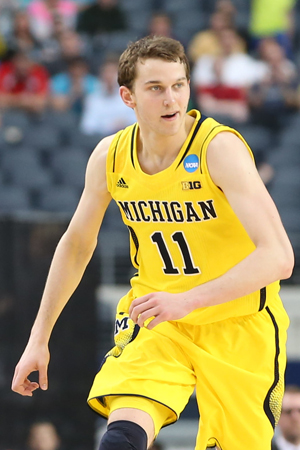 US Presswire



Josh Riddell

Nik Stauskas proved he could be a valuable member of a great team in his freshman campaign as he contributed 11 points per game on 50% 2 point shooting and 44% 3 point shooting on a Michigan team that ended the season as runner-up to Louisville. Entering his second season, Stauskas will look to prove that his elite shooting was not a fluke as he attempts to replicate his success from long range.

Stauskas is measured at 6'6", which is comparable to players who fill similar roles in the NBA, although he needs to fill his 205 pound frame out to be able to withstand the physical play of the NBA. Overall,his physical attributes leave much to be desired, as neither his speed, leaping ability or lateral movement will blow anyone away.

Stauskas' most translatable skill by far is his perimeter shooting. His 44% from 3's ranked first among all freshman playing at least 30 minutes . He did go through a slump in the middle of conference play, shooting 37% in January and 33% in February but recovered nicely by closing out the season by shooting 41% in March.

Complementing his catch and shoot skills is a well developed shot off the dribble after a shot fake then one or two dribbles, where he shot 39%, according to Synergy Sports. He rarely used his dribble to get all the way to the rim, averaging only two free throws per game. Stauskas struggled when he did get to the rim, as he avoided contact in the paint which caused him to throw up off balance attempts or get his shot blocked. Adding some strength may help in this area, as he may be more willing to absorb contact at the rim which will help him draw fouls or begin to finish through contact.

Stauskas was not asked to do much on the defensive end, often guarding the weakest perimeter player on the opposing team. Even still, he had a tendency to get beat off the dribble either by pure speed or by the offensive player knocking him off balance.

He has a strong work ethic on this side of the court, as he focuses on making the proper rotations and then closing out hard on shooters. However, his physical tools hinder his ability to be a great defender, as he is slow to step in front of driving players and a bit too small to challenge jump shooters. He will need to focus on making the right rotations to be in the proper positions, even if he can't always stop the offensive player, which will put him in the position to be successful even if he can't always execute defensively.

With Trey Burke leaving for the NBA, Stauskas may be asked to handle the ball a bit more to take some pressure off Spike Albrecht and freshman Derrick Walton. He has decent ball handling skills but may struggle in a larger role with taking care of the ball, initiating the offense and finding his own shot. He does have decent vision which allows him to add some value to the offense by being able to find open men out of the halfcourt set although this may be hard to replicate with a larger role handling the ball.

It's clear what Stauskas can provide at the next level, as there is room on nearly every NBA roster for a player who can camp on the perimeter and catch and shoot from long range. Stauskas will need to show he can maintain his high percentage on 3's this season to get a chance to make his way into that role. It would be nice for Stauskas to further develop his game outside his perimeter shooting, so that he can find some offense in other ways at a high-level. In order to become a viable draft candidate, he'll have to maintain his status as an elite shooter without becoming a total liability on the defensive end.

[Read Full Article]

---
HoopHall Classic Scouting Reports: 2012 Prospects (Part Three)
January 23, 2012
Joe Treutlein

A solid cog on St. Marks' very well-coached team, Nik Stauskas (Unranked Scout, Unranked Rivals, #83 ESPN) brings a pretty well-developed skill set to the table for a wing this age, something that was on display in his 16-point performance here.

Standing 6'6 but with just a decent frame, length, and athleticism, Nik Stauskas has good size for a wing but is never going to blow anyone away with his physical tools.

On the offensive end, Stauskas already has a strong groundwork of skills to go along with a solid feel for playing the game. At his best, Stauskas does a good job moving off the ball, getting open, and making quick decisions with the ball when it comes his way, showing all the traits for a solid role player in a team-oriented offense. He's capable of making spot-up jumpers from deep, one-dribble pull-ups from the mid-range, and crafty straight-line drives with simple adjustments in the lane, showing good instincts when playing in rhythm.

While Stauskas does a good job playing within his team's offense most of the time, he can go through stretches of forcing the action with his dribble-drives, something that could be problematic at the next level. He'll also be facing bigger, more athletic opponents most nights, which could reduce the effectiveness of this area of his game, so it'll be interesting to see how he makes the transition and adjusts his play if need be.

On the defensive end, Stauskas shows a solid activity level and fundamentals, doing a good job to stay in front of his man on most plays, though he is prone to being beat laterally by quicker, more athletic guards, something that could become more apparent if he spends most of his time at the 2-guard spot at Michigan.

[Read Full Article]

---