We continue our coverage of the top NBA Draft prospects in the SEC with scouting reports on prospects 12-15:
Donta Hall
,
John Egbunu
,
Brandon Sampson
and
Tonny Trocha-Morelos
.
---
More DX Conference Previews
-The Top NBA Draft Prospects in the Big East
-The Top NBA Draft Prospects in the Pac-12
-The Top NBA Draft Prospects in the Big 12
---
Top NBA Draft Prospects in the SEC
Part One

(#1) De'Aaron Fox (Scouting Video)
Part Two

(#2) Bam Adebayo (Scouting Video)
Part Three

(#3) Malik Monk (Scouting Video)
Part Four

(#4) Luke Kornet
(#5) Sacha Killeya-Jones
(#6) D.J. Hogg
(#7) Devin Robinson
Part Five

(#8) Antonio Blakeney
(#9) Isaac Humphries
(#10) Moses Kingsley
(#11) Wenyen Gabriel
---
#12, Donta Hall, 6'10, Sophomore, Center, Alabama
Jonathan Givony
A late bloomer from the small town of Luverne (population 3000) in Southern Alabama, Donta Hall didn't start taking basketball seriously until his father tragically died of a heart attack while watching him play in November of 2010, as documented by Ben Bolton of the Alabama Sports Network. Hitting a growth spurt that reportedly helped him shoot up around nine inches in high school, Hall committed to his late father's beloved Alabama program, as a project that would take time for new head coach Avery Johnson to develop.
Hall certainly looked the part of a project as a freshman, playing just 12 minutes per game, as his underdeveloped frame, lack of experience, coordination and occasional bouts of foul trouble made it difficult for him to stay on the court at times. His best basketball came in the months of February and March, though, where he dropped hints of significant upside that will likely be seen more vividly in his sophomore campaign and beyond.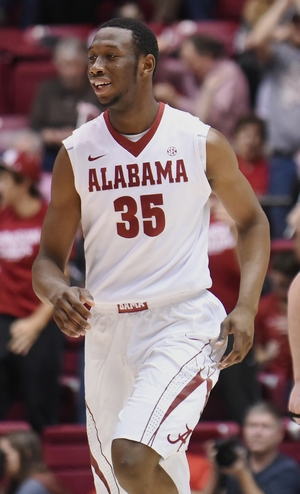 Listed at 6'9, but possibly a little taller than that, Hall has big hands and an extremely long wingspan that allows him to make a significant impact around the basket on both ends of the court. His frame is on the lighter side at the moment, but looks well proportioned, and should be able to carry all the weight he needs as he continues to fill out his frame over the next few years. Athletically, Hall is light on his feet, covers ground extremely well and elevates effortlessly, but likely still has room to grow here as well as he improves physically.
Still at a very early stage of development offensively, most of Hall's touches comes from running the floor, crashing the offensive glass and finishing off cuts and pick and rolls. He generally plays with a good motor, which allows him to use his strong physical tools to make things happen, for example with his ability to go out of his area to track down loose balls.
He doesn't have the strength, nor the skill, to be any type of presence with his back to the basket, but is very mobile stepping out to the perimeter and setting screens, and then diving to the rim with purpose, giving him nice potential as a pick and roll threat. The fact that he catches almost everything thrown his way, and is able to use his length to finish creatively from many different angles, barely needing to jump at times to dunk, is a positive as well. He doesn't have much ability to score outside of the paint, as evidenced by his horrid 43% free throw percentage last season, which may seemingly be improvable judging by his more than decent looking mechanics from the line.
While Hall's offense is a major work in progress, it's likely his ability to contribute as a defender and rebounder that will determine just what type of NBA prospect he can develop into. Hall ranked as the fourth best per-minute shot-blocker in the nation last year at 5.3 per-40, and the sixth best per-minute rebounder in the SEC at 13.5, but the small sample size of minutes played do leave something to be desired.
Nevertheless, Hall's intensity level and physical tools gives him plenty of room to continue to develop in this area, as he is quick off his feet and shows tremendous timing rotating from the weakside to protect the rim, or tracking down loose balls going out of his area. He doesn't always need to jump to block shots or grab a rebound due to his huge standing reach, and should be able to continue to develop in these areas as he gets stronger and more experienced.
While Hall's production and video highlights indicate a lot of promise, a deeper dive into the film reveals quite a bit of room for improvement at the same time. His fundamentals and technique are not very good, as he showed some issues being in the right place guarding pick and rolls, often just being too upright in his stance. He lets opponents establish deep post position on him, lacking the strength to prevent being backed down, and gets beat off the dribble too easily when defending opponents one on one outside the paint as well. He averaged a sky-high 8.2 fouls per-40 minutes pace adjusted, simply being unable to stay on the floor for very long against the better opponents he encountered in SEC play.
It may feel premature to talk up Hall's NBA prospects considering the fact that he played just 12 minutes per game as a freshman, and that could very be true. Still, it's hard not to be impressed with the productivity he amassed as a shot-blocker/rebounder in that time, as well as with his physical tools and timing, which gives him quite a bit of room to grow as his frame fills out. The fact that he arrived on campus at Alabama as a 17-year old and played the entire season at the age of 18 is worth noting as well, especially since he very well could be just entering his first season of college now. Only time will tell if or how long it will take Hall to begin to achieve the potential he displayed as a freshman, but he surely won't lack for exposure once he does so, playing in the SEC.
#13, John Egbunu, 6-11, Center, Junior, Florida
Jacob Eisenberg
Florida had an up and down campaign in Mike White's first season as head coach in Gainesville, but one bright spot was John Egbunu, a transfer from South Florida who emerged as a highly productive center as a redshirt sophomore. Now returning for his junior year, after missing much of the offseason following surgery to repair torn ligaments in his thumb, Egbunu will look to continue to establish himself as a force in the SEC and improve his draft stock.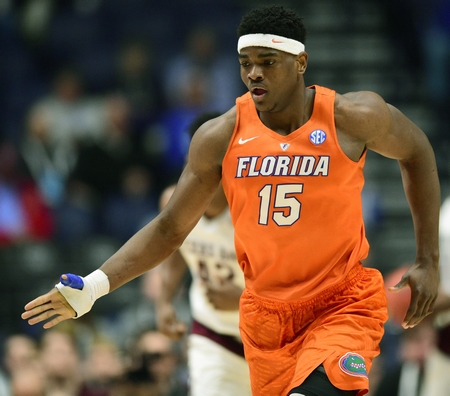 At 6'11" and 255 pounds, Egbunu's physical credentials immediately stand out. He's absolutely chiseled and proportionately strong from his legs to shoulders. Egbunu's NBA intrigue largely stems from his strong quickness and explosiveness for a player his size. His 7-foot-plus wingspan, along with his wide frame, makes him an imposing defensive force at the college level and makes him a handful on the offense end against undersized college teams.
Egbunu is a highly efficient – though limited – offensive player. In fact, just five of his 251 field goal attempts last year came outside of the paint, per Synergy Sports Technology. His post game is a highly mechanical work-in-progress, although it's the bread and butter of his game. Nearly half of his possessions last season came out of the post, where he converted on just 46 of his 109 field goal attempts (42.2%).
Even still, his wide base -- complemented by his bounciness – enables him to consistently seal off defenders and catch lobs under the basket – where he thrives at an elite level. Egbunu averaged 17.9 points pace 40 minutes last season, largely thanks to his finishing ability around the rim in non-post-up situations. He converted on an impressive 85-of-121 (70.2%) field goal attempts around the basket, per Synergy Sports Technology, and indicator of his rare combination of power and explosiveness.
Arguably Egbunu's most valuable strength comes as an offensive rebounder, where his combination of size and anticipation for the ball makes him a nightmare to box out. Per 40 minutes pace adjusted, Egbunu pulled down 4.2 offensive rebounds – one of the best rates in the SEC. He is also an effective screen-and-roller; where he converted on 26-of-31 (83.9%) pick-and-rolls per Synergy.
Elsewhere on offense, Egbunu is something of a liability. He recorded just 12 assists in 34 games last season. Given his position and role on the floor, his lack of passing isn't necessarily a non-starter for his NBA prospects, but he will need to cut down on his turnovers dramatically – as his 18.3% turnover percentage through his college career is fairly high for a big man. While he gets to the line at an impressive rate (7.9 free throw attempts pace 40 minutes), he's a dismal free throw shooter with ugly mechanics and will need to work hard to improve from his current 53.7% career free throw percentage.
Defensively, Egbunu is blessed with overwhelming physical tools, but still has a lot to improve. When motivated, he's an elite post defender, possessing active feet and a strong foundation to maintain position against the country's biggest bodies.
Egbunu also has plenty of tools to be an elite rim protector. However, his timing and overall feel on the defensive end seem to lag well behind his physical presence. He averaged just 2.2 blocks pace 40 minutes last season and was seen consistently chasing rejections instead of securing rebound position. To his credit, even though he makes it difficult on himself, Egbunu is still a strong defensive rebounder – posting a 16.1% defensive rebound percentage last season.
He has nice lateral quickness for a player his size, but isn't fundamentally sound defending ball screens – where he struggles to crouch into a balanced defensive stance and regularly shows uncertain body positioning. He's also somewhat foul prone, averaging 5.1 fouls pace 40 minutes last season. He'll need to improve his footwork, as he's often caught defending with his arms.
Overall, at 22 years old, Egbunu is still somewhat raw for a player his age, which isn't shocking considering his
late start in basketball
. He's physically gifted and showed nice progress last year as the season went on for the Gators, so it will be interesting to see how he continues to develop as a junior. Offensively, he'll need to show improvement at the free throw line and cut down on his turnovers. Defensively. he'll need to improve his timing and positioning as a rim protector in order to lower his foul rate and increase his effectiveness. There's a lot to like about his physical profile and if he can improve on his weaknesses, Egbunu has potential to succeed at the next level.
#14 Brandon Sampson, 6'5, Sophomore, Shooting Guard, LSU
Josh Riddell
The 50th ranked RSCI recruit in the 2015 class, Brandon Sampson got off to a good start, but overall struggled to make his mark on a disappointing LSU team. Beginning the year as a starter, due to injuries, he saw his minutes slip to just seven per game in SEC play. With the roster turnover the team has experienced, most notably Ben Simmons and Tim Quarterman, Sampson is hoping to parlay the intriguing sparks he flashed as a freshman to a breakout sophomore season as a sophomore, as the team will need to rely more heavily upon him as an offensive focal point.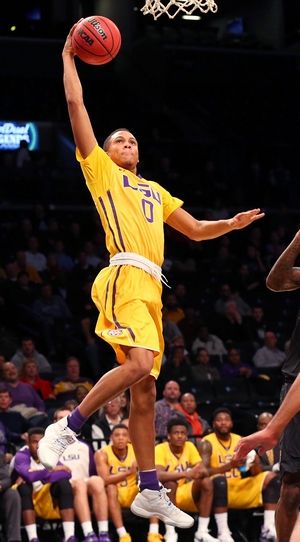 Measured at 6'5" with a 6'8" wingspan and 185 pounds at LSU's pro day in 2015, Sampson certainly has the dimensions of a NBA shooting guard, even if his frame is still a work in progress. He has some nice athletic gifts as well, most notably his leaping ability around the basket. He will need to play with a little higher energy this season as he had a tendency to coast offensively, especially as demonstrated when he chooses to run in step with his defender in transition instead of tapping into his next gear and looking to sprint into space.
He wasn't a very efficient offensive player, posting a true shooting percentage of just 44.3% and struggling to find any flow in the offense. While he showed flashes of shooting potential due to his fluid shooting mechanics from the waist up, he ended the year shooting a below average rate of 26.9% on 7.5 3-point attempts per 40 minutes. He has displayed a nice stroke with his feet set, which makes it plausible that he will improve his efficiency as a sophomore, but he will need to iron out some kinks in his shot to reach a higher level over a large sample size. He has a tendency to plant his feet inconsistently, jump too far forward, and contort his lower body sideways on many of his attempts, hurting his balance in the process.
Sampson showed promise on catch and shoot opportunities by converting 32.6% of his 43 attempts logged by Synergy Sports Technology. However, he struggled shooting off the dribble, as he made just one of his 22 pull-up jumpers logged by Synergy Sports Technology. He has a bad habit of attempting heavily contested jump shots early in the shot clock which has hurt the offensive rhythm of his team. He has to improve his decision making with the ball in his hands to help him pick his spots better as to when to look for his own shot and when to move the ball in the flow of the offense.
While Sampson has demonstrated some potential that he can develop into a shooter down the road he hasn't yet shown that he can complement that skill offensively to become a versatile scorer. He lacked any further refinement in his skill-set, unable to get to the rim and score off the dribble in the half-court, or show off any passing skills to create offense for his teammates. He does have a quick first step that can get him past his primary defender but lacks much shake to his game to be able to beat the help defender and create offense or finishing ability at the rim to end drives with a basket.
His low effort level that showed up in some moments offensively also showed on the defensive side of the ball and despite his physical tools, Sampson made little impact for his team. He failed to regularly pressure the ball, close out hard or rotate to help his teammates defend. He definitely has the athletic makeup to be able to defend shooting guards but needs to improve his technique and play with a higher motor to increase his individual defensive contributions and become a more reliable team defender.
Losing his confidence after a solid start to the year, partially due to the circus-like atmosphere that plagued LSU's lone season with Ben Simmons, Sampson's freshman campaign wasn't anything to write home about. He'll hope to bounce back after a rough first year and earn more playing time to show his on-court skills and player development. He should get his chances early on in the year to prove himself and be a more reliable creator offensively. His physical profile and potential as a spot-up shooter have grabbed the attention of NBA scouts but Sampson will need to show substantial improvements in both his skill set and feel for the game as a sophomore to stay on the radar of NBA teams.
#15, Tonny Trocha-Morelos, 6'10, Junior, Power Forward, Texas A&M
Ryan Thomson
Tonny Trocha-Morelos, a native of Cartagena, Colombia, arrived in College Station by way of St. Thomas School in Houston, Texas. Trocha-Morelos competed on the national stage for Colombia in the FIBA U18 Americas tournament in 2012 and quickly moved to the United States where he was widely regarded as a four-star recruit. He signed with Texas A&M in November of 2012 but did not make his debut until the 2014-2015 season after experiencing difficulties in gaining entry to Texas A&M, in large part because of entrance language requirements. After playing sporadically as a freshman, averaging only ten minutes per game, Trocha-Morelos saw a significant increase in opportunity as a sophomore, averaging over 17 minutes per game.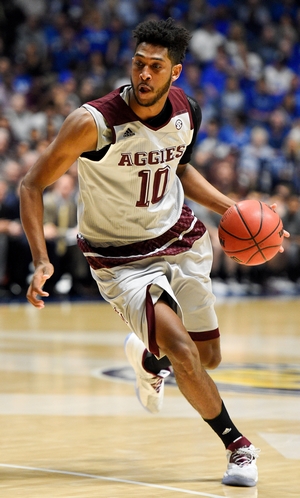 Standing 6'10, Trocha-Morelos has good size for the power forward position, coupled with a wingspan that is likely larger than his listed height. Trocha-Morelos has a decent frame, but needs to continue to add strength to maximize his potential. He isn't an elite level athlete, though, he is very mobile and runs the floor well, but lacks explosive vertical ability.
Trocha-Morelos saw the majority of his offensive possessions featuring as a screener, off-ball cutter and spot up shooter. He shows solid basketball instincts, and is able to find open space which creates opportunities for catch and finishes. Despite being able to find open space, Trocha-Morelos has poor hands and often times struggles corralling what should be easy dump offs for dunks or layups. He has decent touch around the rim, shooting 54.9% on attempts around the basket, per Synergy Sports Technology, but struggles to finish when he is forced to play through contact. Despite his skinny frame and lack of elite athleticism, he does a good job of battling on the offensive glass to the tune of 3.8 offensive rebounds per-40. His lack of explosive leaping ability from a standstill is concerning, but coupled with his lack of strength and poor hands it could be a significant hindrance to his development.
With his combination of size and ability to space the floor, scouts may be appropriately intrigued, but equally skeptical. Only attempting 2.2 three-point attempts per game as a sophomore is not statistically significant, but the fact that he made 37% of his attempts makes this something to track moving forward. His touch from the perimeter looks natural, fluid and effortless at times, but his struggles from the free-throw line, where he has shot only 46.3% over two seasons, are concerning. He has a tendency to short-arm his follow through, not quite finishing as high as he should, yet on the perimeter he does a tremendous job of elevating on balance, shooting the ball at the peak of his jump, and following through.
Trocha-Morelos found success using his shooting touch to stretch defenses, where he shot 40.9% in all pick and pop situations per Synergy Sports Technology. If he doesn't have an open shot Trocha-Morelos struggles to put the ball on the floor and be effective, often times being out of control attacking the rim or settling for a contested jump shot. When Trocha-Morelos has time and space he is a capable passer, evidenced by his 2.3 assists per-40 as a sophomore, but if forced to make passes under pressure, on a nail catch for example, he struggles to make good decisions.
Trocha-Morelos' lack of lower body strength is evident in his inability to be effective on the low block. He struggles to gain and maintain deep position, often allowing opponents to displace him with relative ease. He prefers to pound his dribble trying to gain an advantage in order to finish with a right hook. Trocha-Morelos has shown some decent footwork but it is limited because of his lack of lower body strength. If he can't get to his right hook he will settle for difficult, typically off-balance, fade-away jump shots.
Trocha-Morelos is not the difference maker that his size and length may initially suggest. His per-40 numbers on the defensive end leave much to be desired with only 1.4 blocks and .9 steals per-40. That said, he shows flashes of being a capable, if inconsistent, one-on-one low post defender, where he contests vertically without fouling. His toughness can come and go though, often allowing opponents great position in the paint without much resistance. His competitiveness on the inside needs to be more consistent this season, along with a greater focus on the defensive glass, where only averaged 6.1 defensive rebounds per-40 as a sophomore.
Trocha-Morelos really struggles when forced to guard on the perimeter. He doesn't possess the lateral mobility or quickness to keep quick power forwards in front of him, nor does he seem comfortable attempting to move his feet and recover to shooters. In one of the best games of the 2016 NCAA tournament, Northern Iowa continually put Trocha-Morelos in spread pick and roll action and challenged him to guard multiple actions while not losing track of his man, who was often a stretch four capable of making shots from the perimeter. While he isn't adept on the perimeter, he does show good anticipation, often times drawing charges on the drive or as a weakside defender.
Already 22 before beginning his junior season, Trocha-Morelos has an opportunity to showcase his skill alongside other talented players such as Tyler Davis and D.J. Hogg this season in College Station. He will have to continue to make strides on both ends of the floor, and on the glass, to maintain his intrigue among NBA scouts considering his age, but he will have an opportunity to produce for Coach Billy Kennedy and the Aggies.