We continue our coverage of the top returning NBA prospects in the Big East with scouting reports on players ranked #16-20:
Fuquan Edwin
,
Lamar Patterson
,
DeAndre Daniels
,
Davante Gardner
and
Cleveland Melvin
.
Incoming freshmen have been excluded from these previews, as we'd like to wait and see what they have to offer on the NCAA level before we come to any long-term conclusions.
-Top 20 NBA Prospects in the Big Ten-Top 20 NBA Prospects in the ACC-Top 11 NBA Prospects in the Big XII-Top 15 NBA Prospects in the Pac-12
-
Top NBA Draft Prospects in the Big East, Part One
(#1) Otto Porter Video Scouting Report
-
Top NBA Draft Prospects in the Big East, Part Two
(#2) Michael Carter-Williams
(#3) Gorgui Dieng
(#4) Rakeem Christmas
(#5) Jerian Grant
-
Top NBA Prospects in the Big East, Part Three
(#6) Chane Behanan
(#7) Wayne Blackshear
(#8) Jack Cooley
(#9) Peyton Siva
(#10) Mouphtaou Yarou
-
Top NBA Prospects in the Big East, Part Four
(#11) Russ Smith
(#12) Sean Kilpatrick
(#13) Vander Blue
(#14) Brandon Young
(#15) C.J. Fair
#16, Fuquan Edwin, 6-6, Junior, Small Forward, Seton Hall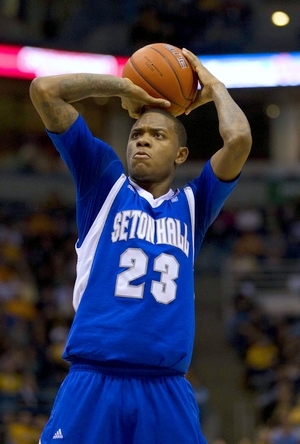 Jonathan Givony
A relatively unheralded prospect in high school, Fuquan Edwin blossomed into a key cog in Seton Hall's rebuilding effort as a sophomore, leading the NCAA in steals while shooting 37% from beyond the arc. Now that the Pirates' top two scorers are off to the pro ranks, scouts will be curious to see if Edwin can continue to improve his skill-level and develop into a legitimate NBA prospect.
Edwin has decent size for the wing at 6-6, although his 205 pound frame could still use some additional bulk. He has a very long wingspan and is extremely athletic, though, showing great speed in the open floor and cat-like instincts in the passing lanes.
Edwin gets the biggest share of his offense in transition, where he is amongst the best in the nation, shooting 73% from the field in these situations. Playing at the top of Seton Hall's full-court press, or 1-2-2 zone, Edwin ignites a lot of fast breaks on his own with his excellent anticipation skills. Even when he's not playing the passing lanes he's often able to create transition opportunities simply by sprinting the floor hard after a defensive rebound and beating the opposition down the court, or spotting up in the corner for an open 3-pointer.
Edwin is significantly more limited in the half-court, seeing his efficiency drop off from one of the nation's best to very average. He has a difficult time creating high percentage opportunities for himself as he's not a very good ball-handler at this stage, struggling to change directions with the ball and not possessing the strength to finish around the basket in traffic. He doesn't get to the free throw line very often, and is only able to convert 63% of his attempts once there.
Edwin's jump-shot, while clearly much improved from where it was in the past, is still very much a work in progress at this stage. His shooting mechanics are very unconventional, jumping forward and flinging the ball with two hands from way behind his head, making it difficult for him to stay on-balance and find a consistent release point on every attempt. While his shot goes in at times, sometimes even on challenging attempts off the dribble, he doesn't leave himself very much room for error, and may find it difficult to replicate the same results with the much further NBA 3-point line.
Considering he shot 37% from behind the arc last season, his coaching staff may not be overly motivated to tinker with his mechanics too much. It will be interesting to see what kind of results he can achieve moving forward, as this will play a significant role in his evaluation at the pro level.
While his scoring effectiveness comes and goes, Edwin's bread and butter will likely always revolve around his work on the defensive end of the floor. Edwin ranked second in the NCAA in steals per-minute last year, picking off a whopping 3.6 per-40, while also doing a very good job crashing the glass. He possesses a terrific combination of length, quickness and anticipation skills, allowing him to display amazing timing and reflexes breaking up plays with deflections and take-aways. He acts as somewhat of a free safety in Seton Hall's defense, having the freedom to use his natural instincts to sniff out opportunities to create turnovers and then ignite the fast break, a key reason why Seton Hall was able to surprise many by spending time in the top-25 last season, before falling apart late in the year.
While Edwin is a game-changing presence off the ball, his work on the ball can be somewhat inconsistent at times. He tends to lose focus getting a little lackadaisical in his stance at times, not bending his knees or putting a great effort fighting through screens and contesting opponents' shots. Strengthening his frame should help here, as will resisting the urge to gamble excessively thinking he can just poke the ball away from behind after getting beat. The fact that he had to spend nearly 34 minutes per game on the court last season, sometimes at power forward, likely didn't help matters, but scouts will want to see him become more solid and consistent from possession to possession on this end of the floor.
All in all, Edwin did a very good job emerging from obscurity last season to establish himself as intriguing prospect. It will be interesting to see how he progresses from here, and whether he's able to lead a young Seton Hall to a respectable season in the Big East.
#17, Lamar Patterson, 6'5, Redshirt Junior, Small Forward, Pittsburgh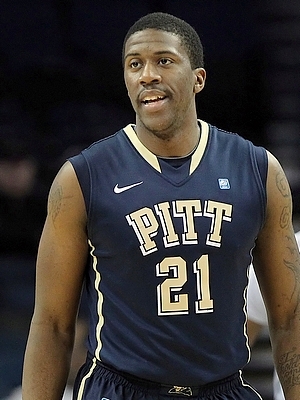 Matt Williams
Last time we checked in on Lamar Patterson in 2009, he was ranked among the top-150 high school seniors in the country. After being granted a medical hardship waiver for his 11-game freshman campaign for Jamie Dixon's Pitt Panthers, the Lancaster, PA native had a quiet 2011 season before breaking out last year as a redshirt sophomore. Averaging 9.6 points, 5.3 rebounds, and 3.6 assists per-game, Patterson emerged as a contributor on a number of levels, helping his team with the CBI Championship and garnering Most Valuable Player honors in the process. Now with two more years of eligibility still remaining, Pitt will be hoping that Patterson takes the next step in his development offensively.
A 6'5 wing with nice wingspan and a strong frame, Patterson has average size and good strength for the small forward position, but is not a very explosive athlete. Lacking great speed in the open floor and seldom playing finishing plays above the rim, Patterson plays at his own pace and compensates for his limitations with patience, toughness, and a solid basketball IQ.
One of the only small forwards in the past decade
to average over 5 assists and 7 rebounds per-40 minutes pace adjusted in the same season, Patterson joins an impress list of versatile three-men. Though he used just 13.9% of his team's possessions, Patterson made plays in a variety of situations , and should get even more opportunities this coming season with Ashton Gibbs and Nasir Robinson moving on to the professional ranks.
Patterson's most intriguing contributions came as a passer last season where he showed simply outstanding vision and decision-making. Patterson doesn't have a great first step, but he has enough wiggle in his game using hesitation moves and changes of speed to find ways to get into the lane. Looking comfortable running the pick and roll to create for his teammates, the rising junior
posted the second best assist-to-turnover ratio
in the country among small forwards because he seldom forces the issue and is extremely strong with the ball whenever he looks to penetrate.
Whenever Patterson draws an additional defender or forces the defense to rotate with his dribble or after receiving the ball flashing through the paint, he always seems to make the right play to find the open man, delivering the ball right on time to his big men underneath and his guards on the perimeter alike.
As a rebounder, Patterson makes an impact on both ends of the floor with his instincts and competitiveness. Doing a great job using his length on the offensive glass and boxing out defensively, Patterson isn't shy about pursuing the ball in traffic and is a solid rebounder for his position.
As a scorer, Patterson does most of his damage in spot up situations and from the midrange with his jump shot. Shooting the ball with less than ideal, but compact mechanics, Patterson doesn't have the smoothest stroke, but he proved significantly more reliable from the perimeter this past season than the one before. His 3P% improved from 22.2% to 41% in limited attempts and he proves adept at knocking down open shots with his feet set, taking advantage of his opportunities from beyond the arc.
A solid finisher, Patterson's lack of great athleticism limits his ability to blow by his defender and create easy looks for himself at the rim. At this juncture, most of his shots around the basket come by virtue of his off-ball movement and offensive rebounding ability. If Patterson is going to take the next step as an offensive player, he'll need to become a better creator and finisher inside the arc and find more ways to generate efficient offense. He does a nice job freezing his defender with hesitation moves in one-on-one situations, but his 26% shooting on pull-up jumpers doesn't allow him to capitalize on that with any sort of regularity.
Defensively, Patterson plays with good effort and active hands, but doesn't have great lateral quickness. Using his length to contest shots and getting in a good stance when defending the ball, Patterson's fundamentals and smarts help him hold his own at the college level.
The St. Benedict's Prep (NJ) product, may not have elite upside due to his lack of athleticism, but he's a well-rounded player who appears very coachable and has shown improvement in a number of areas in recent years. Patterson will need to become a more well-rounded scorer and retain his efficiency in other areas as he assumes a bigger role for the Panthers this season, and is a player worth keeping an eye on in his final two seasons of eligibility.
#18, DeAndre Daniels, 6-8, Small Forward, Sophomore, Connecticut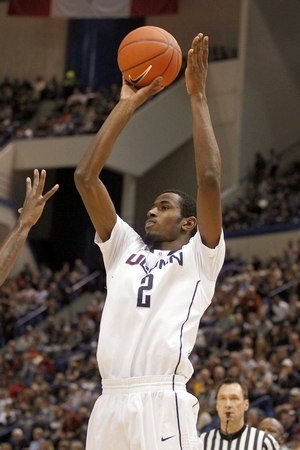 Joe Treutlein
Heading into his sophomore season, DeAndre Daniels should see plenty of opportunities to expand on his modest freshman debut, as four of the Huskies' top six scorers from last year are no longer on campus after transferring or being drafted. Daniels only averaged 12.1 minutes per game as a freshman, and didn't jump off the page in the box scores, but could change that this season.
Standing 6'8 with a decent frame that has yet to fully develop and very good length, DeAndre Daniels isn't an overwhelmingly athletic player, but is fluid, coordinated, and has enough quickness to get the job done given his good height and length. He's also very well conditioned, as evidenced by his finishing first for the second straight year in the Huskies men's basketball team's annual 3.4-mile "Husky Run."
Daniels started the year seeing between 15 and 36 minutes in all of his first seven games, but fell out of the rotation as the season went on. He barely played at all late in the year, seeing under seven minutes per game in all of the team's final nine games, including two DNP-CD's.
Despite being ranked in the top-20 in his class by four different recruiting outlets coming out of high school, with his scoring ability being a significant factor working in his favor, he struggled to ever get anything consistently going putting the ball in the basket as a freshman. While his three-point shooting is probably his most noteworthy skill at this stage (more than half of his attempts came from behind the arc as a freshman), he only managed to shoot 24% from three (and 34.1% overall).
Daniels appears to have a solid shooting stroke, being somewhat flat footed and having a slight tendency to fade away, but making up for it with his excellent extension and very high release point due to his size and length. The most interesting thing to watch for heading into his sophomore season is if he can reclaim the status as a very good three-point shooter that he had coming into college.
Daniels' dribble-drive ability is hard to evaluate based on his debut season, as he managed just eight isolation attempts in the 25 games logged by Synergy Sports Technology. Only two of those possessions resulted in scores, and both were on contested pull-up jumpers, as he hasn't displayed any ability to get past his man off the dribble at this level. His handle doesn't appear especially tight, not does he appear to have a very good first step with the ball, but it's really difficult to judge on the limited sample size and hopefully that's something we'll be able to get a better read on this year if he expands his role.
Other than his spot-up shooting, the other area Daniels managed to contribute some at a freshman was finishing on cuts to the basket and in transition, where he did a solid but not especially impressive job. He shows nice touch, coordination, and takes advantage of his size and length well, but doesn't play much above the rim and doesn't do well finishing through contact at this stage. Daniels' slight build in both his lower and upper body surely contribute to this, and how he can develop his strength in both areas will likely be a key to both his college success and pro potential. It's certainly possible he's not playing at his athletic peak from a quickness or explosiveness standpoint, and bolstering his lower body could help him there.
To Daniels' credit, he appears to be a good team player and is frequently cited as one of the hardest workers on the team by his coaching staff, which has been a theme in media reports this offseason. He does a solid job moving without the ball, hustling on both ends of the floor, and making flow-of-the-offense passes, so now it's just the matter of displaying the skills to earn a more significant role on the team.
Defensively, Daniels is a bit of a mixed bag, on one hand not having great foot speed moving laterally and not benefitting much from a relatively high center of gravity. However, he does do a good job utilizing his size and length to make up for his other shortcomings, allowing him to keep his man at bay and contest shots, while also showing a solid fundamental base. Given the Huskies' roster make-up, he may also see a good chunk of minutes at power forward this season, though given his lack of bulk and underwhelming rebounding, that may not be the best fit for him long-term and effectively takes away the size advantage he has on the wing.
Looking forward, it'd be foolish to read too much into Daniels' limited freshman season, though it was certainly not what those in Storrs were hoping for from a player ranked as high as #10 in his recruiting class. He should have endless opportunities to show vast improvement as a sophomore, and there's really no area of his game where he couldn't help himself by showing something more. How he develops physically could be the most important factor for him long-term, but he'll also need to show a consistent, NBA-level offensive skill at some point, until which time it's impossible to make any long-term projections about his potential.
#19, Davante Gardner, 6'8, Center, Marquette, Junior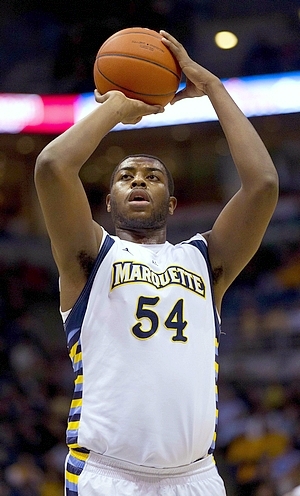 Kyle Nelson
Marquette center Davante Gardner seemed to be in the midst of a breakout sophomore season before going down with a right knee injury and missing eight straight games. While he returned to help Marquette to a second-place finish in the Big East tournament and their second straight Sweet Sixteen run in the NCAA, he failed to regain his early season form. As a junior, Gardner will be expected to take the next step, becoming more than merely a role-player, picking up the slack for a Marquette team that lost its top two scorers and leading rebounder.
Gardner's biggest obstacle seems to be, in part, his most significant advantage at this level. Standing 6'8 with a long wingspan and a 290-pound frame, Gardner is a massive presence at the center position. He would be well served to improve his physique, however, as it seems as though he could play more minutes and maximize his explosiveness and quickness with better conditioning. As it stands, he lacks stamina and plays below the rim, despite his better-than-average mobility and impressive girth. Given the fact that he is a 6'8 center, extremely undersized for the NBA, he must maximize his physical tools if he hopes to someday earn a roster spot at the next level.
Improving his conditioning is particularly important given the fact that he played just 19.1 minutes per game and is one of the
more productive NCAA centers
. Gardner posted a very productive 9.5 points in 19.1 minutes per game and 18.6 points per 40 minutes pace adjusted.
On tape, Gardner shows solid hands, quick feet, and a developing post game featuring a solid arsenal of spin moves, jump hooks, and drop steps. He is very good at carving out space in the paint and aggressively attacking the basket. His ability to find scoring opportunities and aggressive style of play also results in an outstanding
7.7 free throw attempts per 40 minutes pace adjusted
. He makes 56.8% of his attempts from inside of the arc and shows solid shooting touch overall, including 75.5% from the free throw line. Scouts will be watching to see if he can continue to improve while remaining one of
more efficient centers in college basketball
.
It is worth noting, too, that Gardner is one of the best
offensive rebounders in our database
, at 5.2 offensive rebounds per 40 minutes pace adjusted and he finds a lot of points by tipping in his teammates missed shots.
Two areas in which he showed brief flashes of potential, but hardly anything substantial were as a finisher in the pick-and-roll and as a spot-up shooter. With his size and relatively quick feet, Gardner set good screens and rolled hard to the basket on the few opportunities in which he was featured. Similarly, despite only taking a handful of jumpers and missing his only two attempts from beyond the arc, Gardner showed decent mechanics in the mid-range if he chooses to expand this aspect of his game. Improving in these areas, both of which are coveted in today's NBA, could help improve his standing in scouts' eyes.
On defense, his conditioning and propensity for committing fouls (5 per-40 minutes pace adjusted)limit him despite the fact that he is actually a decent defender overall and extremely hard to move off the block. That being said, his lateral quickness is not great and he has trouble closing out on shooters or stepping out to guard perimeter oriented big men or the pick-and-roll. He is not much of a shot blocker either. Becoming a more aggressive and focused defender, therefore, should be a priority moving forward, especially considering he's already severely undersized for a center at 6-8.
Furthermore, and perhaps most concerning is his
mediocre defensive rebounding rate,
as he pulls in just 5.2 defensive rebounds per 40 minutes pace adjusted while not showing the greatest fundamentals or effort.
As Gardner looks toward his junior season, he has quite a few things to work on before solidifying his standing as a NBA prospect. Most immediately, his lack of conditioning has prevented him from maximizing his athletic potential, staying on the floor, and becoming a consistent contributor for a Marquette team that will badly needs his inside presence this season. Scouts will be watching to see whether he can make some substantial improvements over the next two years.
#20, Cleveland Melvin, 6'8", Junior, PF, DePaul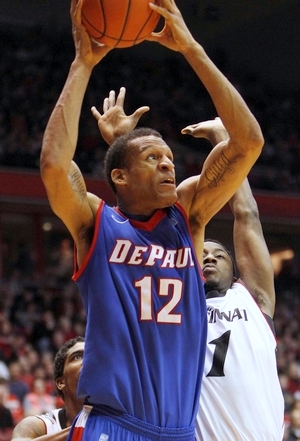 Derek Bodner
After winning Big East rookie of the year honors during his freshman season where he posted 14.3 points and 5.0 rebounds per game, Cleveland Melvin upped his per-game averaged to 17.5 points and 7.4 rebounds per game during his sophomore year, seeing extended playing time as he and fellow sophomore Brandon Young tried to turn around the long struggling DePaul program.
They had some success in doing so at the beginning of the season, as DePaul started the season off 10-4 for their best start in over a decade. The wins were largely against a very weak non-conference schedule, however, and the Blue Demons limped down the stretch on a 2-15 skid once conference play began, losing six Big East games they were either leading or tied at halftime.
Despite his individual scoring increase, Melvin struggled at times to shoulder such a heavy offensive burden. His true shooting percentage dropped substantially, from 54% his freshman season to 49% his sophomore year, which would be in the bottom 10 power forwards in our database. Melvin attempted to extend his range out to the collegiate three point line, connecting on only 22.9% of his over 2.3 attempts per game from beyond the arc. That inefficiency, combined with Melvin not getting to the line all that frequently – his 28% free throw rate ranks towards the bottom of our database for power forward prospects – created a fairly inefficient player, even considering the high burden he was asked to shoulder on the offensive end of the court.
Melvin is perhaps at his best in transition, where he does a good job running the floor and filling the lane on the fast break in DePaul's relatively uptempo offense. While Melvin appears to have only average explosive ability when jumping from a standstill he seems much more explosive when he gets a running start and does a good job finishing on the break.
In the half-court, Melvin has some tools but has yet to develop a go-to move. He moves well off the ball, doing a good job of finding seams and gaps in a defense. The amount of offense he created for himself in post-up situations fell substantially from his freshman season to his sophomore season. It was a fairly big portion of his offense his freshman year, at 19.4% of his offense according to Synergy Sports Technology, but that fell to only 11% his sophomore season and he was inefficient in these situations, with his 0.627 points per possession well below average. He has good touch on a right handed hook shot that he likes to use, but he can easily be dislodged by defenders and struggles to finish through contact. He also doesn't make use of his left hand, settling for turnaround jump shots when he tries to make a move over his right shoulder. Expanding his post game by developing a hook with his left hand and some counter moves would help make him less predictable and more effective in the post.
While Melvin shows some potential with his jumper, with decent touch out to mid-range, he is very inconsistent with his footwork, balance, hand placement and release point, and struggles overall as a jump shooter. This becomes even more obvious the further he gets from the hoop and when he shoots off the dribble, something which takes up far too many of his attempts considering how inefficient he is, although this is partly due to Melvin being asked to shoulder a higher offensive burden than he should because of DePaul's overall lack of talent.
While Melvin is relatively quick for a big man, he doesn't have the consistent jump shot or ball handling skills to really take advantage of that as a face-up threat. His ball handling is usually limited to one or two quick dribbles to setup a largely inefficient pull-up jump shot. If Melvin is able to increase his consistency with his jump shot and substantially improve his comfort handling the basketball he might have some untapped potential as a face-up threat.
On the defensive side of the ball, the 6'8" Melvin has enough length to contest shots in the post, and he does a fairly good job of playing defense early in the shot clock and working to deny position early. He lacks some lower body strength to continue to deny position, however, and adding weight would help him immensely if he hopes to defend against the stronger, more refined power forwards he would see at the next level.
On the perimeter, Melvin doesn't change direction all that well, and can struggle at times defending the pick and roll. This problem is exacerbated by not having the greatest awareness at times, as Melvin will regularly try to pick his man up on switches well beyond the three point line, where he doesn't have the foot speed to stay in front of the quicker guard. His overall awareness and recognition on this end of the court leave something to be desired.
His need to improve his lower body strength is evident on the defensive glass as well, where his 5.6 defensive rebounds per 40 minutes pace adjusted is in the bottom third of power forward prospects in our database, and an even worse number considering DePaul was one of the worst defensive rebounding teams in the country. He doesn't appear to be all that instinctive of a defensive rebounder, not showing great tracking ability or pursuit to recover.
As the focal point of the DePaul offense with Brandon Young, Cleveland Melvin is put in a position where he can put up big time numbers, but perhaps in a position that doesn't necessarily fit his strengths, and as such his weaknesses become even more pronounced. If Melvin is able to show some consistency in his jump shot and add a little bit of weight, and if DePaul is able to play competitive basketball in the Big East, Cleveland Melvin could improve his standing as a prospect.