Fuquan Edwin
Recent Tweets
All Tweets
DraftExpress: Notable Undrafted 4 Aaron Craft Jakarr Sampson Fuquan Edwin Markel Starks Shayne Whittington Casey Prather Chane Behanan Alex Kirk
2014-06-27 00:15:32
DraftExpress: Top NBA Draft Prospects in the Big East prospects #3-5 Chris Obekpa Jakarr Sampson Fuquan Edwin http://t.co/Rc2ZCDW0z9
2013-10-10 13:09:27
DraftExpress: Top NBA Draft Prospects in the Big East Part Three (#3-5) http://t.co/Rc2ZCDW0z9 - Chris Obekpa Jakarr Sampson Fuquan Edwin.
2013-10-09 19:05:54
DraftExpress: Seton Hall-Syracuse tipping at MSG and ESPN. Michael Carter-Williams is the focus but I'm interested to see how Fuquan Edwin looks today.
2013-03-13 14:33:32
Team: Ironi Nes-Ziona
Physicals
Positions
Salary
Misc
H: 6' 6"
W: 207 lbs
Bday: 09/17/1991
(24 Years Old)

Current: SF
NBA: SF
Possible: SF

Agent: Ben Pensack

High School: Paterson Catholic
Hometown: Paterson, NJ

Predraft Measurements
| Year | Source | Height w/o Shoes | Height w/shoes | Weight | Wingspan | Standing Reach | Body Fat | No Step Vert | Max Vert |
| --- | --- | --- | --- | --- | --- | --- | --- | --- | --- |
| 2014 | Portsmouth | 6' 5.25" | NA | 207 | 6' 8.25" | 8' 7" | NA | 24.0 | NA |



Basic Per Game Statistics

- Comprehensive Stats - Statistical Top 25s

Player Page&nbsp&nbsp| Player Stats | Related Articles&nbsp&nbsp| Add to My Draft Express&nbsp
&nbsp
2014 Portsmouth Invitational Tournament, Day One
April 17, 2014
Fuquan Edwin, 6-6, SG/SF, Seton Hall
22 points, 1 rebound, 0 assists, 1 turnover, 1 steal, 9-16 FG (3-3 3P)

Jonathan Givony

When Fuquan Edwin is making outside shots the way he did in the first game, particularly in the second half where he hit a barrage of 3-pointers, he certainly looks the part of a NBA player. With good size, length and athleticism for a wing, and terrific instincts on the defensive end, Edwin is your classic "3 and D" guy that every team in the NBA has seemingly.

Reminding scouts of that as much as possible is important, as he did not have the greatest senior year, only hitting 33% of his 3-pointers and struggling in particular in many of Seton Hall's biggest games against strong competition. Still, he's done a nice job of reworking his shooting form over the past few years and showed that he's certainly not someone opposing teams want to leave open.

Edwin also made some nice plays in transition and got his hands on some loose balls like he did throughout his career at Seton Hall, he ranks #1 among all players in the draft in steals per-40 minutes (2nd in the entire NCAA). Continuing to play within himself and show he can play a compact and fixed role in the NBA will be important for him as the tournament moves on, even if he might not always make 100% of his 3-point attempts like he did last night.

[Read Full Article]

---
Top NBA Draft Prospects in the Big East, Part Three (#3-5)
October 9, 2013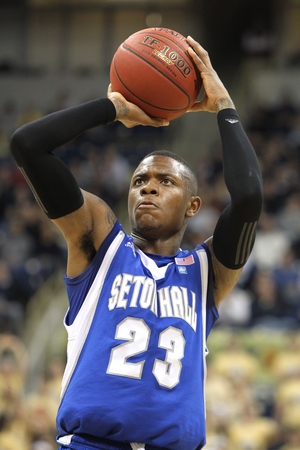 US Presswire



Jonathan Givony

After making significant improvement between his freshman and sophomore seasons, Fuquan Edwin again made another notable jump in production as a junior, setting the stage for an important senior year which could see him emerge as a strong candidate to get drafted this upcoming June.

Edwin's usage rate jumped from 20 to 28% last season, becoming the go-to guy on a talent-starved and injury-riddled Seton Hall roster that went just 3-15 in the Big East.

Despite the increase in responsibility, Edwin's offensive efficiency impressively remained nearly identical, as he shot the ball exceptionally well from beyond the arc—nearly 43%--and was able to get to the free throw line at a very solid rate.

A marginal outside shooter coming into college, Edwin has improved by leaps and bounds in this area the past two years, becoming arguably one of the top shooters in the Big East despite his team possessing little in the ways of ball-handling or shot-creation ability. Extremely reliable with his feet set, Edwin can come off screens effectively and has a shot that is difficult to contest due to how high his release point is.

His shooting mechanics are unconventional, he flings the ball at the basket from over his head with no follow-through whatsoever—leading to some very bad misses at times—but it's difficult to argue with the results at the college level, even if it remains to be seen how his stroke will translate to the longer NBA line.

Edwin is almost strictly a catch and shoot guy, he rarely pulls up in the mid-range area, and that's probably a good thing considering how much his efficiency plummeted in off the dribble situations—from 43% with his feet set to 24% otherwise according to Synergy Sports Technology.

Despite having a quick first step, Edwin struggles to create his own shot effectively in the half-court, as his ball-handling skills are crude and he prefers not to dribble or finish with his left hand. Not an overly skilled player, he doesn't have great touch around the basket—he converts just 49% of his attempts inside the paint, as he's often out of control by the time he gets to the rim. He improved his shooting from the free throw line last season, from 63 to 67%, but can still get better here as well, as that's not a great rate for a wing.

Although he's not particularly skilled, Edwin is not a selfish player, as he willingly makes the extra pass and nearly doubled his assist rate last season. He still turns the ball over a little too often, but it's important to note that he played on one of the most turnover prone teams in college basketball last season—a team that coughed the ball up on nearly a quarter of their possessions in Big East play, making him one of their most reliable ball-handlers.

Where Edwin continues to excel is on the defensive end of the floor. Seton Hall plays a very ineffective 2-3 zone defense due to their lack of size and depth, which is not really ideal for NBA teams to evaluate, but Edwin's ability here regularly shines through nevertheless. His long arms, terrific quickness, high intensity level and amazing anticipation skills make him an absolute terror in the passing lanes, as his 2.9 steals per-40 minutes ranked third best among all top-100 prospects, even though that was down from an amazing 3.6 the year before.

Edwin's footspeed allows him to cover huge amounts of ground and absolutely wreak havoc on opposing guards. He gets over the top of screens with ease and regularly picks opponents' pockets in the backcourt, coming up with tons of easy baskets by virtue of his hustle and the way he just seem to naturally gravitate towards the ball. He's also a solid rebounder for a wing and will come up with an occasional block from time to time as well.

Edwin embodies a lot of the things you like to see in a role playing NBA swingman, as he shows outstanding potential defensively, is a team player who does not need the ball to effective, and is a very good outside shooter with his feet set. Being on a losing team that plays zone almost exclusively won't do him too many favors unfortunately, but Seton Hall returns most of their core, which will likely help in a weakened Big East, and Edwin should have plenty of chances to show NBA talent evaluators his potential against solid competition night in and night out.

[Read Full Article]

---
Top NBA Prospects in the Big East, Part Five
October 22, 2012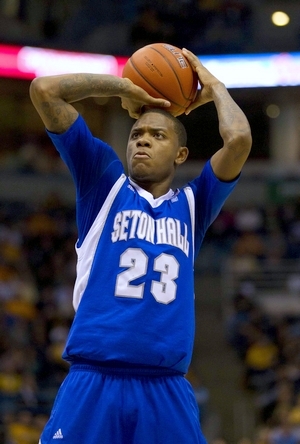 US Presswire



Jonathan Givony

A relatively unheralded prospect in high school, Fuquan Edwin blossomed into a key cog in Seton Hall's rebuilding effort as a sophomore, leading the NCAA in steals while shooting 37% from beyond the arc. Now that the Pirates' top two scorers are off to the pro ranks, scouts will be curious to see if Edwin can continue to improve his skill-level and develop into a legitimate NBA prospect.

Edwin has decent size for the wing at 6-6, although his 205 pound frame could still use some additional bulk. He has a very long wingspan and is extremely athletic, though, showing great speed in the open floor and cat-like instincts in the passing lanes.

Edwin gets the biggest share of his offense in transition, where he is amongst the best in the nation, shooting 73% from the field in these situations. Playing at the top of Seton Hall's full-court press, or 1-2-2 zone, Edwin ignites a lot of fast breaks on his own with his excellent anticipation skills. Even when he's not playing the passing lanes he's often able to create transition opportunities simply by sprinting the floor hard after a defensive rebound and beating the opposition down the court, or spotting up in the corner for an open 3-pointer.

Edwin is significantly more limited in the half-court, seeing his efficiency drop off from one of the nation's best to very average. He has a difficult time creating high percentage opportunities for himself as he's not a very good ball-handler at this stage, struggling to change directions with the ball and not possessing the strength to finish around the basket in traffic. He doesn't get to the free throw line very often, and is only able to convert 63% of his attempts once there.

Edwin's jump-shot, while clearly much improved from where it was in the past, is still very much a work in progress at this stage. His shooting mechanics are very unconventional, jumping forward and flinging the ball with two hands from way behind his head, making it difficult for him to stay on-balance and find a consistent release point on every attempt. While his shot goes in at times, sometimes even on challenging attempts off the dribble, he doesn't leave himself very much room for error, and may find it difficult to replicate the same results with the much further NBA 3-point line.

Considering he shot 37% from behind the arc last season, his coaching staff may not be overly motivated to tinker with his mechanics too much. It will be interesting to see what kind of results he can achieve moving forward, as this will play a significant role in his evaluation at the pro level.

While his scoring effectiveness comes and goes, Edwin's bread and butter will likely always revolve around his work on the defensive end of the floor. Edwin ranked second in the NCAA in steals per-minute last year, picking off a whopping 3.6 per-40, while also doing a very good job crashing the glass. He possesses a terrific combination of length, quickness and anticipation skills, allowing him to display amazing timing and reflexes breaking up plays with deflections and take-aways. He acts as somewhat of a free safety in Seton Hall's defense, having the freedom to use his natural instincts to sniff out opportunities to create turnovers and then ignite the fast break, a key reason why Seton Hall was able to surprise many by spending time in the top-25 last season, before falling apart late in the year.

While Edwin is a game-changing presence off the ball, his work on the ball can be somewhat inconsistent at times. He tends to lose focus getting a little lackadaisical in his stance at times, not bending his knees or putting a great effort fighting through screens and contesting opponents' shots. Strengthening his frame should help here, as will resisting the urge to gamble excessively thinking he can just poke the ball away from behind after getting beat. The fact that he had to spend nearly 34 minutes per game on the court last season, sometimes at power forward, likely didn't help matters, but scouts will want to see him become more solid and consistent from possession to possession on this end of the floor.

All in all, Edwin did a very good job emerging from obscurity last season to establish himself as intriguing prospect. It will be interesting to see how he progresses from here, and whether he's able to lead a young Seton Hall to a respectable season in the Big East.

[Read Full Article]

---