Kyle Nelson
It has been two years since we
last wrote
about Pittsburgh senior Lamar Patterson. In the meantime, Patterson went from a solid role-player to a star, earning a spot on the 2013-2014 All-ACC Second Team and leading the Panthers to the 2014 NCAA Tournament. He proved himself as one of the most unique players in college basketball, a swingman with great passing ability and vision, and regained his shooting touch with NBA range.
Unfortunately and for as good as he was a senior, Patterson's production fell off a bit as the year moved on, and Pittsburgh didn't make it out of the first weekend of the NCAA Tournament. Currently projected as a second round pick, can Lamar Patterson leverage his standout senior season into hearing his name called on draft night?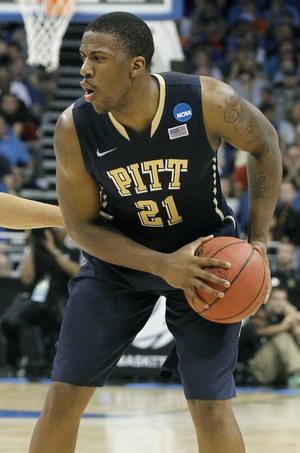 At 6'5 with a 225-pound frame and good wingspan, Patterson is a versatile wing who makes up for whatever he lacks in size with his length. He is a savvy player, which helped compensate for his average athletic profile at the collegiate level; whether this translates into success at the next, however, remains to be seen. Patterson is neither explosive around the basket nor quick off of the dribble, though he looks like he could stand to slim down in order to maximize his athletic potential.
Offensively, Patterson emerged as Pittsburgh's focal point while averaging an impressive 21.9 points per 40 minutes pace adjusted, upping his usage rate significantly between his junior and senior years. He was extremely versatile, seeing nearly of his scoring or passing possessions as ball handler in pick-and-roll or isolation situations to complement his solid floor spacing ability.
At first glance, Patterson is a very good perimeter shooter with NBA range on his jumper. He took a big step up from his junior to senior year, as well, regaining his sophomore form by making 39% of his shots from beyond the arc while taking over seven 3s per-40. A closer look at the numbers reveals that he is far better in a catch-and-shoot situations (40%) than he is shooting off the dribble (25%). On film, his mechanics can be inconsistent and he will have to streamline his shooting motion if he hopes to emerge as a shooting specialist at the next level, which could be a major key in whether he's able to carve out a niche in the NBA.
Moving inside of the arc, Patterson struggles at times due to his average athletic ability.
He makes just 50% of his shots inside the paint in the half-court according to Synergy. Despite his average explosiveness, he showed the ability to run in transition and finishes creatively in traffic due to his body control and length. He does not have a great first step, however, which limits his ability to get to the basket.
It is worth noting, however, that Patterson's 5.5 assists per 40 minutes pace adjusted ranked
10th among all prospects in our top-100
. Though he was not, is not, and will never be a point guard, Patterson is a very creative passer for his size, showing the ability to find teammates in both half-court and transition settings. His decision-making, in particular, is impressive, perhaps best exemplified by his ability to balance scoring and distributing out of the pick-and-roll and in transition. Patterson's basketball IQ and willingness and understanding of how to make teammates better is a major asset, one that could endear him greatly to a NBA coaching staff looking for depth on the wing.
On the defensive end, Patterson proved himself as hardworking with good fundamentals. His combination of length and intelligence allowed him to get in passing lanes and remain relevant after being beaten off the dribble. That being said, his below average lateral quickness is an issue at the next level, as it sometimes was for him in college. Ultimately, it remains to be seen whether he can guard elite athletes on a nightly basis. Yet, his savvy and fundamentals, effort, and length makes it hard to disregard him entirely in this area, and there is certainly hope that with added experience he can learn to hold his own and be competent on this end of the floor.
Patterson's combination of perimeter shooting and passing, along with good effort on the defensive end and high basketball IQ could allow him to carve out a rotation role down the line. Currently projected as a second round, he still has plenty of work to do in the pre-draft process, though. After declining to play in Portsmouth, Patterson will now have to hope for an invitation to the NBA Combine and try to stand out in the LA Group workout in May, as well as private workouts.