We continue our coverage on the top NBA draft prospects in the Big East with part six, players ranked 11-15:
Phil Booth
,
Paul White
,
Jalen Reynolds
,
Yankuba Sima
and
L.J. Peak
.
---
More DX Conference Preseason Previews:
-The Top 20 NBA Draft Prospects in the Pac-12
---
-Top NBA Prospects in the Big East, Part One
(#1) Kris Dunn (Scouting Video)
-Top NBA Prospects in the Big East, Part Two
#2) Henry Ellenson (Scouting Video)
-Top NBA Prospects in the Big East, Part Three

(#3) Jalen Brunson (Scouting Video)
-Top NBA Prospects in the Big East, Part Four
(#4) Josh Hart
(#5) Isaiah Copeland
-Top NBA Prospects in the Big East, Part Five
(#6) Trevon Bluiett
(#7) Justin Patton
(#8) Luke Fischer
(#9) Isaiah Whitehead
(#10) Daniel Ochefu
---
#11, Phil Booth, 6-3, Freshman, Point Guard, Villanova
Jonathan Givony
The #73 recruit in his high school class, Phil Booth arrived to a Villanova team that was fairly loaded in the backcourt, and as expected, did not play a huge role for the Big East championship squad as a freshman, only averaging 14 minutes per game.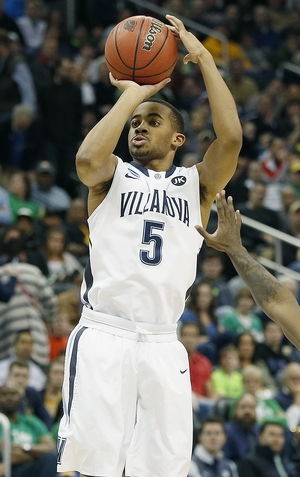 One of the most efficient scorers in college basketball, Booth posted an outrageous 71% true shooting percentage, ranking #1 in that category among all draft prospects. He got better and better as the year moved on, finishing the season shooting 19/31 (61%) for 3 in the months of February and March. Watching him on film, very few of his looks were "easy shots," with many coming off the dribble, from well beyond the arc, and with a hand in his face.
Booth took more off the dribble jumpers than shots with his feet set last year in fact, spectacularly hitting over 50% of his looks in both situations. Synergy Sports Technology ranks him as one of the best shooters in the NCAA, but the fairly small sample size (14 minutes per game, using 18% of his team's possessions while on the floor) makes it difficult to surmise exactly what to make of that, besides the obvious fact that we need to keep watching him moving forward.
What's clear is that Booth has unlimited confidence in his jump-shot and only needs an inch of daylight to get it off. He's near-automatic shooting the ball with his feet set, and has the unique ability to absolutely shred the defense when they elect to go underneath the screen on the pick and roll.
While he has the size to play either guard position at the college level, Booth was regularly tasked with bringing the ball up the court and getting Villanova into their offense in his small minutes on the floor. He shows the ability to make simple passes and distribute the ball unselfishly, even if his playmaking ability and especially his ball-handling still has a lot of room to improve.
Not blessed with blazing speed or overwhelming explosiveness, Booth struggles to turn the corner at times against better defenders, even if he shows some crafty ability to change speeds and get to the rim in a deliberate manner, showing nice touch on his finishes. Opposing teams are often so concerned with his deadly pull-up jumper that they have no choice but to get right into him, leaving him the option to drive to the rim more easily.
Defensively, Booth struggled at times as a freshman, which may partially help explain why his minutes were as limited as they were even when he was on such a shooting tear in the months of February and March. He lacks a degree of lateral quickness, getting blown by off the dribble, struggling to get through screens, and biting on fakes. While he has a nice frame, he needs to get stronger. He only forced 10 steals last season in 521 minutes, which is a very low rate for a guard.
With the arrival of McDonald's All-American point guard Jalen Brunson, and senior Ryan Arcidiacono still in the fold, it remains to be seen just how much Booth's role will increase as a sophomore. Starting shooting guard Dylan Ennis did elect to transfer, though, and with head coach Jay Wright's propensity for playing multiple ball-handlers at the same time, it's not out of the question that Booth continues to build on his promising debut campaign, particularly if he continues to shoot the ball as effectively as he did to close the year.
Microwave scorers with solid size and unlimited shooting range in Booth's mold are definitely intriguing prospects with the style of play we're seeing in today's NBA. We'll have to see what kind of role he can carve out as a sophomore and whether he can continue to improve his defense, ball-handling and playmaking ability to round out his already impressive scoring prowess.
#12, Paul White, 6-8, Sophomore, SF/PF, Georgetown
Josh Riddell
Playing a reserve role in a crowded frontcourt for the Georgetown Hoyas, Paul White enters his sophomore season hoping to differentiate himself and build on the 18 minutes per game he played as a freshman.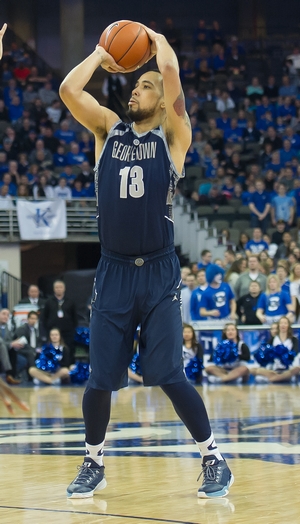 A 6'8" forward, White has flashed some athleticism and perimeter shooting that gives him a nice foundation as a draft prospect. He possesses a strong frame for a player of his age and a solid wingspan to provide a nice baseline for his physical tools. Although he's not an uber-athlete, he's a fluid player who looks comfortable moving around the court and should have little trouble competing athletically with professional players.
White has some potential as a long-range shooter, making 23 of his 61 (37.7%) of his three point attempts last season as a freshman. He was accurate in a small sample and will need to show whether this translates over a larger sample as defenders begin to recognize him as a shooter. This will be crucial for his draft stock, as his mechanics aren't perfect so he needs to show they work for him. The positives in his shot components are a high release point and adequate lift on his shot, making it difficult to contest. However, his release time is a little slow and his overall fundamentals are inconsistent, with a significant ball-dip that makes him much more effective from a stand-still than pulling up off the dribble. A larger sample size, with multiple seasons worth of data, should paint a clearer picture of how versatile and effective of a shooter he is from distance.
He has displayed good vision with the ball in his hands, which can help his team score when he is on the floor. While he looks comfortable putting the ball on the floor in a straight line, he doesn't have the ball-handling skills to get to the rim or draw the defense and create open looks consistently. What he does do is find cutters or shooters spotting up across the court to catch the defense off guard, delivering an accurate pass to put his teammate in position to score. His
2.7 assists per 40 minutes pace adjusted
was one of the highest ranks among small forwards in the nation. While he won't be creating off the dribble frequently, certainly not in Georgetown's offense, he has the willingness to pass and the vision necessary to see his open teammates.
White tries to attack closeouts and open penetration lanes, but doesn't have an elite first step or dribbling skills to get all the way to the rim, looking a bit passive at times as well. He can't always shake his defender en route to the basket, which leads to contested shots at the rim. This combined with a lack of explosiveness and toughness around the rim leads him to be just an average finisher at close range at 53.8%. If he can't improve his ability to beat his defender to the rim, he'll need to find a way to do a better job of finishing through contact at the basket despite being contested.
Defensively is where White can make his mark and show he deserves an increase in playing time. He has a unique combination of length, foot speed and strength to help him guard a variety of different positions at the college level. He had some very impressive moments defensively as a freshman, putting constant pressure on the ball and rotating quickly on help defense. With his physical tools and solid fundamentals, he has some very nice things to build on here moving forward, which will help his chances significantly of making it in the NBA.
With White competing with Isaac Copeland and L.J. Peak for minutes at the forward positions, he'll need to find ways to impact the team on both ends to keep him on the floor. He'll be on the radar of NBA scouts all season due to his athletic potential and his ability to fit into a NBA team as a role player. If he can have another good season as a perimeter shooter while keeping his defensive intensity high, he'll continue to get looks from NBA scouts.
#13, Jalen Reynolds, 6'10, RS Junior, Center, Xavier
Matt Williams
After being ruled ineligible in his first year at Xavier and then carving out a small rotation role as a redshirt freshman, Jalen Reynolds took a step forward as a third year sophomore.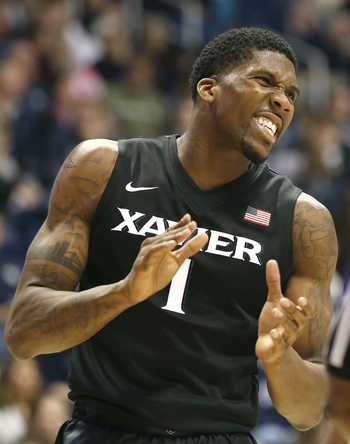 Standing 6'10 with a long wingspan and a chiseled 232-pound frame, Reynolds looks the part of a NBA big man. He doesn't have great size for a center, which is the position his skill set seems best suited for at the moment, but his combination of mobility, length, strength, and explosiveness leave some room for optimism that he could the five at the next level.
At this stage, Reynolds's game revolves around his ability to make the most of his terrific physical tools. They're a major reason he improved his points per 40 minutes from 11.8 as a freshman to 19.7 as a sophomore. Shooting an impressive 63% around the basket and 54% in the post, Reynolds is a bouncy finisher who can convert plays explosively above the rim, absorb contact inside, and bully his way to the rim in the post. He'll get his shot blocked on occasion because he's so aggressive, but his desire to dunk anything he can inside is a plus.
Away from the basket, Reynolds can hit an occasional jump shot, but perimeter attempts made up only 7% of his total field goal attempts, while he shot just 66% from the line a year ago. Something similar can be said about his abilities on the block, where he shows some flashes of finesse scoring ability and advanced moves, but sticks to a fairly basic repertoire. Not possessing a particularly strong feel for the game, it will be interesting to see if Reynolds's offensive skill set continues to develop, as he won't be able to play quite as much bully-ball as he does in college when creating his own shot at the next level.
Apart from his scoring, Reynolds is also a solid rebounder and possesses nice potential as a defender. Averaging 12 rebounds per-40 minutes pace adjusted, the Michigan native is active and physical on the glass on both ends of the floor. His physical tools allow him to have some pretty spectacular possessions using his length to bother shooters or his strength to defend inside, but he is very foul prone, averaging 6 fouls per-40 minutes pace adjusted, and lacks great fundamentals. Getting beat off the dribble at times defending away from the rim despite his fairly impressive lateral quickness for a big man, and not always knowing where to be when in Xavier's zone, Reynolds has room to grow on this end.
The challenge for Reynolds at this stage is his lack of great polish. One of the oldest players in our junior rankings, Reynolds will turn 23 just before New Year's Day. His significant improvement from his freshman to sophomore year leaves some room for optimism, but he'll have a lot to prove over the next two years given the track record of older players in the NBA draft.
#14, Yankuba Sima, 6-11, Freshman, Center, St. John's
After watching Sima intently at the U19 World Championship this past July, we offered up the
following scouting report
. We will wait and see how he performs as a freshman before adding to his profile.
#15, L.J. Peak, 6-5, Sophomore, Small Forward, Georgetown
After watching Peak intently at the U19 World Championship this past July, we offered up the
following scouting report
and interview. We will wait and see how he performs as a sophomore before adding to his profile.