We continue our coverage of the top returning NBA prospects in the non-BCS conferences with scouting reports on players ranked #7-10:
Ray McCallum
,
Alec Brown
,
Nate Wolters
and
Isaiah Canaan
.
Incoming freshmen have been excluded from these previews, as we'd like to wait and see what they have to offer on the NCAA level before we come to any long-term conclusions.
The Top 101 Prospects in the BCS Conferences
-Top 20 NBA Prospects in the Big Ten-Top 20 NBA Prospects in the ACC-Top 11 NBA Prospects in the Big XII-Top 15 NBA Prospects in the Pac-12-Top 20 NBA Prospects in the Big East-Top 15 NBA Prospects in the SEC
-
Top NBA Prospects in the Non-BCS Conferences, Part One
(#1) Tony Mitchell Video Scouting Report
-
Top NBA Prospects in the Non-BCS Conferences, Part Two
(#2) C.J. McCollum
(#3) Jamaal Franklin
(#4) Adonis Thomas
(#5) Mike Moser
-
Top NBA Prospects in the Non-BCS Conferences, Part Three
(#6) Doug McDermott Video Scouting Report
#7 Ray McCallum, 6-2, Junior, Point Guard, Detroit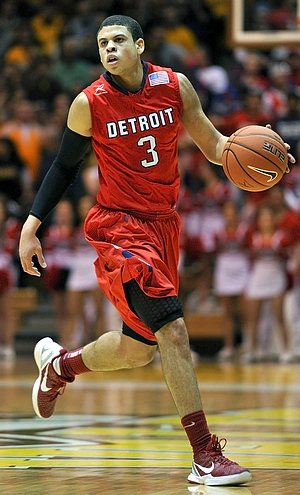 Jonathan Givony
A McDonald's All-American in high school who surprised many by committing to play for his father at Detroit in the Horizon League,
Ray McCallum
bounced back from a fairly pedestrian freshman season to lead his team to the NCAA Tournament and establish himself as one of the best young point guards in college basketball as a sophomore.
Showing decent size at 6-2, 190 pounds, with solid athleticism, McCallum is not blessed with great length, but has good physical tools for the point guard position. He's a strong leaper in open space, capable of playing above the rim when the opportunity presents itself, and may have room to continue to maximize his athleticism, particularly in terms of his ability to play at different speeds in the half-court.
Where McCallum is clearly at his best is in the open floor, where he ranks as one of the most efficient transition threats in the NCAA, shooting 55% inside the arc last season. A strong ball-handler, he pushes the ball up the court aggressively, attacking the rim and finishing with purpose, and does a good job finding the plethora of athletes that surround him for easy baskets. While not a brilliant passer at this stage, McCallum is more than capable of running a team, as he looks willing to make the extra pass, and is very effective in drive and dish situations.
In the half-court, McCallum sees most of his offense in pick and roll and isolation situations. He's significantly less effective here, as he doesn't possess the overwhelming initial burst needed to beat his man off the dribble consistently, and tends to struggle finishing in traffic with his average size and strength. Becoming a better shooter would open things up significantly for McCallum, as would improving his ability to operate at different speeds and not simply bully his way down the lane with his head down.
McCallum's biggest Achilles heel at the moment is his inconsistent jump-shot. He made just 24% of his 3-point attempts last season, down from 31% the year before. His shooting mechanics are solid (particularly as of late), and he appears to be capable of making outside shots from time to time, but his shot-selection can be very poor, as he tends to settle for too many pull-up jumpers from well outside the 3-point line early in possessions. Opposing defenses seem to encourage him to take these very low percentage looks, and he has the habit of taking the bait far too often, appearing far more confident in his perimeter shooting ability than his percentages suggest he should be, particularly off the dribble, where he converted just 27% of attempts last season.
Defensively, McCallum was a bit inconsistent last season, like his entire Detroit team in general on that end of the floor. On one hand he shows quick feet and excellent anticipation skills jumping in the passing lanes and coming up with steals, but is not very physical and does not appear to possess great fundamentals. This, coupled with his average size, length and strength, may make it difficult for him to project as being anything more than an average defender at the NBA level, even if better coaching could help him improve somewhat at the pro level.
A year older than most of his class, turning 22 this upcoming June, this could very well be
Ray McCallum
's final season of college basketball. While McCallum might not blow NBA scouts away in any one area, and may project best as a backup, there is clearly a shortage of savvy point guards with strong ball-handling skills and a high basketball IQ. It will be interesting to see if McCallum takes the next step this season as a playmaker and facilitator, even if he might not be in an ideal situation to do so considering the type of scoring load he'll likely be expected to shoulder. NBA scouts will be following him closely as he attempts to lead his team to another Horizon League conference championship and NCAA tournament berth.
#8 Alec Brown, 7-1, Junior, Center, Wisconsin Green Bay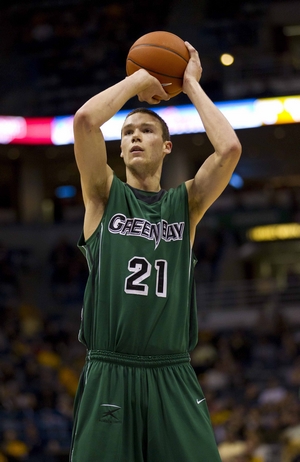 Jonathan Givony
Alec Brown
shot up ten inches from 6-3 to 7-1 over the course of his high school career, but struggled to attract the attention of the bigger schools in the Midwest due to his extremely frail 190 pound frame. Brown decided to stay close to home for college and improved steadily during his first two seasons at Wisconsin-Green Bay, and could now be on the verge of solidifying himself as a legit NBA prospect as a junior.
Measured at 7-1 at the Amare Stoudamire big man camp in the summer of 2011, but just 211 pounds, Brown has excellent height but a very narrow frame that will likely take another few years to reach its maximum potential, which has hindered his development to a certain extent. He moves extremely well for his size, though, running the floor fluidly, even if he's not an explosive leaper who plays above the rim consistently.
Brown's biggest virtue as a prospect, besides his tremendous height, revolves around his intriguing skill-level, which is far more advanced than you normally find in a player his size in the Horizon league. Able to score with either hand around the basket, Brown has excellent footwork and body control, being capable of stringing together multiple post-moves in succession with the use of fakes and counter moves. If contact is not a factor, he can finish very well around the basket with a variety of jump-hooks and very soft touch, making 77% of his free throw attempts last season. He's adept at scoring both facing and with his back to the basket, albeit not consistently, as he displayed in his 22-point outburst against Marquette in December of 2011. His perimeter skill-level is impressive considering his size, as he can shoot with range out to the 3-point line, and can attack his man off the dribble with a strong first step and solid ball-handling skills.
Unfortunately things haven't all come together for Brown quite yet. While showing strong flashes of potential from time to time, Brown has struggled to make his presence felt on a consistent basis and was far from a dominant threat at the Horizon League level last season. According to Synergy Sports Technology, he shot just 40% from the field in post-up situations, playing against a fairly weak level of competition amongst big men for the most part.
Brown's frail frame makes it difficult for him to establish solid post position inside, and he doesn't compensate for that with the type of toughness and grit you'd like to see, often fading away from contact as soon as an opponent puts a body on him. He settles for weak turnarounds on a regular basis, and attempts far too many mid-range jumpers, which is the main reason he shot just 47% from 2-point range last season, which ranked last amongst returning top-100 prospects centers last season. If Brown is to help Green Bay improve on their 15-15 record (10-8 in league play) and first round exit from the Horizon league conference tournament, he will have to become much more assertive finishing through contact around the basket, as well as more consistent away from the rim, where he converted just 32% of his jump-shots last season.
Defensively is another area NBA scouts will want to see Brown improve as he matures physically. He shows impressive timing as a shot-blocker, swatting 3.8 shots per-40 minutes last season, mostly coming from the weak-side, where he does a good job keeping his blocks in-bounds. He struggles badly in man to man settings, though, being unable to hold his ground inside the paint against stronger Horizon League opponents who push him around mercilessly and are often able to score on him with relative ease. His very narrow frame and relatively short wingspan (7-0) do him no favors here. Opponents shot over 50% from the field against him in back to the basket situations last season, which ranks him amongst the worst post defenders in college basketball, certainly amongst NBA prospects. Because of his inability to defend post players, his coaching staff tends to slot him alongside another big man at times so Brown can guard power forwards and concentrate on being a weak-side shot-blocker. Unfortunately Brown tends to struggle on the perimeter as well, where he looks very upright and does not possess the lateral quickness needed to stay in front of most opponents.
Another area of concern defensively lies in Brown's rebounding ability. While he does a decent job crashing the offensive glass (4 per-40), the same can't be said on the defensive end, where he pulled down just 6.6 rebounds per-40 last season, a fairly average rate. Part of this has to do with the way his team utilizes his shot-blocking prowess, asking him to act as somewhat of a free safety defensively, but some of this has to do with his average strength, toughness and intensity level as well.
Billed as a potential top-10 pick by
other NBA draft outlets
, Brown will receive plenty of attention from scouts this season, despite playing for a relatively obscure shool. A late bloomer who made incremental progress from his freshman to sophomore season, Brown may not be ready to make the gigantic leap some are projecting from him, but surely has some tools that make him worth keeping track of moving forward, particularly if his frame proves capable of carrying more weight in the next few years.
#9 Nate Wolters, 6'4, Senior, Point Guard, South Dakota State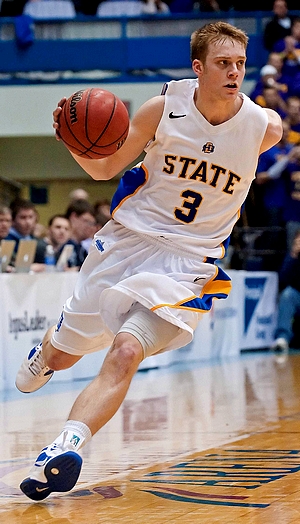 Matt Williams
The 9th best scorer in Division I last season,
Nate Wolters
built on the momentum he gained during his breakout sophomore season to establish himself as one of the premier mid-major players in the country as a junior. Earning Summit League Tournament Most Valuable Players honors in leading South Dakota State to its first ever NCAA appearance, Wolters substantiated the buzz he had generated among scouts with a 19-point, 4-assist effort in the first round against a Baylor Bears rosters littered with NBA talent and athleticism. Already off to a fast start as a senior, Wolters ranks among the most serious threats to lead the nation in scoring and is clearly one of the senior point guard prospects in the country regardless of level of competition.
Standing 6'4, Wolters has excellent size for a point guard, a key component of his offensive dominance at the college level. Lacking great lateral quickness, leaping ability, and speed, Wolters plays at his own pace, but finds ways to get to the rim by changing speeds off the dribble and gets his shot off inside the arc by virtue of his creativity and size.
It is Wolters's ability to create off the dribble and score inside the arc that makes him such a potent offensive threat and an intriguing point guard prospect. Functioning as his team's primary ball-handler, main distributor, and go-to-guy, Wolters has the ball in his hands as often as any player in the country. With nearly one-third of his possessions coming in isolation situations, another quarter coming on the pick and roll, and a little over 20% coming as the ball-handler in transition, Wolters is a polarizing figure for the Jackrabbits, but turned the ball over on just 11% of his possessions last year.
A steady ball-handler who seldom forces the issue, Wolters doesn't beat defenders with quickness, but he's very adept at picking and choosing his spots off the dribble and scoring from various spots on the floor. Even if he's not blowing by defenders, Wolters uses his craftiness to find angles to the rim where he's gotten significant better and drawing fouls, finishing at an impressive 59% rate last season.
When his defender cut him off and he wasn't able to get all the way to the rim, the then-junior showed the ability to use his floater and pull-up jump shot to score under duress inside the arc. Knocking down 36% of both types of shots last season, Wolters makes difficult off-balance shots on the move from the midrange with regularity, shooting over the top of smaller guards or spinning and leaning away to score around opposing big men. Coupling his usage with his savvy offensive game and low-turnover rate, and it isn't hard to see why Wolters
ranked among the 30 most prolific per-40 minute pace adjusted scorers
in college basketball last season.
In addition to his scoring ability, Wolters is also an exceptional passer.
Ranking among the top 20 players in the country in pure point rating
(a weighted variation of A:TO ratio developed by John Hollinger) in the college game last season, the Saint Cloud native is an extremely effective play-maker for a scorer of his caliber. Showing a knack for finding teammates in rhythm in South Dakota State's half-court sets, Wolters also shows tremendous vision in firing the ball to teammates when he attacks the basket off the dribble.
Despite his many merits on the offensive end, Wolters still has a number of areas to improve in, the most significant of which may be his ability to consistently knock down shots from beyond the arc. After shooting a terrific 41% from distance on 3.3 attempts per-game as a sophomore, Wolters took a step back as a junior, knocking down just 24.1% of his 4.0 attempts per-game last year. Though the vast majority of his 3-point attempts come late in possessions off the dribble and not in the typical catch-and-shooting situations most 40+% 3-point shooters enjoy, Wolters would benefit from a season of more consistent shooting from the perimeter, whether his attempts come inside or outside of the arc.
On the defensive end, Wolters faces significant questions about whether he can hold his own at the next level. Lacking great lateral quickness, Wolters is not always able to stay in front of quicker guards. He has however developed some strategies to overcome that, consistently leaving himself a cushion against quicker players, recognizing where his help is, and giving up a jump shot before a layup. Wolters could stand to get stronger to help himself fight over screens and hold up against the more athletic guards he'd encounter in the NBA, but he simply doesn't have the athletic profile of a stalwart defensive player.
Already propelling his team to a 2-0 record this season, Wolters has started his senior season off right. If he can have a strong year shooting the ball and continue to do the things that he did at a high level last season, there's no question he'll help himself in the eyes of scouts as he looks to carry the Jacks back to the NCAA Tournament.
#10 Isaiah Canaan, 6-1, Senior, Point Guard, Murray State
Having profiled Canaan during the 2011-2012 season with a comprehensive scouting report, we've elected to wait and see what type of progress he's made with a fresh perspective in a few months, rather than rehashing many of the same comments made last year based off last year's game footage.