Josh Riddell
After a successful regular season that saw Green Bay win the Horizon League by two games, the Phoenix sputtered at the end of the year as they were upset in their conference tournament before falling in the opening round of the NIT. Although senior
Alec Brown
was named to the Horizon League first team as well as honored as the conference defensive player of the year, many scouts will wonder why he wasn't able to consistently dominate as a 7-footer in a league that had few players that could match his size.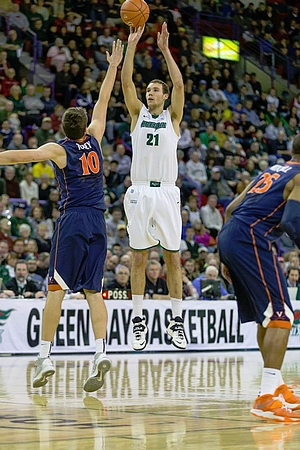 After declining to play at the Portsmouth Invitational Tournament, Brown's shooting touch was on full display at the NBA combine, where he tied for first among all players by knocking down
18 of 25
NBA spot-up three point shots. Brown is a tremendously talented outside shooter with clear "stretch big" potential, as he shot 44.6% of 92 three point attempts last season. Brown also showed nice efficiency from the mid-range, connecting on 21 of 25 on 15 footers, first among big men that participated in the combine.
Although Brown shot well at the combine, Brown did not test well athletically, which is not particularly surprising. At 7'1.25", Brown was the second tallest player at the combine behind
Jordan Bachynski
, but Brown had an average 7'1.5" wingspan.
As a spot-up shooter, Brown converted on 44.7% of his spot-up opportunities last season, according to Synergy Sports Technology. This provides some intriguing potential as a pick and pop player, as Brown has nice form on his shot and a high release point (due mainly to his height), which allows him to get his shot off even when guarded.
While Brown can provide some value as a shooter, he will likely need to fill out his offensive repertoire to become a usable offensive player in the NBA. The most logical next step for Brown is to improve his post game, where he struggled his entire career, despite his height advantage most nights in the Horizon League. He needs to add significant strength to his frame, as he was often pushed off the block and forced to catch the ball far from the basket. He then struggled with a lack of advanced footwork, which forced him into difficult contested jump shots or tough hook shots. An improved post game will take vast improvement, and a complete change of mentality, as Brown clearly lacks much in the way of toughness, but it will help him from becoming a one dimensional scorer.
Although Brown improved his two point percentage from 45% to 50%, this was still
one of the lowest marks
among big men prospects in our Top-100 rankings.. This is partly because he was unable to get closer to the rim after he caught the ball, which forced him into tough jump shots when he should have been able to turn these shots into layup attempts.
Brown's lack of physical tools and strength contributed to him to being an exceptionally poor rebounder throughout his career, as he corralled only 4.4 rebounds per 40 minutes pace adjusted, which ranked
last among centers
in our Top-100 . He wasn't much better on the offensive end, pulling down only 2.5 rebounds on the offensive end, per 40 minutes pace adjusted. Considering his struggles in this area throughout his career, it's fair to assume that he projects as a liability in this area at the NBA level.
Although Brown was unable to use his length to be a dominant rebounder, Brown was able to make his mark on the defensive end by blocking
3.6 shots
per 40 minutes pace adjusted. This may not be as translatable a skill to the NBA as his shooting though, since he doesn't have impressive leaping ability or length to protect the rim against NBA players, and also lacks much in the way of toughness to battle with stronger players inside.
As a strong outside shooter, Brown could provide some value to a NBA team with his ability to stretch the floor as a big man. He will need to find ways to contribute in other ways though, both offensively and defensively. He may struggle at times physically, as he will be at a disadvantage when matched up against NBA big men, at least until he gets stronger. His height and shooting ability will allow him to play at some high level but he will likely need to make some major improvements to round out his game to be a NBA rotation player.