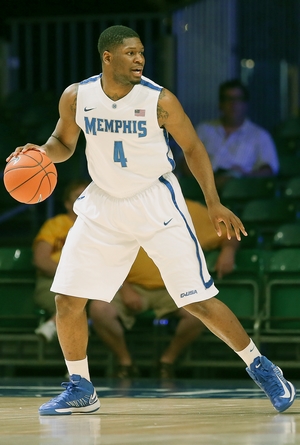 Joe Treutlein
Following an underwhelming freshman season marred by inconsistency and an injury that caused him to miss half the year,
Adonis Thomas
unfortunately failed to make up for lost time in his healthy sophomore campaign, as he actually regressed in some areas and didn't take advantage of the opportunities available to him.
Thomas' physical attributes remain his best selling point from a pro perspective, as his chiseled 6'7 frame and excellent 7'0 wingspan give him the ideal build for a small forward prospect. As far as his skills on the court go, however, he hasn't progressed much if any since setting foot on campus two years ago.
On the offensive end, Thomas' game is raw in all aspects, with his spot-up jump shot being the furthest along of his skills. While he boasted an impressive 40.5% shooting mark from behind the arc as a freshman (albeit on a small sample size of 1.9 attempts per game), that number regressed significantly to 29.2% as a junior (again on a small sample of 2.5 attempts per game). Looking at the film, there's not much different in Thomas' shot, which still has consistent form and is solid overall. The truth about his shooting ability likely lies somewhere in the middle of the numbers he posted the past two seasons, which means he still has some work to do before making this a reliable NBA-level skill.
The rest of Thomas' offense is even less noteworthy, with spot-up drives and mid-range attempts making up the bulk of his other possessions. His ball-handling is very shaky and he has trouble consistently getting by his man, making it very difficult for him to get to the rim in off-dribble situations. This combined with his expanded role played a large part in how his two-point percentage plummeted from 51.5% to 43.9% this season.
On the positive side, Thomas does show solid touch and even a decent arsenal of moves in the mid-range and mid-post areas, utilizing floaters and runners with decent success. The problem is these shots by nature are not very high efficiency attempts, and aren't something a small forward is likely to succeed with by making his bread and butter.
Thomas' low propensity for getting to the rim, both in terms of off-ball cuts and attacking the offensive glass, is definitely concerning given his physical attributes combined with his raw offensive game. To his credit, he did significantly increase both his offensive rebounding (1.2 to 2.0 rebounds per 40 minutes pace adjusted) and the rate at which he got to the line (0.16 to 0.27 FTA/FGA) this season, but both still remain weaknesses overall, especially when viewed alongside his very weak two-point percentage.
On the defensive end, Thomas can be seen in more of a bright light overall, as his physical attributes shine through more frequently, as he's capable and often is a versatile and aggressive perimeter defender. His fundamentals and awareness remain works in progress, and he can lose intensity on plays that tend to drag on, but he boasts great size and solid lateral quickness for his position.
Looking forward, Thomas clearly didn't have a great two seasons at the collegiate level relative to where he was ranked coming out of high school, and still appears to be a ways away from being able to make consistent contributions at an NBA level. Still, his combination of physical attributes along with a groundwork of skills as a shooter and defender make him someone teams will be interested to see in workout settings, especially if he can exhibit he's making some progress in the skills department throughout the pre-draft process.
His stock can't be very high right now after two disappointing seasons at Memphis, which makes his decision to declare for the draft and hire an agent puzzling at first, but things didn't appear to be working out for him at Memphis for whatever reason, so a change of scenery may help. While he's no lock to be drafted given where his stock sits, it may be for the best, as spending some time playing professional ball overseas or in the D-League and continuing to develop his skills may be the best chance he has at realizing some of the potential many thought he had coming out of high school.