We continue our coverage of the top returning NBA prospects in the non-BCS conferences with scouting reports of prospects ranked #6-10:
Elfrid Payton
,
Cleanthony Early
,
Winston Shepard
,
Alan Williams
and
Josh Davis
.
Incoming freshmen have been excluded from these previews, as we'd like to wait and see what they have to offer on the NCAA level before we come to any long-term conclusions.
Incoming freshmen have been excluded from these previews, as we'd like to wait and see what they have to offer on the NCAA level before we come to any long-term conclusions.
-
Top 30 NBA Draft Prospects in the ACC
-
Top 15 NBA Draft Prospects in the Big Ten
-
Top 10 NBA Draft Prospects in the Big 12
-
Top 15 NBA Draft Prospects in the Pac-12
-
Top 15 NBA Draft Prospects in the Big East
-
Top 15 NBA Draft Prospects in the SEC
-
Top 15 NBA Draft Prospects in the AAC
-
Top NBA Prospects in the Non-BCS Conferences, Part One
(#1) Przemek Karnowski
(#2) Khem Birch
(#3) Deonte Burton
(#4) Juvonte Reddic
(#5) Alec Brown
#6, Elfrid Payton, 6-4, Junior, Point Guard, Louisiana Lafayette
After watching Payton intently at the USA Basketball U19 World Championship and training camp this past June, we offered up
the following scouting report
. We prefer to wait and see how Payton performs as a junior before adding to his profile.
#7, Cleanthony Early, 6'8", Senior, PF, Wichita State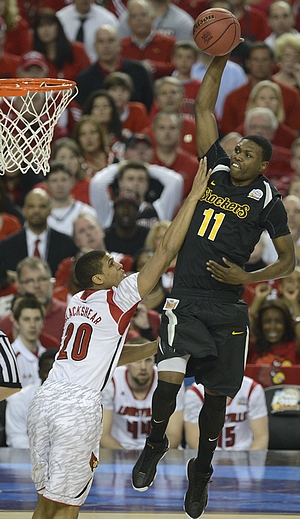 Derek Bodner
After being one of the top rated junior college players while at Division three Sullivan County Community College, forward Cleanthony Early made an immediate impact at Wichita State, culminating in an unexpected run to the final four that Early featured prominently in.
While Early was always likely to go the junior college route out of high school due to academic issues, family tragedy would ultimately influence his early college career, when his older brother died in an accident after Early's senior year of high school. Early would select Sullivan County, a DIII junior college, due to its proximity to his family. He dominated at that level, becoming the two time NJCAA DIII player of the year before transferring to Wichita State last year.
The lanky 6'8" forward worked his way into becoming a potent inside-outside threat for the Shockers, scoring 22.7 points per 40 minutes pace adjusted. He showed ability from both the inside, where his 1.2 points per possession on post-ups would rank as the highest level of efficiency for any player with at least 50 possessions used, and from the outside, shooting 32% from three point range on 3.8 attempts per game.
In the post, Early was incredibly efficient overall, thanks in large part due to the frequency with which he drew fouls from post-ups and how rarely he turned the ball over. That being said, his overall offensive repertoire isn't all that advanced down low, relying largely on a turnaround jump shot and a hook over his left shoulder. He has a quick spin move and gets off of his feet quickly, allowing him to get quality shots at the basket despite not having the most advanced footwork around. He's not all that developed in terms of lower body strength, and struggles to establish deep position or move defenders after receiving the entry pass, something that is sure to become even more pronounced at the next level.
Despite his efficiency on the block, he's a fairly low-usage post scorer at two possessions per game, which, while good that he plays within his limitations, also suggests this is something that is not likely to translate at a high volume once he goes up against stronger, more physical competition.
Early's overall a good athlete, and he uses this in transition, off of cuts to the basket, and offensive rebounds, which all represent a fairly sizable portion of his offense. Early pulls down a solid 3.7 offensive rebounds per 40 minutes pace adjusted, combining his explosive leaping ability with a relentless pursuit of the ball to generate extra possessions for his team.
Showing very little ability to create off the dribble and virtually nothing with his left hand, Early has a ways to go in terms of refining his perimeter skills. He's also an extremely poor passer, dishing out an assist on just 5% of his possessions last season, one of the worst rates among players classified as draft prospects.
His jump shot shows a little bit more progress, as he connected on 32% of his nearly 4 three point attempts per game. Perhaps more encouraging was him making nearly 80% of his free throws, although this by-and-large didn't translate into game action, as he connected on only 31% of his mid-range jump shots according to Synergy Sports Technology. His jump shot was incredibly streaky throughout the season, going through extended hot and cold periods that would seemingly come and go at a moment's notice. For example, Early had made only 2 of his previous 15 three point attempts heading into the NCAA tournament, then went 0-6 in the opening round victory over Pittsburgh. He responded by making 8 of his next 17 attempts from beyond the arc during Wichita State's run to the Final Four.
The overall form on his jump shot appears to be solid, albeit a bit long and deliberate, with a high release point and good follow through, suggesting that it could be something he becomes more consistent with if he is able to get enough repetition and put the necessary work in. Becoming more consistent with his jump shot is undoubtedly one of the keys for Early's development as a prospect, and something NBA scouts will be watching closely this season.
On the defensive end, Early is somewhat of a mixed bag. He's an active defender, with quick hands and ample length and athleticism to get the occasional block or deflection. He moves his feet fairly well on the perimeter and does a passable job defending the pick and roll, but would likely struggle initially if asked to defend the small forward position at the next level.
His lack of lower body strength comes into play quite a bit on this side of the court, as he struggles to hold position in the post and, perhaps most glaringly, on the defensive glass, where his 5.1 defensive rebounds per 40 minutes pace adjusted and 14.6% defensive rebounding rate were both very poor numbers. Besides physical attributes, Early doesn't appear to be all that instinctive of a defensive rebounder, and will not always show the best form or technique when boxing his man out. He'll frequently forget to locate his man when the shot goes up, and also tends to box out with his arms rather than getting good leverage, something even more important considering his slender build.
Cleanthony Early displays many of the problems typically associated with a 'tweener', lacking the lower body strength or technique to defend down low and without the foot speed or advanced perimeter skills to switch out to the perimeter. That being said, his athleticism and ability to score from both inside and out presents some intrigue, particularly if he could show more consistency on his perimeter shot going forward and become a little bit more comfortable creating off the dribble.
#8, Winston Shepard, 6-7, Small Forward, Sophomore, San Diego State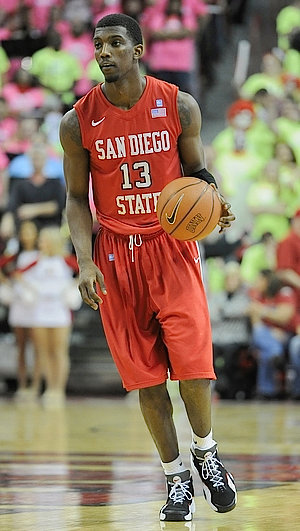 Joe Treutlein
Coming off an underwhelming freshman season as a 20-minute per game role player on a successful San Diego State squad, Winston Shepard should have every opportunity to expand his role and live up to his lofty recruiting ranking as a sophomore. With teammates and leading scorers Jamaal Franklin and Chase Tapley both no longer on campus, there will be a considerable void for scoring, especially from the perimeter, for the Aztecs, though it remains to be seen whether Shepard is ready for the role.
Standing 6'7 with solid length, a decent frame, and excellent athleticism, Shepard certainly passes the eye test for an NBA wing, and he shows occasional flashes of the skills as well.
On the offensive end, Shepard is still a fairly raw player at this stage of his development, relying mostly on transition plays, straight-line drives, off-ball cuts, and offensive rebounds for his shot attempts. He's a rangy player who shows solid creativity and touch finishing around the basket, though isn't as likely to finish with power as you might expect from someone with his tools. To his credit, he is still aggressive when he does have the ball, getting to the line at a strong rate (6.3 free throw attempts per-40), though he could take better advantage of that by improving on his poor 57.7% free throw percentage.
For all of Shepard's physical intrigue and flashes of exciting plays, he's unfortunately a very inefficient player presently, being extremely turnover prone (0.27 turnovers per possession) and scoring at an awful clip inside the arc (43% two-point percentage). Despite occasionally bringing the ball up the floor for the Aztecs and initiating the team's half-court offense, while also being a respectable handler in space, Shepard's advanced ball-handling skills are not great at this stage, and he has trouble taking advantage of his athletic tools in dribble-drive situations.
Shepard doesn't do a great job getting by his man on dribble-drives, even of the straight-line variety, and when he does, he's a relatively poor finisher at the basket, not transitioning well from dribble to shot attempt. He's a better finisher in off-ball situations, but his scoring production and shooting efficiency vary wildly from game to game, which is indicative of both his limited role and a tendency to not always be completely zoned in.
Shepard's jump shot is unfortunately even further behind than the rest of his game, as he sports wildly inconsistent and ineffective mechanics, looking very out of sorts when shooting contested or pulling up off the dribble. He's a more competent shooter in space when he has the chance to get his feet set, but still has a ways to go and doesn't exhibit the best feel here.
On the defensive end, Shepard is a much more effective and developed player, being far more capable of applying his tools. He has the versatility and athleticism to defend 3-4 positions at the college level, and played very well in the Aztecs' excellent defensive scheme last year. Shepard shows a tendency to lose focus at times on this end of the floor as well, but with his size and speed, he's capable of practically locking down opposing players even when he isn't fully zoned in, a testament to his defensive prowess. It will be interesting to see if he takes the next step in his development here this season, as he likely has even more to offer on this end of the floor.
Looking forward, Shepard's simplest path to the NBA clearly lies on the defensive end of the floor, and there's no reason why he can't be one of the most disruptively effective defensive players in the country every single night for the Aztecs. Fully living up to his potential as a defender should be his highest priority, but developing into a more efficient offensive player will also be key. His jump shot is probably still a ways away from being a reliable weapon, so he should focus on cutting down on his turnovers and being more efficient from the field. The perimeter scoring void for San Diego State this season will certainly give Shepard plenty of opportunities to expand his role, and we should have get a better feel for how his offensive skill-set is evolving fairly quickly.
#9, Alan Williams, 6-7, Junior, Center, UCSB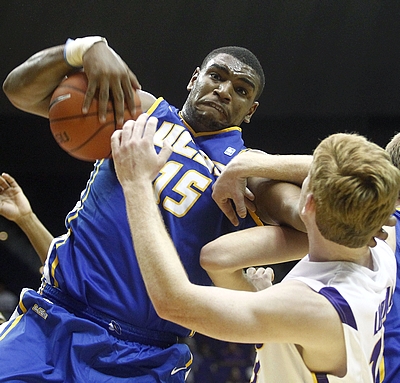 Josh Riddell
Alan Williams stepped into the void left by Orlando Johnson to become the go-to offensive player at UC-Santa Barbara, as he saw his usage increase an already significant 23% to 34%, one of the highest rates in college basketball. Williams was one of the most productive players in the country last year, which helped him to be named to the Big West's All-First team. With the core of his teammates returning, Williams will hope to replicate his individual success while helping the Gauchos improve on their dismal 11-20 record (7-11 in-conference).
Williams is an undersized center, listed at only 6'7" and 240 pounds, albeit with long arms and gigantic hands. His athletic tools are merely average, although he is very strong and surprisingly agile for his size, showing very nimble feet. Williams plays with a high level of energy on the offensive end, although he doesn't work as hard on the defensive side. He doesn't have a high level of explosiveness, which makes his dominant rebounding ability that much more impressive.
What will jump out at scouts is indeed that ability to rebound, especially on the offensive end. Williams shot only 46% from the field but this low percentage was somewhat mitigated by his 5.6 offensive rebounds per 40 minutes pace adjusted which
ranked seventh in the nation
last season, down from
first in the nation the season before
. Many come off his own attempts close at the rim but Williams also showed a tenacity to crash the glass and grab loose balls, reading the ball well off the rim and positioning himself well to get the rebound. This is the skill that will keep scouts most interested in him, so he needs to continue dominating this area in the upcoming season.
Most of Williams' offense comes from the post, as 47.6% of his offensive possessions were categorized as post-ups by Synergy Sports Technology. He has the strength needed to gain position on the block, and once he makes the catch, he has nice footwork for a player his size and is able to maneuver around his defender to get to the rim. Despite being a largely below the rim player, he has a solid drop step, a deft up and under move, and a reliable hook shot in his arsenal. Williams draws fouls at an extremely high rate, getting to the free throw line nearly nine times per-40 minutes, one the best rates among college basketball prospects. Williams is often double and tripled teamed in conference play and while he sometimes struggles scoring against multiple defenders, he has shown the ability to pass out of these situations to the open players on the perimeter.
He has shown some nice skills in the post, but scouts may wonder whether he will be able to recreate this success in the NBA, as he will be much smaller than the defenders he is matched up against. He was not as productive against higher level competition last season as he was in the Big West, so there are legit question marks about his ability to be effective against taller, stronger and more athletic big men at the next level.
Almost all of Williams' shot attempts come in the paint, as he rarely stepped outside the paint for jump shots. His shooting mechanics need a lot of work, starting from his base and up to his release point. In his few mid-range attempts, it's easy to see that Williams is not close to being a threat from the mid-range at this stage, even though he did shoot a solid 71% from the free throw line, indicating he might have some potential here down the road.
Defensively, UCSB played a zone most of last season, so Williams did not get a chance to show much individual defensive ability. He is undersized to guard a post player and not agile enough to guard a perimeter player, so he would likely be at an immediate disadvantage in this area in the NBA, although better conditioning could help in this area. Williams' intensity level left a lot to be desired last season, as he gave little resistance to opponents catching the ball on the block and finishing over him. While he shows terrific dexterity for a player his size, he didn't always move his feet well as he could, often being at a standstill in the paint, allowing opponents to move freely around him.
He did hustle at times to close out and showed some impressive acceleration for a player of his speed, but he had trouble controlling himself on these closeouts, which led him to foul the shooter or take himself out of the play. His 4.5 fouls per 40 minutes hurt his ability to stay on the floor, as he only averaged 28 minutes per game last season, mainly due to foul trouble.
Williams' long arms, surprisingly agility, excellent timing and superb hands have made him a very productive shot-blocker the past two seasons, to the tune of over 3 blocks per-40 minutes the past two seasons. His conditioning-level looks nowhere near full potential, as he sports a significant amount of baby fat, so it's possible that with a better nutrition and strength program he could still improve his physical tools, not unlike what DeJuan Blair did after college.
What he does well on the defensive end is control the glass, much like he does offensively. His 9.5 defensive rebounds per 40 minutes pace adjusted
ranked 5th in the nation
last season, which means he was the top overall rebounder in the country. Playing in a zone defense without a three second violation, he was able to stay in the paint and grab nearly every loose ball, as he has the timing and instincts to know where the ball is going to come off the rim, the strength to hold off opponents, and suction cups for hands, which allows him to gobble up pretty much every loose ball even remotely in his area.
While it would be nice to see an expanded offensive game from Williams this season, he has garnered attention from NBA scouts based on his rebounding ability and will need to continue to focus on dominating both ends of the court in this area again this year. Williams will have a chance to showcase his skills against tough competition early on, as UCSB travels to Colorado and UCLA and hosts California in their non-conference slate. Scouts will likely want to see what additional value Williams can provide, particularly defensively, but he has at least gotten their attention with his dominant rebounding ability, and should be monitored closely, as players in his mold have proven to be very valuable commodities at times.
#10, Josh Davis, 6-8, Senior, Power Forward, San Diego State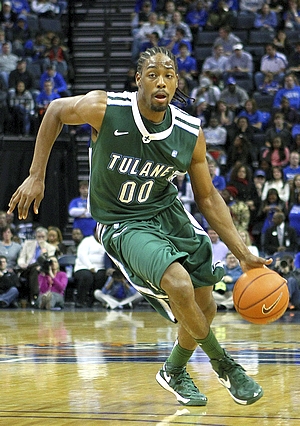 Jonathan Givony
A lightly recruited high school player who started his career close to home at nearby N.C. State, Josh Davis spent one season with the Wolfpack but ended up transferring to Tulane upon realizing he had little chance to find playing time for Sidney Lowe as a sophomore.
Davis ultimately developed into an excellent player for Tulane, earning first team All-Conference USA honors in his second year there, despite finishing just 6-10. Having played three seasons of college basketball in four years, Davis was eligible to spend his senior season at the school of his choice as a graduate transfer, and ultimately selected San Diego State this past May.
Standing 6-8, without a great frame, Davis has below average size for a NBA power forward. He's a solid athlete, and a very versatile offensive player, but his physical tools are unlikely to impress most NBA teams on first glance, which means he'll have to win them over in other ways.
While Davis entered college as strictly a role-playing hustle player, he developed his skill-set significantly over the past four years.
He is a very good ball-handler for a power forward, capable of creating his own shot in the half-court or in transition in impressive fashion. Davis' quick first step, long strides and commitment to attacking the defense tenaciously put tremendous pressure on opposing big men. He can drive and finish with both hands, utilizes spin-moves well, and is very creative around the basket. Davis got to the free throw line 9 times per-40 minutes last season, one of the top rates in college basketball, and converted 72% of his attempts once there, up from 47 and 54% respectively his first two seasons.
Davis' excellent footwork, ability to finish with either hand and aggressive approach makes him fairly effective with his back to the basket. And while it's difficult to see his post-game translating to NBA settings at his size, his rugged style of play will surely be appreciated by coaching staffs, as everyone loves a player with a real mean streak.
Davis' motor translates in a major way to his work on the glass, as he's constantly in motion and is not afraid to dive on the floor to secure extra possessions for his team. He pulled down a very solid 11.9 rebounds per-40 minutes, which is another facet of his game that could certainly endear him to talent evaluators.
Despite Davis' improvements from the free throw line, he hasn't been able to show any type of perimeter jump-shot in his time in college thus far. In the handful of attempts we can see on film from last season, it's not difficult to tell why, as he shoots the ball awkwardly, well in front of his face and with a noticeable hitch. Davis will certainly have to improve this part of his game in order to reach his full potential at the professional level, as there are very few players his size who can survive without some type of jump-shot in modern basketball.
Defensively, Davis has work to do to convince NBA teams he's capable of holding his own at the power forward position with his lack of size and bulk. He struggled badly in post-up situations last season, letting opponents score on a shocking 58% of their field goal attempts in these situations. He simply doesn't have the strength to hold off bigger and wider power forwards who can back him down inside the paint, which likely won't get any easier at the pro level.
On the perimeter, Davis finds more success, as he has solid lateral quickness and can be very effective when he's dialed in and playing at maximum intensity. Davis had a number of impressive possessions on film last season, showing that there is certainly some potential to work with, but like his entire team, he was not consistent at all in this area. Tulane ranked as one of the worst defensive teams in Conference USA last season and Davis certainly played a part in that.
It will be interesting to see how he looks at San Diego State in this area, as the Aztecs are usually one of the best defensive teams in the Mountain West Conference under Steve Fisher.
Somewhat of a positionless player at the moment, Davis has some very distinct and noteworthy strengths and weaknesses that will both endear and detract certain NBA teams depending on how they view him. He is certain to garner far more attention from NBA scouts in his senior year than he has up until this point in his career, and has a chance to really help himself with a strong season culminating in a NCAA tournament appearance. It's possible that a NBA team might try to convert him into being more of a combo forward (along the lines of DeMarre Carroll), but he will likely need to develop a more polished perimeter game to make that a reality.