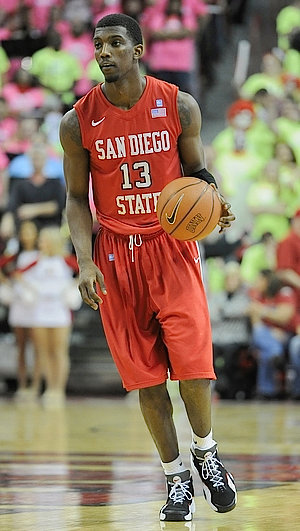 Joe Treutlein
Coming off an underwhelming freshman season as a 20-minute per game role player on a successful San Diego State squad, Winston Shepard should have every opportunity to expand his role and live up to his lofty recruiting ranking as a sophomore. With teammates and leading scorers Jamaal Franklin and Chase Tapley both no longer on campus, there will be a considerable void for scoring, especially from the perimeter, for the Aztecs, though it remains to be seen whether Shepard is ready for the role.
Standing 6'7 with solid length, a decent frame, and excellent athleticism, Shepard certainly passes the eye test for an NBA wing, and he shows occasional flashes of the skills as well.
On the offensive end, Shepard is still a fairly raw player at this stage of his development, relying mostly on transition plays, straight-line drives, off-ball cuts, and offensive rebounds for his shot attempts. He's a rangy player who shows solid creativity and touch finishing around the basket, though isn't as likely to finish with power as you might expect from someone with his tools. To his credit, he is still aggressive when he does have the ball, getting to the line at a strong rate (6.3 free throw attempts per-40), though he could take better advantage of that by improving on his poor 57.7% free throw percentage.
For all of Shepard's physical intrigue and flashes of exciting plays, he's unfortunately a very inefficient player presently, being extremely turnover prone (0.27 turnovers per possession) and scoring at an awful clip inside the arc (43% two-point percentage). Despite occasionally bringing the ball up the floor for the Aztecs and initiating the team's half-court offense, while also being a respectable handler in space, Shepard's advanced ball-handling skills are not great at this stage, and he has trouble taking advantage of his athletic tools in dribble-drive situations.
Shepard doesn't do a great job getting by his man on dribble-drives, even of the straight-line variety, and when he does, he's a relatively poor finisher at the basket, not transitioning well from dribble to shot attempt. He's a better finisher in off-ball situations, but his scoring production and shooting efficiency vary wildly from game to game, which is indicative of both his limited role and a tendency to not always be completely zoned in.
Shepard's jump shot is unfortunately even further behind than the rest of his game, as he sports wildly inconsistent and ineffective mechanics, looking very out of sorts when shooting contested or pulling up off the dribble. He's a more competent shooter in space when he has the chance to get his feet set, but still has a ways to go and doesn't exhibit the best feel here.
On the defensive end, Shepard is a much more effective and developed player, being far more capable of applying his tools. He has the versatility and athleticism to defend 3-4 positions at the college level, and played very well in the Aztecs' excellent defensive scheme last year. Shepard shows a tendency to lose focus at times on this end of the floor as well, but with his size and speed, he's capable of practically locking down opposing players even when he isn't fully zoned in, a testament to his defensive prowess. It will be interesting to see if he takes the next step in his development here this season, as he likely has even more to offer on this end of the floor.
Looking forward, Shepard's simplest path to the NBA clearly lies on the defensive end of the floor, and there's no reason why he can't be one of the most disruptively effective defensive players in the country every single night for the Aztecs. Fully living up to his potential as a defender should be his highest priority, but developing into a more efficient offensive player will also be key. His jump shot is probably still a ways away from being a reliable weapon, so he should focus on cutting down on his turnovers and being more efficient from the field. The perimeter scoring void for San Diego State this season will certainly give Shepard plenty of opportunities to expand his role, and we should have get a better feel for how his offensive skill-set is evolving fairly quickly.