Jordan Mickey
Recent Tweets
All Tweets
DraftExpress: With the #33 pick the Boston Celtics select Jordan Mickey from LSU. #31 on DX Top-100. DX Scouting Video and Report http://t.co/ePAO4vZXzF
2015-06-25 23:13:14
Team: Maine
Physicals
Positions
Rankings
Salary
Misc
H: 6' 8"
W: 238 lbs
Bday: 07/09/1994
(21 Years Old)

Current: PF/C
NBA: PF
Possible: PF

RSCI: 38

Agent: Matt Babcock

High School: Grace Preparatory Academy
Hometown: Arlington, TX
Drafted: Pick 33 in 2015 by Celtics

Predraft Measurements
| Year | Source | Height w/o Shoes | Height w/shoes | Weight | Wingspan | Standing Reach | Body Fat | No Step Vert | Max Vert |
| --- | --- | --- | --- | --- | --- | --- | --- | --- | --- |
| 2015 | NBA Draft Combine | 6' 7" | 6' 8.25" | 238 | 7' 3.25" | 8' 10" | 7.2 | 33.0 | 37.5 |
| 2014 | Nike Skills Academy | NA | 6' 7.5" | 234 | 7' 2" | NA | NA | NA | NA |
| 2012 | LeBron James Camp | NA | 6' 7.5" | 211 | 7' 1.5" | NA | NA | NA | NA |
| 2012 | Amare Stoudemire Camp | NA | 6' 7.5" | 211 | 7' 1.5" | NA | NA | NA | NA |



Basic Per Game Statistics

- Comprehensive Stats - Statistical Top 25s
| Year | League | Name | GP | Min | Pts | FG | FGA | FG% | 2Pt | 2PtA | 2P% | 3Pt | 3PtA | 3P% | FTM | FTA | FT% | Off | Def | TOT | Asts | Stls | Blks | TOs | PFs |
| --- | --- | --- | --- | --- | --- | --- | --- | --- | --- | --- | --- | --- | --- | --- | --- | --- | --- | --- | --- | --- | --- | --- | --- | --- | --- |
| 2015/16 | NBA | Jordan Mickey | 2 | 2.5 | 2.5 | 0.5 | 1.0 | 50.0 | 0.5 | 1.0 | 50.0 | 0.0 | 0.0 | &nbsp | 1.5 | 1.5 | 100.0 | 1.0 | 0.5 | 1.5 | 0.5 | 0.0 | 0.5 | 0.0 | 0.5 |
| 2015/16 | DLEAGUE | Jordan Mickey | 5 | 35.6 | 20.4 | 8.4 | 16.2 | 51.9 | 7.6 | 14.4 | 52.8 | 0.8 | 1.8 | 44.4 | 2.8 | 3.6 | 77.8 | 2.2 | 9.8 | 12.0 | 1.4 | 1.2 | 4.8 | 2.0 | 1.8 |

Player Page&nbsp&nbsp| Player Stats | Mock Draft History | Related Articles&nbsp&nbsp| Add to My Draft Express&nbsp
&nbsp
Jordan Mickey NBA Draft Scouting Report and Video Breakdown
May 22, 2015
Scouting Report by Josh Riddell. Video Analysis by Mike Schmitz

After returning to LSU for his sophomore season, Jordan Mickey helped lead the LSU Tigers to their first NCAA Tournament berth since 2009, although it ended with a first-round loss to N.C. State. Mickey and teammate Jarrell Martin both made the SEC All-Conference 1st team, with Mickey being named to the All-Defensive team as well. After a second impressive season with the Tigers, Mickey declared for the NBA Draft and will take the next step in his basketball career.

(Video may not load with Internet Explorer. Use Chrome or Firefox)

Mickey is an undersized power forward, but plays taller than that as he possesses a 7'3 1/2" wingspan, which helps him out significantly as shotblocker (3.9 per-40, fourth among DX Top-100 prospects) and an overall defender. He can block shots on his primary man and also has the quickness and explosiveness to rotate over and block shots from a help position. While he may not emerge as a true rim protector at the next level, as he will be undersized, if he can continue to block shots he would be a useful defensive player in the right situation.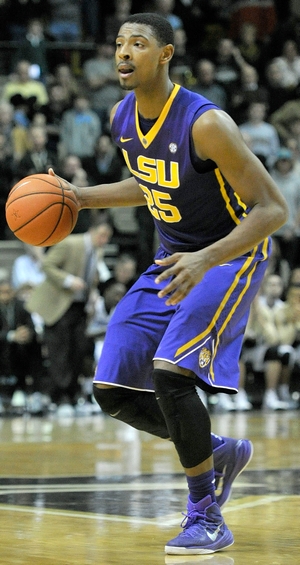 US Presswire



In addition to his shot-blocking prowess, Mickey also does a nice job of containing smaller players on the perimeter thanks to his excellent lateral quickness, showing the potential to guard multiple positions. He is especially impressive in the pick and roll, where he can hedge out well beyond the 3-point line and slide recover with great agility back into the paint.

Mickey supplements his length with an overall impressive athletic profile, showing quickness and agility in the open floor, explosiveness around the rim and a strong frame. He needs to add some lower body strength, but he has a nice collection of physical tools that will help him hold his own against NBA players, despite his average size (6-8 in shoes).

He isn't the most polished player at this time and will need to show scouts how we will be able to contribute offensively at the next level, as he scored just 16.5 points per 40 minutes pace adjusted with the Tigers. Over a quarter of his offensive possessions came on post-ups, but he didn't show many translatable post moves that he could use against NBA defenders. He relied on a jump hook that he could get off with his length but he didn't demonstrate advanced footwork for a counter move. He'll likely be matched up against taller defenders and will need to use improved lower body strength to gain position and better footwork to beat his defender to score with his back to the basket.

Mickey doesn't show much in the way of perimeter skills either, attempting just nine threes this season and making just one. He is a decent midrange shooter, converting 50% of his 2-point jumpers (34-68). He showed nice potential in this area at the NBA Combine, and the smooth release on his shot combined leaves a lot of room for optimism regarding his ability to continue to expand this part of his game. He has a tendency to shoot on the way down at times, so doing a better job of staying on balance and releasing his jumper the same way every time will go a long way in helping him improve his consistency.

He also flashed some potential as a face-up driver, using his explosive first step to drive past big defenders. He is only comfortable driving in a straight line to his right, as he is a fairly crude ball-handler, but this gives him some potential as a pick and roll player by giving him multiple ways to score as the screener. When defenses close out aggressively, Mickey can drive to the basket and even utilize some nifty spin moves with his solid footwork and excellent quickness.

(Video may not load with Internet Explorer. Use Chrome or Firefox)

Mickey isn't a great scorer around the rim for a player his size, as he struggled with bigger defenders due to his average 8-10 standing reach. He converted just 50% of his attempts at the rim according to Synergy Sports Technology, a very poor rate for a big man, and will need to find ways to score in the paint against NBA defenders to not be an offensive liability. He has an uphill battle ahead of him, but if he can leverage his athletic tools with his length, he may be able to overcome his lack of height. He can also do a better job of drawing contact, as he attempts just 5.0 free throws per 40 minutes pace adjusted.

Mickey's feel for the game has a lot of room to continue to improve, as he is a very poor passer at this stage, with a -6.47 PPR that ranked 3rd worst among all prospects in our Top-100. NBA coaches tend to trust role players who they know can be counted on to not turn the ball over, so doing a better job of sticking to his strengths will be beneficial.

Mickey is an average offensive rebounder, using his quickness to rebound outside his area, pulling down 3.4 per 40 minutes pace adjusted, which ranked 14th among 22 power forwards in the DX Top-100. He's also just a decent defensive rebounder, grabbing 7.1 defensive rebounds per 40 minutes adjusted, which is unremarkable. His total rebounds of 10.4 per 40 minutes pace adjusted is just an average mark for power forwards in our top 100 and he will need to concentrate on this skill by using his aggressiveness and effort to fill a role at the next level.

Mickey's motor tends to run hot and cold, as he doesn't always play with the same intensity level, and his production level and consistency left something to be desired at times for LSU. A lot of that could be said for their team as a whole, but Mickey will need to bring a more consistent energy and focus level if he's to be trusted a role-player off the bench considering his limitations offensively.

Mickey is considered a prospect due to his physical tools and defensive versatility, but he will need to show he can make an impact next to NBA level athletes and contribute offensively and on the glass as well. A team drafting in the second round could take a chance on him based on his solid tools and try to develop him into a role player. If he can't make a NBA rotation right away, a few improvements to his offensive game could allow him to find a roster spot sometime down the line in his career.

[Read Full Article]

---
2015 NBA Combine Interview: Jordan Mickey
May 22, 2015
(Video may not load with Internet Explorer. Use Chrome or Firefox)
---
More Pre-Draft Interviews/Workout Videos
-Rondae Hollis-Jefferson Workout Video and Interview
-Rashad Vaughn Workout Video and Interview
-Andrew Harrison Workout Video
-J.P. Tokoto Workout Video
-Jarell Martin Workout Video
-D'Angelo Russell Interview
-Quinn Cook Interview
-Frank Kaminsky Workout Video
-Robert Upshaw Workout Video
-Rakeem Christmasn Workout Video
-Myles Turner Workout Video
-Stanley Johnson Interview
-Kelly Oubre Interview
-Frank Kaminsky Interview
-Satnam Singh Interview
-Satnam Singh Workout Video
-Alan Williams Interview
-Aaron White Interview
-T.J. McConnell Interview
-Chasson Randle Workout Video
-Chris Walker Interview
-Chris Walker Workout Video
-Cameron Payne Workout Video
-Cameron Payne Interview
[Read Full Article]

---
NBA Combine Competitive Action Recap: Day Two
May 16, 2015
8 points, 9 rebounds, 1 assist, 0 turnovers, 4 blocks, 3-8 2P, 2-5 FT, 27 minutes

After being arguably the best player on the floor in his team's first game, Mickey once again had a very strong showing in day two, particularly on the defensive end of the court. He was again incredibly active trying to protect the rim and still stay solid on the glass, coming up with plenty of deflections and blocks in the process. Offensively, his lack of polish showed at times, but he was able to draw some fouls in post-up situations, and stepped into a very nice looking 20-foot jumper in the early offense that he swished in very comfortable manner. Mickey's shot looked better than advertised in the shooting drills, even out to the NBA 3-point line, and it wouldn't be shocking to see him continue to move his game out to that range as his career moves on. Combine all that with the fact that he measured a legit 6-8 in shoes, with a superb 7-3 ¼ wingspan, and it's much easier to envision Jordan Mickey as an early 2nd round draft pick (or maybe even late first) than it was a few weeks back. He was clearly one of the best players in Chicago, and likely helped himself as much as anyone.

[Read Full Article]

---
NBA Combine Competitive Action Recap: Day One
May 14, 2015
17 points, 8 rebounds, 8 blocks, 2 steals, 7-12 2P, 3-9, FT, 29 minutes

The long LSU big man proved to be the best interior defender on Thursday by rejecting eight shots, while altering a handful of attempts around the rim. Thanks to his 7' 3.5" wingspan, tremendous timing and ability to get off the ground quickly, Mickey did an outstanding job projecting the rim, both rotating from the weak side and sliding with his man and blocking shots as an on ball defender. At 238 pounds, Mickey has the strength to battle on the block defensively, and the lateral quickness to contain the ball in the pick and roll and keep his man in front. While most of his work was done on the defensive end, Mickey was fairly aggressive offensively, as he wasn't shy to try and prove he's improved as mid-range shooter. The 6' 8" power forward was a mixed bag from mid-range spots, where he knocked down a couple of open looks but also hoisted up a few bad misses while under duress. Mickey's feel for the game and overall skill level still could use some polish, but his ability to protect the rim and guard his position at 6' 8" along with his mobility give him a chance to play a role as a bench big at the next level.

[Read Full Article]

---
Top NBA Prospects in the SEC, Part Ten: Prospects #10-13
September 26, 2014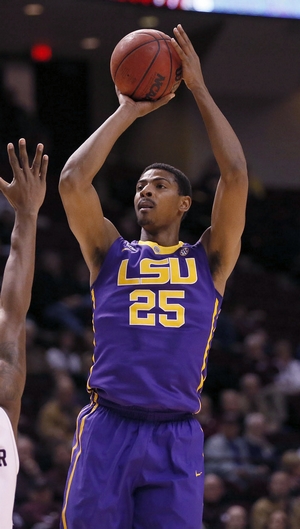 US Presswire



Kyle Nelson

After flirting with the 2014 NBA Draft and solid showings at the Nike Big Man and LeBron James Skills Camps, Jordan Mickey returned to LSU for his sophomore year with very high expectations.

This is because Mickey is coming off of a freshman season that witnessed him being named to both the All-SEC Second and Freshman Teams while proving himself to be the most productive shotblocker at LSU since Shaquille O'Neal. Now as a sophomore, Mickey has the opportunity to take the next step in his development and address the question of whether he can become more than merely a shot blocker in the NBA.

Measured at just 6'7 ½ in shoes on two separate occasions, Mickey is undersized for the power forward position, but compensates with a massive 7'2 wingspan and a solid 235-pound frame. He is also a very good athlete, showcasing excellent quickness in the half court and in transition while being very explosive around the basket.

Though his physical profile is intriguing, Mickey is not a polished player on the offensive end of the floor. Accordingly, his 14.5 points per 40 minutes pace adjusted ranked him among the least productive players among those ranked in our top-100 returning college prospects.

On film, Mickey shows a raw post game, lacking standout footwork or ball-handling ability and without much in the way of a repertoire of reliable moves. While he does show an effective jump hook and is aggressive trying to back down his man, he lacks the fundamentals to do much consistently once he receives the ball. Along these lines and though his physical profile suggests that he should excel in such situations, he is equally raw in the pick-and-roll, often looking lost and lacking the footwork to capitalize in situations where he has to roll to the basket. Whether he can continue to develop in these areas, however, remains to be seen, as his post-game has been a perpetual weakness in his offensive repertoire.

Mickey is arguably at his best taking his man off of the dribble, where he can utilize his first step, aggressiveness and long strides to drive toward the basket. He also excels at capitalizing on moving without the ball, particularly cutting to the basket and running in transition, and he made an impressive 62.5% of his non-post up looks around the basket.

Mickey also shows semblances of a jump shot, attempting 55 as a freshman, even though he made just 16. Though his mechanics are extremely inconsistent at best and he struggles with excess motion in both his upper and lower body, an inconsistent release point, and squaring to the basket, he does show a quick release and made an impressive 42.3% of his shots from mid-range. It will be interesting to see if he can continue to develop his consistency and range, as his 69.5% FT suggests that, with hard work, this is still possible even though he attempted just three 3-pointers as a freshman. An improved shooting stroke would undoubtedly help out round the rest of his offensive game, not to mention his NBA prospects.

On the defensive end of the floor, Mickey has already distinguished himself as an elite rim protector, to the tune of 3.1 blocks per game, which ranks first overall among prospects in our top-100. On film, Mickey displays an ideal combination of excellent timing and elite athleticism, which despite his lack of size, allows him to be a fearsome shot blocker at this level. He also shows potential guarding the pick-and-roll, which is important considering his size, as he'd likely need to spend more time operating outside the paint defensively than he currently does at the collegiate level.

Elsewhere on the defensive end, Mickey is a little less impressive. Outside of the context of his shot blocking, his post defense is just average, as he displays an awkward combination of subpar fundamentals and inconsistent effort. Also of issue is the fact that he is a below average rebounder for his size, grabbing just 8.9 rebounds per 40 minutes pace adjusted despite his athleticism and reputation for aggressive play. Considering the fact that he is a severely undersized power forward, scouts will want to see him prove that he is capable of compensating for his weaknesses with sheer effort and grit guarding the post and on the defensive boards.

For these reasons, Mickey's NBA prospects are mixed. Lacking the size of a Larry Sanders or even a Joel Anthony, Mickey has an uphill battle ahead of him in proving to scouts that he can at least thrive as a shot blocker at the next level if he is unable to develop other areas of his game. Most importantly, Mickey must embrace his role as a defensive stopper as a sophomore and work harder both guarding the post and hitting the boards. Even if Mickey is unable to improve considerably, he will likely remain intriguing to scouts looking for length and athleticism on the defensive end of the floor.

[Read Full Article]

---
2014 adidas Nations Interview: Jordan Mickey
September 7, 2014
[Read Full Article]

---
adidas Nations: The Best of the Rest
September 27, 2011
Jonathan Givony

Still obviously in a very early stage of his development, Jordan Mickey (#66 Scout, #75 Rivals, Unranked ESPN) made a good impression at the adidas Nations, showing off his strong physical tools and activity level. A bit undersized at around 6-8, Mickey has extremely long arms, big hands and terrific athleticism, which gives him some nice tools to grow into down the road.

Fairly limited offensively, Mickey did a good job running the floor, crashing the offensive glass and making simple plays around the paint. He shows an average skill-level and basketball IQ, sometimes trying to do too much at times and not really knowing his limitations.

Defensively, Mickey impressed with the timing he displayed as a shot-blocker, rotating over frequently and being quite a presence around the basket with his length and explosiveness. He did a lot of dirty work for his team inside the paint and didn't seem to show any qualms in doing it.

Obviously a ways away from putting everything together, Mickey is a prospect who is sure to draw the interest of high-major schools thanks to his rare physical tools, despite the fact that he's not considered more than a borderline top-100 player at this point according to the recruiting services.

[Read Full Article]

---