Top NBA Prospects in the SEC, Part Ten: Prospects #10-13
September 26, 2014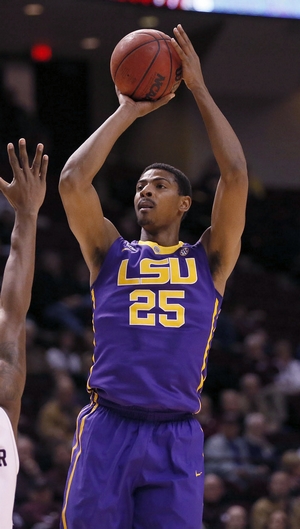 US Presswire



Kyle Nelson

After flirting with the 2014 NBA Draft and solid showings at the Nike Big Man and LeBron James Skills Camps, Jordan Mickey returned to LSU for his sophomore year with very high expectations.

This is because Mickey is coming off of a freshman season that witnessed him being named to both the All-SEC Second and Freshman Teams while proving himself to be the most productive shotblocker at LSU since Shaquille O'Neal. Now as a sophomore, Mickey has the opportunity to take the next step in his development and address the question of whether he can become more than merely a shot blocker in the NBA.

Measured at just 6'7 ½ in shoes on two separate occasions, Mickey is undersized for the power forward position, but compensates with a massive 7'2 wingspan and a solid 235-pound frame. He is also a very good athlete, showcasing excellent quickness in the half court and in transition while being very explosive around the basket.

Though his physical profile is intriguing, Mickey is not a polished player on the offensive end of the floor. Accordingly, his 14.5 points per 40 minutes pace adjusted ranked him among the least productive players among those ranked in our top-100 returning college prospects.

On film, Mickey shows a raw post game, lacking standout footwork or ball-handling ability and without much in the way of a repertoire of reliable moves. While he does show an effective jump hook and is aggressive trying to back down his man, he lacks the fundamentals to do much consistently once he receives the ball. Along these lines and though his physical profile suggests that he should excel in such situations, he is equally raw in the pick-and-roll, often looking lost and lacking the footwork to capitalize in situations where he has to roll to the basket. Whether he can continue to develop in these areas, however, remains to be seen, as his post-game has been a perpetual weakness in his offensive repertoire.

Mickey is arguably at his best taking his man off of the dribble, where he can utilize his first step, aggressiveness and long strides to drive toward the basket. He also excels at capitalizing on moving without the ball, particularly cutting to the basket and running in transition, and he made an impressive 62.5% of his non-post up looks around the basket.

Mickey also shows semblances of a jump shot, attempting 55 as a freshman, even though he made just 16. Though his mechanics are extremely inconsistent at best and he struggles with excess motion in both his upper and lower body, an inconsistent release point, and squaring to the basket, he does show a quick release and made an impressive 42.3% of his shots from mid-range. It will be interesting to see if he can continue to develop his consistency and range, as his 69.5% FT suggests that, with hard work, this is still possible even though he attempted just three 3-pointers as a freshman. An improved shooting stroke would undoubtedly help out round the rest of his offensive game, not to mention his NBA prospects.

On the defensive end of the floor, Mickey has already distinguished himself as an elite rim protector, to the tune of 3.1 blocks per game, which ranks first overall among prospects in our top-100. On film, Mickey displays an ideal combination of excellent timing and elite athleticism, which despite his lack of size, allows him to be a fearsome shot blocker at this level. He also shows potential guarding the pick-and-roll, which is important considering his size, as he'd likely need to spend more time operating outside the paint defensively than he currently does at the collegiate level.

Elsewhere on the defensive end, Mickey is a little less impressive. Outside of the context of his shot blocking, his post defense is just average, as he displays an awkward combination of subpar fundamentals and inconsistent effort. Also of issue is the fact that he is a below average rebounder for his size, grabbing just 8.9 rebounds per 40 minutes pace adjusted despite his athleticism and reputation for aggressive play. Considering the fact that he is a severely undersized power forward, scouts will want to see him prove that he is capable of compensating for his weaknesses with sheer effort and grit guarding the post and on the defensive boards.

For these reasons, Mickey's NBA prospects are mixed. Lacking the size of a Larry Sanders or even a Joel Anthony, Mickey has an uphill battle ahead of him in proving to scouts that he can at least thrive as a shot blocker at the next level if he is unable to develop other areas of his game. Most importantly, Mickey must embrace his role as a defensive stopper as a sophomore and work harder both guarding the post and hitting the boards. Even if Mickey is unable to improve considerably, he will likely remain intriguing to scouts looking for length and athleticism on the defensive end of the floor.

[Read Full Article]

---
2014 adidas Nations Interview: Jordan Mickey
September 7, 2014
[Read Full Article]

---
adidas Nations: The Best of the Rest
September 27, 2011
Jonathan Givony

Still obviously in a very early stage of his development, Jordan Mickey (#66 Scout, #75 Rivals, Unranked ESPN) made a good impression at the adidas Nations, showing off his strong physical tools and activity level. A bit undersized at around 6-8, Mickey has extremely long arms, big hands and terrific athleticism, which gives him some nice tools to grow into down the road.

Fairly limited offensively, Mickey did a good job running the floor, crashing the offensive glass and making simple plays around the paint. He shows an average skill-level and basketball IQ, sometimes trying to do too much at times and not really knowing his limitations.

Defensively, Mickey impressed with the timing he displayed as a shot-blocker, rotating over frequently and being quite a presence around the basket with his length and explosiveness. He did a lot of dirty work for his team inside the paint and didn't seem to show any qualms in doing it.

Obviously a ways away from putting everything together, Mickey is a prospect who is sure to draw the interest of high-major schools thanks to his rare physical tools, despite the fact that he's not considered more than a borderline top-100 player at this point according to the recruiting services.

[Read Full Article]

---