Top NBA Prospects in the SEC, Part Ten: Prospects #15-20
October 3, 2015
Derek Bodner

Billy Kennedy's first few seasons at Texas A&M would fall squarely in the disappointing category, especially on the offensive side of the ball, with three sub-500 seasons in-conference. That turned around in a big way last season, boosted by the incoming transfers of Jalen Jones and Danuel House to give Kennedy the best collection of talent he's had since replacing Mark Turgeon in 2011. The Aggies have had some major recruiting success to go along with that as well, putting the program in very good shape to continue to stake their claim among the upper echelon of the SEC.


US Presswire
With more offensive talent in place, Alex Caruso, A&M's versatile 6.5" combo guard, benefited as well, fitting into his more natural role as facilitator and off the ball scorer. Caruso finished the season averaging 9.1 points, 4.5 rebounds, and 5.5 assists in 31.5 minutes per game, shooting 46.3% from the field and 36.6% from three point range. Those numbers don't immediately jump out at you, but Caruso was an important cog in A&M's improved offense.
Despite standing 6-5, Caruso has initiated much of the Aggies' offense over the last few years, leading the SEC in assists two years in a row. He moves the ball well, rarely letting the ball stick for too long and with a knack for recognizing defensive rotations and making the correct reads. His 7.0 assists per 40 minutes pace adjusted reflected his good court vision and willingness to set his teammates up, and ranked in the top-20 in our database last season.
Caruso is particularly adept in the pick and roll, where he uses the threat he poses as a shooter, along with good timing and an ability to read and react to how the defense is playing him, to hit both big men cutting to the basket or shooters stationed on the perimeter whose defender may have slid over to provide help.
Caruso played a little bit more off the ball this year than he had in the past, especially as freshman point guard Alex Robinson established himself and began to garner more playing time, and Caruso was able to show off his versatility by succeeding in this role as well. Caruso is an effective catch and shoot threat, connecting on 38.9% of his attempts last season and generating 1.167 points per possession, which puts him in the top 25% of college basketball according to Synergy Sports Technology. NBA teams will want to see him have another consistent year as a shooter, though, as he mostly struggled in this area in his first two seasons of college, and is still only a career 33% 3-point shooter overall. The fact that he's converted only 66% of his free throws overall doesn't bode well for his reputation as a shooter either.
Caruso moves very well off the ball, sliding around on the perimeter to find an opening in the defense's rotation, and with a quick, compact release to get a clean look off before the defense is able to recover. He also cuts well off the ball, making hard cuts to the basket when the defense falls asleep and generating easy looks for A&M's offense.
In terms of creating his own shot, most of Caruso's opportunities come off the pick and roll, where he has some shiftiness to get around the pick and into the paint. When he does so, his main weapon is setting up his teammates, but he also has good touch and balance on a pull-up jumper.
Most of Caruso's attempts at the rim come in transition or when cutting to the basket, where he can surprise you at times with some explosiveness around the rim you may not expect. He doesn't elevate nearly as well in traffic, however, and is a mostly below the rim player when creating his own offense off the dribble. Turnovers have been an issue for Caruso since he arrived at Texas A&M, with his turnover rate hovering around a shockingly high 27% for much of his career.
He can also struggle to finish through contact at times, and could probably stand to benefit from adding some additional upper body strength. Overall, Caruso's more likely to settle for a pull-up jumper or a floater in the lane than to get all the way to the basket when he's creating for himself.
On the defensive side of the ball, Caruso is an engaged defender who operates well within team concepts. He does a good job of sticking with his man off the ball, gets in a good defensive stance, and has extremely quick hands, with his 2.7 steals per 40 minutes pace adjusted among the best figures in our database from last year. Caruso can struggle at times to fight through picks on the perimeter, and he may have issues at times against some of the elite athletes he would face at the next level, but there's enough there to work with.
Caruso certainly has some skills and versatility that are beneficial to an offense, most notably his plus passing ability and his comfort shooting off the catch. While A&M will have a veteran team with most of its major players from last year returning, it would be nice to see Caruso take a larger portion of the A&M offense on his shoulders, as his usage rate has stayed the same all three years he's been in college. If he can show more ability to create off the dribble than he has thus far in his career it would make it easier to envision giving the ball to Caruso enough at the next level where you can really benefit from his passing ability. Additionally, it will be important for him to show that his shooting last season was not a fluke.
[
Read Full Article
]
Top NBA Prospects in the SEC, Part Twelve: Prospects #18-22
September 30, 2014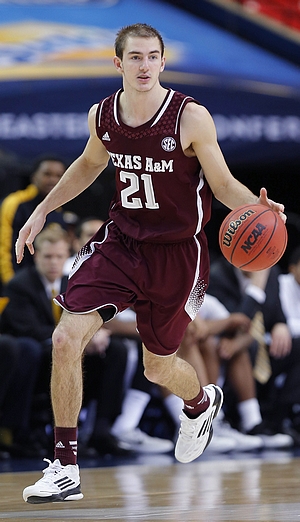 US Presswire
Kyle Nelson
Texas A&M junior point guard Alex Caruso was a top-100 high school recruit when he committed to his hometown school, but he has not made much of a splash thus far at the national level. Part of that has to do with consecutive subpar seasons from coach Billy Kennedy and the Aggies, who sported one of the worst offenses in the SEC last season and have had multiple setbacks that have hampered the team's progress. Nevertheless, there is a case to be made that Caruso may be one of the more underrated players in the country going into his junior season.
At 6'5, Caruso literally stands out at the point guard position, possessing rare size to go along with solid athleticism and length. That being said, he will have to find some way of getting stronger, as his 184-pound frame has not changed dramatically since his junior year in high school and he does not have the elite athleticism to compensate for his lack of strength
On offense, Caruso is a point guard with a propensity for dazzling passes, averaging 6.8 assists per 40 minutes pace adjusted, even if he is not the most prolific scorer. He averages a paltry 12.4 points per 40 minutes pace adjusted, finding a majority of his possessions in pick-and-roll, spot-up and transition capacities.
Caruso is particularly effective operating out of the pick-and-roll, where he relies on his size and court vision to see over the competition and launch passes all over the floor. His vision is elite and he did an excellent job of finding players cutting to the basket, big men alone on the low block, and open shooters on the wing. Every player on the floor is an option to receive Caruso's passes and sometimes they are not ready for him. Though errant passes and a tendency to make difficult and ambitious passes do not help matters, some of his 3.4 turnovers per 40 minutes pace adjusted come when his teammates are simply not ready to receive the ball.
Caruso showed the most potential as a scorer out of the pick-and-roll, particularly while dribbling off of picks and using his above average first step to get to the basket. While he lacks much in the way of a mid-range game and is not a creative scorer at this point in his career, Caruso displays excellent ball-handling ability and changes directions well, doing a very good job of creating space on his way to the rim. Additionally and despite his lack of standout athleticism and strength, Caruso converts a respectable 53.5% of his overall attempts around the basket, relying on his soft touch and body control to finesse his way to the rim.
This versatility translates into transition settings, as well, where he does a good job of running the floor and is difficult to read given his ability to score and distribute.
One area to watch is his jump shooting. Caruso is neither a high volume nor efficient jump shooter, as he made just 31% of his 87 overall attempts last season. Behind the numbers, however, Caruso made an excellent 48.7% of his attempts in unguarded catch-and-shoot versus 18.2% of guarded attempts. In space, Caruso shows fluid mechanics with a quick release, albeit without much in the way of elevation. When guarded, Caruso's shooting motion looks rushed and his form breaks down completely, suggesting that with increased comfort and practice, that he can develop in this area in due time. That being said, a competent jump shot is integral to his prospects at the next level, not to mention his effectiveness in the SEC.
On defense, Caruso joins a rare group of players – Anfernee Hardaway, Doug Christie, Jamaal Tinsely, and Derrick Zimmerman are the others in the past 20 years – to average at least 6.5 assists, 2.5 steals, and 1.0 blocks per 40 minutes pace adjusted. When dialed in, Caruso shows active hands and feet, and the ability to stay involved while defending both guard positions. On film, his lateral quickness looks average at best and he will undoubtedly struggle to guard quicker guards in the NBA. That being said, many of his defensive woes are amplified by his average fundamentals. Doing a better job of maintaining his stance, staying engaged when he is beaten, not biting on pump fakes or losing track of his man on the perimeter, and fighting through, rather than running under, screens could help his prospects in scouts' eyes. This is because without increased effort and skill, his average athleticism significantly limits what he can bring to an NBA team and he must prove to scouts that he is competent in order for him to stay viable as a prospect.
At the end of the day, Alex Caruso is an intriguing prospect pending two important conditions; he must improve on the defensive end of the floor and he must develop a consistent perimeter jump shot. After all, 6'5 point guards do not grow on trees and Caruso shows both elite feel for the game and creative flair that suggests he has definite potential at the pro level. Otherwise, he is a point guard who can neither score nor defend, and his size will not work in his favor if he cannot compete for minutes at an elite level. With this in mind, Caruso could either take a leap into the top half of prospects in the SEC or he can remain a marginal curiosity. With a veteran team looking to make an NCAA Tournament run and a summer of development under his belt, scouts will be watching intently to see which path Alex Caruso takes.
[
Read Full Article
]