Jonathan Givony
It's not every day that you see a player passing up the chance to be a top 10 pick. That's exactly what
Jan Vesely
decided to do last April, though, just a few days before playing
one of the best games of his young career
, at the Euroleague Final Four in Paris.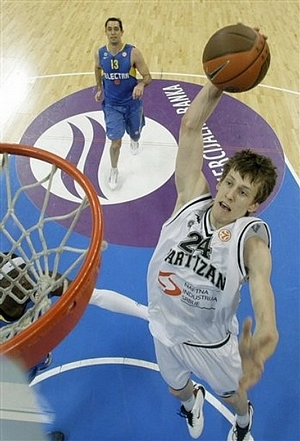 Citing a desire to "continue to learn," Vesely elected to remain in Partizan for another season under
legendary coach Dusko Vujosevic
. Alas, things did not work out as planned, as a huge financial offer from CSKA Moscow lured the Montenegrin coach away from Belgrade, and put his young assistant Vlada Jovanovic in charge of Vesely's future development.
"There was a system in Partizan under Coach Vujosevic," Vesely told us. "Coach Jovanovic has continued to run that system. We practice hard, and we play hard."
Both Vesely and Partizan's 2010-11 season started off in disappointing fashion, as the team struggled badly coming out of the gates, forcing them to replace their inconsistent and inexperienced point guard,
Oliver Lafayette
, after just one month. Better results have followed since then, and Vesely seems to have hit his stride. He played some of his best basketball in the month of December.
Twenty one games into the season, and fresh off watching him compete in an Adriatic league contest against Cibona Zagreb, we can start drawing observations about Vesely's progression from last year.
Statistically, not much has changed. He's still playing around 24 minutes per game, while his scoring production is down slightly. He appears to be shooting the ball better from beyond the arc, though, particularly over his last 12 games, where he's made 12 of his last 20 attempts, and is knocking down 42% of his 3-pointers on the season.
Sifting through his recent film, Vesely is clearly shooting the ball with great confidence these days, boasting a quicker, smoother and more fluid release. This has helped him become more reliable with his feet set than he was in the past. He's even knocking down the occasional off-the-dribble jumper for good measure.
We'll have to see if this keeps up, as it's difficult to draw too many conclusions considering he's still only made 13 (of 31) 3-pointers in 21 games this season after converting 31 of 98 (32%) attempts in 68 games last year.
From a physical standpoint, Vesely remains the same extremely intriguing athletic specimen. He has terrific size and length for a small forward at 6-11 and couples that with incredible explosiveness. He looks a lot more confident in trying to utilize his athleticism as of late, as he's been responsible for a number of unbelievable dunks this season. He's gaining a reputation for being somewhat of a
Blake Griffin
-type spectacle at this level, doing things that people just aren't accustomed to seeing in European basketball.
At least once a game, Vesely will take off from inside the paint (or even outside it) and try to dunk on an opponent emphatically. His penchant for challenging defenders at the rim and the nastiness with which he tries to cram the ball down their throats any opportunity he has is both wildly entertaining and something NBA scouts will love to see, considering the athleticism he's showing in the process.
Another area in which we're seeing progress is in Vesely's post-up game. He will always have a size advantage at the small forward position at 6-11, and he's slowly learning how to use this better. While he hasn't added much weight to his frame since we last saw him, he does have the ability to establish position reasonably close to the basketball and then just shoot over his opponent. If he can continue to fill out his frame and improve his footwork in the post, this could become an even more dangerous weapon for him down the road.
"I'm trying to play more with my back to the basket this season. I'm working on this part of my game in practice. I feel more comfortable down there," Vesely told us.
Vesely continues to struggle in many of the same areas we outlined in previous reports, and it's still difficult to say that he's an overly skilled player.
His ball-handling skills remain mediocre at best. Watching him handle the ball in the open floor is definitely not a pretty sight. He's able to beat his defender off the dribble at times with his first step, but it's still something of an adventure for him trying to create his own shot from the perimeter—you just never know how things are going to turn out. He's not someone you want making decisions with the ball. His feel for the game is just average and it's not rare to see him make bad decisions, particularly in the form of unnecessary turnovers.
If unable to convert with a dunk around the rim, Vesely still has problems finishing through contact due to a distinct lack of strength. He doesn't put good touch on his shots and is definitely not the most fluid or instinctive offensive player you'll find. Many times he seems to just throw the ball up on the rim hoping for the best.
Even with his prodigious athleticism, Vesely still isn't much of a presence on the glass. He grabs just one defensive rebound for every 10 ½ minutes he's on the court, which is a very poor rate. It's here that his lack of girth and poor instincts seem to show the most. He's too skinny to put a body on opponents, and he doesn't pursue the ball off the rim the way you might hope.
Defense is the part of Vesely's game that is most likely to spark debate when it comes to his future. On one hand, you cannot ignore the terrific physical tools Vesely enjoys – his excellent size, length and athleticism allow him to get his team plenty of extra possessions in the form of steals and blocks. He's also an intense competitor who's always willing to stick his nose in to get the job done, which definitely helps.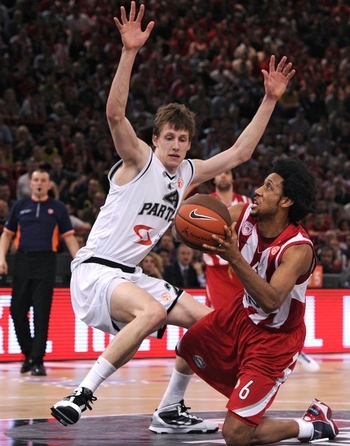 On the other hand, it's tough to ignore the fact that opposing coaches in Europe clearly game-plan against him, trying to create situations where they can isolate their best wing player against him with space to operate. In these situations, Vesely tends to struggle. He has difficulty getting in a low stance at his size and just doesn't have the lateral quickness to stay in front of the extremely quick and aggressive shot-creators he often finds at the small forward position.
To his credit, Vesely acknowledges that this is an issue for him. "Of course," he told us. "they are smaller than me, they are faster so I have to work on my aggressiveness, try to get faster and play better defense."
How well Vesely is able to adapt in this area will play a crucial role in the type of NBA career he's able to carve out for himself.
While NBA teams likely would have hoped to see Vesely make a more pronounced jump in productivity this season, it's safe to say he'll enter the league a better player for deciding to stay in Europe another year. Based on what we're seeing, it's a pretty safe to bet to say that he would have struggled as a rookie in the NBA this season, and even though he'll probably get picked a bit lower than he would have in the 2010 draft, he'll likely be better off in the long run for it.
Vesely continues to maintain that the NBA is indeed his end goal. "Its my dream to play in the NBA," he told us. "I would do anything to go there."
When pressed, he remains hesitant to talk too much about his plans regarding the draft, as he does not want to give his employers at Partizan the feeling that he's looking past this season and the current situation at hand.
We asked whether his contract situation could potentially be an impediment to him joining the NBA. "I don't think so," he told us matter-of-factly.
The biggest remaining question mark is how a lockout will affect his ability to join the NBA, if he so chooses, next year.
He'll surely have to pay Partizan a buyout fee by a certain date to execute the escape clause in his contract, but unless there's a quick resolution to the NBA labor dispute, he may not have anyone to talk to by then.
With that in mind, he might have to either pay the buyout out of his own pocket or stay for yet another season in Europe, which means he'll be pushing back his eventual (and hypothetical) big payday (for his second contract) by yet another year.
Vesely doesn't sound too concerned about any of that, though.
"I'm trying to do my best here first. I will concentrate on this season, and in the end we'll see."
Edited by
Patrick Crawley
, Sports Editor for
Neon Tommy
and Managing Editor of
Basketball Fiend
.