Josh Riddell
Quinn Cook
ended his senior season as a national champion after helping lead the Duke Blue Devils to their fifth national title. While his impact may have been overshadowed by heralded freshmen
Jahlil Okafor
,
Tyus Jones
and
Justise Winslow
, Cook was a key cog for the Blue Devils and provided veteran leadership and toughness throughout the season. He has developed into a viable NBA candidate during his four year career in the eyes of NBA scouts and is looking to make a strong impression upon teams leading up to the NBA Draft to continue his playing days at the professional level.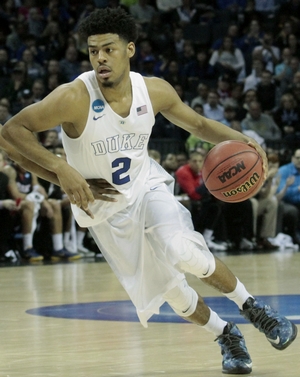 Earning a selection to All-ACC 2nd Team as a senior, Cook has played alongside some excellent guards during his tenure at Duke, including
Tyus Jones
,
Seth Curry
and
Austin Rivers
. This has helped him show his potential as a role player and demonstrate how he can contribute to a NBA team as a player who can provide a steady hand from the point guard position while also providing value when playing off the ball.
Cook is quick in the open court, both with and without the ball, and is great in transition, where he scored more points this season than any player in this draft class (on excellent efficiency at 1.35 PPP according to Synergy, #2 in this draft). He doesn't get to the rim all that often in the half-court, though, shooting just 91 shots inside the paint and hitting only 45% of his attempts. He will need to improve on his touch on his floaters to become a more effective scorer in the paint, as he doesn't always have the size or athleticism to get all the way to the basket against a set defense.
Much of Cook's offensive value comes from his shooting ability, which is much improved from his freshman season. In his first year at Duke, he shot just 25% from beyond the arc but has since grown to become a 40.1% shooter,
third among point guards in our top 100
. He has a fundamental stroke that should allow him to translate his shooting to NBA distance and give him a way to contribute when off the ball. He's much more comfortable in catch and shoot situations (39%) compared to jumpers off the dribble (34.8%) but he doesn't force many tough jump shots off the dribble that he is uncomfortable attempting.
Cook isn't a prolific one on one player in the half-court, but he makes great decisions when using ball screens. While he isn't great at getting all the way to the rim in traffic and finishing, he can turn the corner and use a little burst of speed to get into the paint at times, where he usually likes to find teammates. He is much better as a passer than a scorer and while his assist numbers were not sky-high, as his 2.8 assists per 40 minutes pace adjusted ranks
last among point guards in our top 100
, this had more to do with him playing off the ball as a senior alongside
Tyus Jones
than his actual passing ability. He has demonstrated the ability to make the correct pass to give his teammates scoring chances to delivering solid passes with his good instincts and anticipation of the play development. As a junior, he posted an outstanding 4.4 PPR and has a career 2.5/1 assist to turnover ratio.
Cook is a superb decision maker, always seeming to make the right pass in the flow of the offense and not forcing the action. He almost never turns the ball over, coughing it up on just 9% of his possessions, and will need that steady hand at the next level to run an efficient offense off the bench. He's extremely efficient as his 61% true shooting percentage is tied for tenth among all players in our top 100. He isn't a ball stopper and will make the right pass in the flow of the offense while take high-efficiency shots, as he doesn't take many low-efficiency mid-range jump shots, attempting just 12 shots from 17 feet to the three point line, according to Synergy Sports Technology.
On the defensive side, what Cook lacks in height and length he makes up for in intensity and toughness. A little undersized at 6'2" with a 6'4" wingspan, Cook rarely takes defensive plays off, always harassing the ball handler and disrupting the flow of the opposing offense. He moves his feet well and could pick up the point guard full court if asked to wear out his opponent. While his average physical tools may limit his overall effectiveness somewhat in the NBA, as he won't be able to challenge jump shots or play in the passing lanes, Cook's energy level will always be present and he will play bigger than his size on defense, making him a pest for the opposition.
Cook may not have the highest ceiling, but he has grabbed the attention of NBA teams with his leadership potential, toughness, energy and ability to run a second unit offense. Teams looking to round out their bench will give him a serious look leading up to the draft and in summer leagues to see if he can carve out a role at the next level by providing outside shooting, smart decision making with the ball in his hands and defensive intensity.
Cook will need to show he can handle the athleticism of NBA competition, as
he didn't test well at the NBA combine
and that he can continue to be a high-efficiency, steady point guard at the next level. If he can show he can do so, he should play his way into a NBA contract and could become a key contributor in the right situation during his career.