Winning the Sun Belt Freshman of the Year Award in 2012, Tony Mitchell was touted as one of the best low-major prospects in the country. With his sophomore season coming to a close, where does Mitchell stand heading towards the 2013 draft?
-NBA Draft Prospect of the Week: Giannis Adetokunbo
-NBA Draft Prospect of the Week: Victor Oladipo
-NBA Draft Prospect of the Week: Marcus Smart
-NBA Draft Prospect of the Week: Anthony Bennett
-NBA Draft Prospect of the Week: Ben McLemore
Scouting report by Joe Treutlein, video analysis by Mike Schmitz.
After sitting out the 2010-2011 season due to academic issues, Tony Mitchell had a promising freshman year for North Texas last year in spite of some glaring weaknesses in his game. Unfortunately for Mitchell, he took a major step back in essentially every area of his game as a sophomore, seeing his production and efficiency plummet in literally every major statistical category despite actually seeing a slight increase in minutes.
It's pretty clear that North Texas' coaching change (Johnny Jones went to LSU, and was replaced by former Marquette assistant coach Tony Benford) affected the squad very negatively, as after losing in the Sun Belt conference Tournament finals last season, the team went 7-13 in-conference and bowed out in the first round of the tournament after being blown out by 8-12 Louisiana Lafayette.
Video Analysis
Mitchell's physical attributes remain his greatest selling point as a prospect at this stage, as he stands nearly 6'9 in shoes with excellent athleticism, a solid frame, and a very impressive 7'3 wingspan for a power forward. He is capable of utilizing these tools effectively in his shot-blocking, rebounding, and finishing around the basket, though the frequency with which he does all of those things fell off this past year.
The offensive end is where Mitchell's regression this season was most pronounced, and the reasons why become fairly evident early in most possessions, as Mitchell is often content to stand and wait on the perimeter, not moving much without the ball and spending far less time trying to get open in the painted area. North Texas' team chemistry was obviously extremely poor this season, as it appeared that the team gave up on competing at a very early stage, which Mitchell played a major part of.
Jump shots accounted for roughly one half of Mitchell's half-court shot attempts this season according to Synergy Sports Technology (compared to a much more reasonable one third last season), but more concerning is his points per possession on those jumpers nose-dived from a very strong 1.153 last year to a very weak 0.754 this year. Mitchell is taking more jump shots of higher difficulty this season and seems to be less focused on consistently using good mechanics in all situations, and it's caused him to become a far less effective and efficient player overall.
Mitchell didn't expand his dribble-drive offense that much, which remains very raw, and his increased focus on perimeter jumpers as opposed to interior offense allowed him to significantly cut down on his turnovers (down to 2.9 per 40 minutes pace adjusted from 3.6 last season). That number in and of itself is pretty misleading, however, as it isn't due to taking any better care of the ball in any situation, but simply because he's settling for much lower efficiency shots away from the basket far more often instead of trying to drive to the rim.
While Mitchell has also taken some slight steps back with his efficiency finishing on post-ups and lay-ups around the basket, the problem there is much more a matter of reduced frequency than anything else, as he simply isn't putting in any consistent effort to get open there despite the marked physical advantages he almost always has against the competition he faces. The very underwhelming guard play North Texas suffered from surely doesn't help him in this regard—as they clearly have their own agendas as well-- but he showed similar issues last year as well -- this year it's just happened far more often and consistently.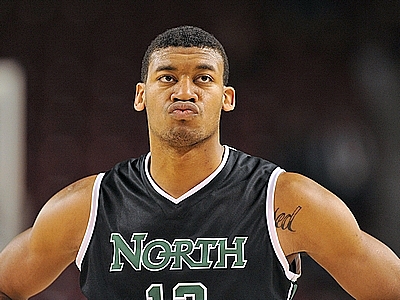 Looking at Mitchell's post game when he actually does utilize it, he still shows the same problems he did last year, as he hasn't established a go-to move and doesn't have much in terms of a fundamental base or awareness of how to consistently create good shots, more so just relying on his physical tools to get an advantage.
Beyond his scoring setbacks, Mitchell took a similar dip in rebounding this year, as his pace-adjusted per 40 numbers fell significantly from a very impressive 13.3 to a below average 9.9. Most of the fall came on the defensive end of the floor, which obviously has nothing to do with him spending more time on the perimeter on the offensive end, and is more just a matter of decreased effort and urgency.
Mitchell's defense is probably the area of his game that took the smallest setback this year (his per 40 pace adjusted blocks fell from 3.9 to 3.2), as he was already very inconsistent with effort and awareness while not having much in terms of a fundamental base in man-to-man coverage. His decline in shot-blocking is concerning, like the other areas of his game, but this is the one area where his physical gifts have actually allowed him to remain a well above average player despite his setbacks.
Looking forward, Mitchell has a lot of work to do to erase the damage he did to his game this season, as he managed to become a worse player in virtually every facet of the game, while his team took a similar decline, going from an 13-8 record last season with him in the lineup, to 12-20 this year. While Mitchell could recover with more time in college by showing a renewed level of effort and focus on the court, it's probably unlikely he will be able to make that kind of turnaround in his situation, as the level of competition he faces seems to reinforce many of his bad habits, and he's already appeared to tune out his coaching staff and teammates.
Should he declare for the draft, Mitchell's physical attributes and flashes of skills in a variety of areas will make him someone teams take a good look at, particularly if he can show an improved motor and focus in private workout settings. His spectacular athleticism could really turn heads in that type of setting, and could help his draft stock rebound (psychological reports and background checks will also play a major role in that) but his ultimate long-term success will likely depend heavily on the situation he's drafted into and how big of a turnaround he can make mentally in terms of his approach to the game.