-Check out a two hour run-down of DraftExpress' entire first round mock draft with our detailed analysis on NBATV. Their draft preview is airing constantly starting tonight.
-Great news for Nicolas Batum—he's been cleared to continue working out for NBA teams after a long day of extensive testing with one of the world's top doctors in Cleveland. He is flying out to San Antonio to work out tomorrow, and then will be in Cleveland the following day. His agent Bouna Ndiaye tells us that he will be sending out the full medical report at 9:30 AM tomorrow to us and every NBA team.
-
Russell Westbrook
's reported "promise" (according to one internet rumor) ended up being a whole bunch of hot air it turns out. After initially telling teams such as Milwaukee, Indiana and Phoenix that he is shutting down workouts, Westbrook traveled to Charlotte this weekend to work out for the Bobcats. Westbrook has suffered a number of minor ankle injuries that forced him to rest and reevaluate his situation and the teams he would like to be picked by, but with his stock being as high as it is at the moment, that's really of little consequence. Westbrook was frustrated by the fact that he could not get any of the more highly touted guards ranked ahead of him—
O.J. Mayo
,
Jerryd Bayless
or
Eric Gordon
—to work out against him, as they saw little to gain and were too concerned about hurting their own stock. Bayless would not work out with Eric Gordon either yesterday in Minnesota reportedly. It's interesting to note that ex-UCLA head coach
Larry Brown
finally got his wishes of seeing Westbrook in person, after making a
fairly large stink
about agents trying to control the draft process. He reportedly is in love with Westbrook (and Kevin Love) and this appears to be the furthest he'll fall.
-The Utah Jazz apparently fancy
Goran Dragic
as a potential backup for
Deron Williams
a few years down the road, and could take him with the #44 pick in the second round. Dragic has two more years remaining on his contract with Tau Vitoria (where he will return to this season after being on loan with Olimpja Lublijana), but has a buyout in his contract for one million Euros.
-
Anthony Randolph
has strangely decided to work out for a number of teams that seemingly have little chance at drafting him (Portland, Indiana) while refusing to visit teams that very well could—such as Sacramento. Randolph's workouts continue to underwhelm many onlookers, to the point that it has clearly affected his confidence. On the positive side, his dislocated shoulder does not appear to be a short-term or long-term issue, according to teams that have studied his physical in-depth.
-
Darrell Arthur
is back on the road, fresh off hiring Dallas-based agent Jerry Hicks. Arthur may or may not have had a hamstring or back injury depending on whom you ask, and seems to be back in contention for picks 12-18. He had a terrific workout in Indiana, but does not appear to be in the picture there unless both
D.J. Augustin
and
Russell Westbrook
are off the board, which is a possibility. Arthur will be in the Green Room on draft night.
-
Walter Sharpe
may be a surprising name called on draft night, after conducting strong workouts with teams like Cleveland, Denver, New Jersey, Washington and Charlotte, and showing surprisingly well there. Sharpe, a very highly touted member of the 2004 high school class, only played in 12 games this season before being ruled academically ineligible at UAB. He was later diagnosed with
Narcolepsy
(a sleeping disorder), but has numerous other red flags on his resume, including being kicked out of Mississippi State for breaking team rules, being shot in the stomach, and then later being arrested for disorderly conduct—all separate incidents.
Some team may regardless decide to take a chance on Sharpe due to his terrific combination of size, athleticism and skill playing both inside and out. One NBA Assistant General Manager told DraftExpress that he thinks Sharpe is a first round caliber talent who may not get to the middle of the second round due to the increasing buzz around him. He still has workouts to conduct with Utah, Detroit and the LA Lakers.
-
Bill Walker
's has decided not to have surgery on his recent knee injury, now suspected to be a minor ligament strain. Walker will be sidelined for 3-6 weeks, but is in the process of visiting teams in the draft at the moment. He was in Memphis and Detroit this past week, but does not appear have a promise from anyone at this point, as opposed to what was suggested by one media outlet. According to people close to Walker, the initial diagnosis of a partially torn Meniscus from the group workout in Golden State was incorrect.
-
Ante Tomic
conducted a workout in New York City on Saturday in front of 10 interested teams alongside
Peja Samardziski
,
Damjan Rudez
and
Vladimir Golubovic
. Two General Managers—New York's Donnie Walsh and Boston's
Danny Ainge
, were present, as were team representatives such as Scott Layden (Utah Jazz), Tim Connelley (Washington Wizards),
Kenny Williams
on (Charlotte Bobcats) and George Felton (San Antonio Spurs). Tomic reportedly had just a "so-so" workout, while it was
Damjan Rudez
actually that may have been the most impressive. Tomic likely gets drafted somewhere in the top 10-15 spots of the second round, and is rumored to be a strong candidate for Euroleague outfit Maccabi Tel Aviv. He currently has a contract with KK Zagreb that lasts until 2011, and has no NBA escape clause to work with.
-Philadelphia will be conducting a group workout on Tuesday, which will be open to two other teams drafting immediately after them—Toronto and Washington--featuring prospects such as
Darrell Arthur
,
Marreese Speights
,
Jason Thompson
and
Alexis Ajinca
. Their pick could very likely come out of this group, although they are rumored to have strong interest in
DeAndre Jordan
as well, who they recently worked out, and will very likely be on the board here.
-
Nathan Jawai
will also be conducting a group workout on Tuesday, this time in New York City. The workout will be conducted by the Detroit Pistons, and will be attended by the Knicks, Nets, Grizzlies, Wizards and possibly others. 10 players will be there, including Jonathan Wallace and Novica Velickovic.
-As New Orleans Hornets blog
Hornets247
reports, New Orleans has been conducting very few workouts with first round caliber players, leading some to suspect that some kind of trade may be in place. Representatives of more than one team told DraftExpress that they believe the Hornets actually promised
Mario Chalmers
that he will not get past them at 27, leading him to decide to keep his name in the draft and hire an agent. The problem is that Chalmers very well may not be there at 27, as he is reportedly getting heavy looks from teams like Phoenix at 15, Cleveland at 19, and especially Denver at 20. Chalmers continues to work out in the meantime for teams such as Portland and Indiana.
-Speaking of
Courtney Lee
, basically every team representative we've spoken with has him going 22nd in their personal mock draft, heading to Orlando.
What kind of pick can teams 15-30 expect to land?
We received numerous comments from readers who enjoyed the wonderful
historical perspective provided (part one)
and (
part two
) by Heather N. Allen and Paul Gearan of the BBIQ regarding what to expect from players taken in different spots in this draft on Thursday.
Some of the most interesting revolved around the following chart, which looks at the success rates of picks 1-14 from 1980 to 2003 to examine how players panned out five years after they were drafted.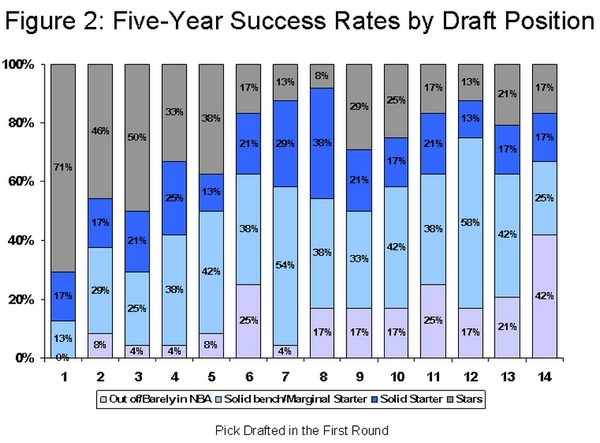 Many wondered about how teams 15-30 fared as well, which prompted us to request the writers for a similar chart using that data, which they were nice enough to produce:
Keep in mind that this is a fairly small sample size (24 years), and that in certain years, teams may have lost their draft pick (such as Minnesota in 2002), meaning that the 29th pick for example did not exist on three separate occasions in the time frame examined.
Looking at the chart, it's not hard to see how difficult it is to extract a good player out of the picks in the late 20's. When the odds are about 75% that a team is going to draft someone that isn't even in the NBA in five years, it's no wonder so many teams in those slots opt to decide to trade their picks for future considerations instead, such as cold hard cash.
Most teams realize they can go out and get a solid bench player in free agency for the veteran minimum or not much more, meaning they don't have to wait for the player to develop and aren't running the risk of falling on a complete dud, which so many players drafted in this range end up becoming.
The team that needs to find some young talent possibly the most in this range—the San Antonio Spurs, only appears to have a 1 in 4 chance of drafting a player that won't be out of the NBA in five years. They will be encouraged to know that Kevin Martin (not included in this study yet as he has not been in the league for five years) was drafted in this spot. If anyone can make some magic happen here, it's the Spurs and their excellent scouting department.
What's interesting about this year's draft, particularly the mid to late portion of it, is how many raw big men are currently projected to be available outside of the lottery. In our latest mock draft, we have no less than eight power forwards or centers slated to be picked in the nine spots from 16 through 24. According to the following chart, provided by Paul Gearan, teams drafting in the third quartile of the draft (this year: 16-23) should be aware of the fact that big men are statistically much less likely to pan out than point guards for example, as you can see in the following chart: