Goran Dragic
STRENGTHS:
- Ability to create own shot
- Ability to get in passing lanes
- Activity level
- Solid defender
- Versatility to defend multiple positions
- Physical Toughness
- Work ethic
- High-level productivity
- Left-handed
- Ability to finish around basket
- Decent athlete
- Excellent first step
- Size for position
WEAKNESSES:
- Decision making
- Lacks significant offensive polish
- Offensive creativity
- Stuck between 1 and 2
- Turnover prone
- Average ball-handler
- Lacks great range on jumper
- Pull-up jumper
- Shooting mechanics
Recent Tweets
All Tweets
DraftExpress: Based on precedent (Goran Dragic case, others) Fenerbahce would be entitled to approximatively 300k Euro for Kanter's rights, not 4 million.
2010-09-24 08:23:20
Top 25s - Full List
Team: Suns College Team: Heat
Physicals
Positions
Salary
Misc
H: 6' 4"
W: 200 lbs
Bday: 05/06/1986
(29 Years Old)

Current: PG
NBA: PG
Possible: PG/SG

Agent: Rade Filipovich
Current Salary:$7,500,000

High School:
Hometown: Ljubljana, Slovenia
Drafted: Pick 45 in 2008 by Spurs
Best Case: Jason Hart
Worst Case: Orien Greene




Basic Per Game Statistics

- Comprehensive Stats - Statistical Top 25s
| Year | League | Name | GP | Min | Pts | FG | FGA | FG% | 2Pt | 2PtA | 2P% | 3Pt | 3PtA | 3P% | FTM | FTA | FT% | Off | Def | TOT | Asts | Stls | Blks | TOs | PFs |
| --- | --- | --- | --- | --- | --- | --- | --- | --- | --- | --- | --- | --- | --- | --- | --- | --- | --- | --- | --- | --- | --- | --- | --- | --- | --- |
| 2015/16 | NBA | Goran Dragic | 15 | 30.7 | 10.7 | 4.1 | 9.7 | 42.5 | 3.5 | 7.4 | 47.7 | 0.6 | 2.3 | 25.7 | 1.9 | 2.4 | 77.8 | 0.7 | 2.7 | 3.3 | 4.5 | 0.9 | 0.3 | 2.1 | 2.5 |

Player Page&nbsp&nbsp| Player Stats | Mock Draft History | Related Articles&nbsp&nbsp| Add to My Draft Express&nbsp
&nbsp
2008 Reebok Eurocamp in Treviso, Days Three and Four
June 10, 2008
- Like Batum, Dragic made a lone appearance here in Treviso after finishing off his regular season in Slovenia. In his one game, he managed to leave a very strong impression, one that could very well have pushed his name back into the second round, possibly into the mid-portion of it even.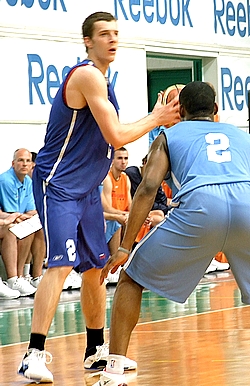 Jonathan Givony, DraftExpress



Dragic played spectacular defense on whoever he was guarding, mainly Rudy Mbemba, whoís terrific speed did not faze him in the least bit. He got right into his manís grill on every possession of the game, fighting through screens admirably, showing excellent length and lateral quickness, and getting his hands on countless number of balls. It got to the point that players were just afraid to put the ball on the floor when Dragic was in the vicinity, as more often than not he would find a way to poke it away and bust up plays. He got his team into transition time after time, and made very good decisions once there, finishing strong and intelligently around the basket and getting to the line seven times.

As a point guard, Dragic did a better job than we anticipated based on the up and down season he had. He showed a lot more creativity than weíve given him credit for in the past, making good reads and finding cutters slashing to the rim or shooters spotting up on the wing after slashing to the basket himself. His court vision probably isnít spectacular, but if he continues to see heavy minutes in the Euroleague, heís bound to improve his playmaking skills.

On the downside, Dragicís shot remains his biggest weakness, which he showed by bricking a couple of ugly pull-up jumpers. Teams in the Euroleague completely took him out of his comfort level by backing off him this season and forcing him to beat them from long-range, and the players here foolishly took the opposite approach (thinking they are playing good defense by pressuring the ball), which played right into his hands. Thatís why it probably isnít too smart to get overly excited off what he showed here, but it definitely still leaves some room for optimism regarding his future development. Some team will likely draft him in the second round and see how he continues to progress over the next few years while competing at a high level in Europe, as he clearly still has upside left to tap into.

[Read Full Article]

---
Top Draft-Eligible Performers in the Euroleague Regular Season
February 4, 2008
One of the key players on the Slovenian team, Dragic has provided a lot of energy for talented-depleted Union Olimpija, although not enough to avoid missing the Top-16 stage.

Still not a solid distributor, not your classic game director, Dragic is more of a drive-and-dish point guard who likes the transition game. He doesnít show great court vision, but relies on his remarkable quickness and decent ball-handling skills to beat his opponents off the dribble in order to unbalance the defense and feed the open man, or to look for his own layup. The downside of his style comes in the form of out-of-control penetrations, questionable decision making, or some rushed passes. Able to shoot the ball with nice range, the lefty playmaker still needs to gain a lot of consistency with his perimeter stroke.

Defense comes as a very strong point for him. He enjoys solid lateral quickness, some serious aggressiveness, and the length to annoy his opponents, so he can be pretty effective on his match-up.

Generally speaking, Dragic still needs to gain consistency in his game, take better decisions and show more poise running the point. Indeed, he plays on loan in Ljubljana from Tau Vitoria, and itís not clear that the Spanish powerhouse will be that interested in having him back already next season.

Draft-wise, heís probably second round material, the typical player to invest a late pick on and leave in Europe in the hope that he matures and develops his game. At least he enjoys good enough physical tools to eventually make it to the NBA.

[Read Full Article]

---
Adriatic League Report: The Top Five NBA Draft Prospects
November 27, 2007
Goran Dragic had his coming out party at the Eurobasket this summer, where all his strengths and weaknesses were exposed against Europeís finest. Being loaned from Spanish powerhouse Tau Ceramica for the second year in a row, Dragic is still proving himself on the European scene. Coming back home to Ljubljana was expected to make things easier for him in terms of working on his offensive game, as he is getting more touches and larger responsibility on that end of the floor.

Dragic is shooting 9/30 from downtown combined in the Euroleague and Adriatic league. He has started the season well, but has cooled off lately and is still lacking confidence in his ability to stroke the ball from the perimeter. Dragicís mechanics are not terrible, but a steadier follow through and a more consistent release point would help. Being labeled as a poor shooter, defenders are backing off of him, making it harder for him to get into the lane. He is still able to score on drives to the hoop thanks his combination of size, quickness and good finishing ability, but a lack of a consistent shot is a big hindrance to his game.

Dargic is a solid, but not incredibly instinctive playmaker at this point. His decision making can be questionable at times, as he tries to make tough passes in traffic, over-penetrates and can turn the ball over under pressure. Heís not the most fluid, imaginative point guard around. His turnovers per game (2.9) are high considering how much offense is run through him. Goran has good court vision and very solid ball-handling skills, enabling him to create looks off the bounce. He is a willing passer and delivers the ball better while on the move than from static positions. Dragic is a very good finisher, nicely using both hands and getting proper lift.

The Slovenian is slowly turning himself into one of the best defensive players at his position in Europe. He did a tremendous job defending Tony Parker in the Eurobasket, and is continuing his great defensive display in the Euroleague. Goran has great size for a PG (6-foot-4), is athletic, with good lateral quickness, and has excellent defensive fundamentals. He fights through screens despite his slight build, gets into the passing lanes, and is very aggressive with his ability to create extra possessions for his team. The majority of European point guards didnít succeed in the NBA because of either athletic shortcomings or lack of defensive resilience. Dragic passes the test in both categories and then some.

Dragic has done a great job of making himself familiar to NBA executives with his excellent perfomance at the Eurobasket. He will be automatically eligible for next yearís draft, and if he wants to establish himself as a solid first round pick, he should show improvement in his perimeter shooting ability, as well as his ability to run a team. His offensive game as a whole is below average for a NBA guard.

[Read Full Article]

---
EuroBasket Notebook: Moving into the Quarterfinals
September 13, 2007
Dragic is the lone NBA draft prospect seeing significant playing time in this tournament, and he seems to have helped himself from the scouts and executives weíve spoken with. Heís impressed with his combination of size and athleticism at the point guard position, but especially with the defense heís played on nearly everyone he matched up with. Dragic is a very tough kid--evidenced by him playing with a mask the entire tournament and then taking it off midway through the Lithuania gameóand heís not afraid to stick his nose in and get dirty to make a big play for his team. His ability to anticipate steals and get in the passing lane has been nothing short of phenomenal from what weíve seen so far. Offensively heís played both the 1 and the 2 spots alternating with Jaka Lakovic, and has done a solid job executing his teamís offense and picking his spots unselfishly. His team might need him to use his athleticism even more to create his own shot from the perimeter and get to the basket, as theyíve become somewhat predictable pounding the ball inside on every possession and could really use another shot-creating threat to emerge in the elimination rounds. Dragic has looked pretty good finishing around the hoop in transition and getting to the basket a few occasions, even if he clearly needs to improve his ball-handling skills and especially his perimeter shooting ability.

[Read Full Article]

---
FIBA World Championship Preview: Group D, Part One
August 17, 2006
This Slovenian youngster had a brilliant Adriatic league campaign last season, coming out of nowhere to emerge as one of, if not the most impressive, point guard in the Balkans. His great display was well noticed from both National team coach and top-notch European teams. Even if Dragic probably wonít see much of daylight at the World Championship, it is already an accomplishment for him being on the 12-man roster at the tender age of 20.

Goran is facing an uncertain situation about his destination next year. Even if it was already reported that Spanish powerhouse Tau Ceramica signed him, the General manager of Geoplin, Janez Rajgelj, is not giving up so easy on him, claiming that there was no buyout clause in Dragicís contract which would enable to move to Spain for just 70,000 Euros compensation, like Tau claims. Instead, he is demanding Ä700,000 for the teamís star. Since the two sides canít come to an agreement, the issue will probably be resolved in the court.

With Euroleague stars Jaka Lakovic and Sani Becirovic, together with Spurs backup Beno Udrih manning the guard positions, there isnít much room for Dragic and he is currently out of the rotation seeing limited minutes or logging DNPís even in warm-up games. This was expected since Dragic has no experience at such a high level and coach Pipan is obviously not comfortable with him running the point, though this could change in the near future. Goran has a chance to see some playing time against opponents with big, athletic guards, since he has more length, better lateral quickness and overall defensive ability then the aforementioned trio. It wouldnít be surprising at all to see coach Pipan sicking him on USA star Dwyane Wade.

Dragic is a player with very nice physical attributes, featuring very good size for a point guard combined with a long wingspan, impressive quickness in all directions and an advanced skill-set. He is already a capable defender despite his lack of body strength, showing aggressiveness and a demeanor rarely seen in youngsters. Offensively, he relies on his slashing game, where he is very successful because of his speed and developed mid-range game. His biggest flaws at the moment are streaky shooting from long distance and lack of craftiness and maturity in running the team. Goran is a very talented player, who will be the cornerstone of Slovenia in the future, but this campaign is more about gaining experience than anything for him.

[Read Full Article]

---
Adriatic League 2005/2006 Recap
April 26, 2006
While watching Dragic get his first serious senior action last June in the Slovenian Championship, few would have imagined that heíd end up exploding like he has this year, developing into one of best PGs of the competition seemingly overnight.

After playing the way he has, Dragic now has plenty of options for next season, and while he has a contract with his team Slovan, it isnít likely that he will stay there, since there are numerous top European clubs such as Real Madrid that are interested in him. There is a rumor that he already signed a 5 year deal with the Spanish powerhouse, but nothing has been officialy confirmed yet.

The NBA is certainly an option for Dragic too, and according to what his BDA Sports Management agency told us earlier on in the year, there is a strong possibility he will be putting his name in the draft. He is looking for a guarantee in the first round to stay in, and many feel he has a pretty good shot at getting one if he can find a way to come over to the States and impress in workouts.

His team was in contention for the Final 8, but fell one win short, and if not for Dragic they would have been close to the bottom on the table. Two things jump out at you when watching Dragic. First is his aggressive approach on defense, not at all common for young players, especially Europeans. The second are his leadership skills in crunch time, where he always wants to have the ball in his hands and actually won a few games for Geoplin during the season.

Dragic was a huge factor in Geoplinís offense with his ability to play off the dribble, drive and dish, and put great pressure on the opposing teamís PG. The sophomore season is always harder for youngsters so it will be pretty interesting to see what he can do next year if he stays in Europe. And he should, because he doesnít have enough experience to run an NBA team as soon as next season. His body is also clearly not prepared for NBA action, which would likely mean some seasoning in the NBDL, something that a rising star in European basketball might not be all that attracted to.

Dragic didnít play as a full-time PG this year, and there are quite a few aspects of his game in need of improvement. First is his long-distance shooting, which has been inconsistent throughout the season. The limited success of European guards in the NBA, an unknown or nonexistent buyout and being on a rather poor squad are other factors that could force Dragic to wait another year.

Still, considering that this PG class is pretty average as far as NCAA players go, many teams could be tempted by his quickness, size, defense, attitude and his already excellent production at a very young age. With the way he has been performing this year and the way he has improved as of late, Dragic has an outside shot at making the Slovenian National team for this summerís World Championships in Japan, where his team will face Team USA, amongst others.

[Read Full Article]

---
International Scene: Dreaming About the First Round
February 16, 2006
Despite not having an inordinate amount of basketball clubs expected to produce players with NBA talent year after year, the tiny country of Slovenia (population: 2 million) is developing yet another guard that is just starting to emerge on the radar.

It certainly wouldnít be their first. Prior to an injury, eventual Denver Nuggets draftee Sani Becirovic was called the 2nd coming of Drazen Petrovic. Sasha Vujacic showed flashes of brilliance in the Italian league before being drafted in the 1st round by the Los Angeles Lakers. And Beno Udrih is probably the best 3rd string PG in the League after working his way into the 1st round via the Chicago pre-draft camp. Still, there is one new kid who might end up being significantly better player then these three. His name is Goran Dragic.

After warming the bench for most of the last season, Dragic saw good minutes in the closing stages of the Slovenian Championship and played fairly well. Going into this season, many expected him to be an integral part of Geoplinís rotation, but very few projected that he would end up being one of the best playmakers in the Adriatic league.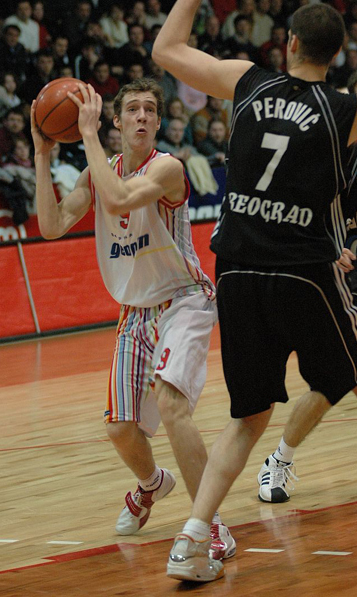 Photo: Adriatic Basketball Association



Dragic currently averages 15.4 points, 3.2 rebounds, 2.9 assists and 2.4 steals per game for overachieving Geoplin Slovan, who has a great shot of qualifying for the Final 8 despite being recognized as outsiders prior to the season. Goran has been the key to their success on both ends of the floor.

The 1986-born Dragic has very good size for a point guard at 6-4 and pretty decent athletic ability to boot. He is a quick player, with an especially impressive first step offensively and good lateral quickness on the other end. As usual for a European, he is very thin and suffers mighty with screens because of it.

Offensively, Dragic is primarily a slasher, capable of taking advantage of his athleticism and ball-handling skills. Once he gets by his defender, he can go all the way to the hoop or stop and convert from mid-range, where he shows good accuracy. Goran likes to use the glass, which is rare for perimeter players these days. His finishing around the basket could stand to improve, as his vertical leap seems to be average and he sometimes does not have the strength to finish plays in traffic.

As already mentioned, his jumpshot is pretty solid from mid-range, but it gets uglier from long distance. He mainly performs static jumpers with very little lift and a low release point which results in him hitting only 32% of his long-range attempts.

As a point guard, Dragic shows a good feel for the game and runs the team well, but his passing skills are just average for a playmaker at this point. He needs to take care of the ball better, as he commits over 3 turnovers per night.

The Slovenian is a very good offensive player, but defense is where he impresses the most. It is rare to see a young player being so aggressive challenging opposing points. Most have a hard time with him from the first second they receive the ball as Dragic attacks them on all parts of the floor. Beyond his attitude he also has good physical gifts to play defense, so unlike what NBA scouts might be accustomed to, it wonít be his defensive play that keeps him out of the NBA. His body still limits him to a certain degree, but as Dragic hits the weight room and continues to mature, he should be able to add appropriate bulk to his already decent looking frame.

Goran would probably be best served to eventually move to a Euroleague club where he could test his skills against the strongest competition outside the NBA, but that is unlikely as he has a multiyear contract with Slovan and is considered a key piece in this up and coming franchise.

Based on his level of performance and potential, Dragic is a serious candidate for the first round in the future or even potentially in this draft if he decides to put his name in and can continue to put up performances like the 30 point performance he had this past weekend against Zadar. With this yearís NCAA PG crop being unusually weak compared with years past, Dragic could very well get some love from NBA teams. Regardless, he is a name that basketball people around the world will have to get to know sooner rather than later.

Scouting Report:

Goran Dragic is one of most improved youngsters in all the Europe and Sloveniaís top NBA draft prospect at the moment.

In terms of physical attributes, Dragic features good, but not spectacular athletic ability. At 6-4 he has excellent size to play the point guard position in the NBA, while his wingspan also seems to be above average giving him additional length.

One of most impressive things about Dragic is the level of play he shows at just 19 years of age. Dragic is already among the best guards in a pretty competitive Adriatic league competition and was main reason why his team is in the running for a Final8 appearance despite being recognized as outsiders prior to start of the season.

Goranís biggest strength has be his speed. Whether in half court sets, the open floor or on the defense end, Dragic impresses you with his quickness. His first step is excellent and he can get by most defenders at his current level with ease. On the defensive end his lateral quickness is also very good, allowing him to keep up with smaller guards equally well.

Offensively, Dragic uses his aforementioned speed to the fullest extent, getting into the lane on a regular basis. Once he gets there, Dragic is patient waiting for good looks to present themselves or passing the ball to an open teammate, showing good court vision. Dragic gets most of his assists in transition and from the solid drive and dish game he has, being able to beat his matchup of the dribble and therefore create shots for teammates in half court sets. When he has the chance, he executes the fast-break to perfection, either finishing it himself of by finding the open teammate. Goran also exhibits plenty of creativity finishing at the hoop with a diverse array of lay-ups. If he doesnít go all the way to the basket, Dragic can stop and nail a mid-range shot, presenting very good accuracy out to 18 feet.

He plays within the flow of the offense, not taking ill-advised jumpers or forcing penetrations, despite the fact that he is by far the most gifted scorer on his team. Goran has very good ball-handling skills and can change directions quickly to get his man off balance and create space for himself to operate. When a mismatch occurs and he is defended by a taller opponent, Dragic will react immediately to the situation and drive aggressively to the basket. He off the ball movement is reasonably good, recognizing spaces in defense and exploiting them to get some cheap points.

The Slovenian is a very aggressive defender, chasing his man all over the floor and not letting him rest even for a moment. This leads to a good number of steals, and every now and then he is even able to pick his opponentís pocket while heís bringing the ball up the court. If he adds body strength without losing much of his quickness, Dragic has the potential to become a lockdown defender, as he has good size, length, athleticism and a great attitude. Goran is very tough kid, not shying away from contact and ready to sacrifice his body on both sides of the court. He is very eager to play defense and that is how he earned his role on the team in first place. Sometimes Dragic gambles for steals and loses his defensive position, but he is able to recover it quickly because of his speed.

As he showed on several occasions this season, Dragic is able to step up in the clutch and carry a team on his shoulders. Goranís basketball IQ is not the highest around, but is still above average and by the progress heís made this season you can tell he works very hard. Off the court, Dragic was never problematic and is considered to be well-liked by his older teammates.

Weaknesses:

The most obvious one is his body strength. Dragic has wiry arms, but he is a very thin player with a frame that isnít overly encouraging. Still, this should not get in the way of allowing him to put on enough weight to hold his own against NBA competition when the time is right. Right now his lack of strength affects him the most on the defensive end. He often suffers against screens, being unable to prevent his matchup from getting the space he needs to take an uncontested jumper. If he was playing in the NBA currently, Dragic would be a regular victim for point guards with post-up ability. Fortunately for him there are not many guards in Adriatic league who can exploit this option. Goranís vertical leap is average at best, and the explosiveness in which he finishes in traffic needs to improve (hopefully with added lower body strength) since he is often forced to adjust his shot, making it tougher for him to convert.

One of the easiest and most important things to do for Dragic this summer is improve his 3-point shooting. He doesnít look comfortable taking anything but open shots with his feet set from long-range. The mechanics of his release are quite fast, but he doesnít get much lift on his shot and his release point should be higher. Unless he works very hard, he could face some serious problems adjusting to the NBA three-point line, as his range is already not great.

Dragic is not floor general type point guard, and right now doesnít even handle the playmaking duties full-time due to playing alongside veteran point forward Sasha Doncic, who initiates much of Geoplinís offense. Goran is not a creative passer from static positions and his decision making in half court sets can be questionable, leading to unnecessary turnovers. When is all said and done, Dragicís playmaking skills surely need further development as they are pretty average right now even at the Adriatic League level. You can tell this just by looking at the stats, as heís committed more turnovers than assists this season. Overall, his aggressiveness on offense is not up to par with what he shows on defense, sometimes just standing on the wing and letting things happen without his involvement. With his quickness and touch from mid-range, he could easily be a 20+ ppg scorer on this team next year. He will need to show leadership and take more responsibilities through the whole game, not just in clutch time.

One of main the concerns for his coach Ales Pipan this season has been Dragicís inability to stay out of foul trouble. He picks up a lot of fouls far from the basket because of the aggressive approach he has as an on-ball defender. If not for that, Dragic would be on the court for much longer then 30 minutes a game and his team probably would have won some more games. He fouled out on 5 out of 23 Adriatic games this season, as was one foul short of being ejected in 11 other contests.

Competition:

At the current stage of the season, Dragic is averaging 14.7 points, 3.3 rebounds and 2.9 assists in 30 minutes per game to go along with 2.1 steals, 3.1 turnovers a night. He is shooting 53.6 % from the field, 31.4 % from behind the arc and 70% from the charity stripe. This is a huge improvement over last season when he played 8.7 minutes a game and scored less than 2 points per contest.

Dragic was a member of the Slovenian U-20 team two years ago that won the European crown, but Goran didnít have a big role in that success, not getting on the floor in the finals and averaging less than 5 points during the competition. Last summer Dragic was the leader of the Slovenian U-20 squad that finished 10th in the European Championships, putting up 15.3 points, 5.8 rebounds, 1.8 assist per game, but also committing over 4 turnovers per contest and shooting 31% from downtown.

[Read Full Article]

---