EuroCamp Measurements and Athletic Testing Analysis
EuroCamp Day One Recap
The level of play during the second day of the adidas EUROCAMP improved significantly, as the participants began to settle in. It is worth noting that this type of environment is much more unique to these players than it would be to the average NCAA prospect who is comparatively better acclimated to these types of AAU and camp settings. For many of the players in Treviso, learning how to compete outside of their club and national team structures with new teammates can be a struggle, as they are used to competing with the same teammates in similar roles year-to-year.
That challenge, coupled with the collision of European and NBA coaches and decision-makers makes the adidas EUROCAMP a unique event. We were able to catch up with New York Knicks assistant coach Kenny Atkinson to get his thoughts on this year's edition.
Day two started with stretching, team practices, and drills followed by four games. After the early game,
Kevin McHale
made an appearance as a guest speaker, presenting some of the principles of post play. With a number of campers volunteering to be the victims of the legend's demonstration, McHale shared some of the philosophies that made him one of the game's best back to the basket threats.
When McHale wasn't speaking with the campers, he spent some time putting former Houston Rockets draft pick
Donatas Motiejunas
through a workout. The 20th overall selection in the 2011 NBA Draft spent this season playing for Prokom in the Polish League, VTB United League, and Euroleague. He appears to be in terrific shape, having improved his frame since the last time we saw him in person.
Though Motiejunas did not shoot the ball terribly well in the workout, he showed the same fluidity and athleticism operating in the post that caught the eye of scouts early on in his development. Coming off a year where he averaged 12.5 points per-game in the Euroleague, the Lithuanian big man factors into the Rockets plans for the coming season, as they were quick to inform us.
Despite his sometimes volatile offensive performance, he was asked by Houston's front office to focus on his rebounding this season, and made progress in that regard. The near 7-footer averaged 7.2 rebounds per-40 minutes playing for Benetton during the season before he was drafted, but has improved his output per-40 on the glass to 10.4 this season. Expect a deal with the Rockets to get signed quickly as soon as July 1 rolls around.
Negueba Samake Workout
Scouts were treated to another individual workout today, this one featuring Malian center
Negueba Samake
. A relative unknown to many scouts, Samake declared for the draft last season, but withdrew in favor of waiting to become automatically eligible this year.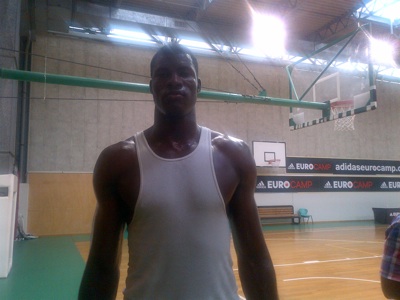 Samake is a bit of an interesting case, as he was unable to acquire a license to play as a French player until just last year, meaning if a team wanted to sign him they would be forced to use one of the spots reserved for American players. A raw, athletic 7-footer with a simply outstanding body, Samake was simply not ready to fill such a role, meaning he would be relegated to lower levels of play.
Competing mostly at the junior level for Le Mans Sarthe basket early in his career, Samake saw limited minutes for Rouen in ProB last season before landing with Boulazac, where he played a total of 10 minutes this year. The young big man is only starting to learn the game now and though he was able to successfully petition his way into JFL status at the end of last season, he has never been a part of any significantly organized setting.
Competing in the second Division of France for the last two years, French agent Miloud Dahine and his American partner Kenny Grant shrewdly organized this opportunity to gain some exposure for the big man, and Samake responded with an intriguing performance. It is difficult not to be impressed with the young center on first glance, as he possesses an incredible frame, gets off the floor very well, and finishes emphatically above the rim. With countless scouts looking on, Samake showed decent touch, and is still a ways behind his peers in terms of instruction and development, but showed enough promise to pique the interest of those watching.
To give you a picture of what Negeuba looks like, here is a recent workout he conducted:
Néguéba Samaké from BOULAZAC BASKET on Vimeo.
NBA teams are pushing for Samake to have the opportunity to participate in official games tomorrow and the big man has earned himself more than a few NBA workouts in the coming weeks.
Workouts like this can be hit or miss, but they are one of the great aspects of the EUROCAMP, as players of all types get the chance to showcase themselves and make an impression on the army of key basketball people filling the gym. There are very few places in the world a player can just show up and potentially work himself onto the NBA radar screen in a matter of a few minutes, and the Eurocamp is one of them.
Prospect Notes
-
The star of the measurements portion of this event, as we documented on twitter yesterday,
Rudy Gobert
put his 7'9 wingspan to good use today. He shut down the paint against the U20 Russian team, finishing with 15 points on 7-8 shooting, 3 rebounds, and 4 steals while providing an incredible defensive presence in 30 minutes of action.
Finishing a number of lobs from masterful floor general
Leo Westermann
(more on him tomorrow) and staying active in the passing lanes, Gobert made the most of his terrific physical profile, a big part of why he is among the top international prospects who could factor into either the 2013 or 2014 draft. Possessing impressive mobility for a player standing over 7 feet tall, Gobert's athleticism and impact on both ends of the floor is unmatched in their year's field.
A 1992-born prospect who won't turn 20 until a few days before the upcoming draft, Gobert got his first significant taste of high-level competition this season, playing rotation minutes for Cholet in France. He shot almost 80% from the field in Pro A, while showing impressive potential as a rebounder and shot blocker. The progress he's made since last season is extremely promising, and he's maturing at a terrific rate.
The French big man still has a significant amount of work to do to fill out his 231-pound frame, will need to polish his offensive skills, and has to cut down on his foul-rate to keep himself on the floor, but the future is extremely bright for the young center. He's a player we'll be covering in significant detail this coming year, as he has all the talent to demand consideration for lottery status in the 2013 NBA draft.
Highlights:
-
Evan Fournier
competed today after working out in a one-on-zero setting for the scouts in attendance yesterday, and helped himself considerably more in turn. In 29 minutes of action, Fournier scored 12 points, looking smooth creating his own shot on the perimeter and making plays being aggressive in transition while showing good court vision finding the open man. The top 2012 draft prospect at this event, Fournier shot well today, going 2-4 from three in the first game and 2-3 in the second game, which was extremely important considering that this is the area he struggled in most this season. Had he shot a better percentage from beyond the arc with Poiters this season, its reasonable to wonder if he would be considered a legit top-20 prospect in this deep draft.
He will leave tomorrow for the United State for workouts with Indiana, Memphis, and Dallas. We caught up with Fournier, who emphasized his desire to play in the NBA this coming season, after he led the French U20 team to a victory over Russia's U20 squad.
-
Dmitry Kulagin
started for the Russian U-20 team today after coming of the bench on day one, but did not fare well, getting off to a slow start and forcing the issue from the midrange and while trying to make highlight reel passes. He sprained his ankle seven minutes into the game and did not return, putting him out of action for an undisclosed amount of time and likely ending his EUROCAMP. Kulagin's performance at this year's event was not very impressive, and it is hard not to wonder how he would have fared had he spent the last few weeks preparing for this opportunity seriously rather than taking time off. NBA teams continue to admire his talent, but have the some reservations about his approach to the game, wondering about his overall focus and whether he will be able to live up to his significant potential as a 6-5 versatile and creative point guard.
-
Izzet Turkyilmaz
may be a relatively new name on the draft radar, but his play here has established him as a potential late second round draft and stash pick. Competing in the second division of Turkey until last season, when he saw limited playing time for Banvit in the EuroCup, Turkyilmaz emerged as a spot player for the team this season. Standing 6'11.5 without shoes and possessing and narrow 211-pound frame, the young center has an interesting mix or fluidity, athleticism, and shooting ability. Possessing some ball-handling ability and shooting range, Turkyilmaz can do some damage from the perimeter and finishes plays above the rim with explosiveness –big reasons he was the second youngest member of the Turkish National Team at last summer's Eurobasket (
Enes Kanter
was the youngest).
Turkyilmaz's biggest weaknesses are his lack of high level experience and physical strength. He's capable of making plays offensively, but doesn't have a mature offensive arsenal at this juncture. His length makes him a presence as a shot blocker, but his lack of lower body strength and fundamentals is a major limiting factor for him on the defensive end both at and away from the rim. Turkyilmaz is a unique player nonetheless given his athleticism and offensive game for a 7-footer, and the player he might become three to four years down the round may interest some teams.
-French power forward
Louis Labeyrie
has done a solid job on the glass and on the defensive end this week, showing a high energy level and making the most of his extremely narrow 191-pound frame. He lacks a polished post game on the offensive end, but has made an impact in the French League this season with his midrange jump shot. Averaging 9.1 points and 6.5 rebounds per-game for Hyeres-Toulon, Labeyrie had a terrific season despite only turning 20 years old in February. A 1992-born prospect, Labeyrie acquainted himself nicely with the NBA scouts in attendance here, and is a prospect worth watching down the road.
Labeyrie is in a bit of a unique situation, having been loaned to Hyeres-Toulon in Pro A from Fos-Ouest, the Pro B team who owns his rights. Fos Ouest is demanding a considerable buyout to let him return to Pro A this coming year, which is notable given the development Labeyrie showed at top level of French basketball in 2012.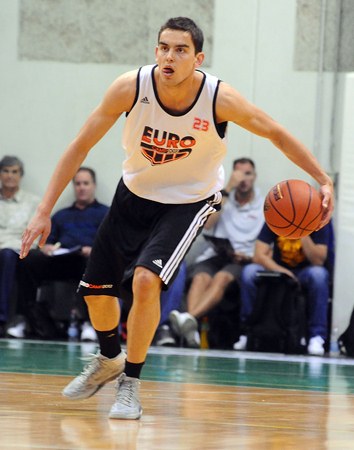 -
Tomas Satoransky
left scouts less than impressed with his performance in the first game yesterday, and his slightly better performance in his second game here will apparently be the last impression he leaves in Treviso. Satoransky has left the event to make the trip across the Atlantic in anticipation of his workouts with NBA teams, registering a DNP in the first game of day two. In his time here, he struggled to get to the rim off the bounce, did not shoot the ball very well, and does not appear to have improved significantly since last season, but remains an intriguing talent thanks to his feel for the game and raw athleticism, as evidenced by his
strong showing in the athleticism testing
.
With so many high-level decision makers in attendance it is difficult to understand his decision to leave the event so quickly, and depending on how he fares in his upcoming workouts, Satoransky is a candidate to withdraw from the draft. Should he follow that path, he'll be automatically eligible for next year's draft as a 1991-born prospect.
-
Riccardo Moraschini
has played well on both day one and day two, getting to the rim with a solid first step and good speed. Competing in LegaDue for Sant' Antimo alongside former NBA draft pick
Troy Bell
, Moraschini had a solid season, but struggled with his consistency on the offensive end. He's been one of the more pleasant surprises here, and the 6'5 Italian swingman is a player worth keeping track of as he'll become automatically eligible for next year's draft, especially if he is able to score as consistently as he has here. He's unlikely to be considered a serious draft prospect, but surely is a better prospect for European basketball than he's been able to display thus far in his career.
-
Ilkan Karaman
impressed with his athleticism today. Having matured quite a bit from a physical standpoint in recent seasons, Karaman has a strong 236-pound frame and 7'0.5 wingspan. In addition to his ability to play above the rim, he is able to score with his back to the basket thanks to his physical strength and step out to the three-point line and knock down shots with some consistency. The lefty is a terrific rebounder as well, as he pulled down 12 rebounds in 24 minutes today, and plays with intensity on the defensive end.
Karaman is coming off a fine year with Pinar Karsiyaka, averaging 10.7 points and 6.4 rebounds per-game in the Turkish League. A solid all-around player whose body has caught up with his skill level, Karaman's showing here could earn him some looks in the second round of the upcoming draft. Scouts here affectionately call him "K-Mart" because of his strong build, raw explosiveness and
Kenyon Martin
-esqe neck tattoo.
A number of other prospects, such as
Leo Westermann
,
Oleksandr Lypovyy
,
Olek Czyz
,
Paul Lacombe
, Artem Klimenko, Darko Planinic,
Tornike Shengelia
,
Daniel Diez
and Dimitris Katsivelis fared well in day two of action, but we'd like to watch them once more in the final day to provide a more complete breakdown.