We kick off our coverage of the top returning NBA prospects in the non-BCS conferences with scouting reports of prospects ranked #1-5:
Przemek Karnowski
,
Khem Birch
,
Deonte Burton
,
Juvonte Reddic
and
Alec Brown
.
Incoming freshmen have been excluded from these previews, as we'd like to wait and see what they have to offer on the NCAA level before we come to any long-term conclusions.
-
Top 30 NBA Draft Prospects in the ACC
-
Top 15 NBA Draft Prospects in the Big Ten
-
Top 10 NBA Draft Prospects in the Big 12
-
Top 15 NBA Draft Prospects in the Pac-12
-
Top 15 NBA Draft Prospects in the Big East
-
Top 15 NBA Draft Prospects in the SEC
-
Top 15 NBA Draft Prospects in the AAC
#1, Przemek Karnowski, 7'1, Sophomore, Center, Gonzaga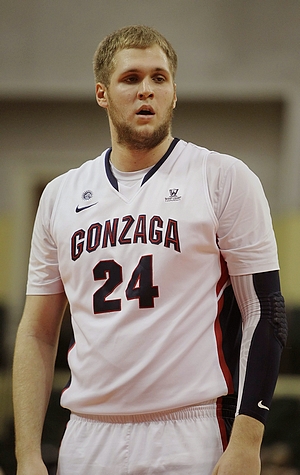 Matt Williams
Upset in the NCAA Tournament round of 32 by an upstart Wichita State team that made it all the way to the Final Four, Mark Few's Gonzaga Bulldogs nonetheless had a season to remember, winning 32 games with a deep roster with a growing international presence. The team's newest foreign import a season ago was 7'1 Polish freshman Przemek Karnowski who averaged 5.4 points and 2.6 rebounds in 10.7 minutes per-game coming off the bench behind the team's NBA-bound frontcourt of Kelly Olynyk and Elias Harris.
What makes Karnowski intriguing isn't just what kind of player he could become in the next few years, but also how he made it to the NCAA in the first place. The first time we wrote about the massive center, he was fresh off helping the talented 1993-born generation that comprised Poland's U17 National Team to a surprising second place finish at the 2010 U17 World Championship in Hamburg, Germany. Watching Karnowski's All-Tournament Team performance alongside a litany of NBA front office personnel was Gonzaga assistant Tommy Lloyd who had made the trip to watch junior point guard Kevin Pangos compete for Canada.
Karnowski has been considered one of the top European prospects in his generation for some time now. He emerged as one of the top centers in the lower levels of Polish basketball, but continued to gain exposure internationally during the summer of 2011 competing in the Nike Hoop Summit and at the U19 World Championships. During the 2011-2012 season, he averaged 10.1 points and 4.1 rebounds per-game as a rookie in the Polish first division with Siarka Tarnobrzeg, setting himself up to be among the most valuable young commodities in all of Europe with his size and skill level.
Despite the trajectory of Karnowski's career in Europe, rumors of his desire to play college basketball persisted and overtures from the Gonzaga staff ultimately landed his commitment in May of 2012. While it is not unprecedented for a top European prospect to retain their amateur status to facilitate a jump from a professional league in their respective country to the NCAA, it is far from a common occurrence considering the short-term financial ramifications.
Already firmly on the NBA radar when he arrived in Spokane as a freshman, Karnowski started strong, scoring 22 points in his NCAA debut against Southern Utah, but struggled with his conditioning and the depth of Gonzaga's roster for much of the season. Putting together a handful of strong performances nonetheless, he spent the majority of the season on the bench as Kelly Olynyk became one of the most productive players in the country, playing sparingly most nights and not having much opportunity to show what he can do at the college level.
That'll change this season as Karnowski and senior Sam Dower look to replace Harris and Olynyk up front. As Sports Illustrated's Luke Winn
outlined a few months ago
, Karnowski used a significant percentage of Gonzaga's possessions (27%) when he was on the floor last season, and should see his production expand significantly with added playing time.
Standing 7'1 and weighing 305-pounds according to Gonzaga, Karnowski has excellent size for a center at any level. Spending the summer competing internationally for Poland in its dominant run to the U20 Division B Championship and with the country's Senior National Team at the Eurobasket in Slovenia, he enters his sophomore season in considerably better shape than he was in a year ago. Though he possesses below average foot speed and athleticism on the whole, Karnowski's size and back-to-the-basket ability will allow him to add a different dimension to the Gonzaga offense when he's on the floor.
Skill-wise, Karnowski is far from flashy, but has strong fundamentals and a good feel for the game. His size lets him establish deep position and move bodies in the post, and his soft hands make him a very reliable target in the paint. He isn't an explosive leaper, but his soft touch made him a dangerous threat in close in limited touches last season, helping him make 55% of his 2-point attempts. In one-on-one situations on the block, he can score with hook shots over either shoulder and shows good passing ability with his back to the basket. Away from the basket, Karnowski has considerable room for improvement. Though he has shown the ability to hit 15-footers on occasion throughout his career, he hasn't translated that aspect of his game to the college level and shot a dismal 47.1% from the line last season.
Defensively, Karnowski is a solid rebounder and has the strength to hold his own in the post, but his lack of footspeed and underwhelming leaping ability severely limit his ability to keep up with quicker players away from the basket and hamper his shot-blocking presence. NBA decision-makers will be closely monitoring how his body improves in the coming seasons and what if anything that means to his athletic ability and defensive potential.
Looking ahead, Karnowski will be one of the more intriguing prospects to follow at the mid-major level this season. He'll certainly have the opportunity to solidify himself as an early entry candidate and could factor into draft conversations as early as next summer should he have a breakout season.
#2, Khem Birch, 6-9, Junior, PF/C, UNLV
Jonathan Givony
Eligible at the semester break last December as a transfer from Pitt, Khem Birch will finally play his first full season of college basketball as a 21-year old junior at UNLV.
In and out of the team's starting lineup for most of his four month stint last season, Birch ended up playing just under 22 minutes per game, which is likely to increase substantially considering UNLV lost seven of its top nine rotation players. He wasn't much of a factor offensively, using just 17% of the team's possessions in his time on the floor, which was seventh highest on the team. This helps explain why he only averaged only 12.5 points per-40 pace adjusted, which is the eighth lowest rate among the 59 returning college prospects in our top-100 rankings.
Birch's calling card as a NBA prospect revolves around his excellent physical tools. While his height and bulk are below average for an NBA big man--he measured just 6-8 ½ in shoes and 220 pounds this past summer at the Nike Skills Academy—he has a long 7-0 wingspan and is an outstanding overall athlete. Birch runs the floor extremely well when motivated, being extremely quick with both his first and second jump and capable of playing well above the rim. He's exceptionally agile and mobile for a player his size, with plenty of room to grow as his frame continues to fill out.
Birch saw some touches with his back to the basket last season, but he wasn't very effective down low, making just 13 of 39 attempts in these situations. He doesn't possess the strength or the footwork to be overly productive inside the post, as he can get out of control easily, not really knowing his limitations at this stage seemingly.
Where Birch is much more effective at the moment is playing off the ball. He's a great floor runner when dialed in as mentioned, and can be a serious weapon scoring off cuts and pick and roll finishes with to his ability to dive quickly to the rim with terrific speed. Birch is a tremendous finisher around the basket –he converted 67% of his non-post-up attempts around the rim last season. He can finish off difficult plays with incredible ease thanks to his long arms and the sheer distance he can dunk from, and also uses both hands around the basket fairly well.
Birch's length and athleticism make him a very effective weapon on the offensive glass as well – he pulled down 4 offensive rebounds per-40 last season—as he can often outjump opponents using his quick first or second leap.
Birch showed some flashes of a mid-range jumper last season, as he has decent form and solid touch, looking like he might be able to develop in this area down the road. He didn't have too many opportunities to show that on a team that played very selfishly at times last season and clearly lacked chemistry. He made just 64% of his free throw attempts, so he certainly has work to do in improving his overall offensive polish.
Defensively, Birch is by no means a finished product, but his physical tools give him plenty of room to grow. He was one of the best rim-protectors in college basketball last season, as his 4.6 blocks per-40 ranks as the second best rate among returning top-100 prospects. His length, quickness and explosiveness help him cover a huge amount of ground, which allows him to alter and contest shots all over the floor in impressive fashion.
With that said, there are some question marks Birch will have to answer as he makes the transition from defending collegiate big men to professionals. For one, what position is he best suited playing? His size and lack of bulk indicates that he'll have to defend power forwards, but he really doesn't really have the type of offensive skill-set or feel for the game you typically see at that position, and he does most of his best work around the basket using his superior physical tools.
Birch's awareness appears to be just average at this stage. He's not a great passer, and he tends to fall asleep at times defensively, giving up deep post position and not always bringing the same consistent intensity level on every possession. Additionally, he's very poor on the defensive glass, pulling down just 6 boards per-40 on this end of the floor, which is a surprisingly low rate considering his length and athleticism. Some of that has to do with his shot-blocking prowess, as he's often out of position on the glass after wildly rotating to protect the rim.
This will be a big year for Birch, as with the majority of UNLV's core leaving, there will be plenty of opportunity to step into a significant role if he's up for it. It will be interesting to see what he's done with his body, and whether he's able to show more offensive ability than we saw last season.
#3, Deonte Burton, 6-1, Senior, Point Guard, Nevada
One of the last players
we wrote about
during the 2012-2013 season, we'll wait for Burton to suit up as a senior rather than rehash many of the same things we included in our last report.
#4, Juvonte Reddic, 6-9, Senior, Power Forward, VCU
The recipient of
an extensive scouting report
written during the 2012-2013 season, we'll wait for Reddic to suit up as a senior rather than rehash many of the same things we included in our last report.
#5, Alec Brown, 7'1, Center, Wisconsin-Green Bay, Senior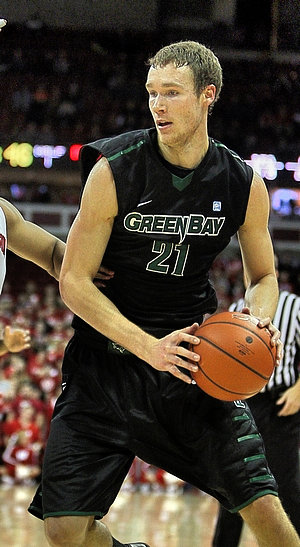 Kyle Nelson
When we last wrote about Green Bay center Alec Brown
at this time last year
, many outlets considered him to be a surefire early entrant to the NBA Draft. His junior season did little to justify this hype, however, as he was less than impressive in early season match-ups against Wisconsin, Marquette, and Virginia and did not have the kind of dominant impact in the Horizon League that his skill set and physical profile suggested he should.
Still, Brown was named All Horizon League Second Team, and was voted on to
the 2013-2014 pre-season First Team
, and he has another opportunity to remind scouts why he was such an intriguing prospect to begin with. As Brown is set to play his final season in Green Bay, it is up to him to take the next step from intriguing project to NBA player.
Standing 7'1 with a slight frame, narrow shoulders, and a 7'0-wingspan, Brown clearly has the height for an NBA center, but lacks the strength and length. He is reportedly weighing-in at 235-pounds and he has already added nearly 40-pounds since his senior year in high school, but there are nevertheless legitimate questions about whether he can survive physically at the next level. While he is not an explosive athlete, he compensates for many of his athletic deficiencies due to his combination of mobility, fluidity, and quickness, possessing an intriguing physical profile for a player his size.
Equally intriguing is his versatility on the offensive end of the floor. While he increased his production only marginally between his sophomore and junior seasons, he nonetheless averaged a solid 18.5 points per 40 minutes pace adjusted. According to Synergy Sports Technology, 29.6% of his offense came out of traditional post-ups, 14.7% via spot-up jump shots, and 13% out of the pick-and-roll. On film, however, Brown shows a wide variety of tools, albeit with some significant limitations, and a skill set of a prototypical face-up big man.
Most notable is his jump shot. 42% of his field goal attempts are jumpers and he makes an impressive 41.8% of them. Likewise, he
ranked as one of the best perimeter shooters
among prospects in our top-100, and netted a career high 43.5% of his 2.8 3-point attempts per 40 minutes pace adjusted. His shooting mechanics are quick and fluid with a beautiful follow through, and his shot is extremely difficult to block not only thanks to his size, but also due to the fact that Green Bay frequently finds him looks by running him off of screens.
Brown has nice versatility as well, looking very comfortable knocking down spot-up perimeter jump shots from all over the floor while occasionally showing the ability to take his man off of the dribble before pulling up from mid-range or taking the ball to the basket. He possesses very good ball-handling skills for a big man, which when coupled with his quickness make him a formidable face up threat at this level.
Brown also excels in the pick-and-roll, seeing nearly two-thirds of his attempts in a pick-and-pop capacity. While he lacks the girth to be an effective screener, he does a very good job of rolling into space – and nailing mid-range jump shots - or using his foot speed to get to the basket and finish.
Looking at Brown's post game, however, reveals him to be a more of a mixed bag as an NBA prospect. He lacks the strength and intensity to carve out post position, even against smaller and less athletic big men in the Horizon League. Additionally, he struggles grabbing offensive rebounds, finishing in traffic, and corralling errant passes, all predominately due to his lack of strength and toughness.
These struggles also extend into his finishing abilities. While he actually showed some impressive footwork and has developed a few reliable post moves, he continued to regress in terms of his efficiency and his 44.3% 2P% ranked as
one of the lowest
among prospects in our top-100, let alone 7-footers. His lack of strength and toughness makes it difficult for him to finish through contact, despite his high skill-level and soft shooting touch.
Brown does not get to the line nearly as often as his skill-set would suggest, and he is an incredibly poor rebounder,
]possessing the lowest mark among big men in our top-100
with a career-low 7.8 rebounds per 40 minutes pace adjusted.
His lack of physical development also hurts him on the defensive end, where he displays impressive ability to step out and guard the pick-and-roll, but still cannot hold his position on the block three years into his college career and, at 4.0 fouls per 40 minutes pace adjusted, remains as foul prone as ever. He even took a step back as a shot blocker, arguably his most intriguing defensive quality in the post, logging a career-low, though nonetheless solid 2.3 blocks per 40 minutes pace adjusted. His potential to step out and guard face-up big men is certainly intriguing and the NBA is always looking for athletic shot blockers, but there is simply no way that he can crack a rotation until he gets significantly stronger and tougher.
At this point, it's very clear what Brown brings to the table as a prospect and, even so, he has quite a bit of work to do to prove to scouts that he can compete against NBA-caliber athletes. Unfortunately, Green Bay's lackluster schedule offers him few opportunities to prove himself, making season match-ups against the likes of Wisconsin, Virginia, and Texas Southern all the more important. With added strength and improved play, however, his stock could rise significantly, as his combination of size, athleticism, and offensive versatility is rare at any level of basketball.