Andrew Nicholson
Recent Tweets
All Tweets
DraftExpress: Orlando takes Andrew Nicholson at #19
2012-06-28 09:22:39
DraftExpress: Agreed. I was surprised. RT @dwizzlesworld: Andrew Nicholson interview was kind of awkward. Not a man of many words/same facial expressions.
2012-06-09 01:38:03
DraftExpress: That what FSU does. Front, shade, double, etc. Deny everything. RT @jeffborzello When's last time Andrew Nicholson got a good post touch?
2012-03-16 04:58:20
DraftExpress: How physically and mentally tough is Andrew Nicholson? That's a question scouts have been asking for four years. Great time to answer that.
2012-03-16 04:51:09
DraftExpress: Florida State-St. Bonaventure in Nashville Friday will be a hot ticket for NBA scouts. Andrew Nicholson vs one of the best defenses in NCAA.
2012-03-11 07:20:32
Top 25s - Full List
Team: Magic
Physicals
Positions
Salary
Misc
H: 6' 9"
W: 234 lbs
Bday: 12/08/1989
(25 Years Old)

Current: PF/C
NBA: PF/C
Possible: PF/C

Agent: Mark Bartelstein
Current Salary:$1,545,840

High School: Father Michael Goetz
Hometown: Mississauga, ON
Drafted: Pick 19 in 2012 by Magic
Best Case: Ryan Anderson
Worst Case: Craig Brackins

Predraft Measurements
| Year | Source | Height w/o Shoes | Height w/shoes | Weight | Wingspan | Standing Reach | Body Fat | No Step Vert | Max Vert |
| --- | --- | --- | --- | --- | --- | --- | --- | --- | --- |
| 2012 | NBA Draft Combine | 6' 8.5" | 6' 9.5" | 234 | 7' 4" | 8' 11" | 7.6 | 28.5 | 30.5 |



Basic Per Game Statistics

- Comprehensive Stats - Statistical Top 25s
| Year | League | Name | GP | Min | Pts | FG | FGA | FG% | 2Pt | 2PtA | 2P% | 3Pt | 3PtA | 3P% | FTM | FTA | FT% | Off | Def | TOT | Asts | Stls | Blks | TOs | PFs |
| --- | --- | --- | --- | --- | --- | --- | --- | --- | --- | --- | --- | --- | --- | --- | --- | --- | --- | --- | --- | --- | --- | --- | --- | --- | --- |
| 2015/16 | NBA | Andrew Nicholson | 7 | 15.7 | 5.7 | 2.1 | 6.3 | 34.1 | 1.1 | 3.9 | 29.6 | 1.0 | 2.4 | 41.2 | 0.4 | 0.4 | 100.0 | 0.9 | 3.0 | 3.9 | 0.4 | 0.1 | 0.6 | 0.7 | 1.6 |

Player Page&nbsp&nbsp| Player Stats | Mock Draft History | Related Articles&nbsp&nbsp| Add to My Draft Express&nbsp
&nbsp
Situational Statistics: the 2012 Big Men Crop
June 23, 2012
Besides Anthony Davis, Jared Sullinger and Tyler Zeller, the next more impressive big man in this study is likely Andrew Nicholson. Nicholson shouldered a heavy offensive load for St. Bonaventure (3rd highest of the 26 prospects), but still ranks as the 5th most efficient scorer overall. The fact that he was so effective with his back to the basket (5th best post scorer) and facing the basket (#1 in overall jump-shot attempts, 2nd most efficient shooter at 1.096), and with the ball (#3 in total isolation attempts, #3 in efficiency) is impressive. Nicholson is effective in pretty much every area we looked at, highlighting his extremely high skill-level.

[Read Full Article]

---
NBA Combine Interviews: Jones, Nicholson, Green
June 22, 2012
[Read Full Article]

---
Trending Prospects (1/20/2012)
January 20, 2012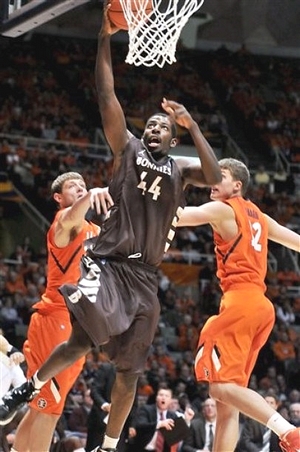 AP



Derek Bodner

After an impressive junior season that saw Andrew Nicholson average 24.4 points per-40 minutes pace adjusted and emerge as one of the most versatile scoring big men in college basketball, he has struggled to take the next step as an all-around prospect individually, and has been unable to help his St. Bonaventure team get over the hump in the Atlantic-10 as well. 16 games into the season, Nicholson has seen his production drop to 21.5 points-per-40 pace adjusted while his true shooting percentage has dropped substantially, from 57.1% to 51.7%.

Nevertheless, standing 6'9" with excellent length and big hands, Nicholson has some intriguing aspects of his game, both in terms of his physical profile and from a skills perspective—and is almost certainly not a finished product yet.

Offensively, Nicholson relies heavily on a very refined post game that's tough to defend at this level, particularly when paired with the improving perimeter game he showed last year. With good footwork, counter moves, and an ability to finish with either hand, Nicholson has plenty of moves in the low post. According to Synergy Sports Technology, Nicholson is shooting 54% in post-up situations, while doing a solid job of drawing contact and getting to the line.

Turnovers tend to be a problem for Nicholson, and his 3.8 turnovers per 40 minutes pace adjusted is one of the worst numbers in our top 100 ranking. This is especially troubling considering how infrequently he creates for his teammates, with a pure passer rating of -7.97, which is the worst in our top 100.

The overall talent level at St. Bonaventure leaves a lot to be desired, and as such he's probably asked to create more for himself than he optimally would. Despite that, he doesn't do a very good job of recognizing double teams and could continue to improve his ball-handling and decision making skills.

On the perimeter is where Nicholson differentiates himself from other big men prospects in this draft in terms of his talent-level. While not an exceptional athlete at the NBA level, Nicholson is a fluid and mobile big man with a long first step and an intriguing skill-level that gives him the ability to make very impressive plays at times. Although he's not terribly polished or consistent at this point in his career, his ability to face up opponents off the dribble, pull-up off the dribble from the mid-range or take the ball all the way to the basket and finish with his length is very impressive at his size.

Nicholson did a good job last year of extending his range out to mid-range, something he didn't have prior to his junior season. While he's attempting more 3-pointers this season, he hasn't taken a major step forward with this part of his game, only converting 35% of his jumpers, down from 45% last year. He has decent form on his jump shot and a high release, but hasn't been able to get these shots to fall consistently this year.

With his slight build it appears likely his post-up game will be less of a weapon in the NBA, so having a consistent catch and shoot game will play a crucial part in his ability to carve out a role for himself.

On the offensive glass, Nicholson's 3.1 offensive rebounds per 40 minutes pace adjusted is significantly better than the 2.0 per 40 minutes pace adjusted he averaged last year, but still towards the lower part of our database in terms of power forward prospects. Nicholson isn't all that physical of a player, nor is he all that active in fighting for position for offensive rebounds, leading many to question his toughness as a prospect. When he does grab an offensive rebound, he has solid touch and converts them at a decent clip.

From a defensive standpoint, Nicholson's physical profile presents some potential problems, which are further increased by his inconsistent effort on that end of the court. Nicholson has the length and timing needed to contest and block shots, and because of that can be a useful defender at the collegiate level. At a wiry 220 pounds, he lacks the lower and upper body strength to hold his ground at the next level, and he doesn't do a good job of fighting for position early in the shot clock to make up for that. Again, showing more of a mean streak would greatly benefit him in this regard, but that simply does not appear to be his disposition.

On the perimeter, Nicholson doesn't move all that well laterally, being very upright in his stance and showing average quickness and fundamentals. He compensates this on pick and rolls by giving a copious amount of room to the ball handler on pick and rolls, something that will likely be exploited at the next level, where he'll be forced to guard NBA power forwards as opposed to collegiate centers.

On the defensive glass, his 6.7 defensive rebounds per 40 minutes pace adjusted are in the middle of the pack in our rankings. His length helps him in this regard, but he doesn't show great anticipation or technique, and he once again doesn't appear to consistently put in the effort or have the toughness to dominate that facet of the game. Perhaps more than anything this is the part of his game that may be hard to overcome and get playing time, particularly early in his career while he tries to adjust his post game to NBA defenders.

Andrew Nicholson has an interesting set of physical tools with his size and length to go along with an offensive skill-set that shows plenty of room for growth. On top of that, he appears to be an extremely intelligent person off the court (he's a physics major), and didn't start playing basketball until his junior year of high school.

Nicholson came into this season with huge expectations, both individually and team-wise, but hasn't taken the step forward some had hoped he would. NBA decision makers will need to figure out why in trying to evaluate how much better he could become in the next few years, to decide if he's a project worth investing in.

[Read Full Article]

---
Top NBA Draft Prospects in the Non-BCS Conferences, Part One (#1-5)
November 1, 2011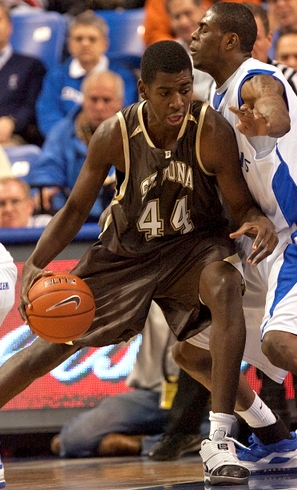 Icon SMI



Kyle Nelson

Andrew Nicholson has toiled in obscurity throughout his entire career at St. Bonaventure, and his junior year was no exception. Nicholson is one of the top-scoring returning prospects in our database, averaging 24.4 points and 8.5 rebounds per-40 pace adjusted on 57.1% shooting, while leading the Bonnies to their first winning season since 2002.

Nicholson has solid size and excellent length for the power forward position at 6'9 with a reported 7'4 wingspan. He must continue to add strength to his lower body and fill out his wiry 220-pound frame. He is just an average athlete by NBA standards, running the floor noticeably awkwardly, but with a more intense and dedicated training regimen he should be able to better maximize his physical tools. Right now he's mostly getting by on instincts at the college level.

Nicholson is a skilled and versatile offensive player who has steadily improved throughout his time in college. He has developed a formidable post game, ranking top-10 amongst college players in back to the basket situations according to Synergy Sports Technology, where he converts on 57% of his field goal attempts. He shows a host of drop-steps and spin moves and the ability to knock down turnaround baseline jump shots. He shows excellent touch around the basket, where he is a very good finisher thanks to his high skill-level and the extension he gets around the rim. He'll need to get tougher and develop his lower body strength to be able to fight for position against higher level big men in the NBA, but he has a nice framework of skills to build off of.

Nicholson can stand to improve his decision making out of double teams. Bad decisions make up the bulk of the 3.6 turnovers he commits per 40 minutes pace adjusted and he should look to pass more decisively out of the post—even if his targets leave a lot to be desired. Furthermore, he is right-hand dominant and must look to tighten up his ball-handling skills, particularly going left. His ability to create offense for himself is intriguing, though, and is something that surely can be developed even further with better spacing and more talented teammates around him.

Nicholson has evolved into a capable spot-up shooter, making an impressive 43 of his 90 (48%) catch and shoot jumpers this season. His mechanics are somewhat unorthodox, but he has quickened his release since his sophomore year, which along with his elevated release point, makes his shot difficult to block. Though his consistency wanes from deeper ranges, he does have three-point range at this level and shoots 27% on just under an attempt per game. Again, this is another part of his game that can be developed even further in time.

Defensively is where NBA teams might struggle to project Nicholson, as he's somewhat stiff and rigid with his lateral movement, and doesn't show great toughness or fundamentals to compensate. Nicholson does very little work early in possessions to deny his man position, and shows average awareness and intensity once he does get the ball. His length is a major benefit on this end of the floor and will usually allow him to make his presence felt at this level, mostly in the form of contesting shots on the perimeter or around the basket, but he has a long ways to go before he'd be able to hold his own on the defensive end against NBA-caliber big men—some of which will come with added strength.

Nicholson remains a mediocre rebounder as well for many of the same reasons—showing average toughness, fundamentals, awareness and aggressiveness pursuing loose balls. His 8.6 rebounds per-40 minutes pace adjusted ranks near the bottom amongst power forwards in our top-100 rankings. Nicholson must work on boxing out consistently and simply exerting more effort, because a player with his size and length should be far more productive against big men in the Atlantic 10 conference.

Nicholson is an unconventional prospect, but he needs more time to develop a complete game. His skill-level as an inside-outside scorer is intriguing, as is his late-blooming status and outstanding off-court intangibles. Nicholson, a physics major, didn't start playing basketball until his junior year of high school, and as the story goes, elected to attend St. Bonaventure largely due to their ]impressive new science building.

With that said, there are a few holes that limit his potential at the next level. Working on becoming a better rebounder and defender is essential, but so too is playing with consistent energy, focus, and aggressiveness. The situation he's in right now is far from ideal, though, playing well off the NBA radar on a bad team that clearly does not compliment his strengths and weaknesses. It will be interesting to see what type of progress he's made this summer and how he fares in the handful of matchups he has scheduled against NBA caliber competition.

[Read Full Article]

---
Notes on the 2010 Atlantic 10 Tournament Quarterfinals
March 13, 2010
One thing that was clear, however, was that Lavoy Allen significantly outplayed Andrew Nicholson. Nicholson shot a miserable 5/18 FG on his way to thirteen points and did not do a tremendous amount to convince scouts that he has what it takes to play a role at the next level. For one, he still does not rebound the basketball and though he grabbed seven yesterday, he did not box out on either end of the court, follow missed shots (including his own), and his overall effort did not stand out.

Similarly, his defense remained unimpressive, which certainly has something to do with his lack of strength, but has more to do with his lackadaisical attitude and lack of awareness on this end of the floor. St. Bonaventure does not play lockdown defense by any stretch of the imagination, but Nicholson failed to play any of Temple's big men effectively.

On offense, Nicholson retreated to his spot-up jump shot far too often and, though he has proven that he can hit this shot in the past, yesterday he missed. Worst yet, he took his focus out of the post, where his quickness and mobility are particularly effective, for crucial stretches of the game.

When he finally went to the post, he showed improved, but still lacking, footwork and aggressiveness. If a player like Nicholson makes an NBA roster, there will not be many plays called for him, so he will be forced to do the small things if he wants an opportunity to play. Next season, he must focus on improving his overall effort and skill level so that he leaves no doubt that he belongs in the NBA. In the meantime, he has a lot to accomplish.

[Read Full Article]

---