Augusto Cesar Lima
Recent Tweets
All Tweets
DraftExpress: Brazilians Augusto Cesar Lima, Lucas Nogueira and Raul Neto will all pass on entering the 2012 draft, according to their agency.
2012-04-13 08:02:17
DraftExpress: ICYMI: A report on the NBA draft prospects at the Copa del Rey: http://t.co/AX8Sa1bq - Tomas Satoransky, Raul Neto, Augusto Cesar Lima, etc
2012-02-24 08:55:15
DraftExpress: My rough translation. RT @hoopspain: Augusto Cesar Lima ('91) will miss several months of the season with a (spinal?) injury with @unicajaCB
2011-09-28 09:11:42
Team: Malaga, International
Physicals
Positions
Rankings
Salary
Misc
H: 6' 10"
W: 225 lbs
Bday: 09/17/1991
(21 Years Old)

Current: PF
NBA: PF
Possible: PF

Rank 4 in International '91
Rank 75 in Top 100 Prospects

Agent: Aylton Tesch

High School:
Hometown: Rio de Janeiro, Brazil

Predraft Measurements
| Height w/o Shoes | Height w/shoes | Weight | Wingspan | Standing Reach | Body Fat | No Step Vert | Max Vert | Bench Press | Lane Agility | 3/4 Court Sprint | Class Rank |
| --- | --- | --- | --- | --- | --- | --- | --- | --- | --- | --- | --- |
| 6' 8.71" | 6' 9.89" | 225 | 7' 0.65" | 8' 9.12" | 6.6 | 22.2 | 29.1 | NA | NA | 3.45 | NA |



Basic Per Game Statistics

- Comprehensive Stats - Statistical Top 25s
| Year | League | Name | GP | Min | Pts | FG | FGA | FG% | 2Pt | 2PtA | 2P% | 3Pt | 3PtA | 3P% | FTM | FTA | FT% | Off | Def | TOT | Asts | Stls | Blks | TOs | PFs |
| --- | --- | --- | --- | --- | --- | --- | --- | --- | --- | --- | --- | --- | --- | --- | --- | --- | --- | --- | --- | --- | --- | --- | --- | --- | --- |
| 2012/13 | ACB | Augusto Lima | 33 | 9.6 | 2.4 | 0.9 | 2.4 | 38.8 | 0.9 | 2.2 | 41.9 | 0.0 | 0.2 | 0.0 | 0.5 | 0.6 | 85.7 | 0.9 | 1.2 | 2.2 | 0.2 | 0.2 | 0.1 | 0.5 | 1.2 |
| 2012/13 | EURO | Augusto Cesar Lima | 22 | 10.3 | 3.1 | 1.2 | 2.7 | 45.0 | 1.1 | 2.2 | 49.0 | 0.1 | 0.5 | 27.3 | 0.5 | 1.0 | 50.0 | 0.7 | 1.9 | 2.5 | 0.1 | 0.1 | 0.2 | 0.8 | 1.5 |

Player Page&nbsp&nbsp| Player Stats | Mock Draft History | Related Articles&nbsp&nbsp| Add to My Draft Express&nbsp
&nbsp
NBA Draft Prospects at the 2012 Copa del Rey
February 23, 2012
Lima hasn't had an easy season thus far. He wasn't able to play until December due to an injury, and then had to bide his time on Unicaja's second team in the LEB Gold waiting for his Spanish citizenship to become official. Now no longer forced to occupy the spot of an American (non-EU) player for Unicaja, the Brazilian is attempting to work his way into the struggling team's rotation, which has not proven to be easy due to their abundance of big men options.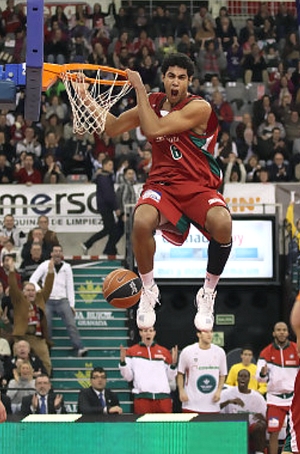 ACB.com



Thus far he's played just 75 minutes for Unicaja this season, the majority of which have come in garbage time, and another 86 for their "junior" team Clinicas Rincon. Barring something dramatic changing in his situation in Malaga, or possibly another strong performance at the adidas EuroCamp, Lima may need to wait until his draft-eligible year of 2013 to get picked as high as his potential indicates he should.

[Read Full Article]

---
2011 adidas Eurocamp: Day Three and Final Recap
June 14, 2011
Big man Augusto Cesar Lima followed up day two well. After struggling shooting 1/9 in the early game again, Lima had a big evening game playing with the EuroCamp All-stars against the U19 Croatia team. Lima finished with 18 points on 7/8 shooting and 7 boards. Clearly the best athlete on the floor, Lima made a killing finishing on the pick and roll, showing excellent hands and terrific length attacking the rim.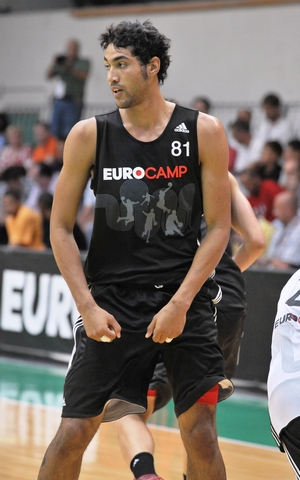 Federica Donadi / adidaseurocamp.com



At 6-10, with a solid 7-1 wingspan and very nice leaping ability, Lima looks the part of a NBA big man, especially looking at his frame. His feel for the game does not appear to be the best, his skill-level is still in need of work, and his motor tends to run hot and cold at times, but Lima has the physical tools and upside NBA teams love, and should be a player that's followed closely next year in anticipation of the 2012 NBA draft.

[Read Full Article]

---
2011 adidas Eurocamp: Day Two
June 13, 2011
Augusto Cesar Lima, who came in here with plenty of hype but had been having a very underwhelming camp, blew up in the All-star game in the evening producing on both ends with a stat line reading 20 points on 8/8 shooting, 12 rebounds, 6 steals and 2 blocks. Throughout the game, Lima showed quick hands and a knack for finishing on the put-back. His body, length and athleticism put him in a different class of prospect compared with most big men here in Treviso, and the fact that he saw solid playing time in the ACB this year has obviously helped him a great deal. Lima's feel for the game, skill-level and occasionally his motor leaves something to be desired at times, but he's capable of making a significant impact on the game when dialed in thanks to his outstanding physical tools. We'll see how he continues to produce in day three.

[Read Full Article]

---
European Roundup: Super Mature Aguilar
November 30, 2009
A couple of injuries along the frontline for Unicaja Malaga has opened up playing time for one of the youngsters they've been developing for a few years now, 1991-born Brazilian Augusto Cesar Lima. Still sharing time with Malaga's farm team in the Spanish 2nd division (LEB Gold), Clinicas Rincon, Lima has been coming off the bench lately and seeing real minutes in non-garbage time situations.

He played 18 minutes in Malaga's win over Lithuanian powerhouse Lietuvos Rytas last week in the Euroleague, coming up with 10 points and 4 rebounds before fouling out.

Lima's role for Unicaja is extremely limited as you might imagine, as he's mostly asked to run the floor in transition, crash the offensive glass and finish pick and roll plays around the basket. His very nice physical profile makes him a good fit for this role, as he's a long and athletic 6-9 guy who brings energy off the bench. He scored a couple of baskets against Rytas by simply beating opposing players down the court. Sporting wide shoulders that could handle additional weight, Lima still has some room to continue improving from a physical standpoint, but already uses his tools well.

Not surprisingly, the 18-year old Lima doesn't possess great strength, and isn't a very skilled offensive player at the moment. He doesn't have much of a post game or great shot-creating ability, and is a very streaky outside shooter, having knocked down just 2 of his 19 3-point attempts on the year.

Still, Lima seems to be garnering some good experience at the highest level of European basketball at a very young age, and clearly has plenty of upside to continue to improve. That makes him, at the very least, someone to keep an eye on for the future.

[Read Full Article]

---
Euroleague Final Four: Nike International Junior Tournament
May 8, 2009
Brazilian Augusto Lima was somewhat up and down over the course of this tournament, but he was potentially one of the more intriguing prospects around due to his excellent physical profile. Lima has good size at 6-9, to go along with an excellent wingspan and nice athleticism, which evolved first and foremost on the offensive glass, where he was a force at times. Offensively, he's not terribly skilled or smart, but he does run the floor well and looks comfortable facing up and attacking the rim from 8-12 feet. His perimeter shot looked inconsistent and he was fairly hit or miss on the defensive end, appearing to lack some awareness on this end of the floor. He's a fairly limited guy at the moment, but considering that he's only 17 years old, he still has plenty of time to develop.

[Read Full Article]

---
L'Hospitalet 2009: Mirotic Makes History
January 8, 2009
We were intrigued last year with Lima's potential, and while his physical development appears to be ahead of schedule, the skill department looks well behind. Actually, he hasn't developed any reliable scoring weapons, just producing on both ends of the court with his superior strength and athleticism. Lima is really filling out his body, and his impressive shoulders just let us think that he can still add more weight.

Back to his abilities, Lima never showed a refined low-post game, a reliable shot or any improved ability to put the ball on the floor and allow you to think that he can beat his opponents off the dribble on a regular basis. He does show good positioning, decent timing and interesting coordination, but we'll still need to see some more meat before calling him a serious prospect.

[Read Full Article]

---
L'Hospitalet 2008: It's a Big World
January 16, 2008
After the likes of Vitor Faverani and Paulao Prestes, Unicaja continues exploring the Brazilian market with Augusto Lima. Still not very skilled, Lima displays very interesting characteristics. He's a very athletic player, quick and reactive, also very coordinated, who stays pretty active throughout games. Although a bit skinny, his frame looks very promising enough to add weight, also showing a good wingspan.

Right now, Lima is basically an on-ball player, but he does a nice job moving without the ball to look for opportunities near the basket. Probably the most intriguing part about his scoring game is his excellent touch around the basket with his right hand. He can also connect on some mid-range jumpers with promising consistency. On the other hand, besides his right-handed jumphook, he still doesn't have any real post-up game, but his coordination, promising frame and effectiveness around the basket is an excellent building block for a productive low post package.

Although we never saw Lima attacking his rival off the dribble, he did put the ball on the floor a few times when completely open, suggesting a moderate optimism about his ability to develop some ball-handling skills. A decent passer, especially from the low post, he seems to enjoy a solid basketball IQ.

Everything in his game speaks promise and potential. He's a very limited guy now, but with the tools to develop into a serious player. We'll keep an eye on him.

[Read Full Article]

---