East Coast Workout Swing: Day 8 (Zabian Dowdell, J.R. Reynolds, etc)
May 29, 2007
Wyatt was tough to evaluate on the specific day that we were in the gym, as his ankle was clearly bothering him and he was trying to get it healthy in time for the pre-draft camp. It wasn't tough to miss his athleticism, though, as he played above the rim for some impressive stretches of the workout and came away with a few extremely impressive offensive rebounds. Wyatt is quick off his feet but lacks some serious strength, showing a distinct lack of lower body mass that might hinder him from holding a spot on the block at the next level consistently. His jump-shot is very solid for a 6-10 player, though, and he splits time working out half the time as a small forward and half the time as a power forward. In the five on five he was extremely active in the passing lanes, using his length and quickness to the fullest, also to block or alter shots. His ball-handling skills need some serious work to fully maximize his athletic potential, though, as his dribble still looks fairly out of control in tight spots and he can't consistently create his own shot from the perimeter. He also has a tendency to dribble the ball with his head down. Wyatt sat out a large chunk of the five on five due to his ankle, and never really seemed to get in the flow of things offensively once he did come in.

[Read Full Article]

---
NBA Draft Diary: Avis Wyatt
April 26, 2007
What do Ben Wallace, Darrell Armstrong, Flip Murray and Charles Oakley have in common? Aside from being hard-nosed players, they all played their college basketball in the CIAA. Avis Wyatt is now trying to join the select number of CIAA players to make the jump to the NBA.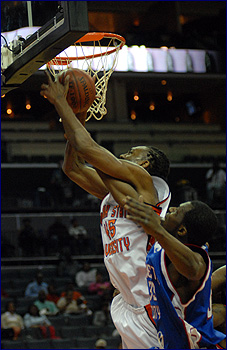 Virginia State Athletics



A tall and very athletic forward, Wyatt spent his college career at Virginia State, where he helped lead the Trojans to a 20-8 record during his senior season. Of course, any time a player outside of D-1 basketball is good enough to draw looks from NBA scouts, the question always is, why isn't he playing at a bigger school?

"I think that's because I didn't really start playing basketball seriously until the 11th grade, so I wasn't really highly recruited out of high school by anyone," he said.

Wyatt initially started playing JV basketball at Petersburg High School in Virginia. The team didn't make cuts, so Wyatt, who wasn't even six feet at the time, was able to play on the team. His life would quickly change though when a massive growth spurt left him standing 6'8" by the start of his senior year. Still, with so little experience playing basketball, only Virginia State came calling for his services.

"When I came out of high school, Coach Booker, he was the coach at Virginia State at the time; he came to see me play at the team camp at Richmond," he said. "I didn't really get any other offers that I can remember. I enrolled at Virginia State like a week before registration began."

The decision to attend Virginia State would elevate Wyatt's budding basketball career, but first he had to adapt to the entirely new world of playing at the college level.

"When I first came to Virginia State, it was a whole new atmosphere for me," he said. I had never played AAU or anything like that; it was just high school ball. So coming to college, it was just me. The freshman I came in with, though, we all became pretty tight."

In the early years of his career, Wyatt stated that Virginia State only drew fans to games who were looking to see them lose. With three different coaches in his first three seasons with the team, Wyatt and his teammates had to endure a lot on the basketball court. He added though that the hardship of losing early on and having to adapt to different coaches has made him a better person in the long run.

Like so many other college players across the country, when the buzzer sounded in the final game of his career, things were just beginning for Wyatt, who went on to attend the Portsmouth Invitational Tournament. Despite injuring himself in his team's second game of the weekend, Wyatt seemed pleased with his performance on the floor.

"I think the first game, I got to showcase a lot of my athleticism and my abilities," he said. "I was able to handle ball a little bit, show off my shooting touch; I think I played well within the team, but all-in-all I don't think I showed all that I can do."

For Wyatt, the weekend may have been more exciting than for any of the other players in attendance. While the majority of the D-1 players at the camp were used to the extravaganza that is big time college basketball, Wyatt was coming from a much smaller background.

"It was really exciting coming in before the games even started because most of those guys you see on TV at least three or four times a year; you know on ESPN highlights and all that, so it was good just to be on the team with some of those guys," he said.

The experience became even more enjoyable for Wyatt when he got the opportunity to spend time with his new teammates away from the court.

"It was crazy because I felt like those are some guys I knew for way longer than just that week I got to spend with them," he said. "At the end of camp we all exchanged numbers so we could keep in contact. Off the court it was real laid back, our whole team, no one was really an outcast. Everyone laughed and joked around."

The only controversy of any sort that arose at Portsmouth was the question of Wyatt's height. At Virginia State he was listed as 6'11", while at Portsmouth he was measured at 6'9" in shoes [6'8 ½" without]. Wyatt has his own theories on the matter.

"I think I'm a legit 6'10". At Portsmouth they measured us in shoes, but I had slippers on and I guess they used those as my shoes. But with basketball shoes on I think I'm 6'10"."
While the height is a major plus for Wyatt, his weight is not. The athletic forward tips the scales at 220 pounds on a heavy day, and will need to increase his strength and weight before draft day. As Wyatt pointed out, though, his situation can't be solved by simply eating more.

"I'm more or less faced with the challenge of trying to put on weight while maintaining my speed and athleticism," he said. I'm working out with my coaches, trying to get on the right kind of diet. But really, I'd much rather get stronger than pick up a lot of bulky weight."

Another less prominent question that has arisen has been regarding Wyatt's statistics. As a senior he posted 17 points and 7 rebounds per game, very solid numbers, but not those that many would expect from a D-2 player looking to go pro. As Wyatt pointed out though, stats don't tell the whole story.

"You can look at my stats, but it wouldn't tell you about my game because I got those numbers within a system," he said. There wasn't one time during the season where we were going to razzle dazzle for me. I think that you would get a better understanding of how I got my points if you watch a game. I don't think the stats really tell how I played at the Division 2 level."

It is his speed and athleticism that makes Wyatt so appealing to NBA scouts who see him as a raw talent. Wyatt has said he feels that "raw" is an accurate was to describe him since he hasn't been playing the game as long as most other players, and his skills may not be as polished; this hasn't stopped him though from hypothesizing how he could help a pro team. The former Trojan says he sees himself falling somewhere between playing the small forward and power forward positions at the next level.

"I think a lot of it is going to fall on my ability to be in shape and run the floor hard every play," he said. I think I need to work on my foot speed a lot so I can guard perimeter players. I think I can shoot the ball; I've already got a pretty good touch but as far as range, I need to get it out to NBA range and become more consistent with that."

These are all aspects of his game that Wyatt will be working on tirelessly in the upcoming weeks. He'll have extra motivation now with the possibility of showcasing his talents in front of scouts again with the NBA pre-draft camp in Orlando looming, a camp that Wyatt recently received an alternate letter for.

"You know that was real big for me," he said, "and I'm really excited about getting the chance to showcase my skills for the NBA scouts again. It just gives me another reason to work even harder; I'm going to work hard regardless, but it's just that extra chance. Not a lot of people get that chance from my situation."

With a thorough understanding of just how lucky he is, and a fiery determination, Wyatt is ready for the upcoming months of training. The athletic forward of course was able to put it best.

"I've got to get hungry, play hard every play, and be a guy who never takes a play off."

[Read Full Article]

---
Portsmouth Invitational Tournament: Day Two
April 5, 2007
One of the nicest surprises of day two, Avis Wyatt did a nice job showing off an intriguing combination of skills that had to raise some eyebrows from the many scouts still in attendance here.

The first thing we noticed as the warm-ups kicked off was that the tape we received of his early this year did absolutely no justice to just how athletic he really is. Wyatt is as explosive a big man as you'll find at this tournament, pulling off some highlight reel caliber dunks both running and from a stand-still position before the games even kicked off.

Once the game kicked off, the intrigue continued. He started off by running a pick and roll play with his guard, rolling off the screen and spotting up from 17 feet for an unorthodox, but effective shot. He then put the ball on the floor a couple of times, sometimes with his left and sometimes with his right, but didn't quite have the strength to finish the play in traffic, even getting blocked once by Carl Landry when he tried to pull-up off the dribble.

It's clear he has the touch to put the ball in the basket from distance, but his awkward shooting mechanics, pushing the ball towards the basket rather than releasing it smoothly, prevent him from achieving a consistent release point. Later on in the game Wyatt continued to show off all kinds of versatile skills. He threw a really smart alleyoop lob to Kammron Taylor of all people, and then drilled a gorgeous 17 footer off the glass off another pick and pop play (his specialty?). It would have been nice to see him continue to show off his abilities at this point, but unfortunately the four shot-happy guards he has on his team had other ideas, and Wyatt basically did not touch the ball for nearly the entire second half after an excellent showing to start off the game.

In the post, Wyatt suffered from contact on both ends of the floor. He's a skinny, skinny guy who can't really hold his spot on the block on either end of the floor, and therefore had some problems finishing around the rim or finding a comfort zone from which to get his shot off effectively. As a rebounder, he is clearly behind the curve, only pulling down 3 rebounds in 27 minutes as he just couldn't help from being pushed around by smaller, stronger guys.

All in all this was a really intriguing performance from the Division II player, certainly when speaking relative to the level of play we saw in some of the other games. You don't find freakishly athletic 6-10 or 6-11 players who can create their own shot every day, and the NBA people we spoke to around us were clearly excited to find him here. If you're looking for an NBA comparison, our own Joseph Treutlein likens him to Andray Blatche. He's anything but a sure-fire NBA player and still has plenty of work ahead of him to continue to prove people wrong, but this was a nice way to start that off.

[Read Full Article]

---
NCAA Weekly Performers-- 3/8/2007, Part One
March 8, 2007
One semi-intriguing prospect who we haven't had the chance to write about yet this year is Avis Wyatt, a long and lanky athletic power forward who plays for Division II Virginia State in the CIAA conference. Wyatt's season came to an abrupt end this past week in the first round of the CIAA Tournament, when his 2nd seeded team was upset by Elizabeth City State. Wyatt scored 19 points and pulled down 10 rebounds, which proved not to be enough as his team has been snubbed for at-large bid for the Division II NCAA Tournament.

Wyatt is a skinny big man who plays almost exclusively facing the basket. He runs the floor extremely well, has good quickness, and is pretty explosive off his feet. Offensively, his range extends to the college 3-point line, where he hits flat-footed jumpers occasionally at a decent clip (15-42 on the year, 36%). He has solid shooting mechanics and can hit the mid-range jumper too, although he's a surprisingly weak free throw shooter at just 57%. Wyatt can put the ball on the floor as well to create his own shot from the perimeter. His skill-set is fairly intriguing for a player his size, but he looks pretty far away from being able to put it all together consistently on a nightly basis.

Wyatt is a pretty raw overall prospect, showing poor decision making skills and not really dominating his competition despite the weak opposition he faces at the D-II level. He settles for bad shots all too often and does not appear to be the most fundamentally sound guy in the world, certainly lacking some direction in the coaching department. In the post, Wyatt doesn't know how to use his size at all despite having a distinct height advantage against nearly everyone he faces. His post-moves are unpolished and he doesn't seem to show great touch on any his moves in the paint, particularly when opponents make him shoot the ball with his left hand. When forced to finish through contact, Wyatt really struggles, getting his shot blocked on occasion and being pushed around by the undersized big men he goes up against in the CIAA. He is unable to hold his spot on the block at this point in his career due to his lack of strength, and therefore prefers to hang around the perimeter where he looks a lot more comfortable.

As a rebounder, Wyatt is just average even for the level he plays at, pulling down just 7.2 rebounds per game. He doesn't go after loose balls the way you might hope, and besides being able to block shots due to his size and athleticism, is not a very good man to man defender, sometimes just swatting aimlessly at shots that are around him rather than displaying advanced fundamentals or timing. His feel for the game in general does not appear to be off the charts. Making the transition to the small forward position does not seem like a realistic option anytime in the near future as he lacks the lateral quickness to defend the perimeter and is not quite skilled enough offensively to play that position at any level, let alone the NBA.

Playing at Virginia State, Wyatt is close enough and good enough to be invited to the Portsmouth Invitational Tournament. He should get a chance to show off his skill-set there, and will benefit greatly from going up against stronger competition than he faces in the CIAA. He has some nice raw tools to work with, and is clearly not done developing as a player yet, so he could be an intriguing guy to follow down the road. If you're looking for an NBA comparison, think Mikki Moore.

[Read Full Article]

---