West Coast Workout Swing: Day 1
(
Dominic McGuire
Private Workout)
West Coast Workout Swing: Day 2
(
Joakim Noah
,
Corey Brewer
, etc)
West Coast Workout Swing: Day 3
(AIB Player Evaluations/
Josh McRoberts
Workout)
West Coast Workout Swing: Day 4
(
Nick Young
,
Bobby Brown
,
Danny Granger
)
West Coast Workout Swing: Day 5
(
Marcus Williams
,
Jared Dudley
, more)
West Coast Workout Swing: Day 6
(
Jermareo Davidson
,
Aaron Brooks
, etc)
Mid-West Workout Swing: Day 7
(
Julian Wright
,
Thaddeus Young
, etc)
Metro New York Workouts: Day 1
(
Demetris Nichols
,
Jared Jordan
, more)
Oden, Cook, Landry at Champions Academy
After some much needed R&R following a whirlwind private workout tour across the country, our last stop before the NBA pre-draft camp took us down I-75 for a checkup with David Thorpe at his new home at IMG Academy in Bradenton, Florida. It's only fitting that we close our circle of workouts here, as Thorpe's gym (then in Clearwater) was where we took in our very first private workout three years ago,
featuring a "real sleeper"
by the name of
Kevin Martin
.
Coach Thorpe
, also
an NBA analyst from ESPN.com
, recently moved his "Pro Training Center" to the IMG Academy in Bradenton, partially to get a chance to work with another very well respected trainer in Mike Moreau, but also to take advantage of the outstanding facilities they have to offer. "The training we had been doing in Clearwater simply cannot measure up to what we can now offer with all that the people here can add. Remember, it's not about me, it's about we, and the collection of talented professionals surrounding our players here is proof that I made the right decision."
In addition to the one hour skills training and five on five game we took in, largely centering around ball-handling, shooting, triple-threat moves like the jab and rockerstep, the art of the many different pick and roll situations, and very specific things the players (all five of whom will be playing in Orlando) will see at the pre-draft camp, the players have the extra benefit of working on the mental side of their game as well through IMG's Sports Performance Department.
Thorpe swears by having at his disposal a well-known sports psychologist by the name of Trevor Moawad, the Director of IMG Academies' Mental Conditioning Department, as well as a former Hollywood actor (American Pie II, Scorched) in Steve Shenbaum, who founded Game On Media , which helps athletes improve their communication skills with the media, their coaching staff, and in their everyday life.
We sat in on sessions featuring both specialists and came away fascinated by the way the athletes here respond to this training. Trevor Moawad, the Mental Conditioning expert, first puts together an inspirational highlight reel DVD composing of the players' best plays throughout their college and high school career (for example,
Ron Lewis
' NCAA tournament game-winning 3-pointer against Xavier), something that the player can rely on to uplift them when their confidence is down. They go through guided visualization techniques, muscle relaxation sessions, and internal concentration drills when the players are tired. We sat with them for example and conducted an exercise on paper composing of circling scattered numbers in a certain order on a grid while being timed. First the players did it alone, then they did it with a partner counting for them, and finally they did it with their partner trash talking them right in their face and music blaring on and off. This is intended to teach them how to deal with different types of stress, particularly in specific moments they talked about that might come up at the Orlando Pre-Draft camp.
After that, we watched a video composed of highlight reel footage from their latest scrimmage, mixed in with uplifting music, passages from speeches (Jim Valvano's at the ESPY awards) and things like
Vince Carter
dunking over Frederic Weis at the Olympics in 2000 or
Michael Jordan
's Chicago Bulls. To finish off the session, the players lied down on the carpet and conducted an 11 minute muscle relaxation exercise.
After that, we visited the over-the-top Steve Shenbaum for one of his media training sessions. Shenbaum helps the players out with learning how to effectively communicate (in interviews, and with coaches for example) through improv exercises, role-playing, and studying the nuances of body language. He uses a lot of positive reinforcement with Coaches Thorpe and Moreau sitting right next to him, tying everything into basketball and life and getting some incredibly positive responses from his players. He talked to us at length afterwards about the importance of building confidence in his clients, never having them sound rehearsed, quelling fear, smiling a lot and validating players outside of basketball. It might sound a bit corny here, but it definitely left a strong impression in person.
Shenbaum has worked with players like
Carmelo Anthony
and
Emeka Okafor
in the past, and had just returned from spending time with
Mike Conley Jr
. and
Greg Oden
in Indianapolis. It didn't take much for us to get him going on how much he enjoys working with the two. "It's not hard for me to tell why Mike Conley Jr. is moving up draft boards. He's like a little Ferrari with the way he charges on people. He's a guy that I want on my team." He also raved about how enjoyable it's been to work with
Greg Oden
, calling him an "incredibly refreshing young man," and lamenting the very black and white way he's portrayed by the media. Want to get a feel for the job Shenbaum is doing with Oden? We just happened to conduct an interview with him this past weekend…
With the end of the day nearing, we returned to the gym for a five on five game the players would conduct. Thorpe made sure to give plenty on individual instruction on things the players were doing right and wrong, and strongly encouraged them to utilize the new tools they were learning here in their "laboratory." With the pre-draft camp just a week away, Thorpe had plenty of advice for them on how to maximize themselves: "Be a pro…be an alpha male…cooperate with your teammates…pass the ball…work for your teammates…be a leader…talk to them…take responsibilities off the court." And of course Thorpe's favorite "be a beast!"
---
Player Evaluations
Zabian Dowdell, 6-3, Senior, Point Guard, Virginia Tech
---
J.R. Reynolds, 6-2, Senior, PG/SG, Virginia
---
Ron Lewis, 6-5, Senior, Shooting Guard, Ohio State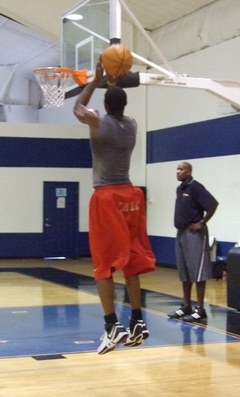 ---
Justin Cage, 6-6, Senior, Small Forward, Xavier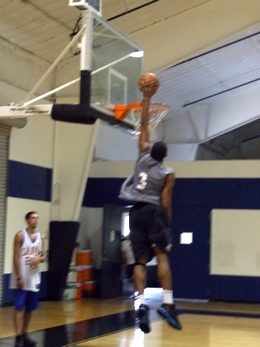 ---
Avis Wyatt, 6-10, Senior, Power Forward, Virginia State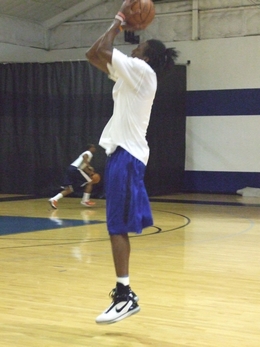 Wyatt was tough to evaluate on the specific day that we were in the gym, as his ankle was clearly bothering him and he was trying to get it healthy in time for the pre-draft camp. It wasn't tough to miss his athleticism, though, as he played above the rim for some impressive stretches of the workout and came away with a few extremely impressive offensive rebounds. Wyatt is quick off his feet but lacks some serious strength, showing a distinct lack of lower body mass that might hinder him from holding a spot on the block at the next level consistently. His jump-shot is very solid for a 6-10 player, though, and he splits time working out half the time as a small forward and half the time as a power forward. In the five on five he was extremely active in the passing lanes, using his length and quickness to the fullest, also to block or alter shots. His ball-handling skills need some serious work to fully maximize his athletic potential, though, as his dribble still looks fairly out of control in tight spots and he can't consistently create his own shot from the perimeter. He also has a tendency to dribble the ball with his head down. Wyatt sat out a large chunk of the five on five due to his ankle, and never really seemed to get in the flow of things offensively once he did come in.