Matt Williams
One of the winners of the 2015 adidas Eurocamp,
Awudu Abass
showed the right things at the right time, solidifying himself as one of the more interesting auto-eligible 1993-born prospects in this year's (fairly weak) crop of international players.
---
See Also: Awudu Abass Interview at the 2015 adidas EuroCamp in Treviso
---
A 6'7 forward, Abass was born in Como, Italy, though his parents hail from Ghana and Nigeria. He is a newcomer to the NBA radar, emerging as a prospect fairly late relative to many of his peers, improving significantly in his final year of NBA Draft-eligibility. Playing his entire career for Italian First Division staple Cantu (ten years in total with the club), Abass made his Italian league debut in February of 2011, but didn't log considerable minutes until just last season. He began making some headway before that, averaging 8.5 points and 5.6 rebounds per game at the 2012 FIBA U20 European Championships. He followed up that performance the next summer averaging 11.6 points and 4.7 rebounds per game at the 2013 edition of that event, helping Italy claim gold in an unexpected championship win.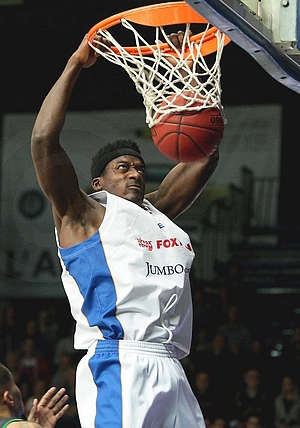 Claiming a small role in Cantu's rotation after his 2013 FIBA performance, Abass made 40 appearances in the EuroCup and Italian League, ending the year averaging 3.4 points and 1.9 rebounds over 10 minutes per game. An undersized power forward early in his career, Abass's development as a shooter and perimeter player afforded him nearly double the playing time at the small forward position alongside the likes of
Eric Williams
(Wake Forest),
Darius Johnson-Odom
, and James Feldeine this season, and while he still plays a small role offensively, he showed some promise this season and flashed enough potential at the adidas Eurocamp to make some headway among his peers in a weak auto-eligible 1993-born group that will inevitably still produce a few draftees.
Standing 6'7 in shoes with a strong 224-pound frame and a 7'0.5 wingspan, Abass has very solid physical tools for a small forward, absolutely looking the part of a NBA small forward on first glance. An explosive athlete with solid leaping ability, especially jumping off one leg, Abass has a strong overall package of physical tools. He may not be a freak athlete, but unquestionably possesses the strength and athleticism common among NBA forwards.
The challenge for Abass throughout his career has been developing the skills that would allow him to effectively play the position he is ideally suited at the highest levels of basketball. The 22 year old wing has always been an aggressive rebounder capable of defending multiple positions thanks to his physical gifts and motor, but his ball handling and shooting ability were a concern in his teens before gradually improving in recent seasons.
Likely the most significant improvement Abass has made over the last few seasons has come as a perimeter shooter. His shot still tends to run hot and cold, and he only made 29.1% of his 3-point attempts this season in Cantu, down from 34.8% a year ago. Despite that regression, Abass's mechanics look far better aesthetically than they did a few years ago. He shoots the ball with more touch, and while he still needs to be more consistent from the outside, he consistently hit shots with his feet set at the adidas Eurocamp in Treviso last week, and looked far more fluid pulling up off the dribble than many expected. Considering he's long had the tools to fill in the "D" part of the "3&D" equation, Abass's potential as a shooter remains a significant point of interest moving forward.
Though he seldom had the opportunity to create for himself off the bounce until the very end of the season, when he scored 34 points over two games in the playoffs, Abass's comfort level with the ball in his hands on the perimeter has improved a bit as well. He still has room to tighten up his handle and a long ways to go as a pull-up jump shooter, but he flashed the ability to take what defenders give him off the dribble both during the season and at the Eurocamp.
From an offensive standpoint, Abass's main intrigue, aside from his ability to finish explosively at the rim, have come in the form of flashes as a shooter and playmaker. His transition to the small forward position has been a gradual one, averaging only 12.5 points and 1.4 assists per 40 minutes pace adjusted, he still has a way to go offensively. Nonetheless, the timely flashes he's strung together at the Eurocamp and over the last few games of the season have helped him gain quite a bit of ground in the eyes of NBA scouts recently.
On the defensive end, Abass' physical tools, coupled with a competitive passion he brings every time he steps on the floor, gives him intriguing potential at the NBA level. He's a strong individual defender with nice lateral quickness, and held his own despite frequently being asked to defend far more seasoned import players at multiple positions. Looking a bit indecisive when closing out on occasion, Abass' inexperience shows at times, but he has the potential to be a very solid defensive player at the highest levels of basketball in time. The concept of what a NBA power forward is has changed quite a bit in recent years as well, and Abass certainly wouldn't look out of place at the 4 in small-ball lineups at times considering some of the players we're seeing occupy that spot as of late.
Abass is a classic late blooming draft prospect. He still has some upside despite his age, and thanks to his physical tools, could be a nice role-player at both forward positions if he puts the pieces together offensively. He'll certainly have his fair share of workouts in the coming weeks, and seems to have added some suitors in the second round with his Eurocamp performance. Though he may not be a lock to hear his name called on draft night, it wouldn't be at all shocking if a team took a flier on him in the second round.