The third and final day of the adidas EuroCamp in Treviso, Italy is in the books.
---
More adidas EuroCamp Content
---
Preview and Roster Breakdown
Measurements and Athletic Testing
Day One Recap
Day Two Recap
---
The third and final day of the 2015 adidas EuroCamp began as always with team demonstrations, drills, and controlled scrimmages. With four games on the schedule to put the finishing touches on the three day event, we'll take this opportunity to clean out our scouting notebook on what was one of the most promising groups we've seen assembled in Treviso over the years.
Player Notes
-
Despite scoring only 4 points on 2/10 shooting on day two,
Rawle Alkins
bounced back to score 11 points on day three while going 5/9 from the field. Generating as much buzz among NBA scouts as any player on the US Select Team, Alkins impressed throughout his three days here with his approach to the game. At 6'4 with a 200+ pound frame, he enjoys a considerable strength advantage over essentially any player he suits up against his age, but he doesn't rest on his laurels competing as hard as anyone here.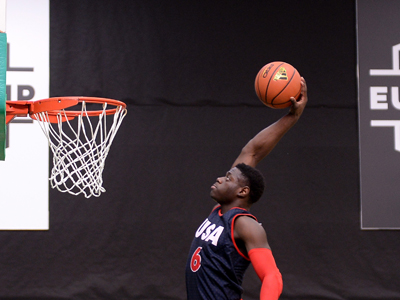 Taking this setting very seriously, Alkins impressed on the offensive end with his ability to finish at the rim, create off the bounce, and move the ball to keep the offense flowing. He has a low, but consistent release point that allows him to knock down perimeter shots at a nice rate, and while he could stand to improve his ball handling ability, has a nice package of offensive tools.
Perhaps more importantly, Alkins is a terrific defender, using his strength and lateral quickness to hound ball handlers, crashing the glass at a terrific rate for a guard, and even providing some rim protection over his time here thanks to his terrific leaping ability. All-in-all, Alkins was arguably the most consistently impressive player we saw in Treviso.
-
One of two rising sophomore from NCAA programs on the Greek U-19 National Team,
Georgios Tsalmpouris
saved his best game for last, scoring 16 points against the US Select Team on 6-15 shooting. A skilled 7-footer with nice mobility, Tsalmpouris tossed in a number of hook shots inside, flashing good footwork and a nice feel for the game. Lacking a degree of toughness as a finisher inside to go along with average explosiveness and length, he needs to continue to get stronger to help make up for his other shortcomings. Averaging just 1.4 points over 4.4 minutes per game in 8 appearances as a freshman at Iowa State, it will be interesting to see how he fares as the Cyclones look to rebound from the loss of
Fred Hoiberg
under Steve Prohm. Iowa State still has two excellent big men who see most of their minutes the center spot, and it will be interesting to see if they can find playing time for this promising project.
-
Georgia native
Kobi Simmons
is the highest ranked high school player on the US Select Team, and while he flashes tremendous potential, he has not been particularly dominant here in Treviso. Making poor decisions with the ball trying to be too flashy, settling for floaters while avoiding contact, and not making the simple play at times this week, Simmons was better on day three, scoring 13 points while dishing out 4 assists. His lack of strength has limited him a bit against the more mature, organized defenses he's faced. His quickness is an obvious asset, especially when he asserts himself defending on the ball, as is his ability to play above the rim and knock down shots off the bounce, but it appears that he's still learning how to consistently exploit those tools against quality competition. This isn't the easiest setting for a player like Simmons to excel in, as his best days are clearly ahead of him, so it was nice to see him find a rhythm in his last game in Italy.
-
Mustapha Heron
had a decent showing here in Treviso, knocking down a number of jump shots both off the catch and off the dribble while staying aggressive looking for his own shot. Like
Kobi Simmons
, he saved his best performance for last, pouring in 15 points today on 6/12 shooting. A strong and competitive but undersized shooting guard, Heron has the making of a very solid college player. His ability to improve the consistency of his perimeter shot and his playmaking ability will be worth monitoring in the coming years.
-
Four star prospect Mario Kegler was solid, but not spectacular this week. A 6'6 small forward with a terrific frame and nice, but not outrageous overall athleticism, the Arlington Country Day (FL) standout looked good shooting the ball at times, but his mechanics seem to waver from looking questionable off the bounce to quite good when he releases the ball at the peak of his jump. Forcing the issue at times from the midrange, Kegler can put the ball on the floor a bit and attack in a straight line, but has plenty of room to improve his perimeter skill level and polish his scoring arsenal. His combination of length and athleticism make his growth in that regard worth paying close attention to.
-
A 6'9 athlete with a nice frame, Dewan Huell is an impressive physical specimen. Finishing explosively around the rim and tossing in a couple hook shots, Huell is far from polished on the offensive end, forcing the issue badly at times, but it is impossible to ignore how well he moves his feet defensively and what kind of potential that could afford him long-term if he puts the pieces together offensively down the road.
-
T.J. Leaf
scored efficiently, but didn't have a particularly good three days in Treviso. Lacking great length, strength, and toughness, Leaf struggled mightily at times defensively, especially on the block. Though he possesses a strong feel for the game, his unconventional looking shot was not falling consistently here, which hurt his ability to stretch the floor and limited the rest of his scoring arsenal. His best contributions came as a passer on the offensive end. Fairly efficient at every event he's attended at the high school level, this was a unique test for the Foothills Christian (CA) product.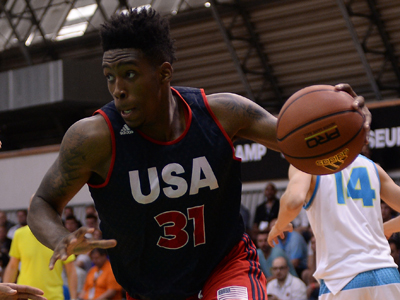 -
Appearing taller than his listed 6'9 but still a bit undersized for a center,
DeRon Davis
wasn't particularly flashy here, but performed very well. Scoring from the post with spin moves and hook shots while also knocking down a number of jumpers, Davis flashed a budding offensive arsenal. Big, strong, and mobile, Davis isn't an elite athlete, but his effort on the boards coupled with his offensive game left a nice impression on the scouts in attendance.
-
Powerfully built Italian forward
Awudu Abass
had a nice weekend here in Treviso relative to expectations. Knocking down a handful of three point shots, a key point of interest as he has been an undersized power forward much of his career, Abass made his usual impact with his energy and athleticism. Averaging 5.5 points per game playing a key role for Cantu in the EuroCup this season, the automatically eligible 1993-born prospect helped his cause quite a bit. His ball handling ability is still a major work in progress and he doesn't quite impact the game defensively as much as you may hope, but he's one of the more impressive automatically eligible prospects in this draft from a physical standpoint, and likely earned himself his workouts flashing some of the skills he needed to show to garner some attention as a draft and stash option in the second round.
-
French entry entrant
Alpha Kaba
had his ups and downs this week. On the plus side, he bothered shooters with his 7'5.25 wingspan, flashed the ability to make midrange jump shots, and finished above the rim at times. On the down side, his intensity wavered at times, he seemed to struggle with some of the concepts being taught, his shooting and finishing weren't consistent, and he fumbled a few passes. Kaba is obviously a project, but his size and length are clearly NBA caliber and he's only 19 years old, making him one of the youngest players to put his name in the draft. His play at the junior level and flashes at the senior level could ultimately earn him a slot in the second round as soon as this year. Or he could withdraw and elect to try again in 2016, after changing scenery and finding a better development situation than the one he currently experienced in France.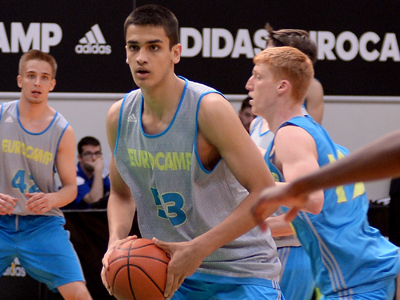 -
One of the youngest players in attendance here, 1998-born power forward
Omer Yurtseven
didn't look entirely out of place here. Standing 6'11.5 with a 7'0.75 wingspan, a 9-foot standing reach, and a 228-pound frame, the Uzbekistan-born Turkish national has impressive physical tools for a 16 year old. He has a fairly strong base and proves to be a solid athlete on the move. Coming up with a few finishes at the rim showing soft touch and good footwork while tracking down loose balls and blocking a few shots defensively, this was a nice showing for the young big man who averaged an absurd 24.8 points, 14.8 rebounds, and 3 blocks at the adidas Next Generation Tournament earlier this spring. The release on his jump shot is a bit low and he didn't exactly impose his will on the game here, but he held his own far better than many of the not-yet draft age players who have been invited to Treviso in the past. His feel for the game, physicality and strong tools will serve him well moving forward. Yurtseven is a player teams will be keeping close track even though he can't declare for the draft until 2017.
-
Laurynas Birutis
Measured 7'1.25 in shoes with a 7'2.25 wingspan at 214 pounds. The extremely skinny 17 year old center spent the season with Zalgiris II in the Lithuanian second division. He had some nice moments contesting shots and even tossed in a midrange jumper, but also struggled at times as he can't compete inside physically at the moment even if he has the toughness to do so. His willingness to fight should be dividends as his frame fills out, and the late blooming big man is an international prospect worth keeping an ear out for in the come years. It will be curious to see when he makes the transition to Zalgiris's first team and how quickly his frame develops, as he runs the floor extremely well, has great fundamentals and a solid feel for the game.
-
Rolands Smits
deserves mention here. Playing primarily in the Spanish 3rd division this season where he averaged 14.3 points per game, Smits also made 22 appearances with Fuenlabrada in the ACB. The near 6'10 power forward, Smits does his best work around the rim as a finisher. He doesn't have great quickness, but is a decent athlete overall. He fancies himself a bit of a stretch four, but his shooting consistency leaves something to be desired at the moment. The Valiera, Latvia native also lets his emotions get the better of his at times, which isn't entirely shocking considering he's just 19 years old. Born in 1995, Smits is still few years away from becoming draft eligible, and it will be interesting to see how he matures until then.
-
One of the top automatically eligible players in attendances here,
Mateusz Ponitka
had a solid yet unspectacular week here. He moves well off the ball, can create in a straight line, and knocks down open shots with solid aggressiveness. His ball-handling remains a work in progress, and he lacks a degree of size, explosiveness or shooting range to be considered a top-level NBA prospect, but was clearly one of the best wing players in Treviso.