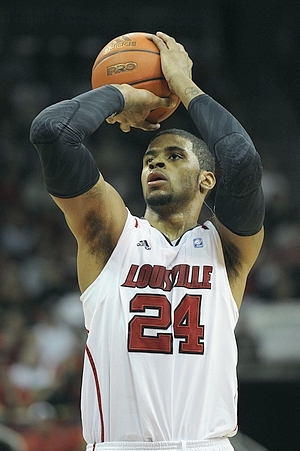 Kyle Nelson
Louisville big man Chane Behanan had a breakout NCAA Tournament, averaging 13.2 points and eight rebounds per game as a key contributor in Louisville's run to the Final Four, winning him West Regional Most Outstanding Player awards. Behanan's late-season heroics followed an already impressive freshman campaign, one in which the freshman garnered Big East All-Rookie team honors and solidified his role as the starting power forward on a top-25 caliber team. Louisville is primed for another deep tournament run and Behanan will once again have the opportunity to shine for the Cardinals as a sophomore.
Behanan's post prowess is all the more remarkable given his lack of ideal size, as he stands just 6'6 in bare feet and around 6'7 in shoes with an unimpressive 6'8 wingspan. He makes up for it with his strong and rugged 253-pound frame, which shows both room to slim down and the potential to add more bulk. He is a solid athlete for his size, as well, with excellent mobility and decent explosiveness, who runs the floor hard in transition.
Behanan thrives offensively around the basket, where he finds most of his offensive possessions, making 56% of his field goal attempts inside the arc. Utilizing his excellent scoring instincts, Behanan is a good post finisher at this level, moving into space and attacking the basket hard. He is at his best pulling in offensive rebounds around the basket, finishing off cuts to the basket, and by simply being in the right place at the right time in the post.
While Behanan finds most of his offense around the basket, less than 20% of his shots come out of traditional post up situations. Behanan does an excellent job of carving out space and holding his position while showing solid hands reigning in errant passes. He struggles with his footwork, as he really only has a handful of consistent moves, a running jump hook with his right hand or a fadeaway jumper. Improving here, given his lack of ideal size, is obviously very important.
He also must improve his pick-and-roll game, as he shows some versatility as a finisher, but is not a particularly good screener and rarely rolls hard to the basket. At this point, he often parks himself on the perimeter, where he shows some potential to knock down shots, but made just 21.3% of his 47 attempts. Furthermore, he made just six of his 36 attempts from beyond the arc and less than 60% of his foul shots. On film, his mechanics actually look solid, though he shows a bit too much movement in his lower body and an inconsistent release.
He showed the beginnings of a solid face-up game, as well, putting the ball on the floor and getting to the basket, but his shaky handles and general lack of creativity as a scorer limited him in this area. Like many of his weaknesses, however, it is not hard to imagine him improving significantly between his freshman and sophomore years, as Behanan will be expected to score more than 9.5 points per game as a sophomore and he showed quite a bit of versatility and improvement as the season progressed.
Seeing heavy minutes next to a somewhat limited scorer in Gorgui Dieng, Behanan's ability to knock down open jumpers will dramatically improve Louisville's spacing this season.
Defensively, his huge frame and solid lateral quickness allow him to compensate somewhat for his lack of size, average wingspan and lack of elite explosiveness. For the most part, he holds his own on the blocks and does a solid job of sticking with bigger players off of the dribble. The most significant problem at this stage lies in his questionable ability to defend perimeter oriented big men. Most notably, he fails to close out on shooters and struggles at times to guard the pick-and-roll.
While he was solid on defense as a freshman, he has to be more consistent, showing greater focus and versatility at all times on the defensive end. In addition to his aforementioned flaws, improving on the defensive glass, therefore, remains a priority both in terms of fundamentals and effort. During his sophomore season, for instance, it would be great to see Behanan boxing out automatically on shot attempts, winning scrums in traffic and aggressively hauling down errant shots.
Behanan is already one of the top returning rebounders in our top-100 who proved his reputation as a hard-working, tough player on one of the largest stages in college basketball and seems primed on a strong sophomore season. As he lacks ideal size for the position, he must continue to compensate with sheer effort and intensity while showing scouts that he is versatile enough offensively to crack a rotation in a variety of different ways at the next level.